A fast and effective elliptical workout that gets your heart pumping while strengthening your core muscles. 
After reading an article on FitSugar that suggested you can tweak your elliptical workouts to meet certain goals, such as toning your things or working your core, I thought I'd give the elliptical another try. As a lady with scoliosis, I'm always looking to strengthen my core so I took the article's advice and tried out the hands-free approach.
I built up the resistance for the first 15 minutes and switched it up at little for the second half. I didn't hold on to the handles and made sure to keep my core tight so that I stay balanced. My feet didn't go numb (hooray) and by the end of the 30 minutes I felt like I had really worked my core (and booty), all while getting in a good cardio workout. Definitely a sweaty success.
I figured some of you might be interested in giving the hands-free approach a shot so I wrote up the core strength elliptical workout that I did: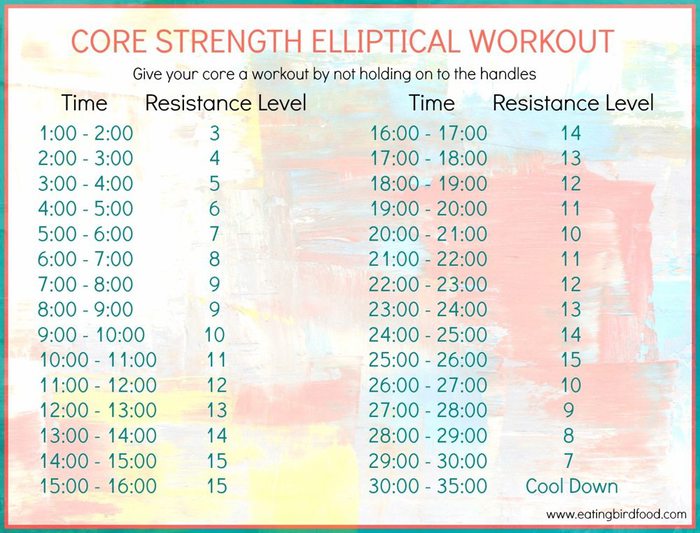 The best part is that this workout is that it goes by really fast because you're changing the resistance every minute. Let me know what you think if you give it try!
It's Wednesday. Not only are we halfway through the work week, but as of last Wednesday, Modern Family is back on… woot woot! I'm already excited for tonight's episode. Who's with me on this?
I haven't done a "just checking in" post in a while so I thought I'd share a little about how things are going for me on the food and exercise front. After traveling the past two weekends, my routine seems off, so this week is about getting back on track. I am focusing on eating all natural, clean foods and trying out some new workouts. It's been great so far!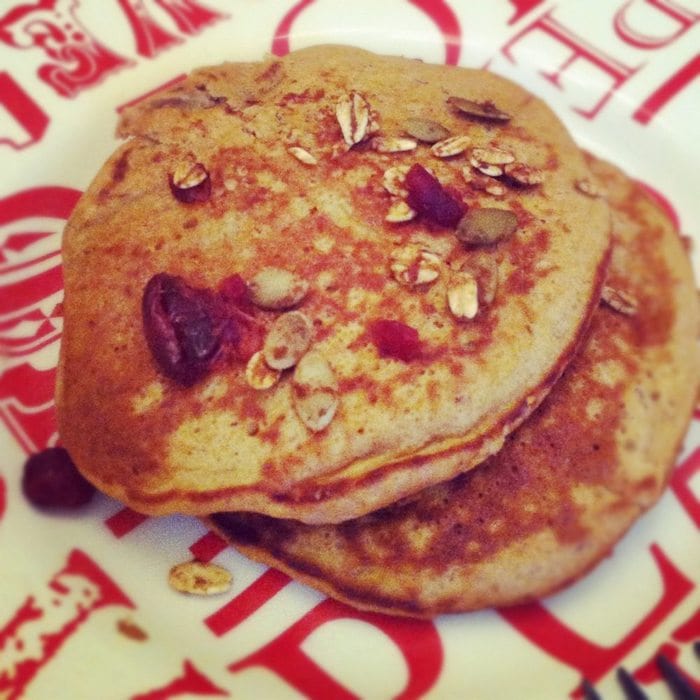 I'm still hooked on protein pancakes so I've had them almost every day. The ones pictured above were made with canned pumpkin and topped with a little pumpkin spice trail mix. I'm ready for fall – even if the weather isn't acting like fall here in VA.
I've also been loving my new way of getting in 2 Tablespoons of apple cider vinegar each day — Apple Pie ACV. Get the recipe here. It's soooo good!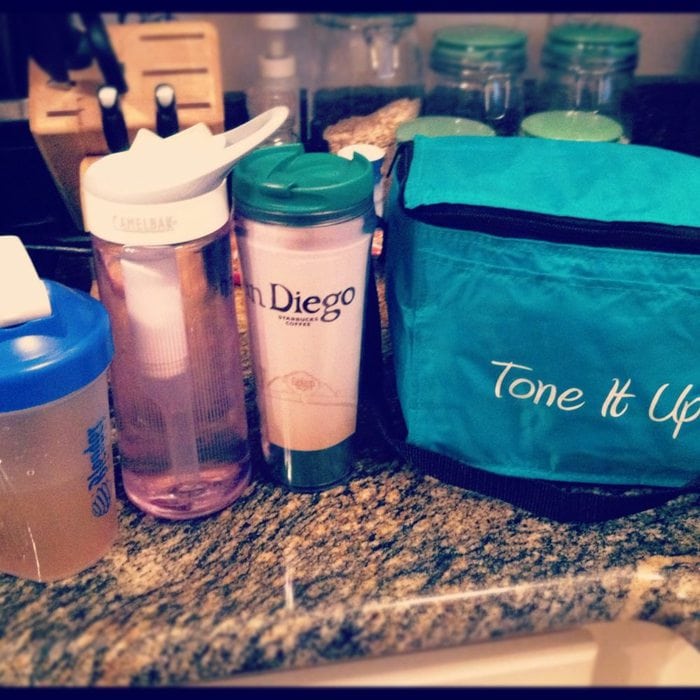 The photo above features my drinks and snacks packed for work, including the Apple Pie ACV drink (on the left), water, coffee and a few snacks in my Tone It Up lunch box. 🙂
In terms of workouts, I recently tried out a new boot camp class at my gym. I love boot camp workouts and this one was even better than the ones I'm used to because I didn't have to do exercises outside, on the ground, in the grass/dirt. This was a big plus for me as I'm not a big fan of getting dirty.
So that's what has been going on as of late. And I do have a new recipe to share soon!! You'll have to wait for that though. 😉 Have a great day.