The yoga mothership has landed in Richmond and my wallet just went into hiding…
I'm sure some of you are thinking, what does that even mean? Basically, one of the best stores opened in Richmond this weekend – it's big and filled with a ton of beautiful workout gear. I went in to check it out on Saturday and immediately wanted one of everything. Alas, I came out with one item.
I currently own two pair of Lululemon bottoms (the Groove Shorts and Wunder Under Crops) so I decided it was time to get a top. And… I'm feeling pretty cool today because of it.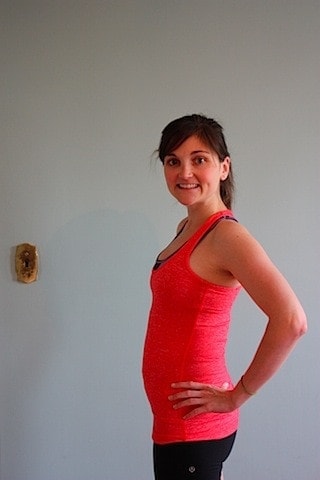 I went with the Cool Racerback, a light, long tank that can be used for almost any type of workout. I love the length and fit of the top and it doesn't ride up like some other workout tanks I've had before.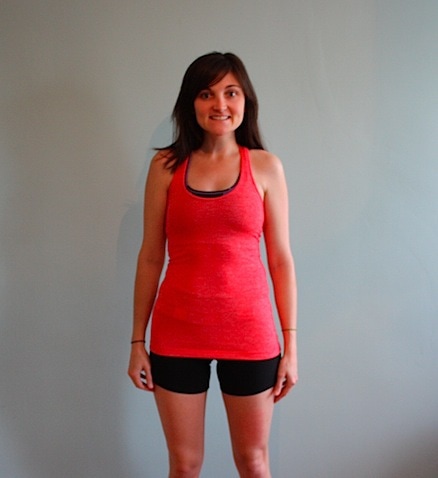 As you can see, it doesn't have built in support. I'm wearing a sports bra underneath. This works fine for me as most of the time I need more support than a built in bra can provide anyway. And if I were simply doing gentle yoga at home, it's fitted enough that I could just wear the tank.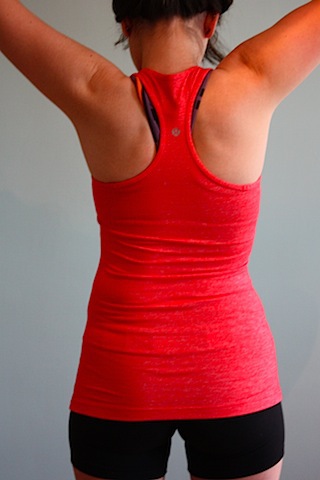 I tried on several different styles of tanks while at the store and the racerback cut seemed to be the most flattering for my body type. I also love this tangerine color. It's bright and fun – perfect for motivating me to workout!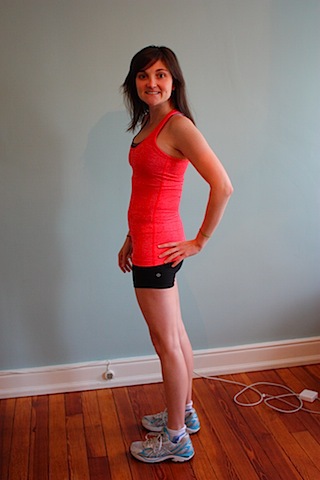 The tank cost $39.00 and although that may seem like a lot, quality is a big factor when it comes to workout gear, especially when you wear it as often as I do. I just got this top so I can't say much about the wear and tear, but I've worn and washed my shorts and crops more times than I can count and they still look brand new! Also, I've found that the comfort level of Lululemon gear is far superior to other brands – there's no itchy tags, the material is soft and the seams are flat to prevent chafing. It's really hard to beat the overall quality.
So, if you're local to Richmond, definitely check out the new Lululemon store at Short Pump Mall – it's much larger than the showroom they started with downtown, they have a ton of new products to check out and the ladies that work there are super helpful and sweet!
After getting Isaac to take these pictures at 6:30AM this morning (hence the reason my hair looks so crazy), I did a bit of strength training and an ab workout from the ladies over at Tone It Up. I really liked this one because it's only about 6 minutes long but I was still feeling the burn. Check it out:

Question of the day, what's your favorite brand or item of workout gear?