Happy Monday! I hope you all had a great weekend. Mine was a total blast – full of friends and fun events.
One major highlight was the Color Me Rad 5K on Saturday morning. I had a big group of people from far and wide come together to run and it was awesome! Here's a before photo of the whole gang, so fresh and so clean, with our sunglasses on.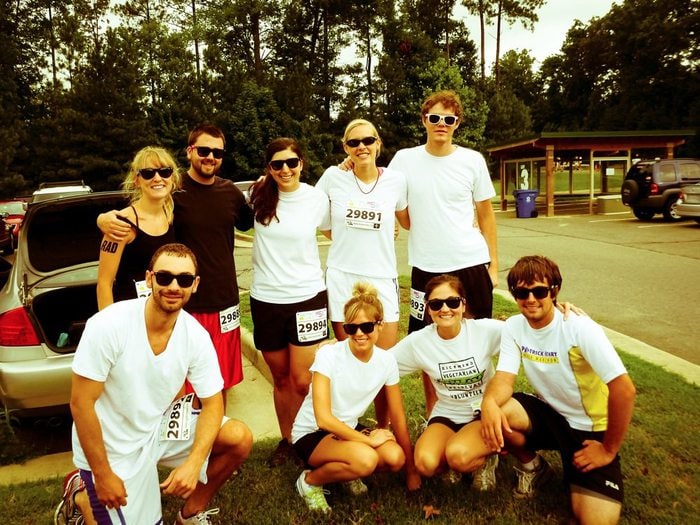 From left to right: My cousin and her bf, my good friends Jess and Britt, Britt's bro, Britt's husband, Lauren of SWYNTS, me and Isaac. My friend Blair ran with us as well but she was MIA for the before photo.
Lauren and Jess arrived on Friday evening and stayed the night at our place before the race. Lauren brought with her the cutest little bag of goodies with fun local PA products: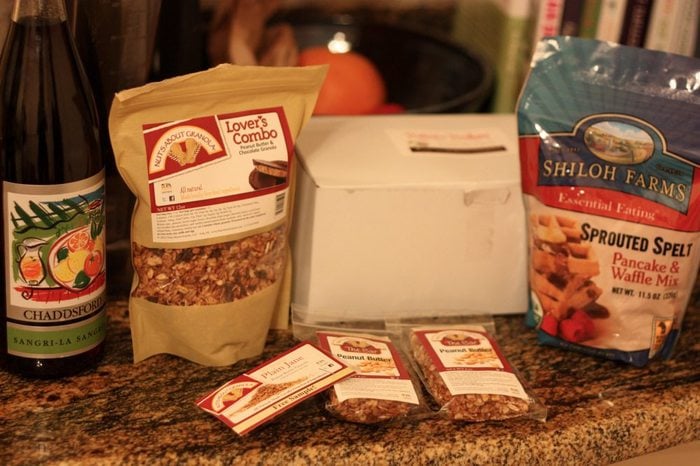 A bottle of Chaddsford's Sangri-La Sangria (haven't tried this yet), Nuts About Granola samples and a big pack of the Lover's Combo – peanut butter granola with mini chocolate chips (a.k.a crack), Vegan and Gluten-free and cupcakes from Betsy's Bakery (they were delicious!) and Shiloh Farms sprouted spelt pancake and waffle mix.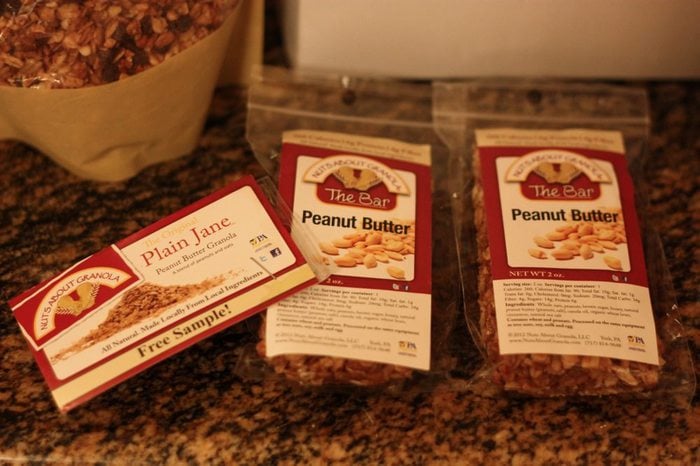 How sweet is Lauren?!?
Traffic was horrible on I-95 so when Lauren arrived on Friday she and I both were ready for some wine dinner. I took her to one of my favorite local spots called Mezzanine, where we shared a few dishes and drank wine while waiting for Jess to get in. It was too dark to get good pictures of the food but I will say that the Tuna and Avocado Tacos were amazing! We stayed up way too late chatting, but were still up bright and early on Saturday morning for the race.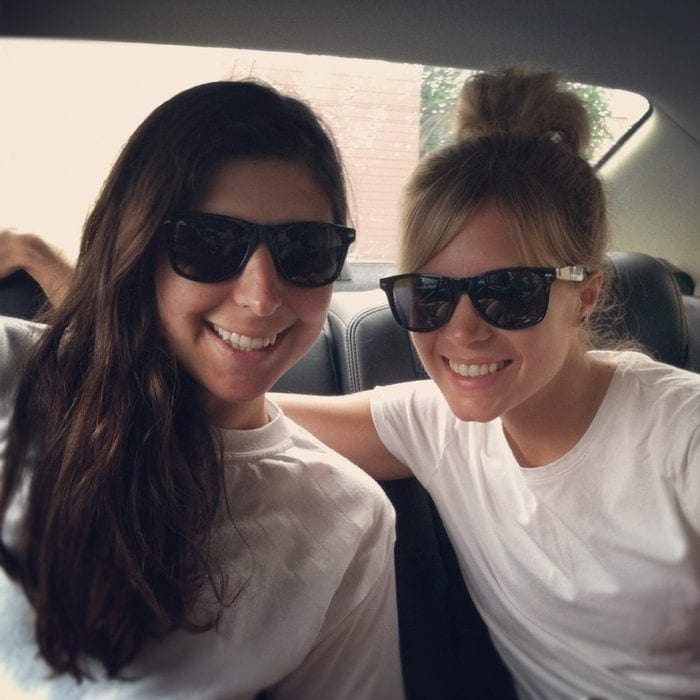 Jess and Lauren ready and raring to go!
Despite the weather forecast calling for rain, we were able to run the entire race without any showers. Our wave started a little later than planned, but other than that the run went off without a hitch. There were several "color stations" set up throughout the course where volunteers tossed or sprayed colored powder (cornstarch) on us and by the time the run was over, we were colorful from head to toe <– which is the whole point of the race! 🙂 It was one of the funnest 5Ks I've ever ran.
A couple tidbits for anyone running a color run:
Wear running gear you don't mind getting colorful. The colored cornstarch came out of my black shorts, but I decided not to worry about trying to get it out of my white t-shirt. I wore old running shoes so I didn't have to worry about ruining my current pair.
I would highly recommend wearing sunglasses during the race. Color Me Rad gave everyone a free pair at packet pickup and they help to keep the powder from going in your eyes.
Don't plan to break your 5K PR with this race. It's not timed and the color stations definitely slow you down a bit.
Bring towels for your car – it's helpful for the ride home.
Take lots of pictures.
The color comes off, but some areas are easier to clean off than others.
The Color Me Rad shirt you get a packet pickup isn't white, but it's super comfy and cute.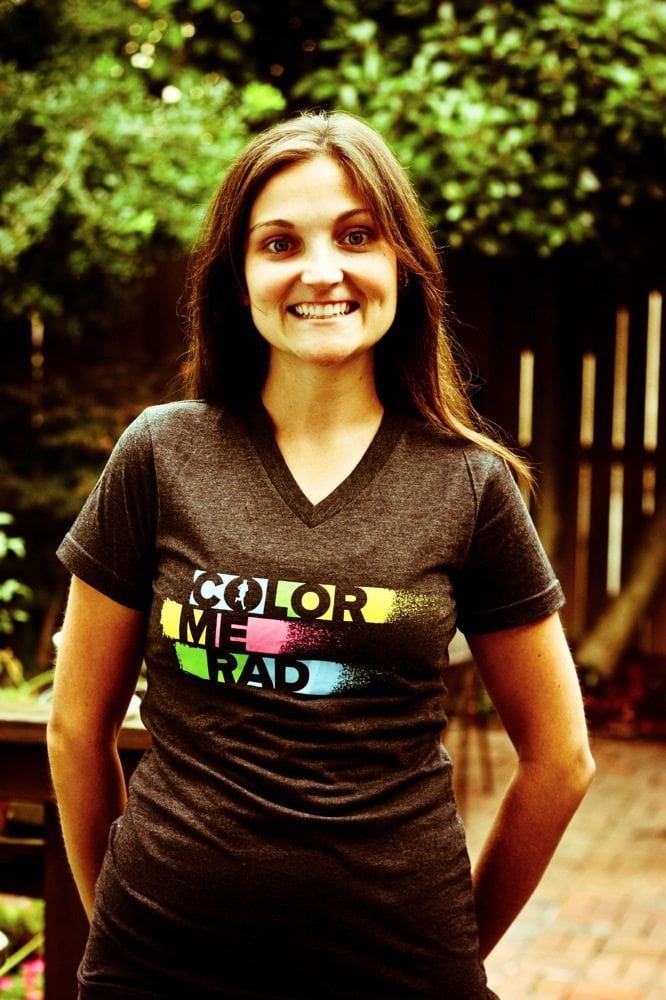 I didn't bring my camera or phone with me on the run because I didn't want to ruin them, but luckily my cousin has an awesome underwater camera she brought along. She kindly shared these pictures with me! Thanks Brooke.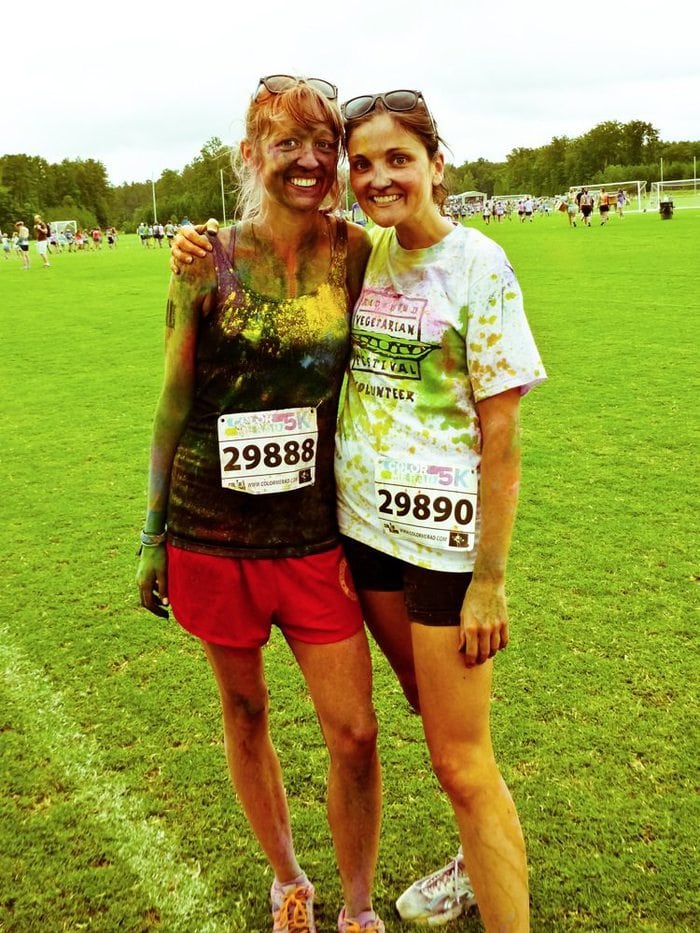 Love this one!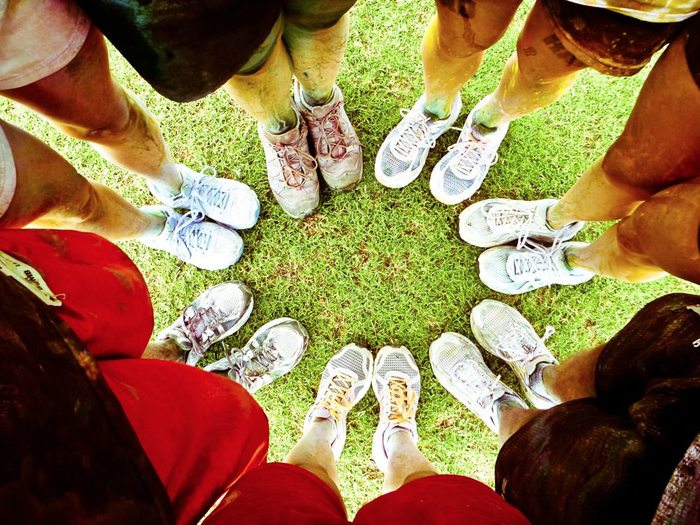 See how colorful we got!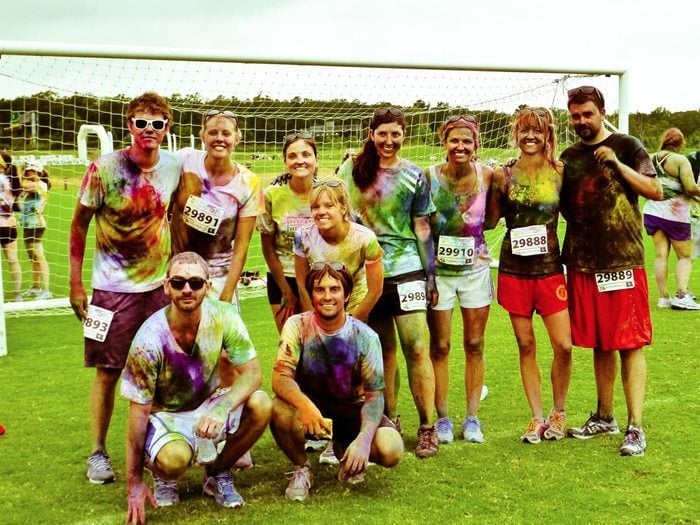 After the race I think we were all ready for a shower and some food. Five of us came back to shower at my place and then went to get a bite to eat at Water Grill. I've eaten there several times for lunch and had heard great things about their brunch so instead of ordering something lunch like, I ordered the Southwest Veggie Omelet.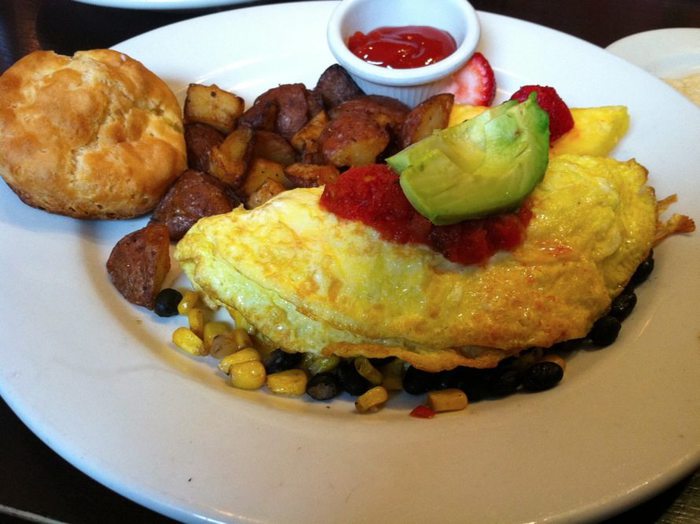 It was quite tasty and I scarfed it down rather quickly!
After lunch Lauren headed back to Pennsylvania and Britt, Brooke and Jess went wedding dress shopping with me. I was a little hesitant to go dress shopping after the run, as we all still had a few color spots that didn't come off easily in the shower, but none of the color transferred to the dresses so it was a-okay. I'm glad we went because I'm pretty sure we nailed down the bridesmaid's dresses and I also got to the show the girls my dream dress. They all agreed it suits my venue and style more than the one I already purchased! Now I just need to sell that one before buying the new one. Ekkk.
After such an amazing weekend, it's now time to go back to work. I'm headed there now, but before I go, the winner of the KIND Bar giveaway winner has been posted. <– Scroll down to the bottom of this post to see if it's you.