Well hello! I haven't done a life update in a quite a while so I thought I'd do  a coffee talk style post where I share the things I'd chat with you about if we were actually having coffee together. <– I got the idea from Kristen of Dine and Dish who does a fun coffee talk series on Snapchat.
And I'm actually sipping a cold brew coffee as I type this so it's perfect. Grab a cup of jo' and read on. 🙂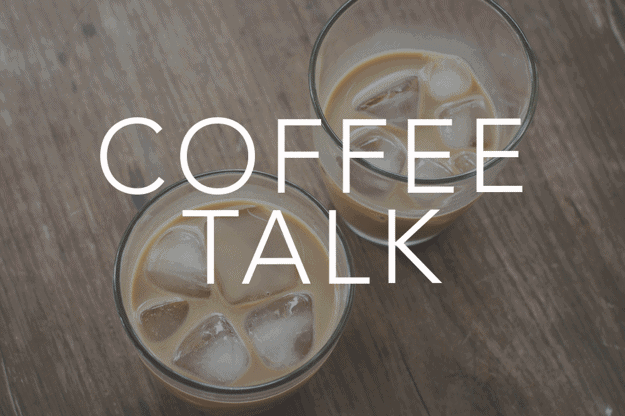 House Updates
It's crazy to think about, but we've almost been in our house for a year now! We're pretty much settled in, but there are still some big projects on our horizon. I constantly daydream about renovating our master bath and kitchen, but we're taking it one step at a time. That hasn't stopped me from pinning a bunch of ideas for both = dream kitchen // dream bathroom.
Over the past few weeks we've also been in the process of tearing up the concrete sidewalk in our backyard. My dad was a HUGE help with this project. He and Isaac jackhammered all the old concrete, hauled it away and then set up the forms for new concrete to be poured. My dad and a friend poured/setup the concrete this week. We still need to remove the forms and fix up the grass around the sidewalk, but as of today we have a shiny new concrete sidewalk that doesn't lean in toward our foundation or collect rain water. Hooray!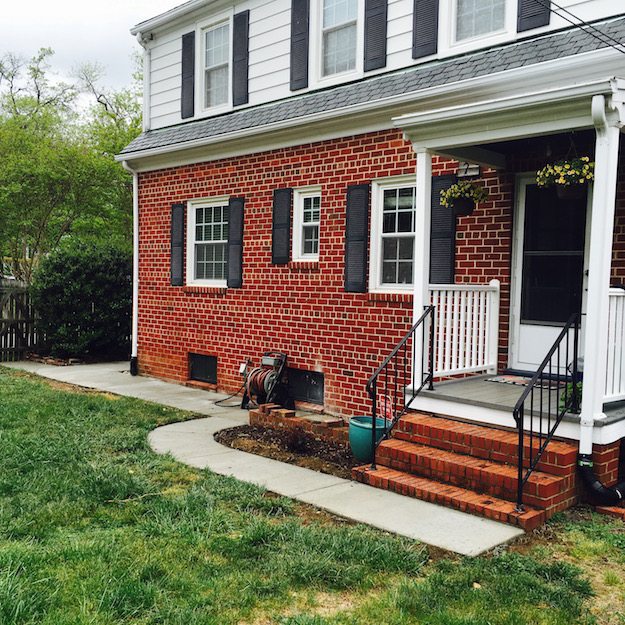 Job Updates Brewing
I'm not sure if I mentioned it before, but this will be Isaac's last year teaching. In June he's changing careers and will be working in the beer industry. Beer has been his passion for quite some time now and he's really excited to turn that passion into a career. He's already getting his feet wet by working a few hours a week at a new brewery that just opened last weekend called The Veil Brewing Co.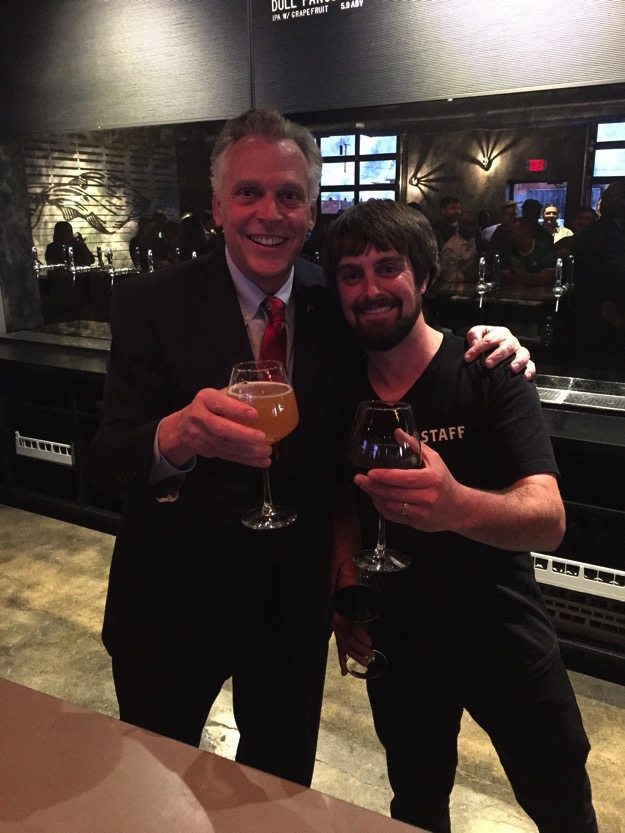 NBD… just drinking a beer with the governor. 
If you're local to Richmond and into craft beer, definitely check out The Veil. Cool folks work there (obvi.), they're brewing some delicious beer, and the tasting room is a fun spot to hang out.
Amenorrhea Update
Quite a few people have emailed me asking for an update on this. The reason I haven't written a full post about it lately is because nothing has changed since my last amenorrhea update. I'm working out a little less, eating lots of healthy fats, getting regular acupuncture treatments, taking natural supplements to boost my hormones and being patient. Overall, I've stopped worrying about it so much. It sort of feels like I'm 14 again where all my friends have their period and I'm just waiting for mine to come. I know it will I just have to be patient and let my body do it's thing.
Upcoming Events
Green Smoothies: I'm teaming up with Pure Barre Short Pump for a Green Smoothie Workshop on Saturday, April 30th at 9:25, between the two morning classes. If you're local, I'd love to see you there! I'll be sharing my best tips for making green smoothies that are balanced and flavorful, providing samples and answering questions. Get in your workout and enjoy some green goodness… sounds like a perfect Saturday morning to me!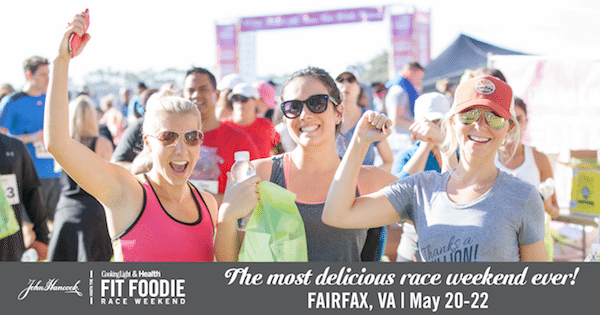 Fit Foodie Race Weekend: Alyssa and I had so much fun at the Fit Foodie 5K Race Weekend last year that we're ambassadors again! The event is returning to the Mosaic District in Fairfax, VA and will be the weekend of May 20-22.  From the pre-race party to the post race celebration, the Fit Foodie race team does an awesome job making the whole weekend an absolute blast. It's the perfect mix of food and fitness, two of my favorite things!
The pre-race party was a ball last year (especially the spiked popsicles) and this year I know it's going to be amazing because it's being held at True Food Kitchen! <— I love this restaurant so I'm totally pumped about this.
Last year's post race celebration was one of my best I've ever attended and this year's line-up looks just as good. They'll have food and beverage samples, culinary demos, mini fitness classes (Alyssa's teaching the Pure Barre session!!) and celebratory adult beverages. Check out my full race weekend recap from 2015 to really see what the event is like.
And, if you're interested in attending the race, be sure to use the code EATINGBIRDFOOD for 10% off your online registration. 
Products I'm Loving
None of these items are sponsored. They're just things I've been obsessed with lately.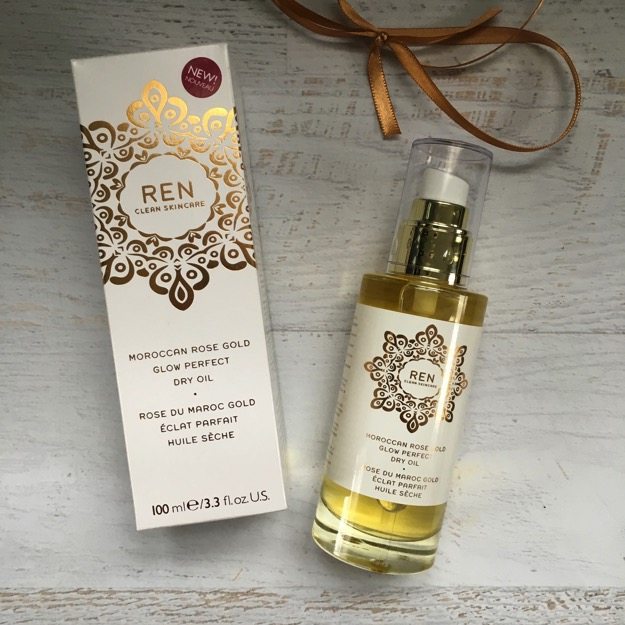 REN Moroccan Rose Gold Glow Dry Oil
I'm all about using oils as my moisturizer lately and this dry oil is absolute perfection. My friend Christina gave it to me as a gift and I'm obsessed. I love the rose scent and the long-lasting softness. I use this on my hands, all over my body and on my hair. Like all REN products this oil is free from sulfates, parabens, phthalates, artificial colorants, harsh chemicals and gluten.
Farmhouse Fresh Splendid Dirt Mud Mask with Organic Pumpkin Puree
Alyssa gifted this to me for my b-day and I've been obsessed with it since. I love the way it makes my skin look and feel, but I'm really in love with the fact that it smells just like pumpkin pie. It's ideal for those with red, blotchy or oily skin. Added bonus: The Farmhouse Fresh line is anti-inflammatory, made in USA, natural, and paraben-free.
Evanhealy Rosehip Treatment Facial Serum
This line of natural products is pricey, but it's one of my absolute favorites. This rosehip serum smells amazing and makes my skin so smooth and soft. I use it as a moisturizer during the day and at night.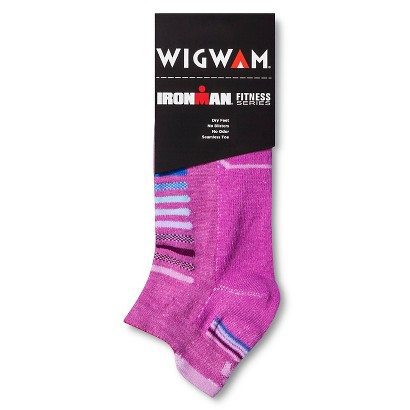 I was on the market for new athletic socks and the colorfulness of these caught my eye while I was shopping at Target. I bought two pairs and they've quickly become my favorites. I get kind of sad when they're both dirty. They're a wool blend so they dry fast and they have a seamless toe.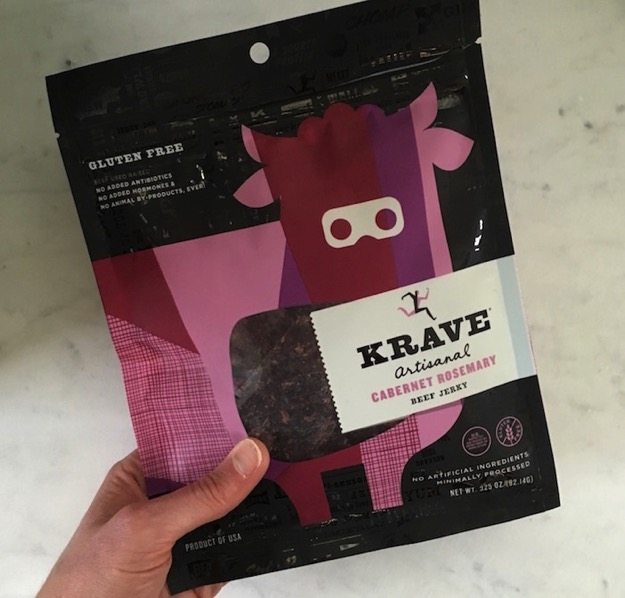 I keep jerky on hand for a protein-rich snack and the Krave brand is my favorite lately. I think the wine inspired flavors like this Cabernet Rosemary and the Chardonnay Thyme are so fun! The brand has a bunch of flavors I haven't tried yet though. I'm hoping to try the Lemon Garlic next.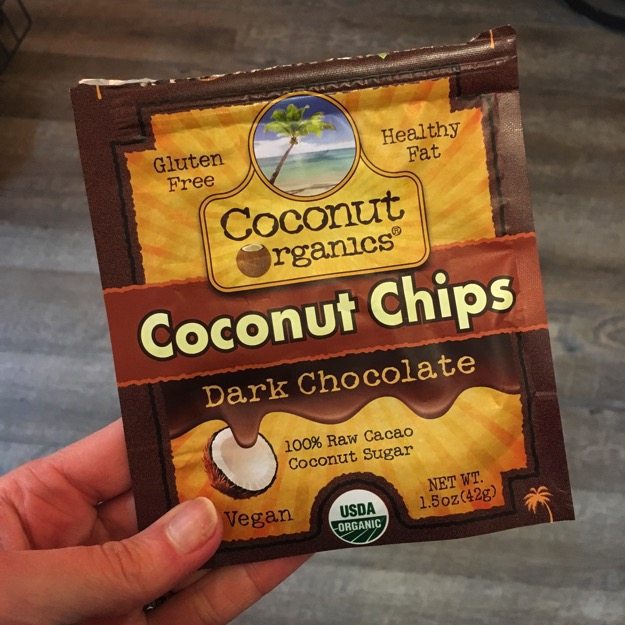 Coconut Organics Dark Chocolate Coconut Chips
When a chocolate craving hits, these are my go-to snack.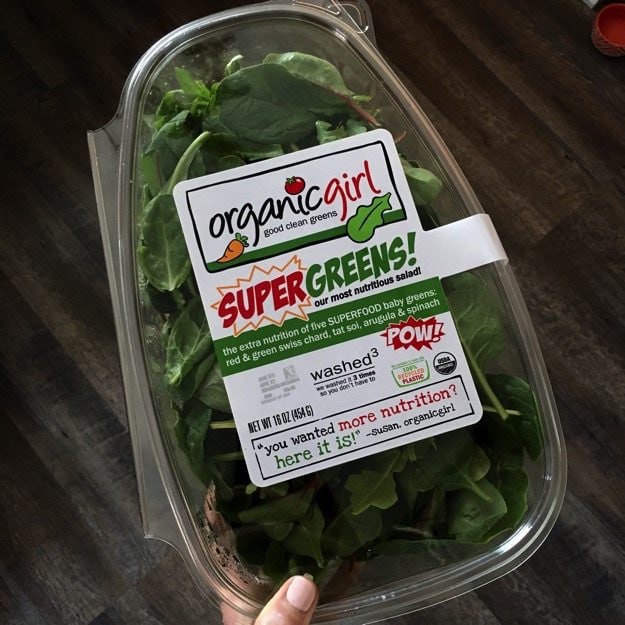 Organicgirl Supergreens
By far some of the best salad mix I've ever tried. The baby swiss chard is my favorite part.
So now that I just overloaded you with my life updates, tell me, what's new with you?