First off, thank you all for all the sweet comments on my last post! I really appreciate each and every one of you. 🙂
I've always loved peanut butter. Just ask my english teacher freshman year of college. I'm sure he could tell you all about my love for peanut butter since one of my papers submitted to him highlighted my passion for the nutty spread in no less than three pages. I'll spare you the details.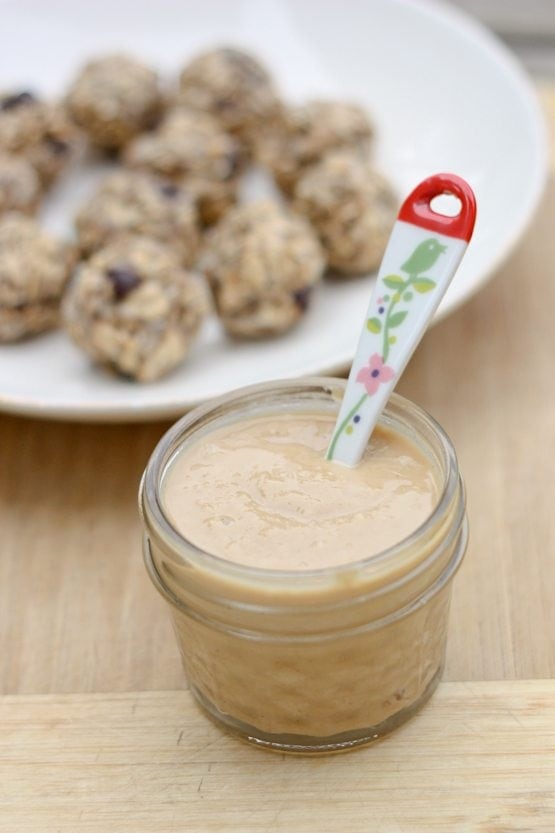 What I hate is the fact that peanut butter and other nut butters get a bad wrap because they're "fattening". Yes, they have a considerable amount of fat, but fat is healthy for us. You probably already know this, but just in case you're ever tempted to buy fat free packaged foods, remember that most fat free foods are loaded with added sugar to replace the fat. One exception is reduced fat dairy. I do tend to go with reduced fat versions of plain Greek yogurt, but that's really the only thing. Dietary fats are important in our diets for many reasons – the maintenance of healthy skin, immune function, as well as the development of the brain and visual systems. They're a carrier for fat-soluble vitamins like A, D, E and K and lastly, they make things taste good and keep you feeling full.
I can't say all this without mentioning that all fats aren't created equal – you should try to stick with unsaturated fats (poly and mono) and decrease your consumption of trans and saturated fats (except coconut oil). I like getting my healthy fats from nuts, seeds (chia seeds!), avocados and olive and coconut oil as well as seafood.
So there your have it, eat your healthy fats! Just be sure to watch your portion sizes because foods high in fat are typically calorie dense as well. A little goes a long way.
This little jar of homemade cinnamon vanilla coconut peanut butter is how I've been getting my fat in this week.
It's creamy with a little crunch from the dried coconut and sweetness from the vanilla and cinnamon. The best part is that it was super easy to make. A few minutes in the processor and voila – creamy peanut butter. I think I'm in love!
Print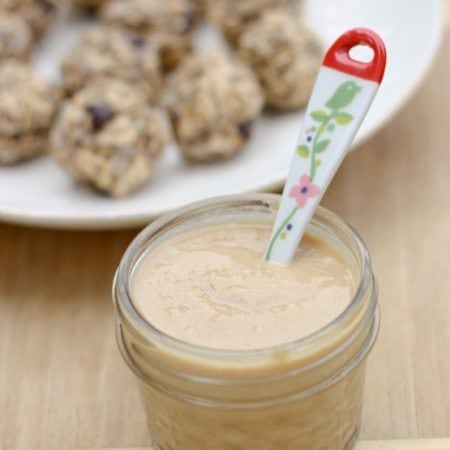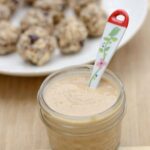 Cinnamon Vanilla Coconut Peanut Butter and Balls
---
Description
You can make homemade peanut butters in a food processor (affiliate link) or in a high powdered blender like a Vita-Mix.
---
Scale
Ingredients
1 1/2 cup

s peanuts (I used home-cooked unsalted Virginia peanuts)

1 teaspoon

cinnamon

1 teaspoon

vanilla
pinch of sea salt

2 Tablespoon

s unsweetened dried coconut
---
Instructions
Place peanuts in a food processor

(affiliate link)

and process for 10 minutes, occasionally scraping down the sides. Add cinnamon and vanilla and began processing again — about 2 minutes. Once the peanut butter has reached your desired consistency, turn machine off and stir in dried coconut.
Store in a air-tight container.
---
Because I was feeling extra ambitious in the kitchen, I decided to use homemade peanut butter (a plain variety) to make some peanut butter balls inspired by these Peanut Butter Chocolate Chip No Bake Balls. When Gina said they tasted like Reese's peanut butter cups (my favorite candy growing up) I knew I needed to make them.