Given the number of times I've mentioned Tosca Reno and her books, you're bound to know that I have a mini crush on her. She's a normal woman who was unhappy with her weight and decided to do something about it! Since losing the weight and getting into the best shape of her life, she's been dedicated to living a healthy lifestyle and helping others, particularly women, learn how to eat clean and get into shape. This is something I truly admire and is the main reason I started Eating Bird Food – to share my story and help motivate others!
Back to Tosca. Her original book, The Eat Clean Diet, and the next release, The Eat Clean Diet Recharged are both great starting points if you're looking for a basic program to help with losing weight and getting into shape. (Both are listed in the EBF Amazon Store).
The Eat Clean principles are pretty simple and require small changes that are meant to be embedded into your lifestyle rather than temporary. They include things like drinking lots of water, eating breakfast everyday, cutting out processed foods, eating 6 small meals comprised of a lean protein and complex carb, lots of fresh veggies/fruit and proper portion sizes. I'm a huge fan of the guidelines and try to follow them whenever possible.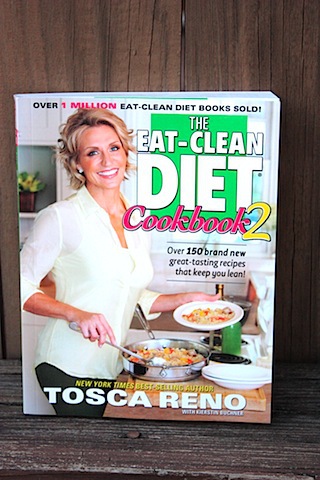 Recently I was sent Tosca's latest book to review, The Eat Clean Diet Cookbook 2. It features over 150 new recipes and includes topics such as:
A "How-To" for fish: Shopping, Choosing, Cooking a fish
Vegetarian Done Right: "How-To be a healthy vegetarian" and ensure you get enough of the right kind of foods in the best combinations to get the most nutrients, avoiding the risks
Summer Menus
Grilling Recipes
Tips for Your Best Beach Body
One-Dish & Easy Meals
Lunch outside the lunchbox
Family Staples Made Lean: Chicken Fingers, Pasta, Pizza, Hot dogs, Desserts, Drinks & More
Do It Yourself Sauces, Spreads & Salsas: BBQ and Cocktail Sauce, Pesto, Salad Dressing, Hummus, Croutons and more
Every type of food made "clean" from Mexican food to Italian or even American
The photos in the book are beautiful! This is a big plus for me because I'm a visual person and hate cookbooks with no photos. Even if my rendition of the dish never looks like the photo, I still want to have one. 😉
While browsing through the cookbook, I found a ton of new recipes I'm excited to try out! So excited in fact, I got started this past weekend by making the Cherry Protein Pop 'Ems. I'm always looking for protein filled snacks that are a little on the sweet side and these sounded perfect.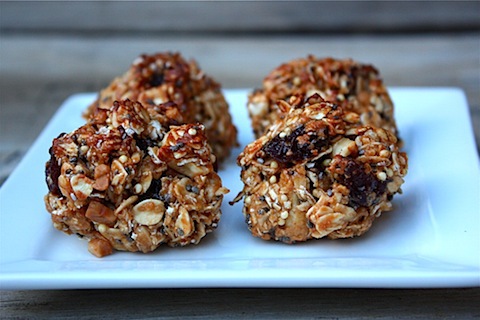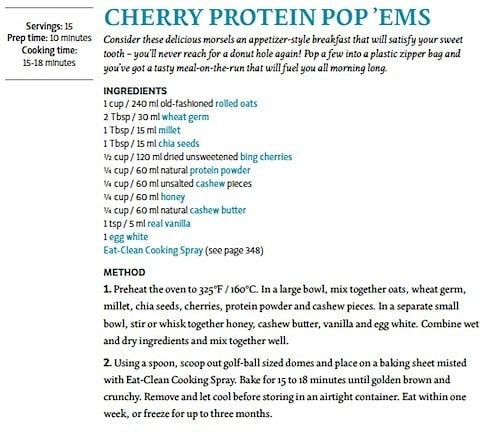 Nutritional value per serving: Calories 103 | Calories from Fat: 27 | Protein 5g | Carbs 14g | Total Fat 3g | Sat Fat 1g | Fiber 2g | Sodium 25mg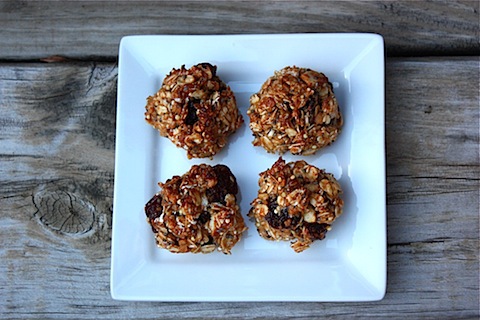 I followed the recipe almost exactly but subbed a few ingredients based on what I had in the pantry. For instance, I used natural peanut butter instead of cashew butter. I couldn't find unsweetened cherries so juice sweetened and cut the amount of honey down a bit. I also used vanilla protein powder instead of natural flavored.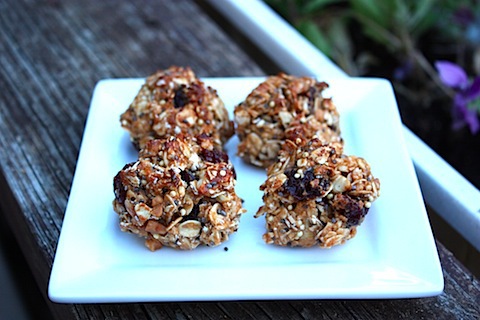 These little pop'ems turned out great. I loved the tiny bits of crunch from the millet and chia seeds and the chewy sweetness of the dried cherries. Isaac and I polished them off in only a few short days. I already need to make another batch!
Speaking of batches. I received two copies of the Eat Clean Clean Diet Cookbook 2 and you have a chance to win one of them! Simply leave a comment telling me the one thing you do/should do to eat cleaner. You can get an additional entry by:
Becoming a fan of Eating Bird Food on Facebook and leaving a comment on this post to let me know you've done so.
Tweeting "I want to win @toscareno's Eat Clean Diet Cookbook 2 from @eatingbirdfood http://bit.ly/j34Jel" and leaving a comment on this post to let me know you've done so.
The giveaway will end this Friday, June 17 and I'll announce the winner over the weekend. Happy Tuesday!