This weekend was all about tastings! It started on Saturday afternoon with a journey over to Maymont Park to check out the Richmond Jazz Festival with Liz and Lindsay.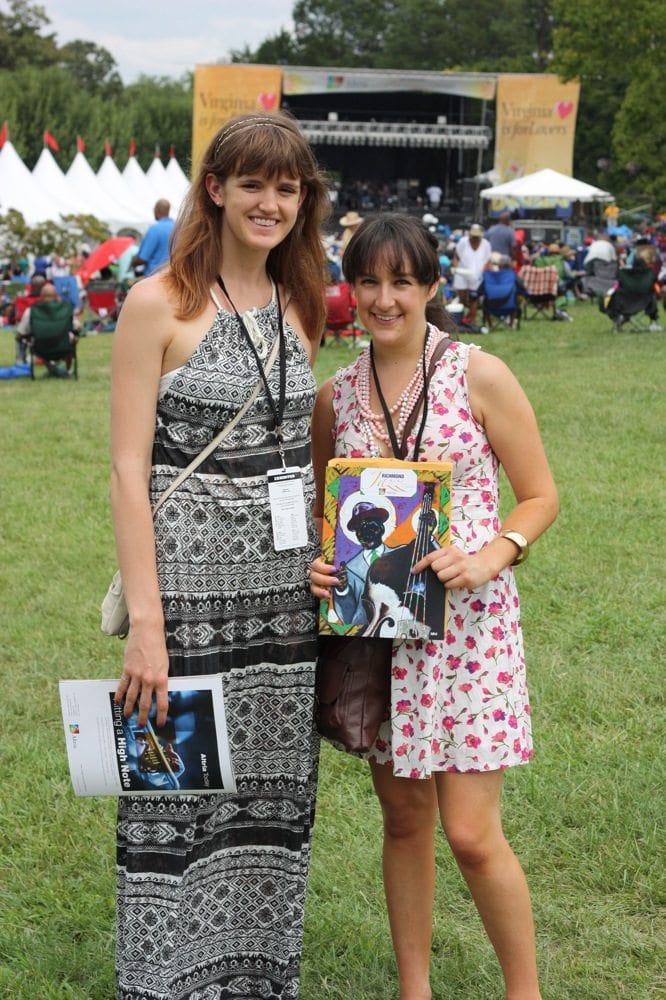 We all had press passes for the event from Chateau Ste. Michelle, a Washington state winery that was sampling three of their Rieslings at the event.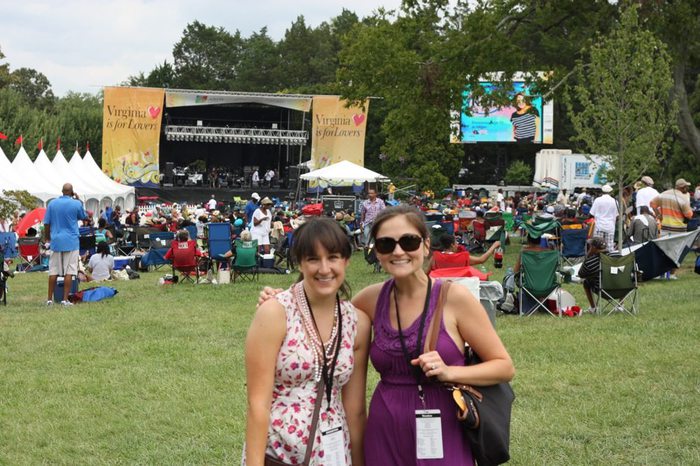 After we arrived, we checked out the music scene for a bit and then headed over to the tasting tent. After the two mile walk to Maymont, we were sweaty and more than ready for a drink of something cool and refreshing.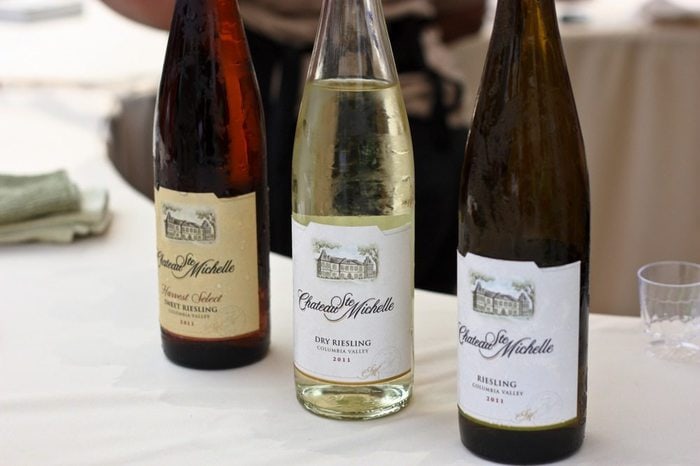 Riesling is one of my favorite wines so I was excited to try all them!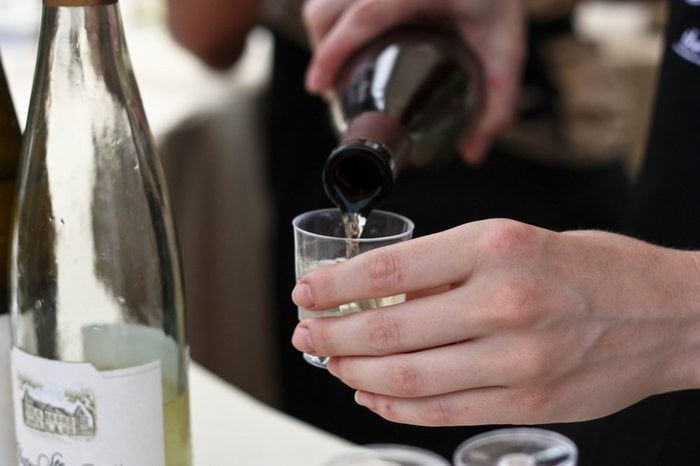 We started with the Dry Riesling. It was clean, crisp and had notes of peach and apricot, but wasn't sweet like most Rieslings I've had before. I enjoyed it, but it was a little on the dry side for me. It seems like it would pair well with seafood and mild cheeses.
Next up was the Columbia Valley Riesling. It tasted similar to what I'm used to when I think of Rieslings- sweet, but not too sweet. It's said to pair well with most anything and it was definitely my favorite. I can tell why it's the #1 selling Riesling in the US.
The last one we tasted was the Harvest Select Sweet Riesling. It was sweet and delicious with notes of ripe pear. I enjoyed the sweetness but would probably only be able to drink one glass of it on it's own. The sweetness would work lovely with spicy dishes.
The best part is that all these Rieslings sell for $10.00 or less. I found these prices on the
Chateau Ste. Michelle website
, but I hear you can find these wines at local grocery stores as well. Amazing!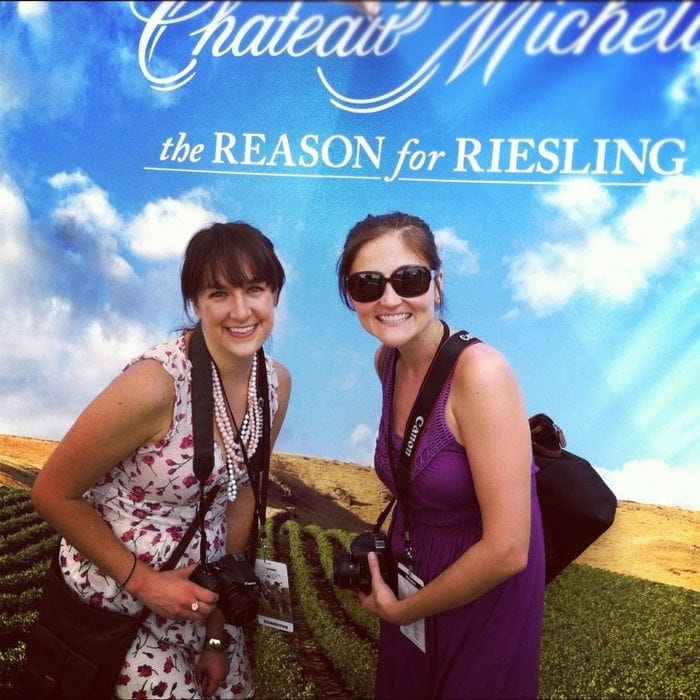 I've always loved Riesling during the summer months, but didn't know that much about it. Here are a few tips I picked up from Chateau Ste. Michelle:
Riesling is a wonderful food wine, enhancing almost every food including, spicy, hot, intense and salty flavors because of its light sweetness/acid balance.
Rieslings are unoaked allowing them to retain elegant fruity character and refreshing acidity.
In the mid-late 1700s, European monasteries were the driving force behind Riesling cultivation and winemaking technologies. <– Never know when you're going to need to know this little factiod.
Riesling is made in different styles from super dry to honey sweet.
After the Jazz Fest, I headed home to get started on my dish for the next tasting event – a Vegetarian Beer Dinner at
Lauren
and Kyle's house. The dinner was potluck style and we ended up with six different courses, each one with a different beer to sample. It was awesome!
Lauren was an amazing host and equipped everyone with labels for our dish and little notebooks and pens for taking notes.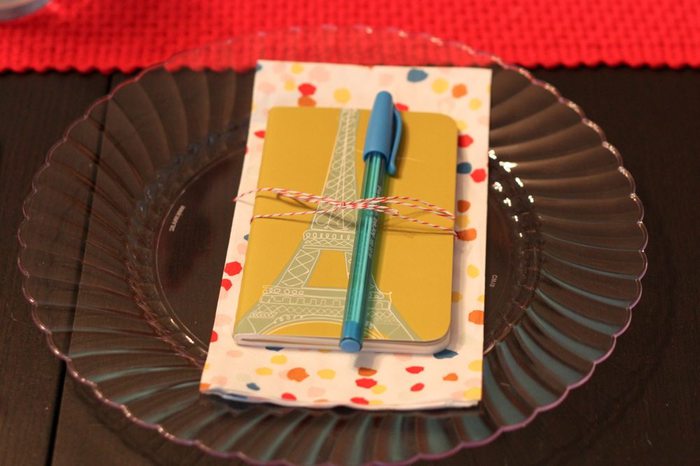 Here is what was on the menu for the evening…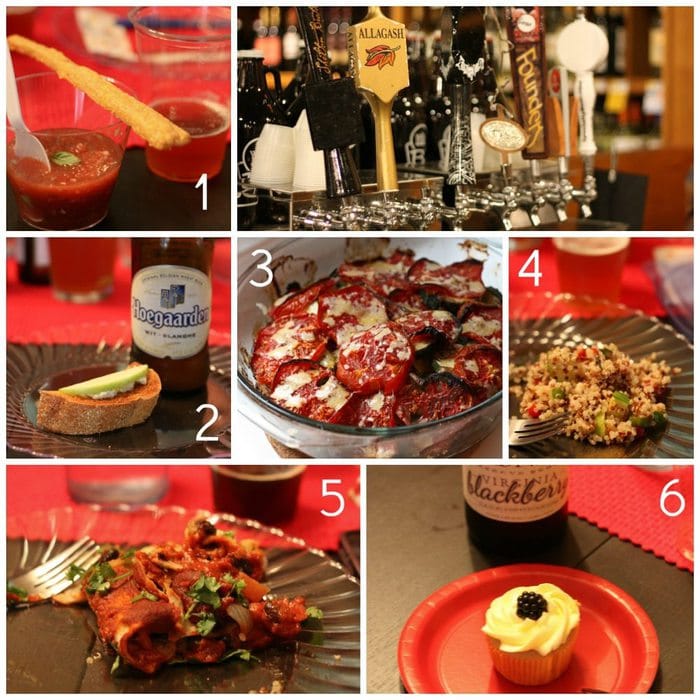 Summertime Tomato Soup (Gazpacho) and Grilled Cheese (Cheese Straws) paired with Bison's Honey Basil Beer – Provided by Sarah and Alex
Bruschetta with Green Apples and Gorgonzola Spread with Hoegaarden Wit Blanche – Provided by Adrienne and Al
Vegetable Tian with Allagash Curieux – Provided by Isaac and I
Quinoa Tabbouleh with Dirty Soutside IPA home-brewed by Kyle and Bob – Provided by Bob
Zucchini and Black Bean Enchiladas with Cigar City's Maduro Oatmeal Brown Ale – Provided by Lauren and Kyle
Blackberry Beer Cupcakes with Lemon Buttercream made and paired with Hardywood's Blackberry Reserve – Provided by Shannon
Everything was seriously amazing and paired really well with the beer. I was impressed. If I were better at describing beers I would write what each of them tasted like and how the flavors complemented the food. <– I tried to convince Isaac to do this but alas my bribing didn't work.  I will say that my favorite beers were the Honey Basil, the Curieux, and the Blackberry Reserve. Isaac's favorite beer was the home-brewed IPA, however he did say that his favorite pairing was the enchiladas with the Maduro Brown Ale. The smokiness of the enchiladas went perfectly with the smooth and hearty brown ale.  On the food side of things, I LOVED everything! I think overall the Quinoa Tabbouleh was my absolute favorite and the Blackberry Cupcake was Isaac's. He even asked Shannon if she made wedding cakes. 🙂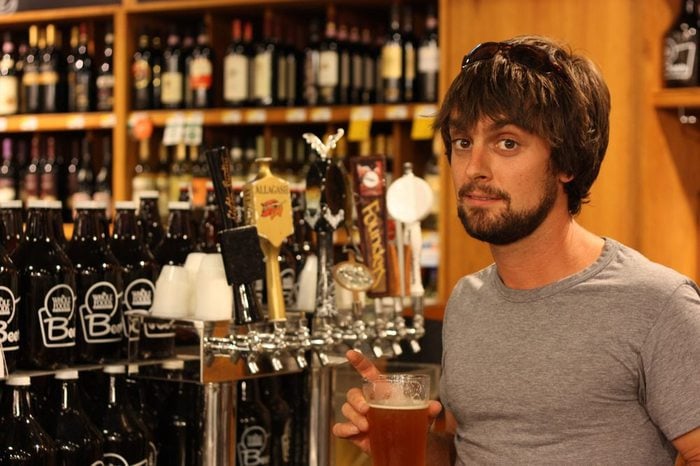 In case you're wondering how to prepare for a beer dinner. Isaac and I got ready by going to Whole Foods on Friday night for our beer and ingredients. Isaac wanted to get something on draft so we went with the Allagash Curieux, a Belgian Tripel Ale aged in Jim Beam bourbon barrels. It has a mild bourbon flavor on the finish with notes of coconut. I don't even like bourbon, but I enjoyed this beer. Greg, the beer buyer at Whole Foods, helped us decide what to pair with the beer and we settled on a vegetable tian with smoked gouda. It was actually my first time making a tian, which in case you're like me and don't know, is just a fancy french name for a pretty layered casserole. I used this recipe from Whole Living as a guide and it turned out to be a success. I'll be sure to share my version of the recipe soon!
After such an eventful Saturday, we ended up just relaxing on Sunday. I did make it to Body Attack, but after that a whole lot of this went down: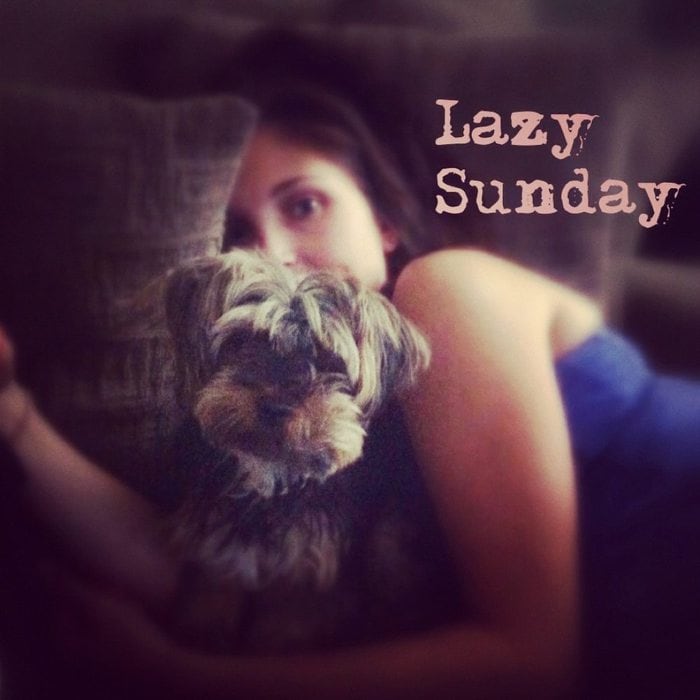 It was lovely.
And now it's time to hit the ground running. This week is going to be a busy one at work! Not too busy to fit in some arm exercises though – we'll still be doing the office arm challenge everyday. I posted this week's exercises on my workplace wellness page for those of you following along. 🙂