We're home after a lovely little weekend getaway in North Carolina! We had this trip to Charlotte planned for a couple months, but just last week Isaac found out that he needed to drive the Reverie Distribution truck down to Charlotte as well. It was pretty convenient timing and allowed us to combine business with pleasure and extend the trip a bit. We drove down on Thursday, spent one night at a hotel downtown and then headed to Julie and Ryan's house for a couple nights. Alyssa and Alex met us there so it was a fun group.
Thursday night we arrived at The Westin only to find out that Trump was hosting a private dinner party on the 2nd floor and having a rally across the street at the convention center. What are the odds?!? Luckily, we got out of the hotel for dinner pretty early so we missed out on much of the commotion.
We ate at Halcyon Flavors From the Earth, a farm-to-table spot located within the Mint Museum Uptown. We weren't ravenous so we each got a drink and shared a few small plates. The small plates were actually pretty large (woot!) so we felt perfectly full upon leaving. I loved everything we ordered, but the kale salad was my absolute favorite. I'm already thinking of recreating it.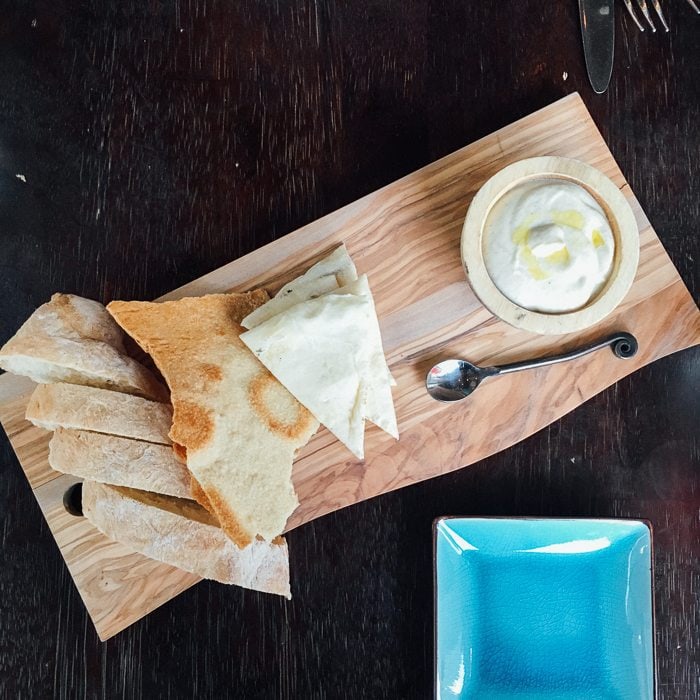 Baba Ganoush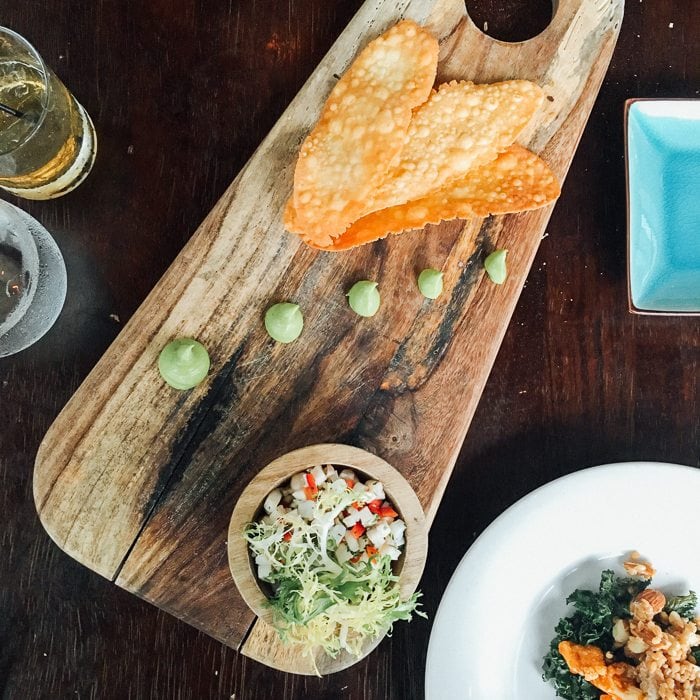 Ceviche made with scallops, yellowtail and gulf shrimp. <— This was some of the best ceviche!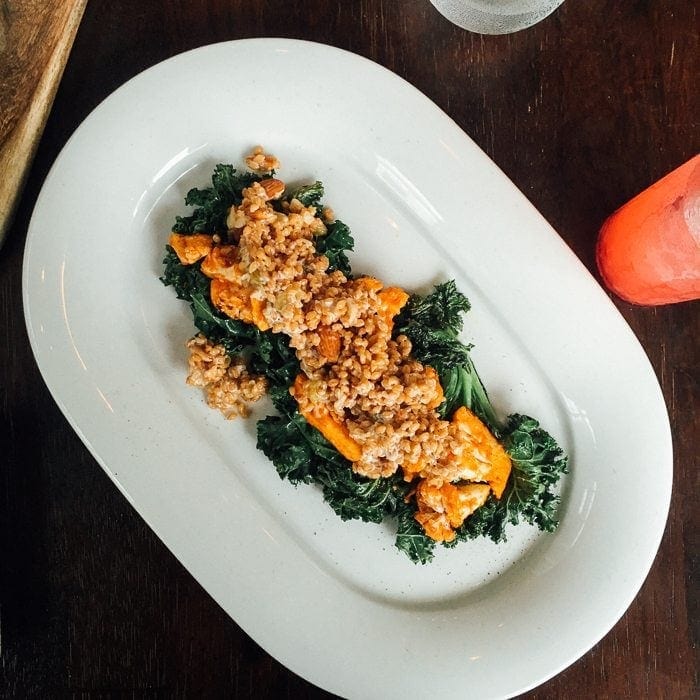 Kale salad with roasted cauliflower, farro, kale, almonds, golden raisins and tahini dressing. <— Amazing!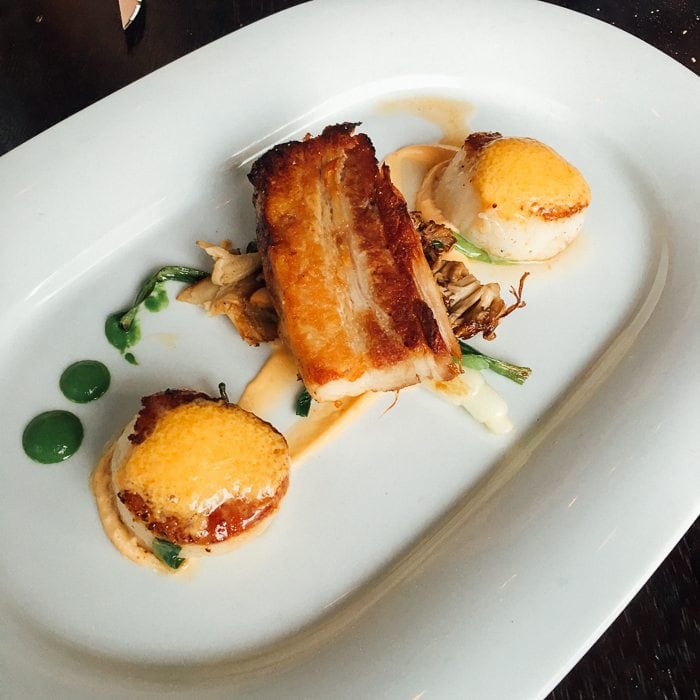 Scallop and pork belly with local mushrooms, roasted green onion and spicy aioli. <— Both the pork belly and the scallops were cooked to perfection!
After dinner we tried to grab a treat at Amélie's but the line was cray so we hit up two local breweries, Free Range Brewing and Heist, before calling it a night.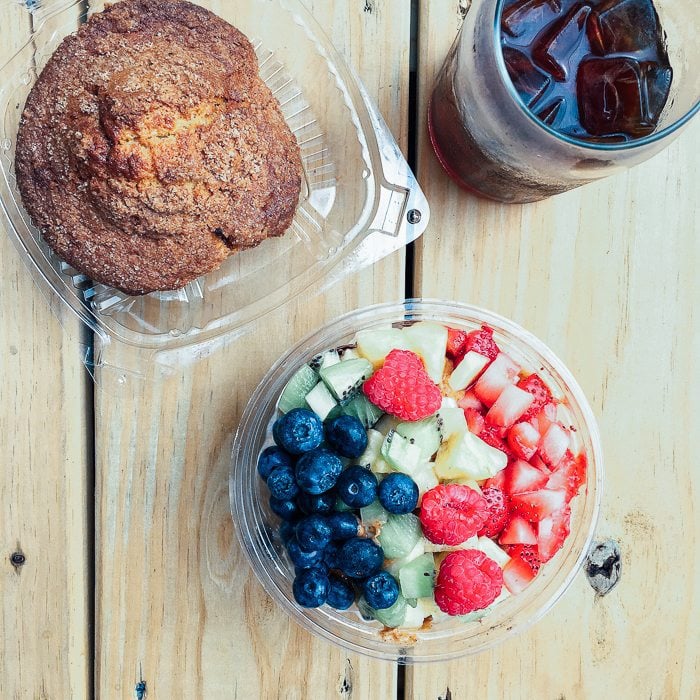 The next morning we walked over to Not Just Coffee, realized it was inside the 7th Street Public Market and decided to stay there for breakfast. The Public Market is such a cool spot with over a dozen different shops where you can find everything from coffee, raw juices and acai bowls to cheese, beer and locally made goodies. I ended up with an acai bowl from Rico's Acai and a cold brew coffee. Isaac sipped a cortado while eating a biscuit and a muffin from Local Loaf. Thanks for the recommendation, Taralynn. 🙂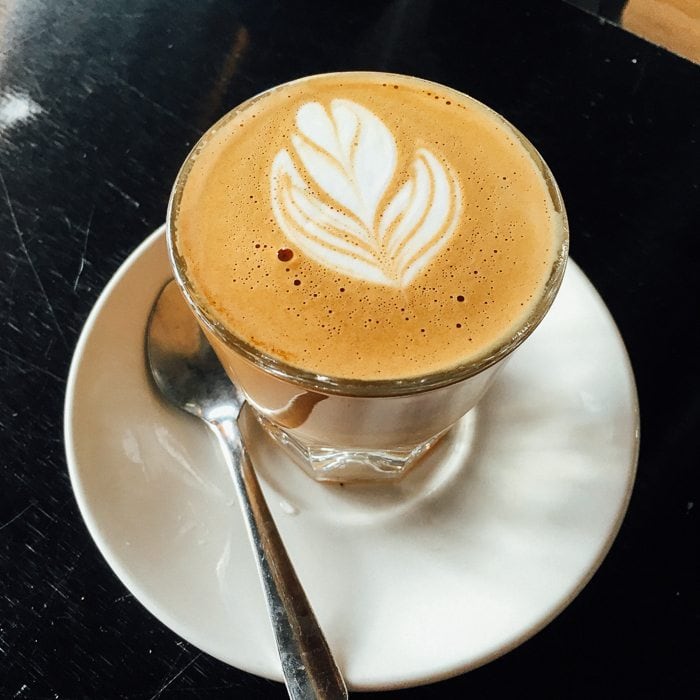 I'm still cutting back on my caffeine intake, but I love trying local coffee shops when we travel so I've indulged a bit recently.
After breakfast I headed to Okra for a yoga class. The class was called Chillax Yoga Flow and it was just what I needed — lots of restorative, stretching poses combined with a little flow.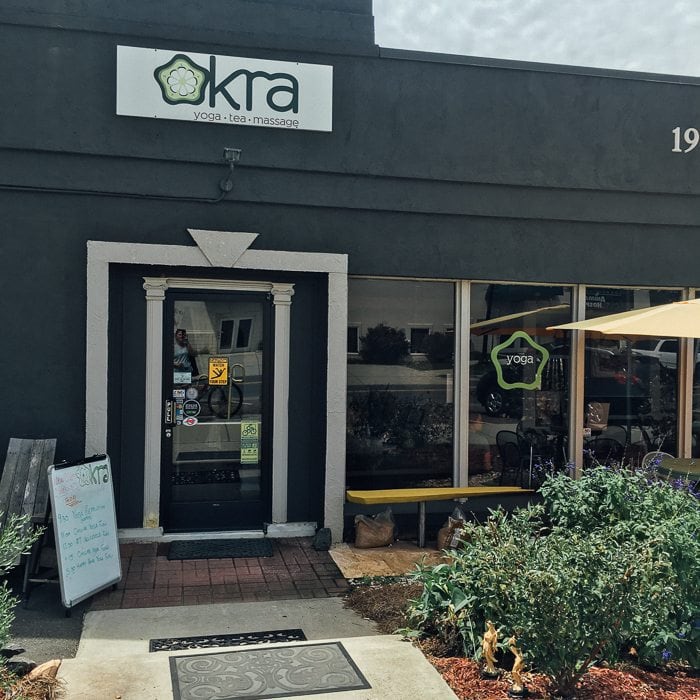 I loved the class and would totally go back on the regular if I lived in Charlotte.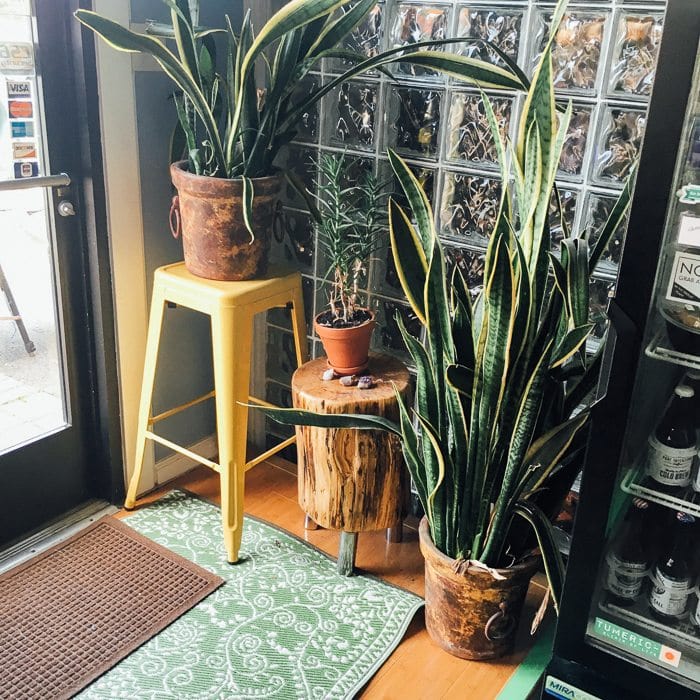 I mean, just check out the studio vibe. It's seriously adorable.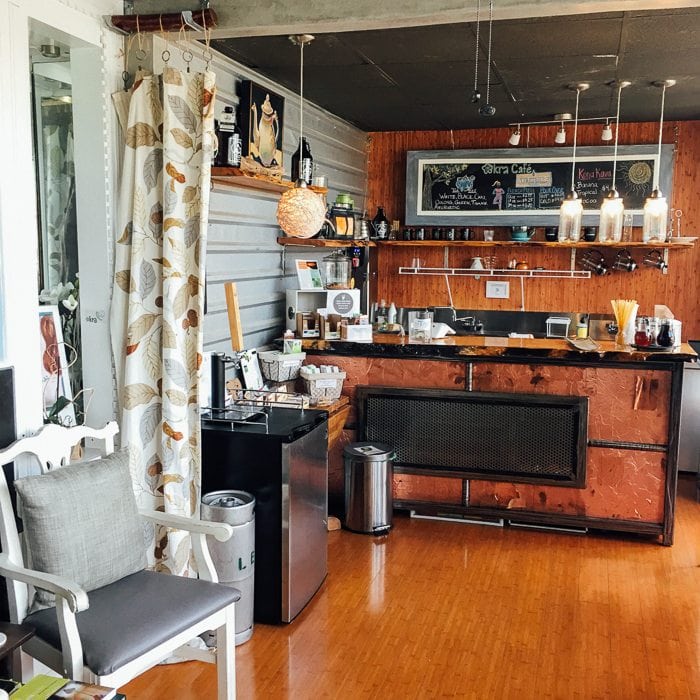 Post yoga I went back to the hotel for a quick shower. We checked out and made our way back to Free Range Brewing to hang out for a bit while waiting for the truck.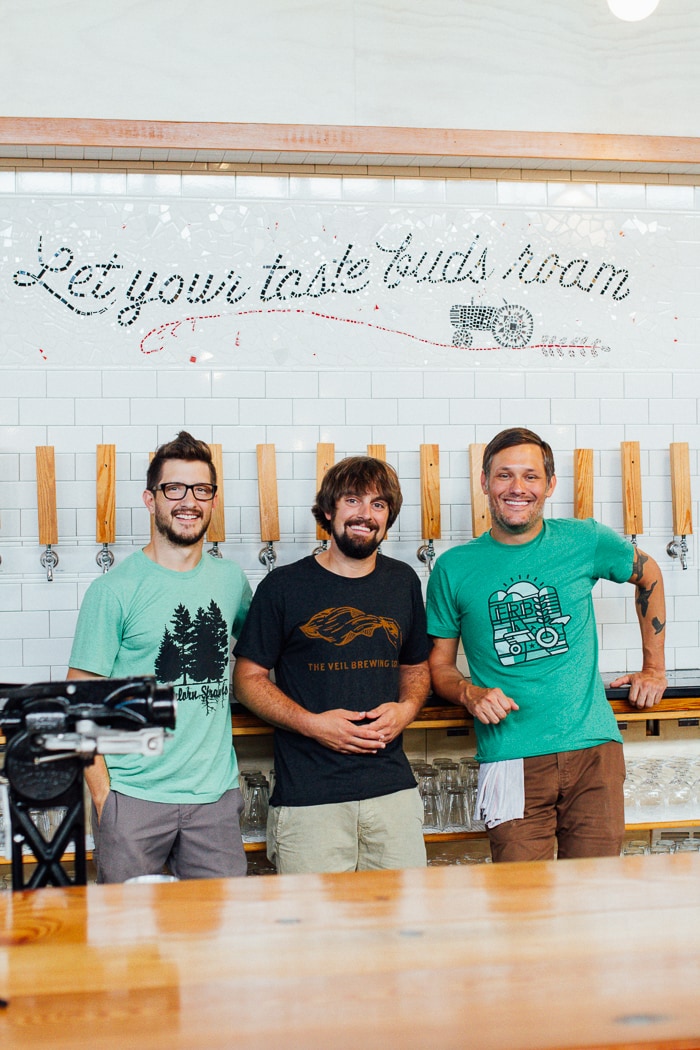 Luckily friends are easy to make in the beer world! The guys at Free Range, Jeff and Jason, were the nicest guys you'd ever want to meet and total lifesavers. They let me and Isaac hang out for the afternoon and use their space to get a little work done.
And guess what? They have local Lenny Boy Kombucha on tap so I sipped bucha while working on a blog post. Not bad for a Friday.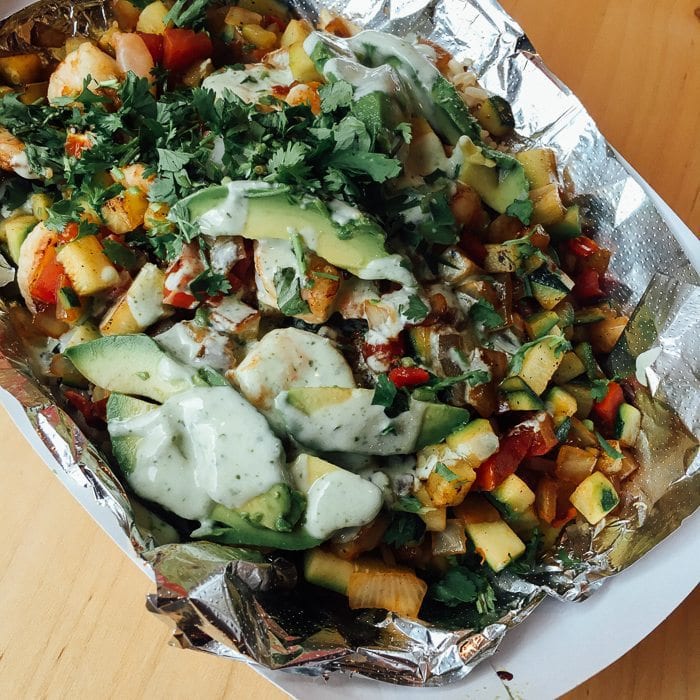 Later in the afternoon Isaac and I grabbed lunch at Sabor in NoDa. I ended up with the Quinoa Avocado Bowl with shrimp, which was massive and delicious. Oh, and I have to mention the pineapple salsa from their salsa bar because it was phenomenal. I covered my bowl with it.
Once the truck was complete, we headed to Julie and Ryan's, ate a late dinner and crashed.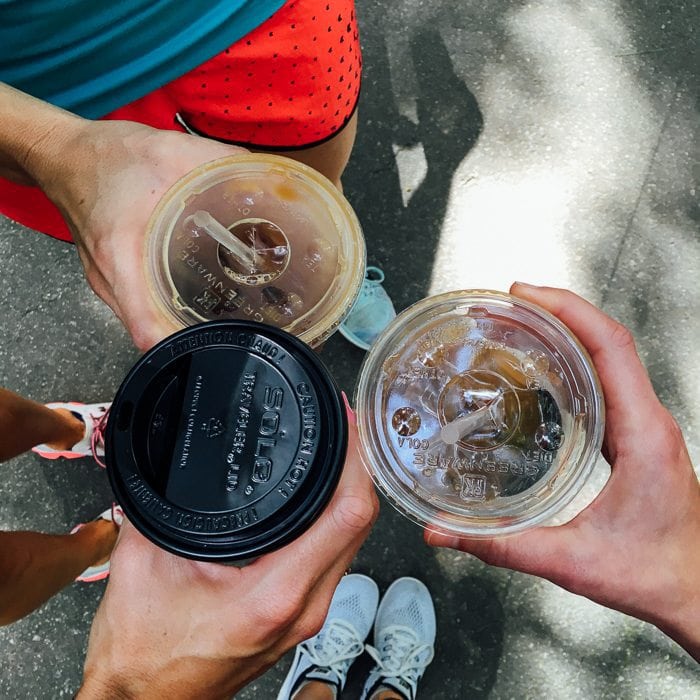 Saturday morning we woke up and had breakfast. Julie made us her chicken sausage and spinach frittata and my apple cinnamon baked steel cut oatmeal. Delish!
We said hello to Chase (he was fast asleep by the time we arrived on Friday), played for a bit before, grabbed coffee and went for a quick walk before heading out to the lake for a little boating.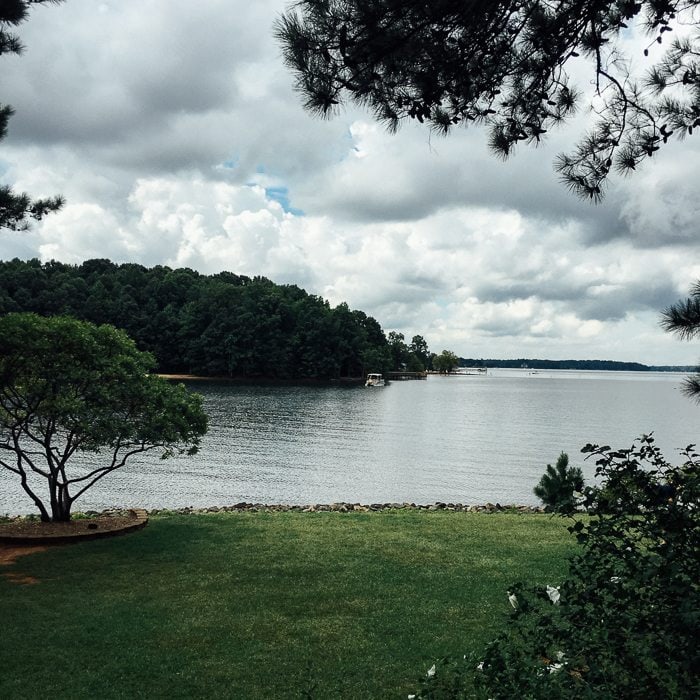 Lake Norman is gorgeous!! I thought it would be super busy since we went out on a Saturday, but it wasn't crowded at all. We boated around for a bit and then dropped anchor near an island to float around.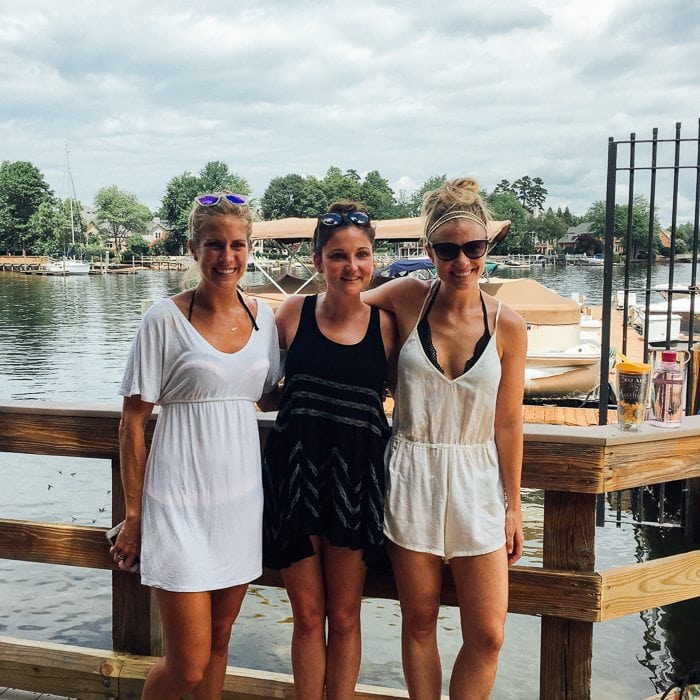 Pre-boating pictures… before I lost my new sunglasses from jumping into the water with them on. :/ They were only like 10 bucks, but I really liked them. I bought them in Canada so hopefully it's not too hard to find a similar pair here.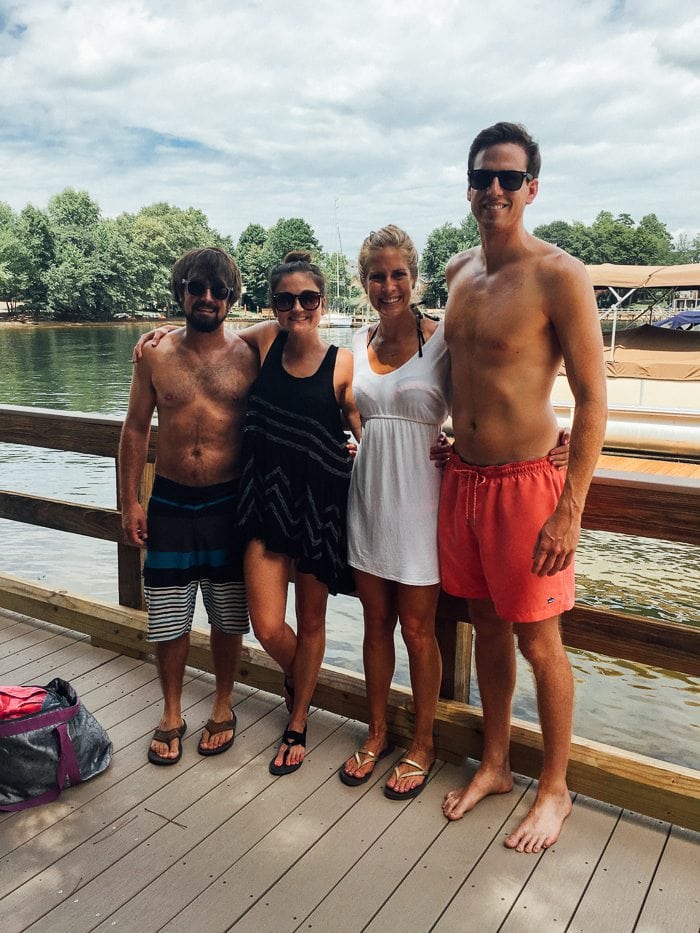 Saturday night we kept things low-key, ordered Thai takeout and played games. Taboo is THE BEST!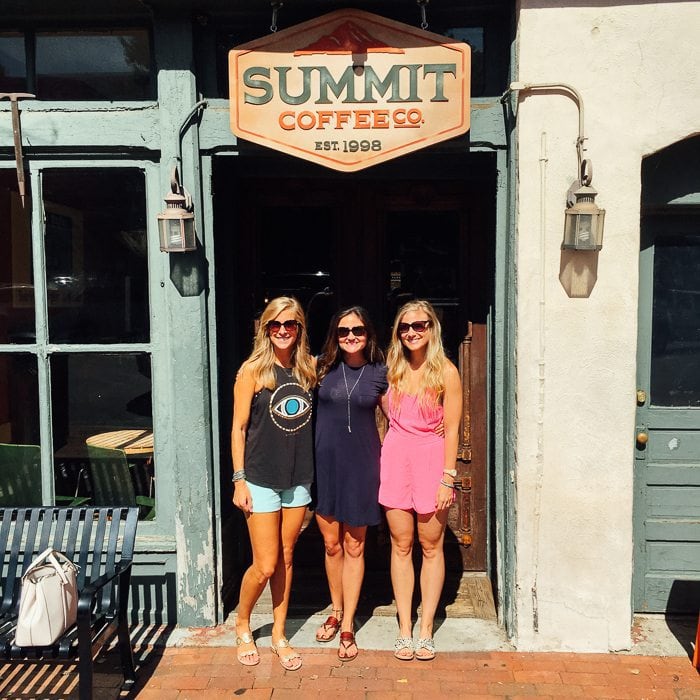 Sunday morning we headed to Davidson for a quick bite to eat before hitting the road home. We really wanted to try Toast Café, but there was a wait so we went to Millstone Bakehouse instead. Davidson is such a cute little town. I'd love to go back and explore more.
Overall, we had such a great weekend hanging with Julie, Ryan, Chase, Alyssa and Alex. Lots of sunshine, good friends and good times. It makes me wish summer could last forever!