Remember my March Madness Challenge? Well, let's just say that it didn't go so well… I had great intentions, but I didn't make my goals a priority and I ended up falling off the wagon early on. I could make a ton of excuses as to why I didn't follow through, but there's no use crying over spilled milk, right?
So last night I was having post vacation blues. I ate everything and anything I wanted while in CA and enjoyed all the deliciousness to it's fullest, but now back from La La Vacation mode, I've realized that I've been slacking on my healthy eating for quite a while now (not just vacation and the March Madness Challenge) and my clothes are getting tighter. It's not a big deal but I wanted my 25th year to be my fittest yet and so far I've done nothing to make that happen. I tweeted about my post vacation feelings last night and Jacquie mentioned that she'd be up for getting back on track with me by doing a 10 day challenge. I also spoke to Isaac's mom (an IIN Grad) because I knew she was doing a "cleanse" of sorts given to her from her acupuncturist. With a good support system (Isaac and the two lovely ladies mentioned previously) to hold me accountable, I decided that I'd start the challenge!
So what's this challenge involve? Well, it's definitely not a diet – those don't work for me. I get stressed out being restricted and it becomes unproductive. This is more of a guide/plan that focuses on eating more whole grains, vegetables and fruit. Limited processed foods, white sugar, white flour. And no dairy or meat.
I'm also drinking a spicy lemonade of sorts recommended by Isaac's mom's acupuncturist for a spring cleanse. It helps with detoxification and also keeps hunger at bay.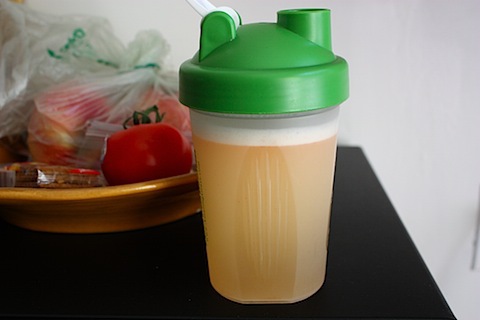 Although it may look like I had beer for breakfast, the mixture actually contains water, lemon juice, maple syrup, and cayenne pepper.
I got my day started with a 20 minute yogadownload video (instant relaxation!!) and consumed the lemonade and some grapes throughout the morning. Around lunch time I was quite hungry and came home for a big salad.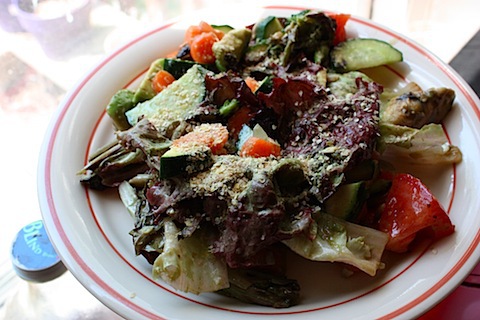 Post lunch I had another glass of lemonade, more grapes and banana.
And for dinner I roasted up some veggies using my standard roasting threesome – a little canola oil, sea salt, and ground pepper.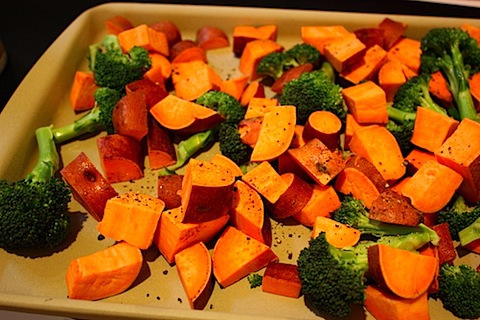 Alongside the veggies I served up a burger topped with avocado, salsa, and a lettuce bun. (Can you tell that I'm still in California mode?)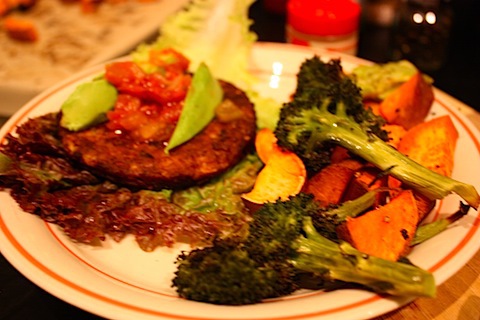 This dinner was awesome. And oh man…. the sweet potatoes were the sweetest sweet potatoes I've had in a long time. They tasted like I had put sugar on them. This proves my hypotheses that organic produce really does taste better.
To finish off a day of healthy eats I had a small treat- cinnamon puffins with almond milk.
I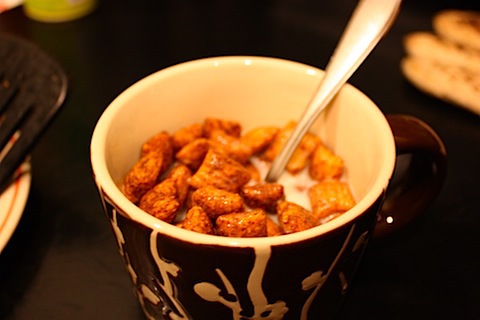 I know this isn't exactly the epitome of healthy eating but I enjoyed my little mug and I didn't go back for seconds. That's an achievement in of itself considering cereal is an easy thing for me to overdo it with.
So that's that. I'm committed to the challenge this time around and hope that it will help jump start my healthy eating. As always, I'll be sure to keep you all posted on how this challenge progresses. And, if you have any tips please feel free to share. I'm all ears.
Also, I have a TON of stuff I've been meaning to talk about on this little blog of mine but haven't got around to it yet. Hopefully over the next few weeks I'll have more time to write the posts I've been itching to share. And who knows, perhaps there will even be a giveaway in the near future!!
Have a lovely night my friends!
– Brittany