As you may or may not know, Isaac is Jewish. Although I am not, I like to participate in Jewish holidays with him and he participates in non-Jewish holidays with me. We're both open minded and happy to celebrate together so it actually works out quite nicely.
Passover started yesterday at sundown and this year, unlike years in the past where I've left Isaac on his own, I've decided to "keep passover" (in a very un-orthodox kind of way). For me this means avoiding any leavened products, including grains, bread, and cereal.
Imagine how sad I was last night when I found out that oats weren't kosher for passover. 🙁 I seriously reconsidered my decision after finding this pertinent information out, but then realized I had all the ingredients to make a Chocolate Cherry Bomb. With the breakfast issue solved I decided I should stick with it.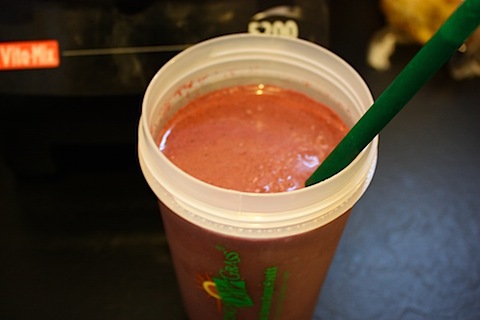 Yum – this smoothie is so good- even Starbuck's is trying to recreate it. Although, I must say Kristen's version is far superior.
For lunch, I packed a roasted veggie salad with roasted broccoli and butternut squash from last night, fresh shrooms, and rice shreds.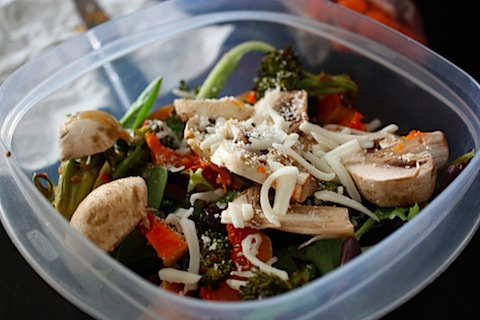 I also stopped by Starbuck's for an iced coffee with soy milk while on my lunch break. That's when I found out about the Chocolate Cherry recreation. 🙂
Anyhow, work went well and I headed home to find a nice little package waiting on my doorstep. I love it when that happens! MyBlogSpark sent me some spa like goodies- a robe, slippers, and body scrubbers, as well as, two coupons for Yoplait Greek Yogurt.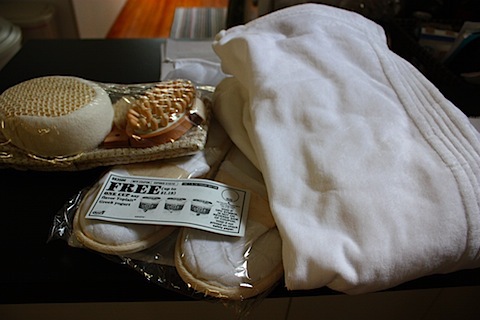 Like most other ladies, I love bath and body products, so receiving these items was exciting – I'll putting them to use ASAP. I'm also very fond of Greek Yogurt so I can't wait to try out Yoplait's new variety. If you're interested in trying it as well, I noticed that they are giving away coupons on their site right now!! It might be worth while to check that out if you get a chance.
For dinner we joined Isaac's family and a group of their friends for a Passover Seder.
25-30 people joined together to commemorate the emancipation of the Israelites from slavery in ancient Egypt.
Of course, there were seder plates – each including symbolic items: the shankbone, the egg, the bitter herbs, the charoset mixture, and the vegetable.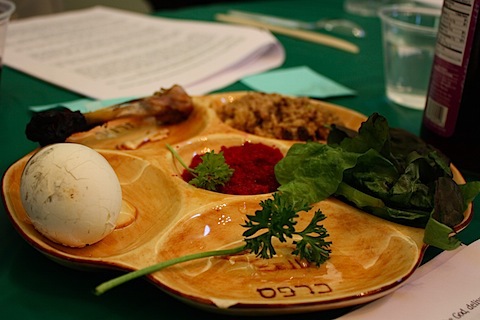 Some look a little different than others but they all symbolize the same things.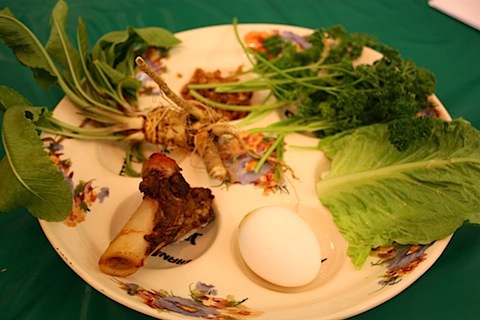 Want to know my two most favorite parts of Passover Seder (besides the four cups of wine)?
1.) Charoset: A sweet, brown, pebbly paste of fruits and nuts, representing the mortar used by the Jewish slaves to build the storehouses of Egypt.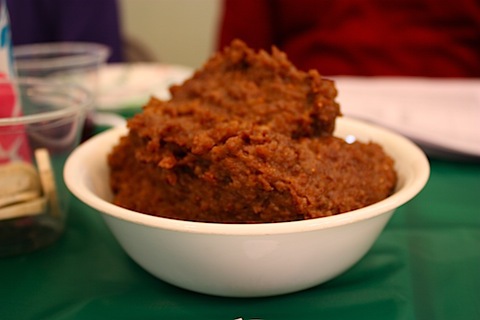 Fruit and nut spread- I'm all over it!!
2.) Matzah Ball Soup (a veggie version made with vegetable broth instead of chicken, of course)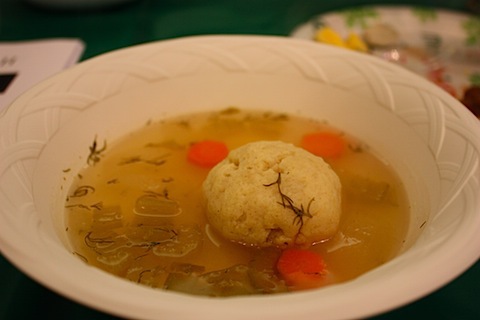 Dinner was potluck style and I had a bit of all the vegetarian options. This included several kugels (veggie, spinach, sweet), roasted broccoli and asparagus, salad, and two types of baked fruit and root veggies dishes.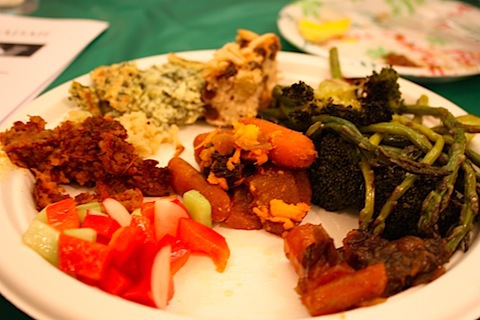 And for dessert I had some fruit, a bite of cheesecake with a coconut macaroon crust, and a passover lady finger.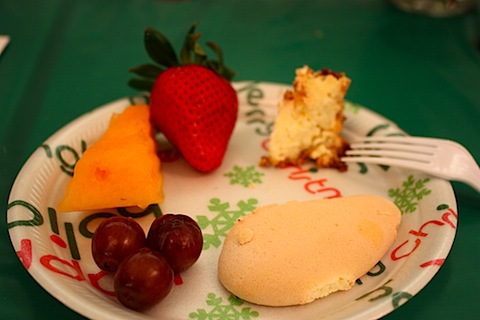 The finger wasn't so tasty so I didn't get that went back for more cheesecake. And when I say went back for more, what I really mean is that I stole cheesecake off of Isaac's plate. Does it make anyone else chuckle that we were using Christmas plates for Passover Seder dessert?
After dinner we finished up reading the remaining portions of the Haggadah and then headed home with full bellies. 'Twas a fun way to celebrate Passover with a great group of people!
Like I mentioned, I'm not Jewish, I just like celebrating along side Isaac. If I messed anything up in my descriptions please don't be offended, I'm just sharing a my experience. 🙂 I'm going to continue to keep passover with Isaac this week. Hopefully, I'll last for the duration of the holiday, but it might be a bit hard while traveling so we shall see.
Have you ever been to a Passover Seder or celebrated a religious holiday that isn't your religion? What was your experience like?
– Brittany