Today made me feel like a kid again! I took off work and went on a school field trip to Carter Mountain Orchard with Isaac and his class of 1st-5th graders as a chaperone.
The orchard is located right outside Charlottesville, so only about an hour from Richmond and the drive was beautiful because all the leaves are changing now.
The brisk temperatures this morning made it perfect for the mountain's famous hot apple cider donuts.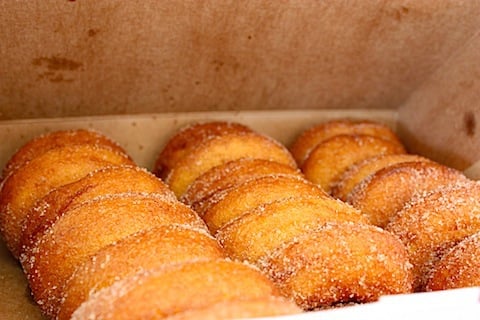 To be honest I don't really like donuts, but these smelled and looked way too good to resist. Plus they were warm and I was cold so I HAAAD to have one. I'm glad I tried one because it was amazingly delicious with its cakey dough and apple cider flavor. Who knows, it may have even inspired me to make Ashley's Gluten Free Apple Cider Donuts. 🙂
The kids took "apple school" and learned about the history of Carter Mountain and the tree life cycle then we journeyed up the mountain for apples. We were sent to the Fuji section for picking, which I was excited about because they're one of my favorites. Apparently this week the Fuji and Stayman apples are available for picking and next week Pinklady and Winesap will be available. I might need to go back next week because Pinklady is another one of my favorites. I don't think they grow Honeycrisp, but that's my all-time favorite apple variety. I like crisp, sweet apples and they're the best!
I took lots of photos of the kids having a blast picking apples straight from the trees, but I'm not going to post those to the blog because I don't have permission of the parents. So instead of cute kids picking apples, here's one of Isaac.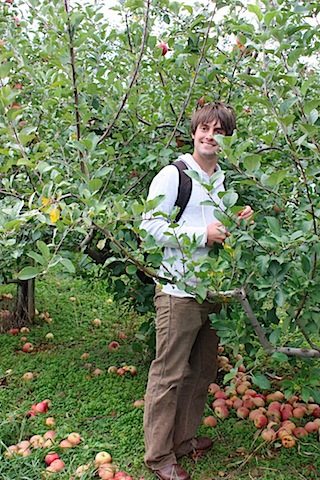 This was actually my first time seeing "Mr. Isaac" in action with the kids in his class. I knew he was great with children because we've been around little ones in social situations before but I now realize that he's an amazing teacher. I really admire what he does and now I can see why he comes home and wants to take a nap after school some days. Kids have so much energy and they keep you on your toes at all times.
I picked a few apples myself so now we have a backpack full of apples in our kitchen to put to good use. I'm thinking I might need to make cinnamon apple oatmeal, an apple pie or maybe another batch of healthy apple butter.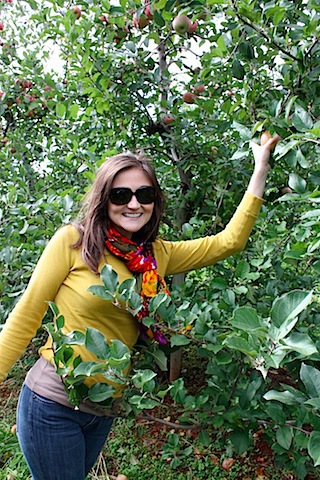 So tell me, did you ever go to an orchard for a school field trip? And more importantly, what's your favorite apple recipe?
In other news, if you're local to RVA I have some fun things to share: