This weekend was a blast. Not only did I get to celebrate Sydney's 21st b-day and eat delicious cupcakes, but I was also able to embark on a little canning adventure with some of my favorite local bloggers.
It all started on Saturday morning with a trip to the farmers market. Liz and I went together to scope out the produce and make an executive decision about what we were going to can.
Of course we had to stop by the cooking demonstration table – Chef Sam Baker had whipped up a delicious watermelon salad to sample and Lauren helps out at the demo table every week so we wanted to say hi to her as well.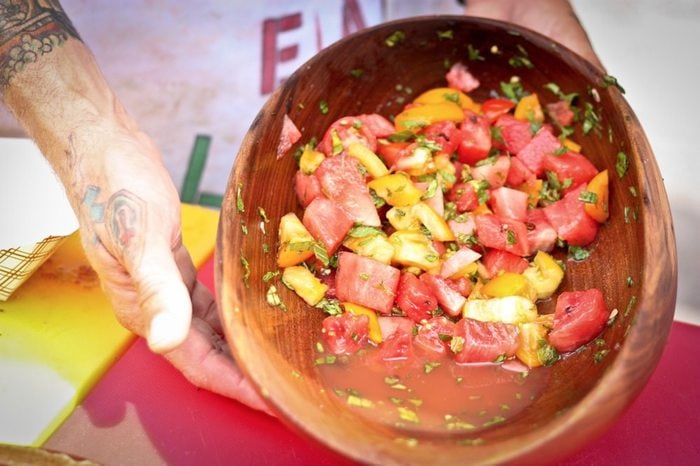 This was so good. I ended up buying a watermelon!
After perusing for a while, Liz and I decided on making salsa and bought up some perfectly ripe tomatoes.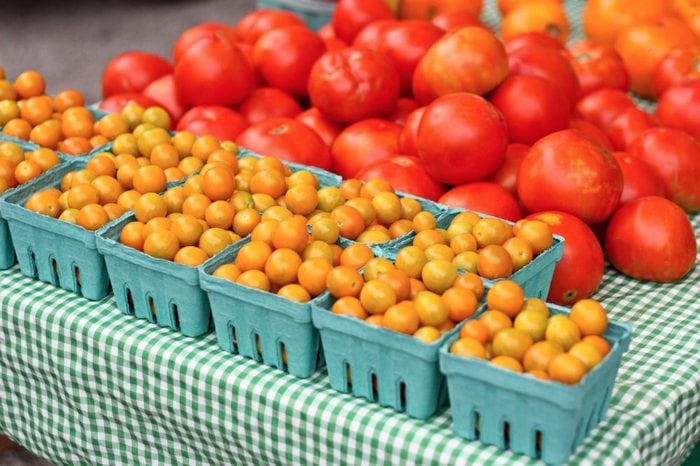 Liz also snagged a small butternut squash. <– Seeing these little guys made me so excited for the fall season. It will be here before we know it!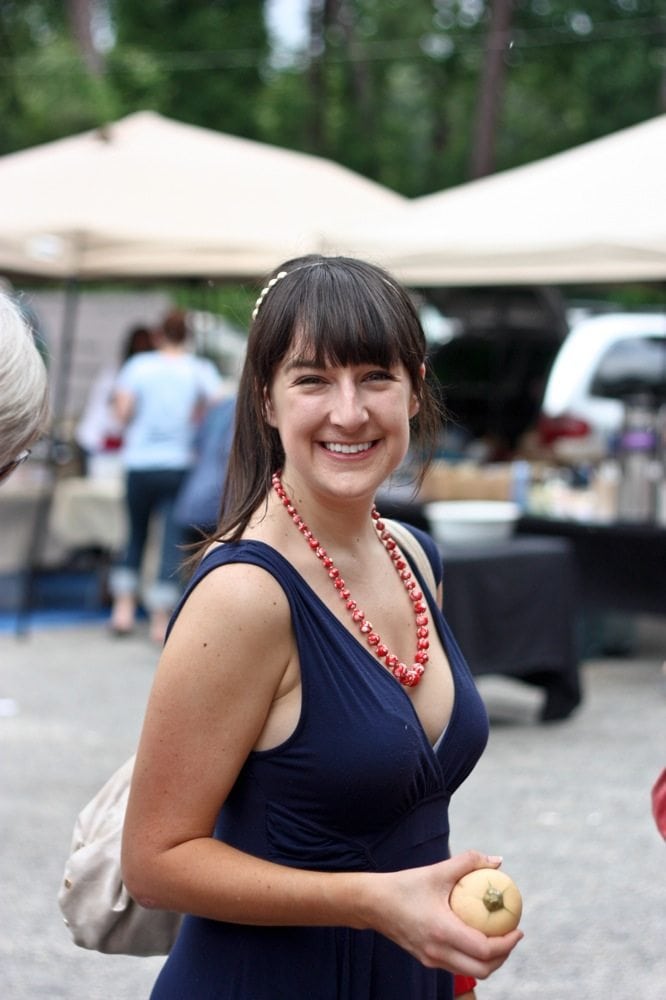 After the market, we decided we needed a little fuel before the canning began so we stopped by Fresca on Addison, one of my favorite vegetarian restaurants here in Richmond. I ordered my "regular" – the sushi sandwich on whole wheat pita with blanched veggies on the side.
It was lovely, per the usual.
After lunch, Liz and I went back to her place to get ready for a low key Can It Forward party with Lauren and Gabby. The folks at Ball graciously sent us materials to host the party, including a large waterbath canner, a home discovery canning kit, salsa mix and pectin. I've only canned once before (here's the post about that little adventure) so I let Gabby, who is a little more experienced, lead us in making a small batch of salsa. We went the easy route and used one of the Fiesta Salsa Mix packet from Ball. All we needed to buy were the 2 lbs of fresh tomatoes and vinegar (which Liz already had on hand).
The whole canning process wasn't too complicated. Here's how it went down…
Step 1: Prepare canner, jars, and lids according to manufacturer's instructions – we simply sanitized the jars by putting them in boiling water.
Step 2: Chop the tomatoes.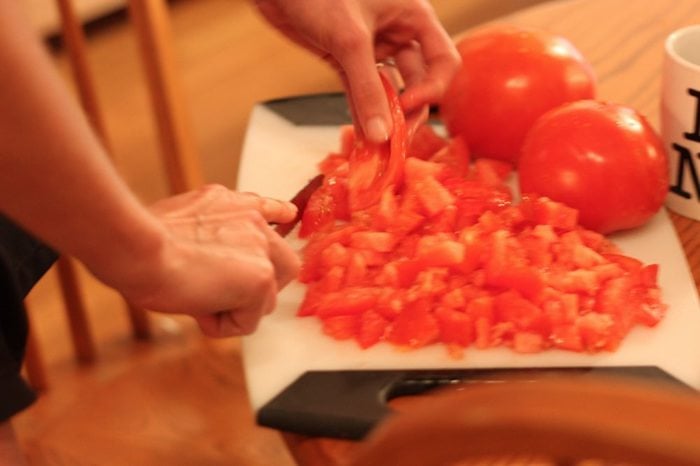 Step 3: Add the tomatoes, vinegar and contents of spice pouch in a large saucepan. Heat to a boil. Reduce heat and simmer 5 minutes.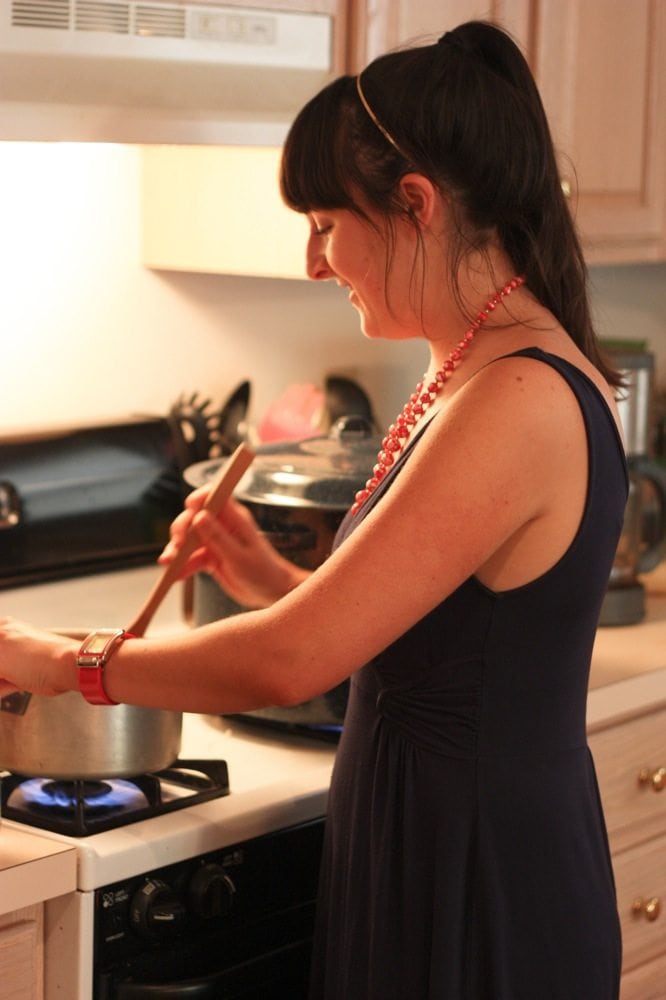 Step 4: Ladle hot salsa into jars leaving 1/2 inch headspace and remove air bubbles.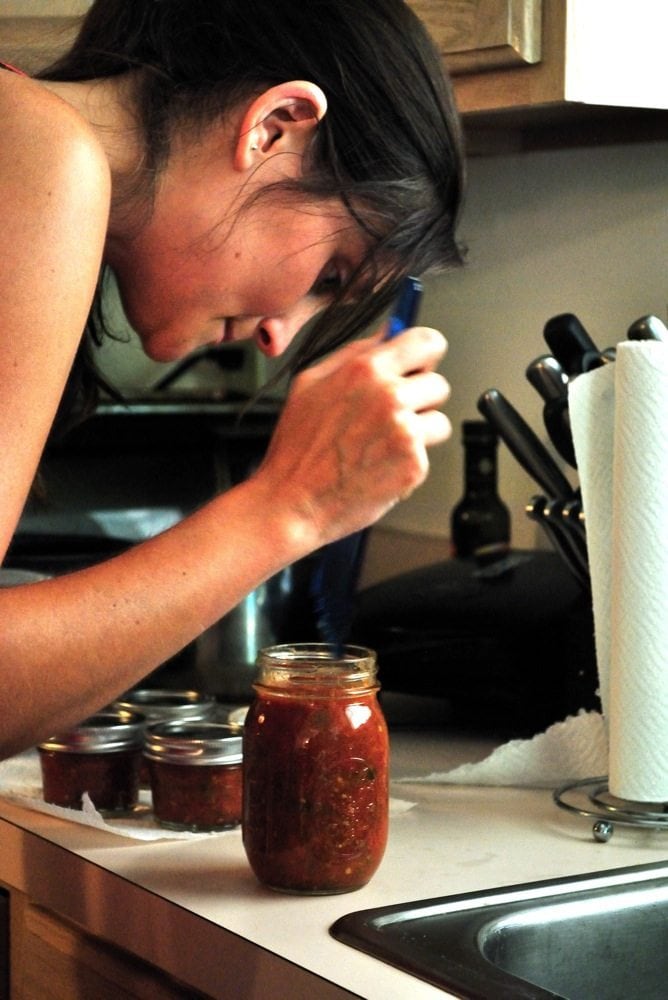 Step 5: Wipe rims. Center lids on jars. Apply bands and adjust to fingertip tight.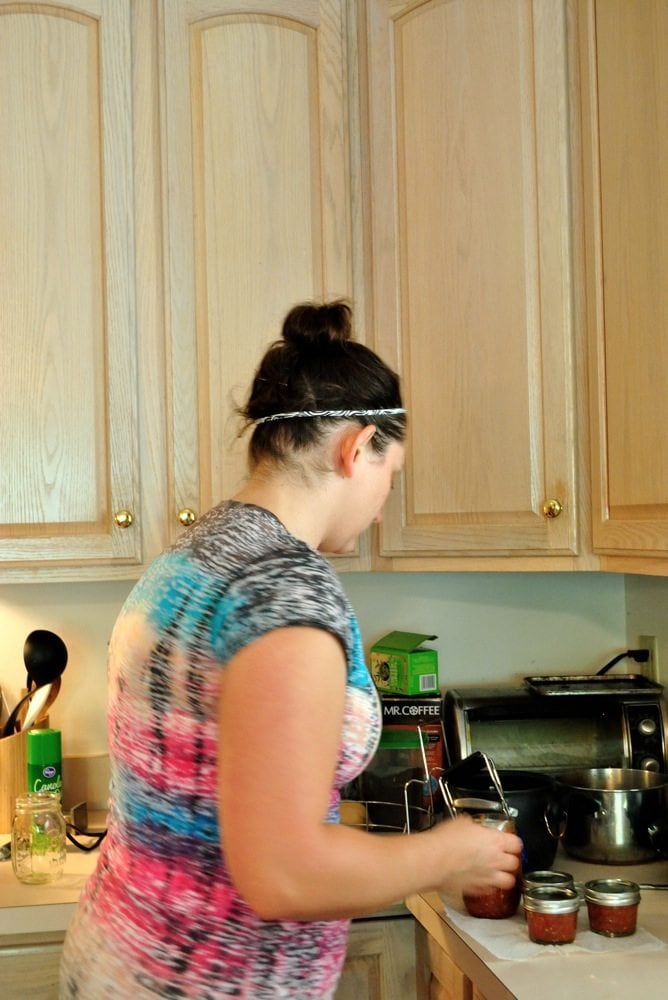 The two photos above were taken by Gabby.
Step 6: Process in boiling water canner for 35 minutes.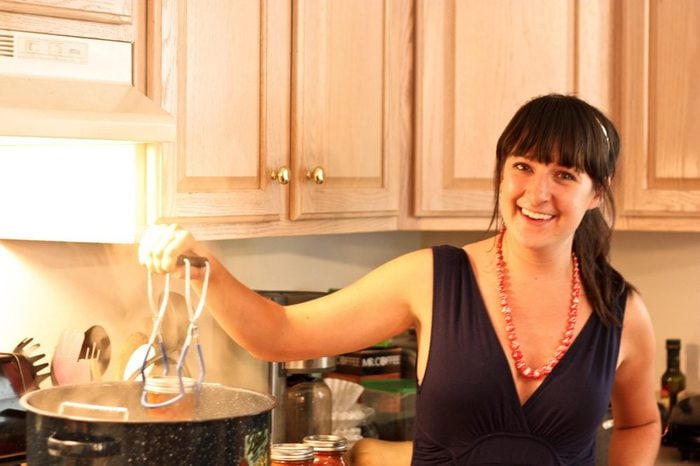 In they go!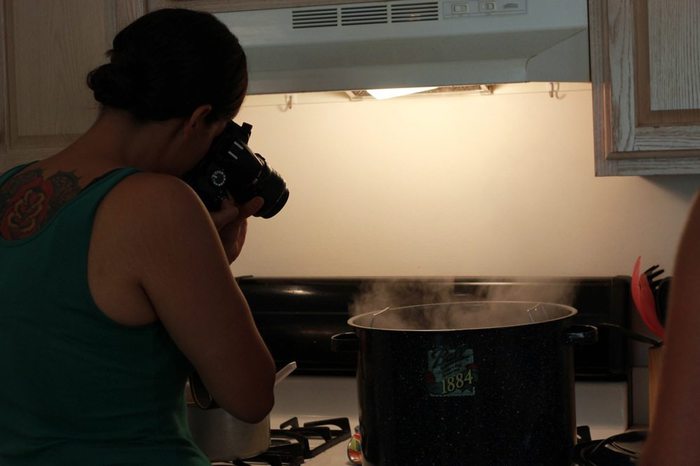 Photo courtesy of Liz.
We hung out and chatted it up while waiting for the salsa to process and before we knew it, it was time to take the jars out of the boiling water. We let the jars cool off and listened for the fun popping noise, which means that the vacuum effect has taken place which causes the lids to pop down and seal.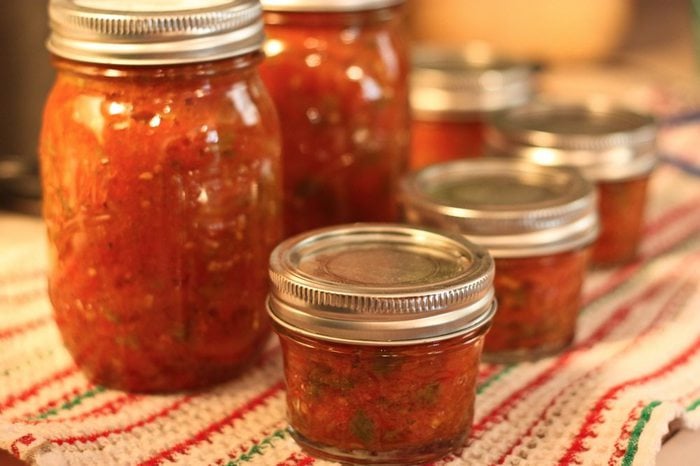 Ta-da! Canned salsa with local tomatoes. I'll let you know what it tastes like this winter. 😉
Overall, we had a blast preparing the salsa! It did take a little time and effort, but it definitely wasn't as difficult as I think many people think. Plus canning as a group was much more fun than canning alone! Next time I really want to make something sweet like jam. <– I really wish I could can strawberry chia seed jam.
Thanks for Ball for letting me host a fun little canning party! I'm currently obsessed with all things Ball jars:
For one, we're planning to decorate our wedding reception with blue ball glass jars so I'm on the hunt for those. Which speaking of wedding stuff, story I haven't done any updates. We're in the vendor stage which means we've been filling our evenings with vendor meetings – coordinators, florists, djs, etc. Oh, but there has been a BIG development… I found another dress I like more than the one I bought!! <– Yes, I know I shouldn't have went shopping more but I did. With that said I might be saying yes to a new dress and selling the one I purchased. Sooooo. If you know of anyone looking for a beautiful designer dress at an awesome price, feel free to email me. 🙂
Second, "Salads in a Jar" are chaining my life! Here's a little sneak peek…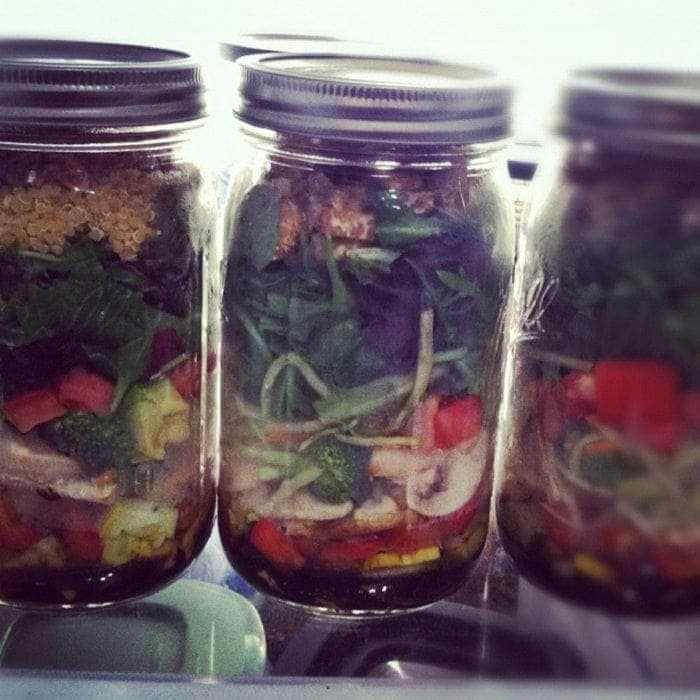 I'll be back soon with the full details on these awesome salads – including the recipes! Have a good night.