Vacation mode is officially over and I'm happy to say that I'm back to my old eating habits. Lots of whole foods have been on the menu as of late. I don't think I've eaten any packaged foods this week! I know we're only three days in, but that's definitely a success in my book. It's so easy to lean on convenience foods and even though I tend to stick with healthy options, the sodium and preservatives aren't so great.
I've actually had the same meals for lunch and dinner over the past two days. <– Not the same thing for all four meals, but the same thing for both lunches and both dinners. Each of two meals are super tasty and I've changed things up a tad so they haven't been boring. Plus, they have been nice and easy.
The lunch I've been loving is a bean burger collard wrap, which was inspired by the wraps in the Beach Babe edition of the Tone It Up nutrition plan.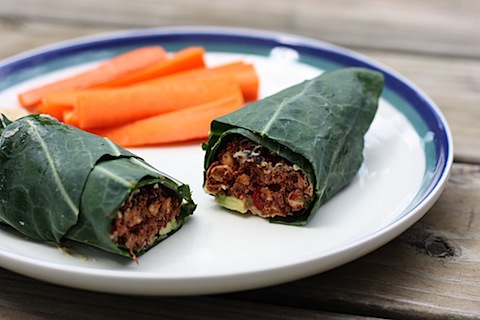 I used a left-over Mediterranean Bean Burger (recipe from LTEV), but you can use any homemade bean burger you'd like. I recommend these black bean burgers or these gluten-free sweet potato and black bean burgers. And, if you don't have time to make homemade burgers you can use a packaged variety. I'm a big fan of NoBull Burgers and Amy's Texas or California burgers.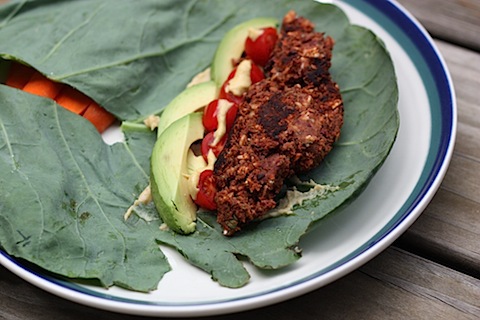 California Bean Burger Collard Wrap
Serves 1
With the fresh flavor and crunchy texture of this wrap, you won't miss the burger bun at all! And yes, I named these California Bean Burgers because of the avocado. Sue me. 😉
Ingredients
1 collard green leaf
1 homemade bean burger
1-2 teaspoons hummus
1/4 of an avocado, sliced
sliced tomatoes
squirt of dijon mustard (or ketchup)
pepper
Preparation
De-stem your collard leaf. I used a paring knife and cut out the large stem, but I've learned through googling that you can easily shave down the stem rather than cutting it out completely.
Place the leaf on a flat surface, fill with remaining ingredients and wrap up like a burrito.
Cut the wrap in half and enjoy.
Have a lovely Wednesday and enjoy Modern Family tonight, if you're a fan. A little secret – I still love the show, but lately New Girl has been creeping up on the list of my favorite shows. Tonight's Mod Fam better be good or else New Girl might become number one. 🙂
This post may include affiliate links. Thank you for your support.