Happy Monday night friends. I hope your weekend was nice and relaxing. We didn't have any major plans and it was really cold out so I spent most of the weekend inside — cooking, doing a bit of cleaning and some wedding planning.
Saturday was fun though! Isaac and I went to the gym first thing and then my friend Michelle and I got together for lunch plus a yorkie playdate with Olive and her pup, Maxwell.
Olive and Max are both yorkies. They look like brother and sister (Olive's hair is a little shaggy right now so they don't look as similar as they could). They also make the exact same noises — growls, barks, etc. There were several times where Michelle and I couldn't tell which one was barking.
Too much cuteness to handle…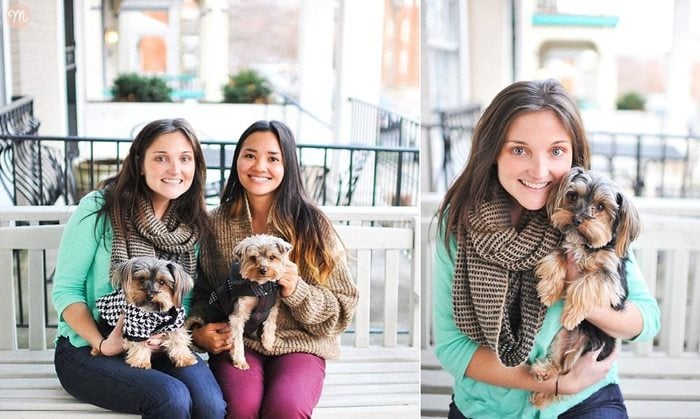 Thanks goes to Michelle for the awesome picts.
Saturday afternoon Isaac and I ventured out to look at wedding bands and then met some friends at Mekong (Isaac's favorite spot) for dinner and a few drinks. <– Mekong has an amazing beer selection but I stuck with water and tea since I'm still doing the Conscious Cleanse.
Sunday was pretty lazy an I spent a good amount of time inside prepping for the week, although I did go out later in the evening for a vinyasa flow class. I hadn't been to a yoga class since my knee injury and it felt ahh-maz-ing. Definitely need to get my om on more often.
While tinkering around the house on Sunday before yoga, I whipped up a quick salad with ingredients from my Relay Foods Virginia's Bounty Basket. Relay offers a bounty basket with local produce that changes week to week based on what's in season in Virginia. This week's basket included sweet potatoes, regular potatoes, spaghetti squash, butternut squash, carrots, apples and a head of cabbage. Quite a nice spread!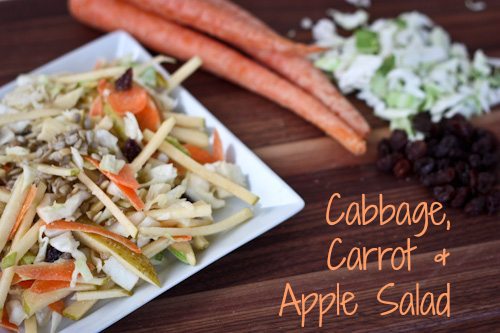 I wanted to include quite a few of the ingredients so I put together a simple, raw salad with the cabbage, carrots and apples (which were super crunchy and sweet — just the way I like them). I added a tahini dressing and topped it off with sunflower seeds and raisins. Easy and super delicious!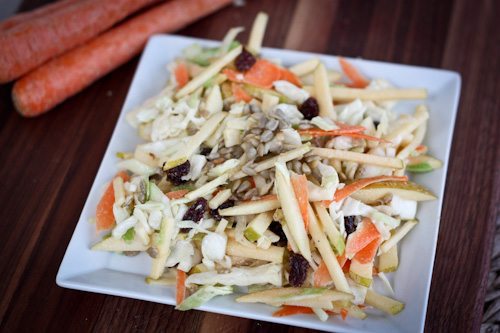 I always forget how good cabbage is.
Of course I had to taste the salad, but I tried not to eat too much because although the salad is composed of all Conscious Cleanse approved foods, it doesn't follow the food combining rules the plan recommends. Let's just say that it was very hard not to go back for seconds. I think you're going to like it! 🙂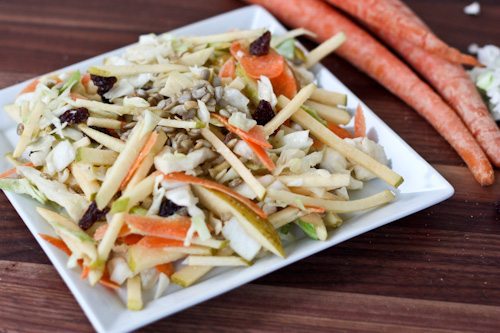 Print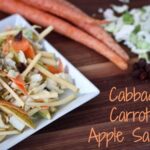 Cabbage, Carrot and Apple Salad
Prep Time:

15 mins

Total Time:

15 mins

Yield:

6
---
Ingredients
1/2 medium head of cabbage, chopped and shredded into bite size pieces (about 5-6 cups)
2 crunchy and sweet apples (I love Honeycrisp and Pink Lady), chopped into thin strips
2 carrots, shredded
1/3 cup roasted, unsalted sunflower seeds
1/4 cup raisins
Tahini Dressing
1/4 cup tahini
3 Tablespoons apple cider vinegar
2 Tablespoons olive oil
1 Tablespoon nutritional yeast
1 tsp seat salt
1 tsp ground pepper
3 Tablespoons water, or more if needed to thin out the dressing
---
Instructions
Prepare the dressing: in a food processor, add all ingredients and process until smooth.
Toss the cabbage, apples, carrots, sunflower seeds and raisins with the dressing. Serve and enjoy.