Isaac and I officially tied the knot! Saturday was the best day of our lives and far more beautiful than we could have ever imagined — even in our wildest dreams. If I had to describe the night in one word, it would be, magical. The weather was absolutely gorgeous, the venue was in full bloom and we were surrounded by our loving friends and family. We seriously couldn't have asked for anything more. I could go on and on (and I will in my full recap) but for now I'm going to enjoy the sunshine of St. Croix with my husband. (Ohmigosh, I have a husband.) <– Added that in just in case you were wondering what went through my head as I typed that last sentence.
While we're honeymooning, I'll be taking a break from blogging but I have several blog posts to share from some of my favorite bloggers. Today's post is from Kelly of Eat Yourself Skinny. I'm not quite sure how I didn't stumble upon her blog sooner, but for some reason I just found her this year (via Instagram, actually). Needless to say, I'm already in love with her blog — she's a girl after my own heart with a passion for eating healthy. She shares delicious recipes with gorgeous photos over on her blog all the time and I'm honored to have her here today to share one with us. So without further ado, here's Kelly.
—
Hello there lovely readers of Eating Bird Food! I'm Kelly, the writer behind the blog Eat Yourself Skinny, a healthy recipe blog showcasing my favorite dishes, blooming photography as well as little glimpses into my somewhat hectic (yet enjoyable!) life. I can't begin to tell you how excited I was to receive a message from Miss Brittany inviting me to guest post while she is away celebrating her big day! Being an avid follower of Eating Bird Food for quite some time now, I knew we sure had a lot in common and quickly came to find that she is truly just as sweet as her blog illustrates!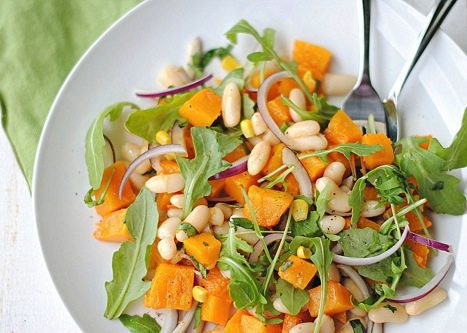 Ok so I must admit, one of my absolute favorite things to do during the summer on weekends, other than the pool of course, is spending the morning strolling through my local farmer's market. I just swoon over the smell of fresh flowers and all the colorful baskets full of local produce – it is definitely one of the highlights of my weekend. This recipe was born after one of these so-called trips and the ingredients came together just beautifully!
The balsamic vinaigrette tasted incredible with this too and one I love to make all on its own. Whisk together and store in an airtight jar in the fridge and you can enjoy many salads with it!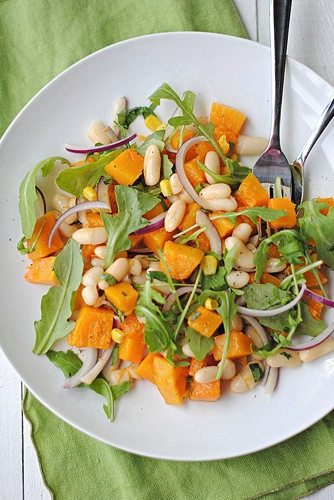 Butternut Squash & Arugula Salad
Ingredients
2

lb. butternut squash

1

Tbsp olive oil

1

(15.5 oz) can cannellini beans, drained and rinsed

2

cups fresh corn kernels

1/2

small red onion, sliced

1/2

cup chopped fresh basil

3

cups arugula
Balsamic Vinaigrette
2

Tbsp balsamic vinegar

1/4

cup olive oil

1

large shallot, minced

1

tsp. garlic, minced

1

packet Stevia

1/4

tsp. salt

1/4

tsp. black pepper
Instructions
Preheat oven to 400 degrees F. Peel and seed the butternut squash and cut it into ¾-inch cubes.
Toss squash with olive oil and place in a single layer on an aluminum foil-lined cookie sheet.
Bake 20 minutes, turning squash about 10 minutes in. Cook until tender and allow to cool completely, about another 20 minutes.
Meanwhile for the balsamic vinaigrette, whisk together balsamic vinegar, shallot, garlic, Stevia, salt and pepper.
Gradually add olive oil in a slow, steady stream, whisking until blended.
Once squash has cooled, toss together with cannellini beans, corn, red onion, basil and balsamic vinaigrette in a large bowl and chill, covered, for 2 to 4 hours. Toss with arugula just before serving, enjoy!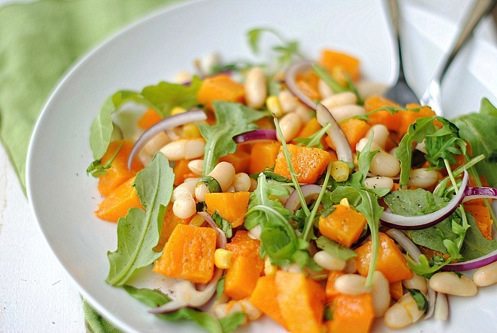 Thank you again Brittany or inviting me to guest post on your fabulous blog! Congratulations on your wedding, I know you'll just be the most beautiful bride!If you're interested in more healthy recipes, feel free to check out my
blog or simply stop by and say hello!