Hi there! First thing first, I can't believe that tomorrow is Halloween! Are you dressing up? Handing out candy? Going to a party? I think we'll be doing all three.
I'm actually pretty excited about it this year because for the first time ever, Isaac and I doing a couples costume. We don't usually get this into costuming but for some reason we're really into it — we went thrift store shopping last weekend and ordered a bunch of supplies online. So long as my dress gets here in time, we'll be going as Sam and Suzy from Moonrise Kingdom. Oh, and I'm also dressing up for Pure Barre class tomorrow, but probably in a different costume since wearing a dress to class doesn't seem very practical. My studio is having a Glow & Tuck party with black lights and glow sticks. I'm pumped!
Okay so back to the topic at hand…
Remember my trip to Washington state to visit the original farm where the Cascadian Farm brand got started? One big thing we talked about while touring the farm was bees. Yes, bees. They were a big topic while I was in California visiting the almond orchard as well. These little guys have created quite a buzz. The reason? One-third of everything that Americans eat depends on the pollination of bees and other pollinators!
In the United States alone, over one hundred crops need or benefit from bees. We have bees to thank for coffee, chocolate, almonds, tomatoes, blueberries, squash, broccoli and more. Bees are also vital to clover and alfalfa: two crops that feed cattle and other grazing animals.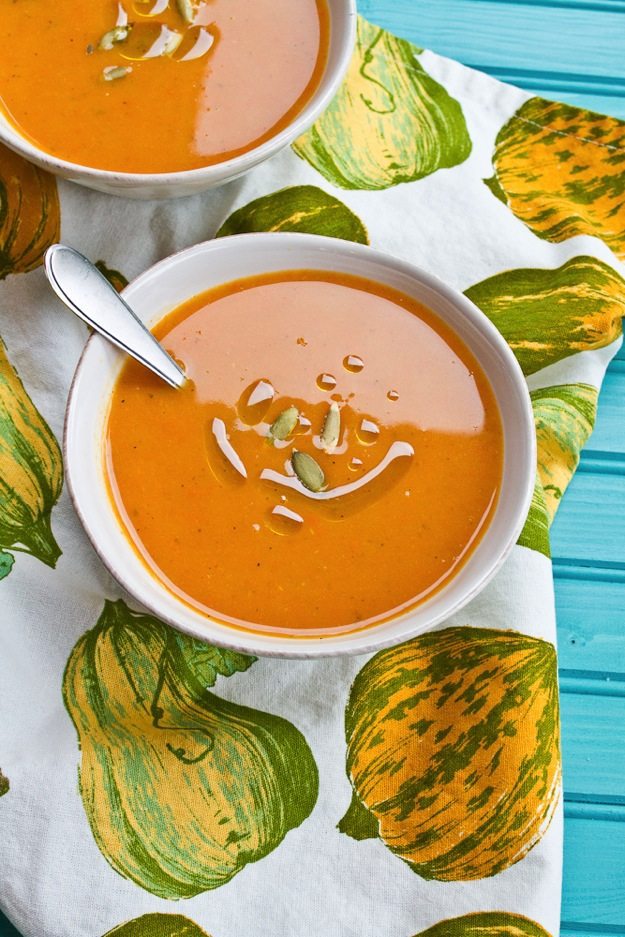 So we get that bees are important, but the real issue is that our bees are disappearing. I'm sure most of you have heard about bee colony loss in the news, right? As the article states, no one truly knows the exact cause, though scientists believe there are several factors causing bees to disappear:
Exposure to pesticides
Hive management practices
Invasive parasitic mites
A new virus
An inadequate food supply
Scientists and researchers all over the country are trying to find solutions, and many companies are getting involved as well. Cascadian Farm has launched its Bee Friendlier campaign to spread the word about bee colony loss, how the issue impacts us all and inspire people to take small steps that have a positive impact on bee health. As part of this campaign, Cascadian Farm "flower bombed" an area in Yolo County, California with thousands of wildflower seed balls (Seedles). The video is really well done and is worth watching if you have a minute — you can find it here.
As a lover of fresh, wholesome food this issue is one that hits close to home. I'm teaming up with Cascadian Farm to help spread the word about their Bee Friendlier campaign by creating a recipe with a produce item that requires bee pollination. There were a ton of items to choose from, but since it's fall I went with winter squash and created a tasty soup recipe to share with you.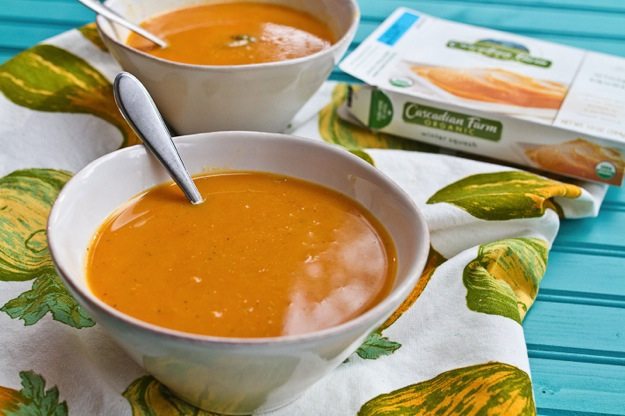 If you're interested in getting involved with the campaign as well, check out the Bee Friendlier website and learn more about easy ways to help including planting bee friendlier native wildflowers, supporting organic agriculture and avoiding pesticides. We shop organic whenever possible and I've already talked to Isaac about planting some wildflowers in our backyard this fall! It's such an easy (and pretty way) to help out.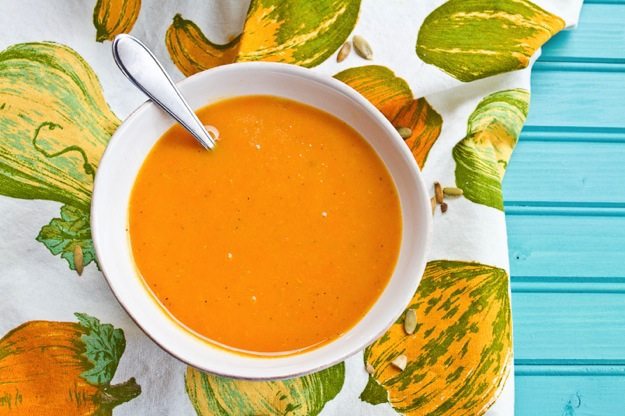 As for the soup, it's absolutely delicious and perfect for fall. If a bowl of orange soup doesn't scream fall, I don't know what does. 😉
The thai red curry gives it a bit of spice, while the winter squash, apple and carrots add a hint of sweetness. It's pretty light which makes it great to serve as a starter or side dish. We paired it with baked salmon last night for dinner and it was scrumptious.
Print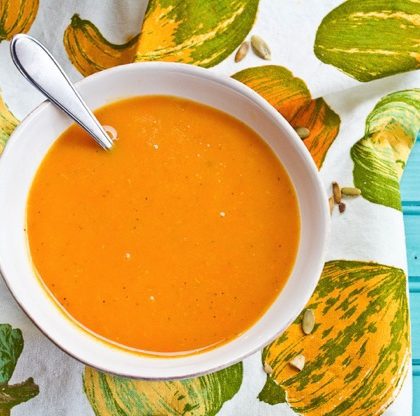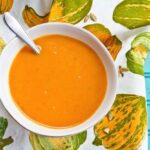 Winter Squash and Apple Soup
---
Scale
Ingredients
2 teaspoon

s coconut oil

1

apple, peeled and chopped

1

yellow onion, chopped

5

carrots, peeled and chopped

2

stalks of celery, chopped

2 teaspoon

s thai red curry paste

2

boxes (10 oz each) Cascadian Farm winter squash

1/2 Tablespoon

fresh sage, chopped

4 cup

s low sodium vegetable broth

2 cup

s water

1/2 teaspoon

black pepper
---
Instructions
Melt coconut oil in a large (4-quart) saucepan over medium heat. Add apple, onion, carrots and celery to the pan. Cook, stirring occasionally, until everything begins to soften, about 7 minutes. Add curry paste and cook another minute, stirring constantly.
Add winter squash, sage, vegetable broth and water to the pot. Bring to a boil. Reduce to a simmer, and cook until vegetables are very soft, about 40 minutes.
Use an immersion blender to puree soup to a smooth consistency. If you do not have an immersion blender you can transfer the soup in batches to a blender or food processor

(affiliate link)

and blend until smooth. This method will require a bit of cooling time and caution. If you let the soup cool down before blending, place it back on the stove on low heat for a few minutes to warm it up before serving.
To serve, ladle into bowls; sprinkle on a few pumpkin seeds and drizzle with a little olive oil if desired.
---
---
Notes
If you can't find Cascadian Farm Frozen Winter Squash, you can use 4 cups of peeled and cubed butternut squash, fresh or frozen. Add it in at the same time as the broth and water.
---
Nutrition
Serving Size:

1 bowl

Calories:

163

Sugar:

17g

Fat:

3g

Carbohydrates:

32g

Fiber:

7g

Protein:

4g
Last but not least, I'm also hosting a Cascadian Farm Bee-Friendlier giveaway. One lucky EBF reader will win the following: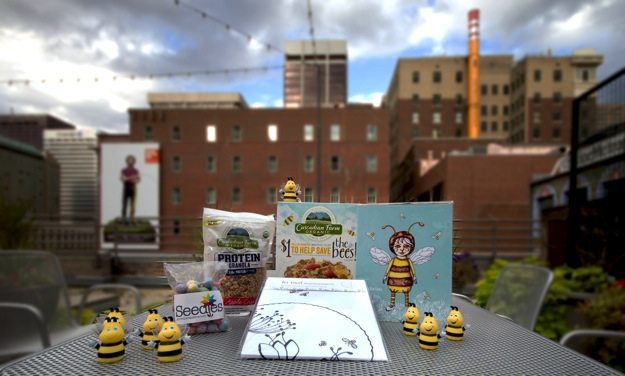 Cascadian Farm Buzz Crunch Honey Almond Cereal
Cascadian Farm Protein Granola (Apple Crisp or Dark Chocolate)
One package of Seedles so that you can plant your own wildflowers
Bee finger puppets
Save the Bees tea towel
Save the Bees art print
This post is sponsored by Cascadian Farm, but as always opinions are my own. Giveaway is open to US residents only.