Brown Rice Breakfast Porridge
24
Published Mar 12, 2011, Updated May 31, 2020
Morning and happy Saturday to you!
What do you have planned for today? I'm headed to meet a workout buddy at the gym, check out the J CREW bridal warehouse sale and then going to Northern VA for a bachelorette party. I'm quite certain it's going to be a fun day full of shenanigans. And, just in case you're wondering, I'm going to the bridal warehouse sale to look for dresses to wear to other people's weddings, not my own. Still waiting on that one…
So here's the important issue at hand – a delicious breakfast recipe I created this morning with left over brown rice and a banana. It's ridiculously delicious!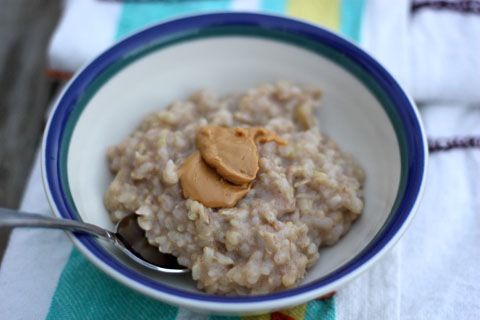 Brown Rice Breakfast Bowl
1/2 cup cooked short grain brown rice
1 T rolled oats
1/4 cup unsweetened almond milk
1/8 cup water
1/2 ripe banana, sliced
1/2 t vanilla
shake of cinnamon
Place all ingredients in a small pot on medium heat. Heat for 8-10 minutes while stirring frequently until most of the liquid is absorbed and the mixture becomes creamy. Serve with nut butter or nuts.
Brown rice might not be as voluminous as a big bowl of oats, but it's creamy, extra chewy and has a nice sweet flavor that pairs well with the banana and almond milk. It's also quite filling – just ask my little owl friend above who has a big belly full of it. 🙂
If you're looking to switch up your breakfast (or to use up left over brown rice), I highly recommend trying this brown rice breakfast bowl.