Hi friends. I hope you enjoyed the guest posts last week. I know I did! I was very thankful to have such talented women volunteer their work for me to post here while I was taking time to cope and be with my family. It was definitely a relief.
Today I'm back and ready for some EBF breakfast action. I've missed you guys.
Over the past week I've been collecting a few breakfast recipes that I'd like to share with you so I figured it would be fun to put them all into one post.
First up a new overnight oats combo that includes the chewiness of coconut and a flavor that takes you to the tropics…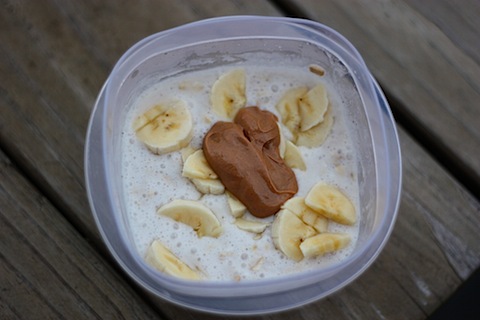 [print_this]
Tropical Overnight Oats
1/2 cup oatmeal (old fashioned oats)
1/2 cup unsweetened vanilla almond milk
1 Tbsp of coconut chips/flakes
1/2 tsp cinnamon
1/2 tsp vanilla extract
Toppings
1/2 medium banana, sliced
1 Tbsp nut butter of choice
Preparation
Put the oats, milk, coconut, cinnamon and vanilla into tupperware container, mix them together, cover the bowl and put it in the fridge for the night.
The next morning add a little almond milk if the mixture is too dry and top the oats with your toppings of choice. Enjoy!
[/print_this]
And then there's Berry Flax Hot Cereal with mixed frozen berries, quinoa and ground flax seeds. This breakfast was a nice change of pace from my hot oatmeal or overnight oats. I really liked the addition of flaxseed and berries.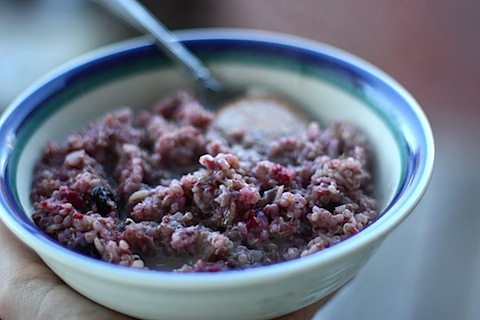 [print_this]
Berry Flax Hot Cereal
Adapted from Quinoa 365
2/3 cup water
3 Tbsp quinoa
2 Tbsp old fashioned rolled oats
1 tsp maple syrup
1 1/2 tsp flaxseed, ground**
2 Tbsp berries, fresh or frozen and thawed (I used TJ's frozen Very Cherry Berry Blend)
Almond Milk, to taste
Preparation
Place the water and quinoa in a small saucepan, bring to boil and cover. Reduce to a simmer and cook for 7 minutes.
Stir in the oats, cover and continue to cook for another 5 minutes, until the oats are tender.
Remove from the heat. Stir in the maple syrup and flax.
Fold in the berries and top with a small pour of almond milk.
Serve and enjoy!
[/print_this]
**Note- Flaxseeds become rancid quickly and lose their nutritional value once they are ground. It's more economical to buy whole flaxseeds and grind them yourself (I use a coffee bean grinder). If you have leftover ground flaxseed, store it in the freezer in an air tight container and use it within 2 weeks.
Last but not least, yesterday I spotted a recipe for an Oatmeal Cookie Smoothie over at Vegan Culinary Crusade. Oatmeal raisin cookies are my favorite so I quickly bookmarked the recipe and less than 24 hours later I was enjoying it for breakfast. 🙂
I didn't have a few of the ingredients so I made some modifications.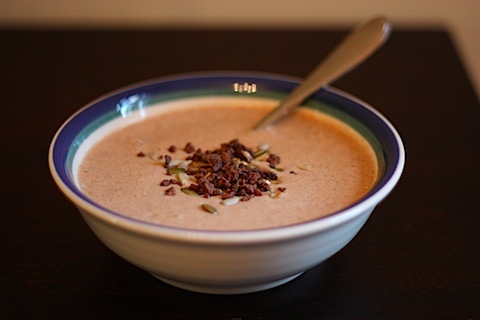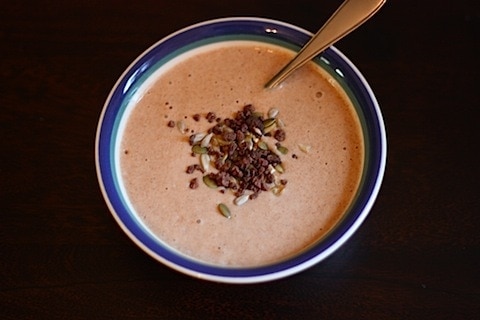 [print_this]
Cinnamon Oatmeal Cookie Smoothie
Adapted from Vegan Culinary Crusade
1/2 Tbsp coconut oil
3 T old fashioned rolled oats
1 tsp cinnamon
1/4 tsp ground ginger
1/4 tsp nutmeg
1/2 tsp vanilla bean paste
3/4 cup unsweetened vanilla almond milk
1 banana, peeled and frozen (note- do not freeze bananas in the peel!)
Preparation
Combine the oil, oats, spices, and milk in a bowl and let it sit for about in hour in the fridge to soften up.
Place the mixture and frozen banana in a high powered blender and blend until smooth.
Pour into a glass or bowl (depending on whether you want to use a spoon or straw) and top with dried fruit, nuts or other toppings.
I topped today's version with cacao nibs and trail mix remnants.
[/print_this]
This smoothie was delicious and definitely made me feel like I was having dessert for breakfast. 🙂
Hopefully you will like these recipes and please let me know if you end up giving any a try!
Enjoy the rest of your Sunday. I'm quite certain mine is going to taken over by football. Speaking of which, guess who came in 2nd place in their first ever fantasy league? This girl, oh yea!