Our weekend in Boston was a blast! We enjoyed hanging out in the city, eating delicious food and celebrating the marriage of two friends.
The hotel we stayed at was in Back Bay, right in front of Copley Plaza. Soon after we settled into our room on Friday morning we noticed a farmers market was set up outside on the plaza. Of course we had to check it out.
All the produce was beautiful. I purchased two apples and Isaac bought three homemade cookies. Typical.
It was gorgeous day so after buying a few things from the market, we took advantage of the nice weather and explored Back Bay. We did some shopping on Newbury St. and had lunch at a cute little sushi place called Snappy Sushi.
I had the Snappy's Triple lunch special with tuna, salmon, avocado, and cucumber wrapped in a soy sheet, served with mixed greens and seaweed salad. Everything was super fresh!
The best part, which I didn't realize until our sushi arrived, was that they only use brown rice at Snappy Sushi! Definitely got a little excited when I realized that. 😉
I couldn't get enough of the seaweed salad. So good.
Isaac had the Boston Lobster Roll – avocado, cucumber, and green leaf rolled together, and dressed with chopped lobster meat mixed with red onion and flying fish roe in wasabi-butter sauce. I had a bite and it was pretty amazing.
After lunch Isaac met up with some guy friends who were in town for the wedding and I went on a little journey to meet up Sarah. She showed me around South End, including a cute little cafe called South End Buttery. It looked as though they had delicious food but we just ordered iced teas to sip while we chatted.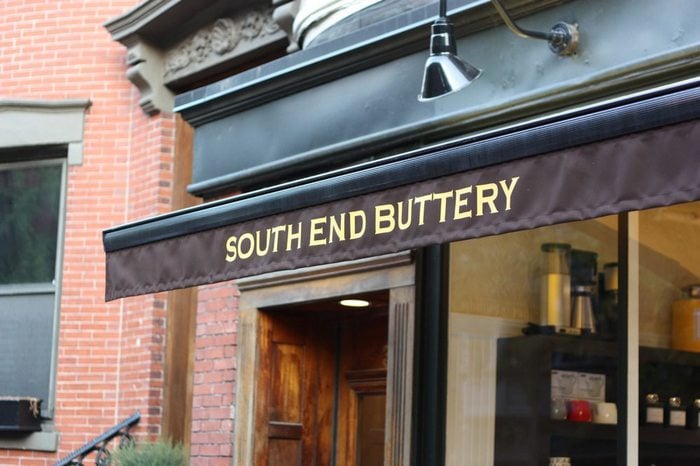 I asked one of the bellmen at my hotel if he could take a picture of us. He said yes but then insisted that we take one with the hotel sign… so here's what we got.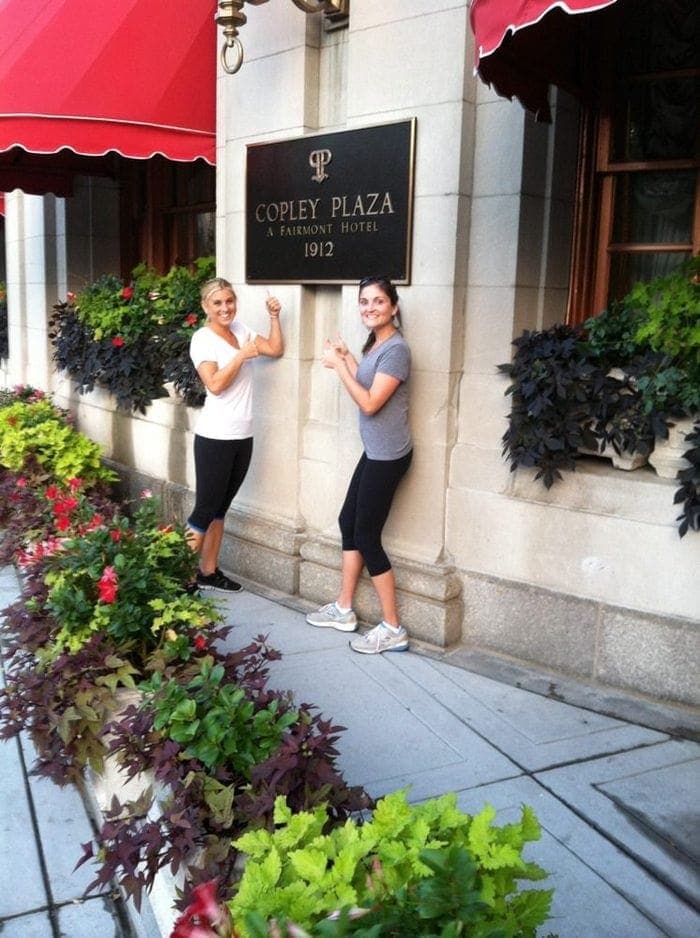 I'll take it!
Friday evening we went to a cocktail party "toast" for the bride and groom at The Forum. The party was just drinks and dessert, but I hadn't eaten dinner so I ordered a grilled shrimp salad.
It was a little awkward eating a salad in the corner of the party but I'm so happy I did because it was one of tastiest salads I've ever eaten. It was a jicama, avocado and mango salad topped with grilled shrimp and chimichurri dressing. I was impressed. I'm already thinking about recreating it at home soon!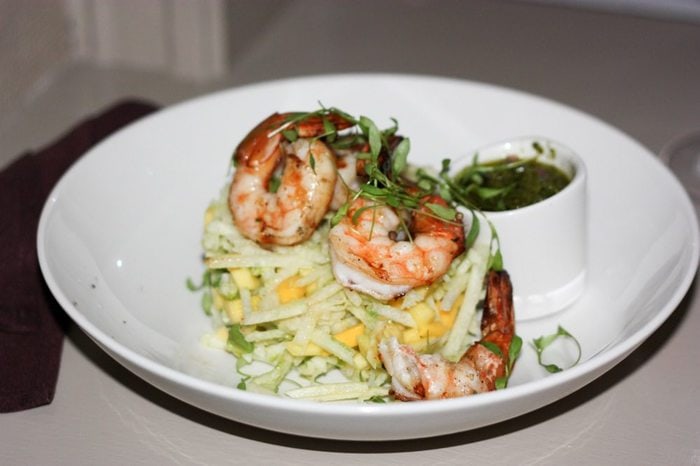 After a late night celebrating on Friday, we slept in a bit on Saturday morning. I coaxed Isaac into walking about a mile with me to a nearby Whole Foods. I wanted something healthy for breakfast, plus I like to visit Whole Foods in the all the cities I visit. They're all a little bit different and it's fun to see what local products they carry. We just hung out the rest of the day – the guys went to a few bars and the girls got ready for the wedding.
The wedding was one of most beautiful weddings I've ever been to! It was at the Tower Hill Botanical Garden in Boylston, MA. The ceremony was untraditional, creative, heartfelt and had a vegetable theme that I absolutely adored.  Both the bride and groom are writers so their vows were amazing – I'm pretty sure there wasn't a dry eye in the garden during that part of the evening. The reception was just as gorgeous and the food, which was served family-style, was incredible – everyone at the table commented on the fact that it was the best wedding food ever. Pretzel bread, artisan pizzas, butternut squash risotto and a huge platter of roasted veggies – enough said!
I don't have any photos to share from the evening because the bride and groom requested for guests not to take photos with their phones or bring cameras. I have never been to a wedding with this request before so it felt different but it was also kind of nice. I'm not 100% sure why the bride and groom made this request. There were a few famous people in attendance so perhaps that was a reasoning behind it, but I've seen the idea of having an unplugged wedding on several of the wedding forums/websites lately.
I think it would make me pretty sad to look out at the crowd on my wedding day and see that half of the people in attendance were looking at their phones or busily fiddling with cameras. I love technology/social media but I still think it's important to put those things aside during special moments such as a wedding. Plus, there are some benefits of only having your professional photographer take photos at the wedding. For one, the bride and groom won't be tagged in bad quality cell-phone photos on Facebook and the photographer's shots won't be ruined by flashes from other cameras or a sea of guests trying to snap photos. Then again, I can see the other side of things because I enjoy taking photos at weddings – it's nice to have my own photos to remember the event. Isaac and I talked a little about the idea of having an unplugged wedding but haven't fully decided what we're going to do.
What do you all think? Have you ever been to a unplugged wedding? What about a wedding that embraced technology in a fun way – for instance, having guest use an app like Appy Couple?