Wow! It was beautiful here this weekend. I'm so ready for more sunshine – I really hope it wasn't just a tease. Anyone else feel me? I know these girls loved basking in the sun today, just like two little lizards.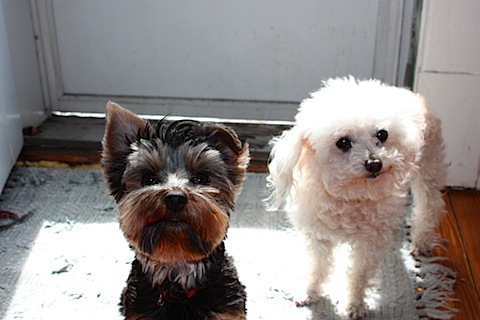 Olive had a friend staying over for the weekend – meet Sabra, Isaac's family's dog. They're a riot together – Olive's still a pup so she pesters Sabra to play all day long. Sabra's an old woman and just wants to sleep.
After waking at 7AM I decided to be productive and headed to the gym and grocery store. I was going to eat breakfast when I got home, but once my feet hit the floor I realized I was hungry so I had a toasted Sandwich Round with homemade apple butter. I ate that up and then headed out the door. 40 minutes on the stationary bike while reading The Help, shopping at Ellwoods and Kroger, and a little core conditioning were all done before 10AM! I had a few samples at Ellwoods and grabbed a coffee with soy milk. These tasty treats kept me full until well after 12 when I finally decided to whip up a little lunch.
An apple with cinnamon and maca powder.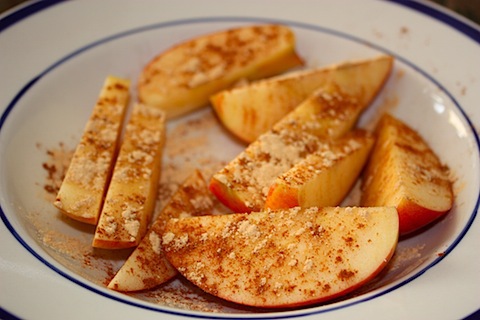 And a bowl of homemade (by me!?!) yogurt topped with sliced bananas, Zaydie's cranberry walnut granola, and a drizzle of honey.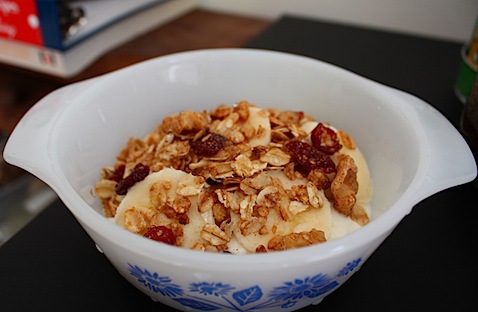 Inspired by Andrea, I took on the challenge of using my food dehydrator to make my own yogurt. 1 tbsp. of Greek yogurt, 3 1/2 cups of milk, and 5 hours of incubation gave me a mason jar full of delicious yogurt.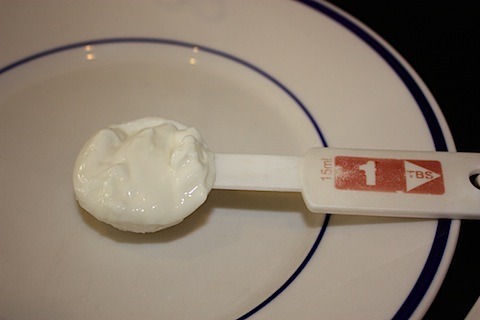 It came out a bit runny so I strained it through some cheese cloth and it turned out thick and tasty. Quite successful for my first attempt! I'm already excited to make another batch. More photos next time – promise! In the meantime, if you're interested in making your own yogurt, you should check out this website – it explains how to make regular, Greek, soy, and raw yogurt with or without a dehydrator!!
Later in the afternoon I attended a screen printing party.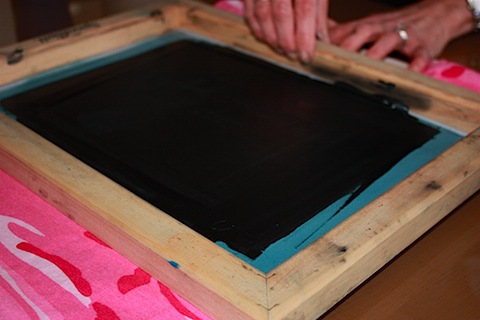 The boot-camp group that I'm part is running the local 10k this month so we made t-shirts to wear!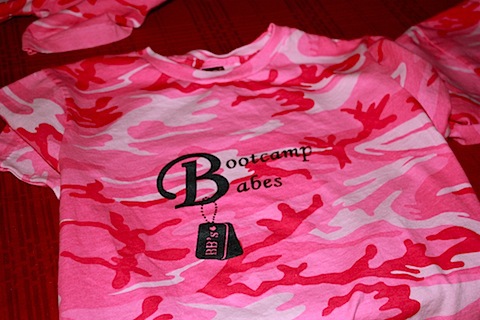 How cute is that!
And what's a party without some munchies?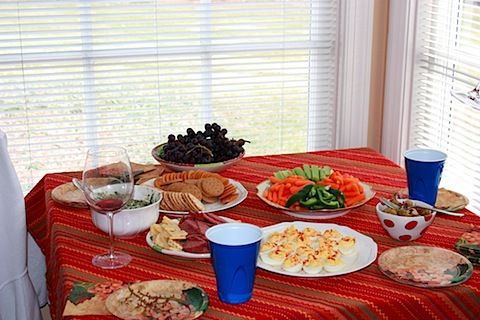 I enjoyed some veggies, grapes, and a couple crackers while chatting it up with the ladies.
Pink camo overload!!!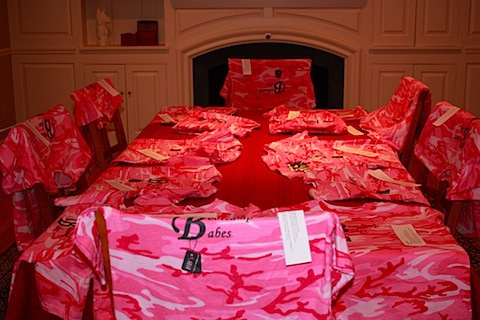 After the party I hurried home so that Isaac and I could enjoy the last hour of sunshine by taking a nice little walk. We worked up quite an appetite…. which worked out perfectly because I had a delicious dinner planned.
Roasted broccoli, spelt burgers, and raw slaw.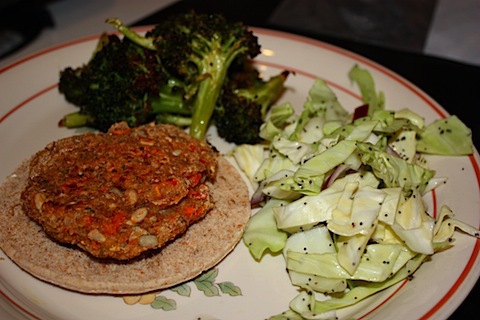 I used Angela's In A Jiffy Spelt Veggie Burgers recipe, but made a few changes worth noting.
Spelt Veggie Burger
Ingredients:
1 cup cooked chick peas
2 baby carrots
1/2 large onion, peeled and chopped up into large pieces
1/2 Red pepper, chopped into large pieces
2 rings jalapeno pepper
1/2 t fresh oregano
1/2 t dried basil
1/2 t cumin
1/4 t fine grain sea salt
tiny dash of cayenne
2 cloves garlic, roughly chopped
1/4 cup sunflower seeds
1 T chia seeds
3/4 cup spelt flour (or flour of your choice)
Directions: Preheat oven to 375F. Place all ingredients except the seeds and flour into a food processor. Process until mixture is blended well, stopping to scrape sides if necessary. Remove mixture and place into a large bowl. Add seeds and stir well. Add the spelt flour (or flour of your choice) in 1/4 cup increments, stirring well until blended. Shape patties and bake on a baking stone (or lightly greased cookie sheet) for 15 minutes at 375F, flip and bake for another 10 minutes. My batch made 6 regular sized patties and one small patty and they were FABULOUS.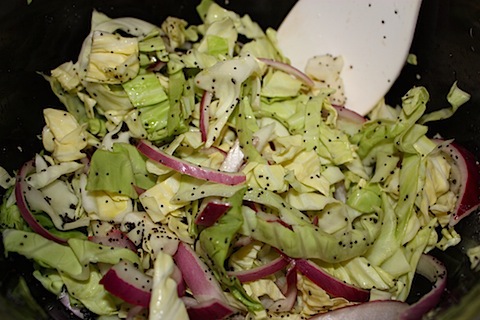 And the raw slaw, inspired by Ellwoods, was also delicious!
Raw Slaw
Ingredients:
3 cups cabbage, chopped
1/4 of a large red onion, thinly sliced
Dressing:
1/4 cup apple cider vinegar (I used Braggs)
1 tbsp. pure maple syrup
1 tbsp. poppy seeds
Directions: Mix cabbage and red onion in a large bowl. In a separate small bowl whisk the dressing ingredients and pour it over the salad. Mix well and serve.
I'm off to soak up the last few hours of the weekend. Hope you had a good one!!
– Brittany