As many of you know, I started the Body for Life Training program about 12 weeks ago. Last Saturday was the last day of the challenge and I've had some time to get my thoughts together about my experience.
Overall, I think the program was a great way for me to start a consistent strength training routine. When I first started my journey to getting healthy, I was the queen of cardio. I either ran, walked or did the elliptical for 30-45 minutes each time I worked out. The cardio definitely helped me lose the weight! Fast forward 7-8 years, I have stayed at a pretty consistent weight through regular workouts and eating healthy, but I was still longing to be stronger- for instance being able to do a pull-up is one of my fitness goals. Oh, and ripped abs have always been on the wish list as well. 🙂
I knew I needed to amp up my strength training so I figured doing a regimented challenge would be beneficial. Janetha and Mama Pea's BFL progress picts pretty much sold me on the Body For Life program so I bought the book, found a partner in crime and got started. This was back in May.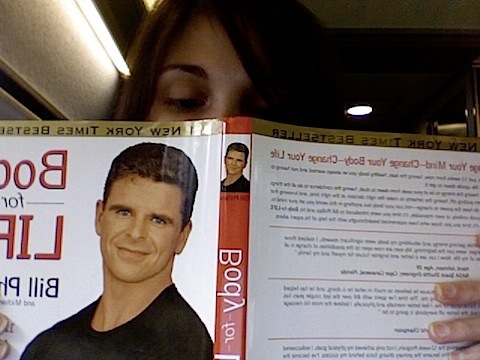 I followed the training plan almost exactly. Even when I was traveling for work I made sure to get in my workouts. I think I may have missed 2-3 workouts but I typically always made them up.
When I posted my 6 week update, I mentioned that I was feeling stronger, but that I had gained weight. This was fine because my primary goal wasn't to lose weight and I figured it was just water retention or muscle building (although it was a little too soon to see that kind of muscle building). I thought that as the program moved on I would notice a difference in the way my clothes fit.
I definitely feel stronger – my arm and back muscles have definitely grown. I've also noticed a difference in the way my clothes fit, but not in a good way. All my pants seem so tight in the thighs and belly. <– Definitely didn't get the abs I was hoping for, hence the reason I don't have a picture of that to share.
Needless to say, this isn't what I expected to happen when deciding to do Body for Life, BUT I think I know why I didn't see the results I wanted.
When starting the program I decided to amp up my protein intake by stick with my normal eating. I ate healthy for the most part but probably ended up eating more carbs and a tad bigger portions than what the plan recommends. This was probably my biggest mistake. What you eat is 80% of how your body looks and this challenge definitely solidifies that for me.
Lack of cardio. The program calls for 20 minutes of HIIT, 3 times a week. I stuck to this as best I could but I think I personally need a bit more. Currently my life is pretty sedentary because I work at a desk 40 hours a week and then sit in front of the computer a lot at home so I think added cardio, even if it's walking is good for me.
Perhaps I didn't go up in weight enough? By the end of the program I hadn't really progressed to much heavier weights from when I started so maybe I didn't push myself hard enough in that respect.
Here's a break down of my thoughts on the Body for Life Training program based on my experience…
Pros-
The 12 weeks went by really quickly
The program is easy to follow, with basic exercises and detailed descriptions
It doesn't take a ton of time each day – 45 minutes to an hour of strength 3x a week, 20 minutes of cardio 3x week
I loved incorporating more HIIT in my routine – I do the stair master HIIT workout all the time now!
It helped me stick with a strength training program for 12 full weeks
I gained strength
I can see the results – especially in my arms
Several people (all guys) have said to me, "You look stronger!"
Cons-
The program can be repetitive – each week you work your lower body and upper body on the strength training days and you always work the same muscle groups
I would like to see some compound moves that involve more than one muscle group added to the rotation of exercises
Limited focus on cardio and ab exercises
My weight jumped up 3 lbs the 2nd or 3rd week of the program and has budged.
My pants are tight and I don't feel comfortable in my body. I feel consistently bloated. <– I'm not sure if that's the added protein or something else?
So there you have it, I don't have ribbed abs to show off but here's what I do have:
My results at 6 weeks: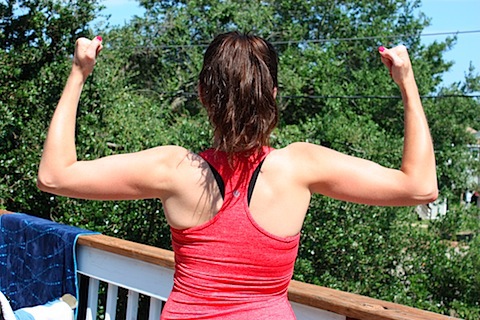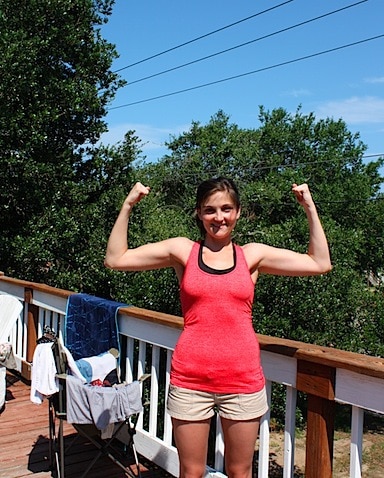 My results at 12 weeks: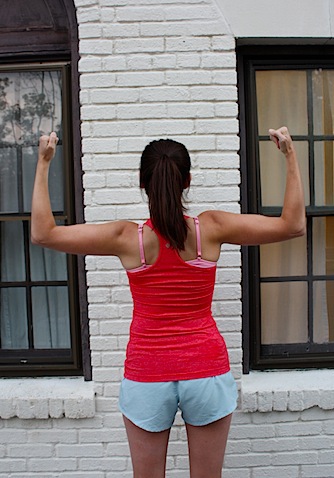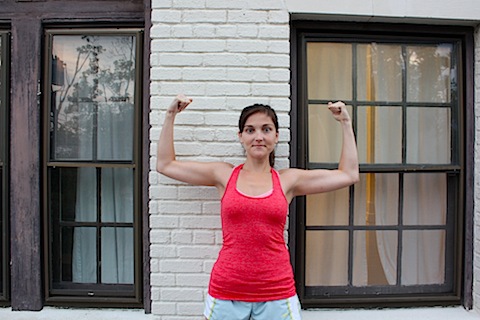 I haven't decided what I want to do next. I know I will continue to keep strength training as a big part of my workout routine, but I might incorporate more full-body workouts rather than separating lower body and upper body into different days. I hope to incorporate more yoga, because as the program progress my yoga practice suffered. I'll also probably add in more running now that the leg tingling issue I had been experiencing has pretty much cleared up.
As far as eating goes, I'm going to combine ideas from the Tone It Up eating plan and Tosca Reno's Eat Clean Diet. I think this will help me get back to my "happy weight" and feel less bloated.
In other news, I'm currently in Philadelphia for the Healthy Living Summit, which I'll be speaking at tomorrow!! I'm so excited.