Blueberry Overnight Oats
35
Published May 13, 2021, Updated Aug 17, 2023
These blueberry overnight oats are loaded with blueberries and topped with a crunchy, gluten-free crumble. It's like having a dessert for breakfast, but still healthy!
Remember that time I took leftover blueberry crumble and made overnight oats out of it? Gah, it was so delicious! I would have it for breakfast every morning if I could.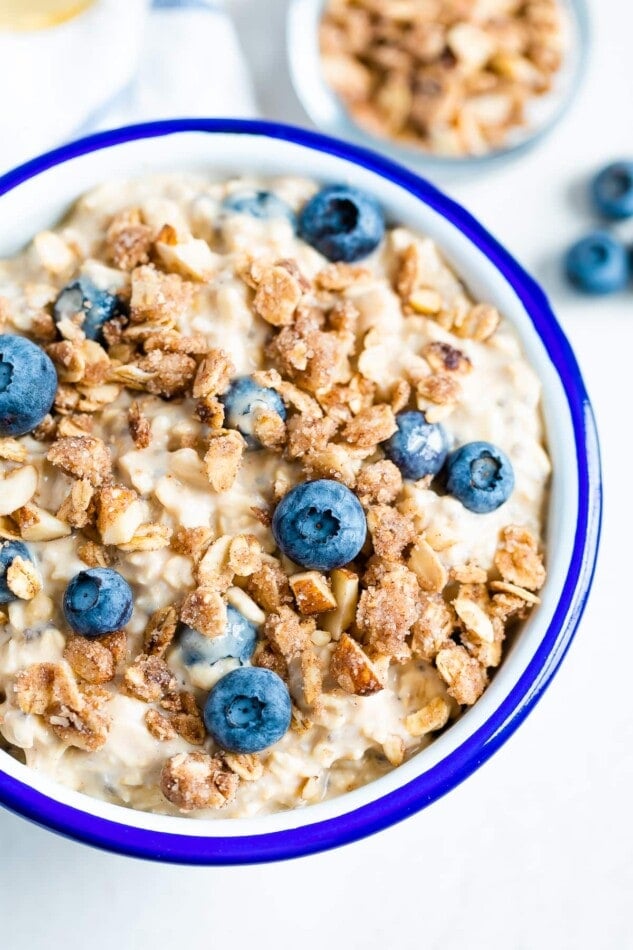 Sadly it's not too often that I have leftover crumble or cobbler sitting around. So I decided to remedy the situation by recreating a version of blueberry overnight oats with a crumble topping that can be made any day of the week. No leftover crumble necessary.
What Are Overnight Oats?
If you've never made overnight oats, you might be wondering what the heck these are! Essentially, it's a no-cook way to enjoy oatmeal. Instead of cooking oatmeal on the stovetop or in the microwave, you soak the oats in milk. Overnight, the oats absorb whatever liquid you're using and soften them up. The next morning you will wake up to a ready-to-eat, delicious breakfast!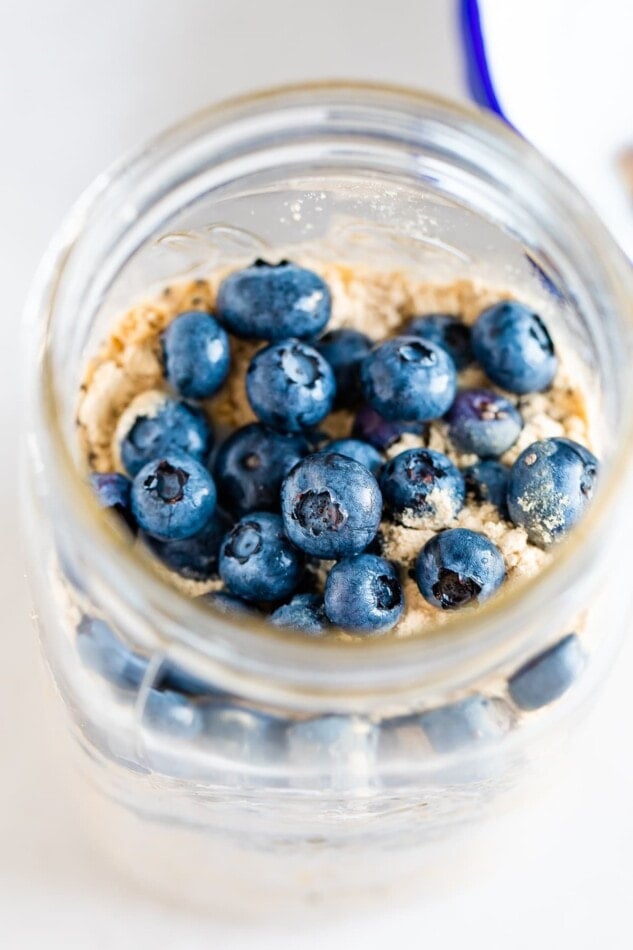 Ingredients in Blueberry Overnight Oats
Here's what you'll need to make these blueberry overnight oats:
old fashioned oats – rolled oats work best for overnight oats. They soak up the liquid overnight, which gives you a lovely creamy texture. Instant, quick-cooking and steel cut oats don't work because they don't absorb the liquid in the same way that rolled oats do.
milk – I like using unsweetened vanilla almond milk, but any type of milk will work.
vanilla protein powder – I use a plant-based vanilla protein powder that has a hint of sweetness from the vanilla flavor. If your protein powder isn't sweet, you'll likely want to add a little sweetener like maple syrup to your oats.
fresh blueberries – a must for blueberry overnight oats!
chia seeds – for extra fiber, protein and healthy fats. They also soak up some of the liquid.
vanilla extract – you can skip this, but I love the added flavor the vanilla adds to these oats.
crumble topping – everyone knows the best part of any sort of crumble, cobbler or crisp is the topping — same goes for these oats! To make this crumble you just need a few ingredients: rolled oats, oat flour, coconut sugar, coconut oil, sliced almonds and cinnamon.
How Long Do Overnight Oats Need to Soak?
Given the name, you'd assume overnight oats need to soak overnight, but you can actually make them in 2-4 hours if you're in a rush. While it does take some time for the oats to absorb the liquid, they don't necessarily have to be soaked overnight.
I recommend at least 8 hours for true overnight oats, but there have been mornings where I decide I want overnight oats for breakfast even though I didn't prep them the night before. When this happens I'll make them the morning of and let the oats soak for just 2-4 hours. With this quick soak, they're not as soft as overnight oats that have soaked longer and they're a bit more liquidy, but they're still delicious.
Can You Eat Overnight Oats Hot?
Short answer, yes! You can definitely warm up overnight oats, but the whole point of overnight oats is to eat them cold like muesli. Even if you think cold oats sound strange, I recommend giving it shot before you write them off. Of course, if you simply can't do the cold oats you can always heat them up. Just pop the overnights oats in your microwave, cooking in 30 second increments until the oats are warm throughout and enjoy.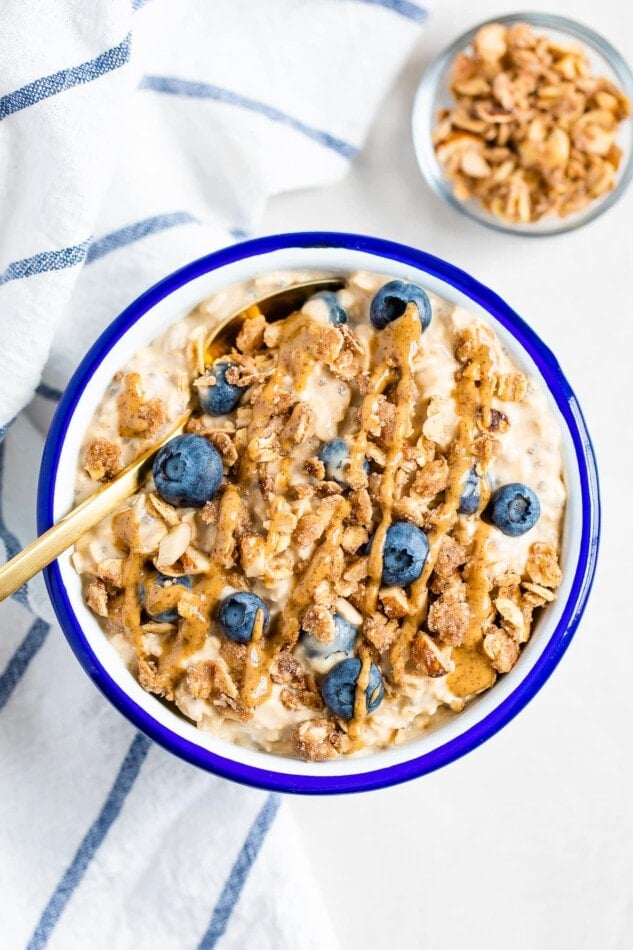 How Long Do Overnight Oats Last?
When stored in an airtight container in the fridge overnight oats should last for up to 5 days. They will soften more the longer they sit so I find they're best on days 1-3, but they're still safe to eat on days 4 and 5. With this said, overnight oats are great for meal prep. Feel free to make a whole batch for the week on Sunday. I like prepping them in wide mouth 16 oz mason jars.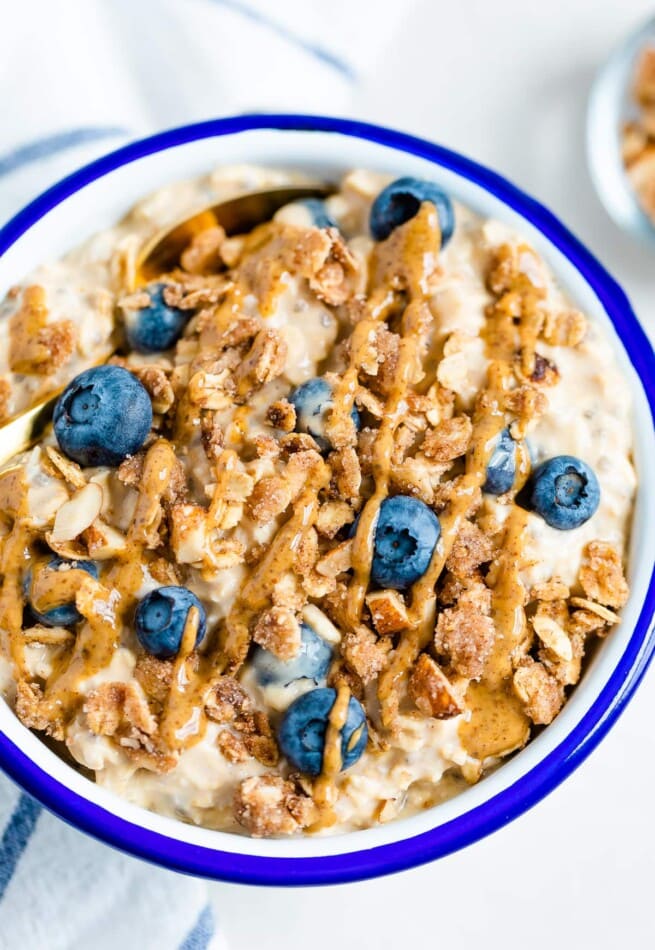 More Blueberry Recipes to Try
More Overnight Oats Recipes
Check out all of the overnight oats recipes as well as the full collection of oatmeal recipes on EBF!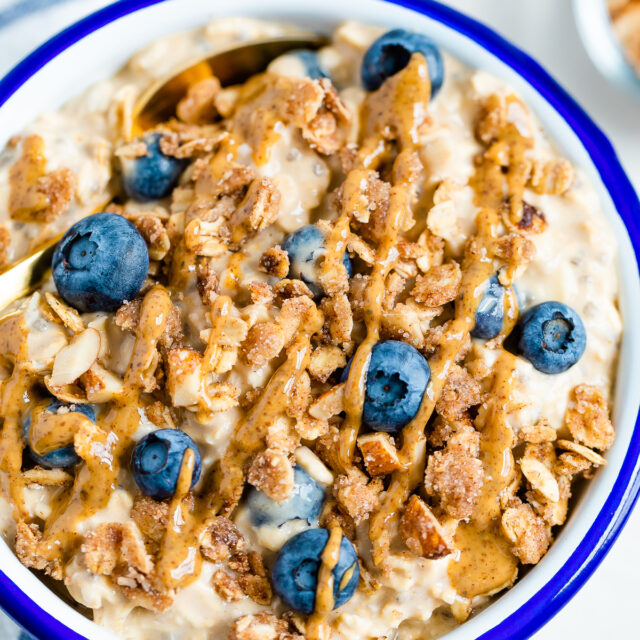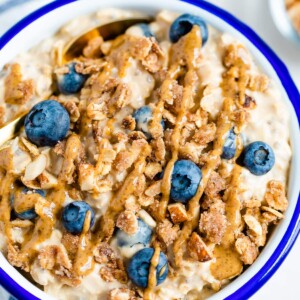 Blueberry Overnight Oats
These blueberry overnight oats are topped with a crunchy crumble. It's like having a dessert for breakfast, but still healthy!
Instructions
Combine: Place all ingredients (besides those for the topping) in a container and stir until well combined. Seal with a lid and place in the fridge overnight.

Prepare the crumble: Combine all ingredients for crumble in a small bowl. Set aside. (This can be done the night before as well.)

Serve: Bring out of the fridge in the morning and stir. You'll notice that the protein powder, oats and chia seeds soak up a lot of the liquid so you may want to add a little more almond milk before serving. Portion overnight oats into two containers, top each with the crumble topping and a few extra blueberries. I also did a drizzle of almond butter! Enjoy.
Notes
Crumble topping substitute: No time to make the crumble topping? Simply top the oats with granola instead.
Nutrition
Serving:
1
|
Calories:
336
kcal
|
Carbohydrates:
49
g
|
Protein:
28
g
|
Fat:
12
g
|
Saturated Fat:
4
g
|
Polyunsaturated Fat:
3
g
|
Cholesterol:
1
mg
|
Sodium:
142
mg
|
Fiber:
8
g
|
Sugar:
13
g
Nutrition information is automatically calculated, so should only be used as an approximation.
More Overnight Oats Recipes: