Happy Sunday friends! I hope you're having an excellent weekend. The weather has been absolutely beautiful here in Virginia. Sunny, high-60's – perfect fall weather!
On Saturday, we headed west for Lauren and Kyle's wedding in Afton, Va. Since the weather was so nice, we left a little early so we could explore the blue ridge mountain area before the festivities.
Luckily, our hotel was pet-friendly so we were able to bring Olive along for the adventure.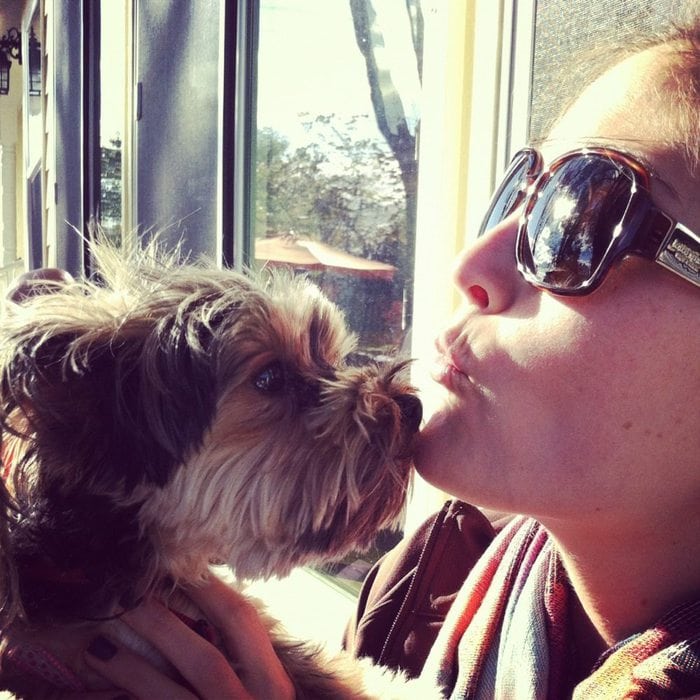 Our first stop was Crabtree Falls, but the parking lot was packed. We ended up going to Crabtree Meadows and walking around for a couple hours. Olive loved exploring and the scenery was gorgeous. I might be biased but Virginia really does have the prettiest fall. The leaves are vibrant shades of red, orange and yellow and when you're at a high elevation looking out for miles upon miles, it's breathtaking.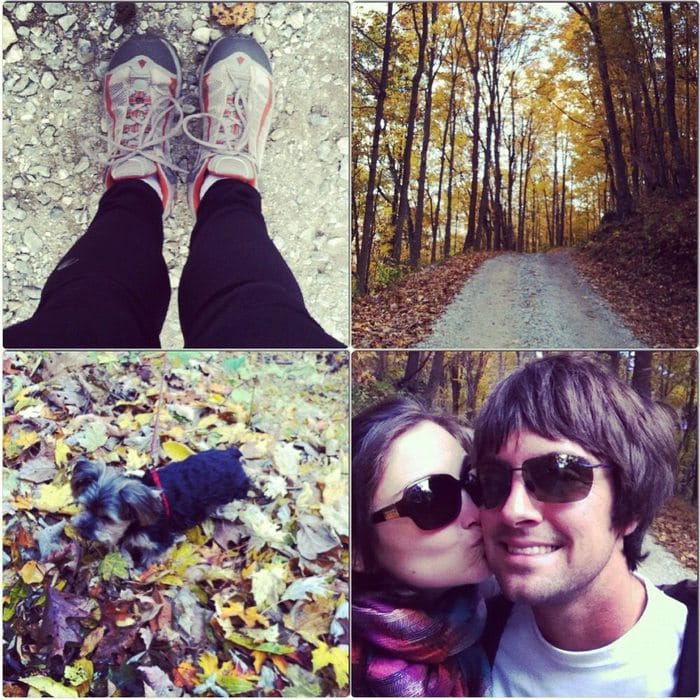 After our strenuous hike, we clearly needed to refuel so we headed to Devil's Backbone Brewing Company for a bite to eat and a brew. Isaac has tried their beers many times, but we had never actually made it out the brewery so we obviously needed to check it out.
I had the Skull Crushing Ape, a full-bodied dark and malty lager with a hint of sweetness. I was a big fan of this one. Isaac had the Eight Point IPA, which he enjoyed. I'm not a fan of IPAs so I didn't love that one.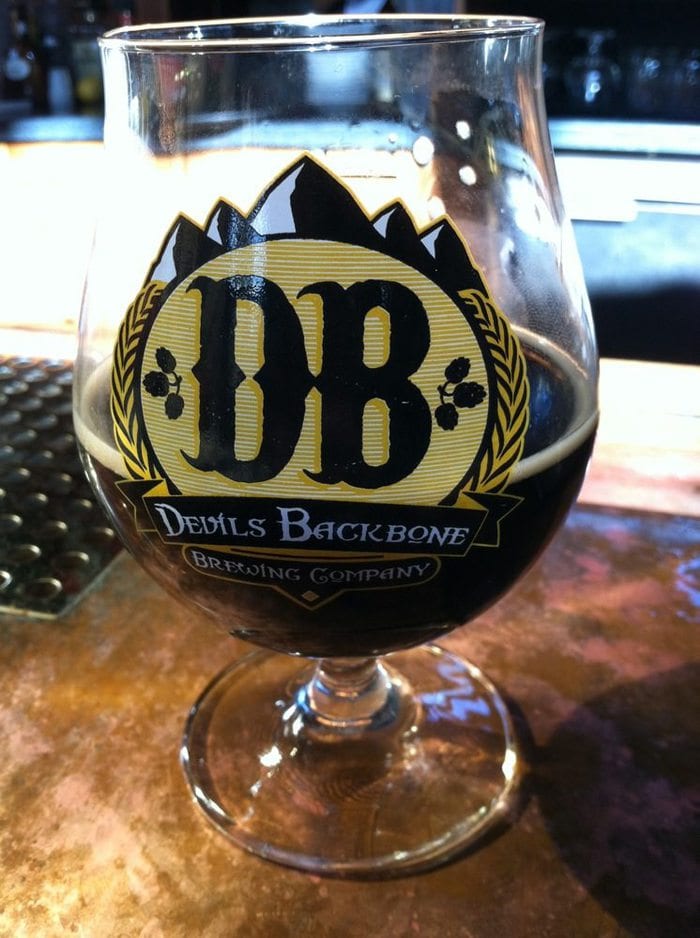 To eat, we split an order of their amazing sweet potato fries.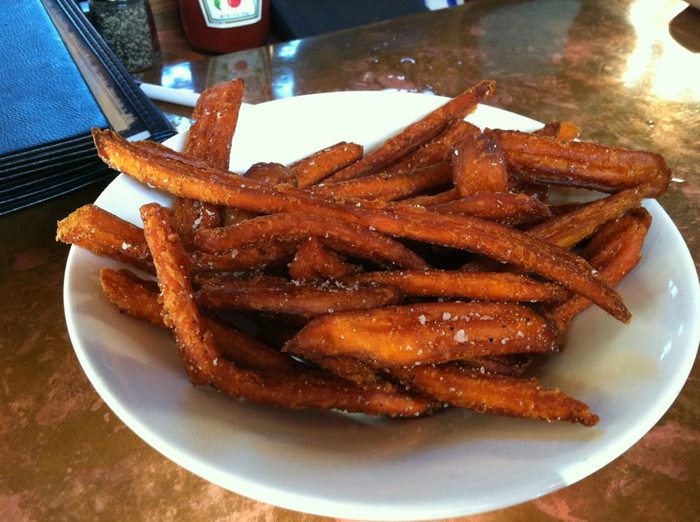 Sweet potato fries are my weakness! These were perfectly crispy on the outside and had such a good flavor – definitely worth the splurge. Plus we balanced things out by sharing the Backbone Salad: mixed greens, fresh pear, dried cranberries, candied pecans, bleu cheese crumbles and a maple-balsamic vinaigrette.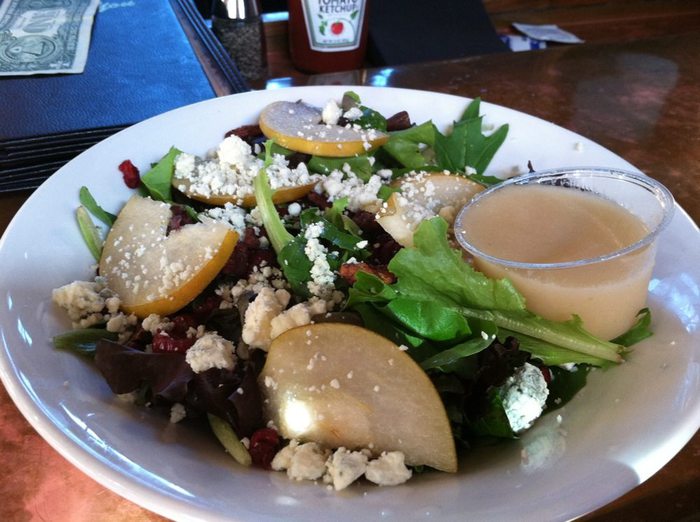 I loved that the pear was fresh and not canned!
After Devil's Backbone we stopped by Wild Wolf Brewing Company, another brewery on the Brew Ridge Trail. It's only 3 minutes from Devil's Backbone and we'd never been there either so Isaac was determined to stop. It's dog friendly so we were able to sit outside with Olive and enjoy the sunshine. I had the Hunny Bunny Ale, a Belgian style blonde ale made with local honey. It was sweet and delicious!
If you're at all interested in craft beers or even wineries, this area of western Virginia is such a great place to visit. There's a ton of outdoor activities and plenty of great breweries and wineries to visit. We haven't been to all the breweries on the Brew Ridge Trail, but one of our favorites is Blue Mountain Brewery in Afton. We visited there last year for our 7th year (dating) anniversary.Even if beer isn't your thang, it's still worth a visit because they have amazing pizzas and local kombucha on tap!
After exploring drinking beer all afternoon we checked into our hotel, showered up and headed to the wedding at Afton Mountain Vineyards.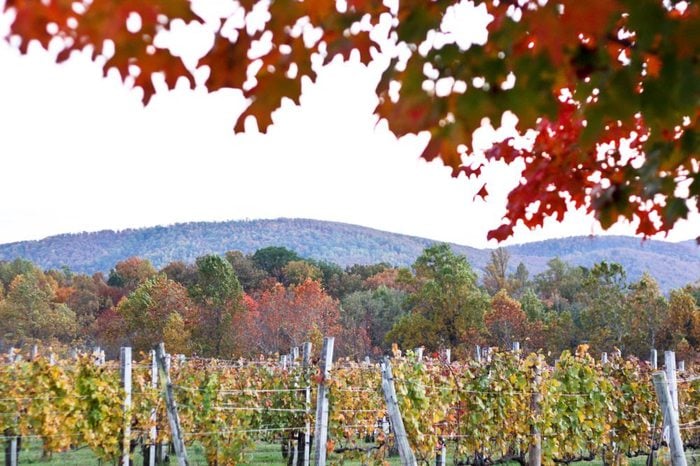 Just check out the amazing background for the ceremony… I was in awe.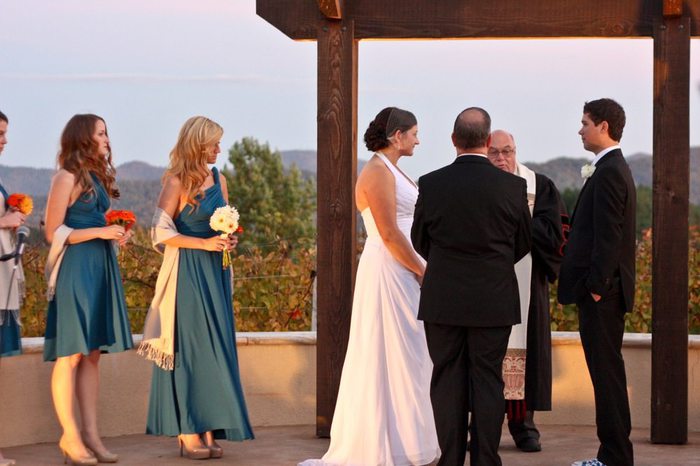 Lauren was a stunning bride! Although it got a little chilly out as the sun went down, the ceremony was beautiful!
The best part about Lauren and Kyle's wedding (besides the whole getting married part) was the fact that their personalities and interests were tied into all the details. The place cards were hanging on little boards with topographic maps (that happened to match the invitations) and the tables names were different Blue Ridge Mountain trails that Lauren and Kyle had hiked before.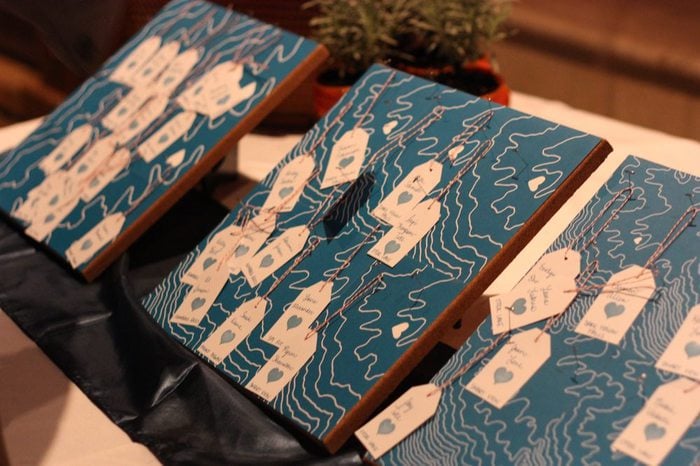 We were at Humpback Rocks, which is one of the hikes we considered doing on Saturday morning.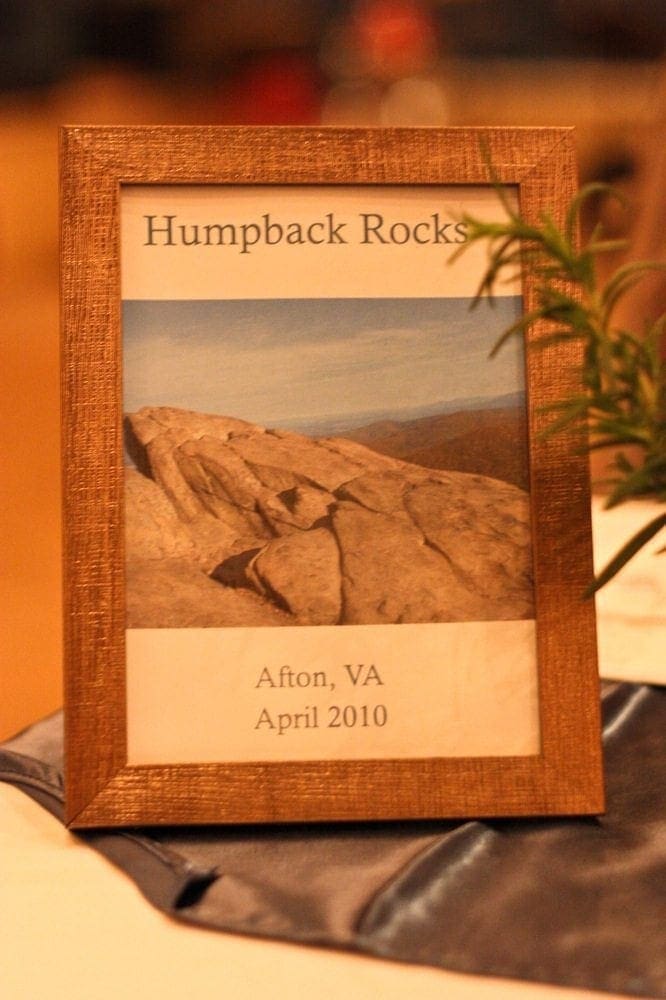 The tables were decorated with potted herbs that ended up being given away to guests at the end of the night. I think this is becoming quite popular in the wedding world as the last wedding we attended sent guests home with potted herbs as well.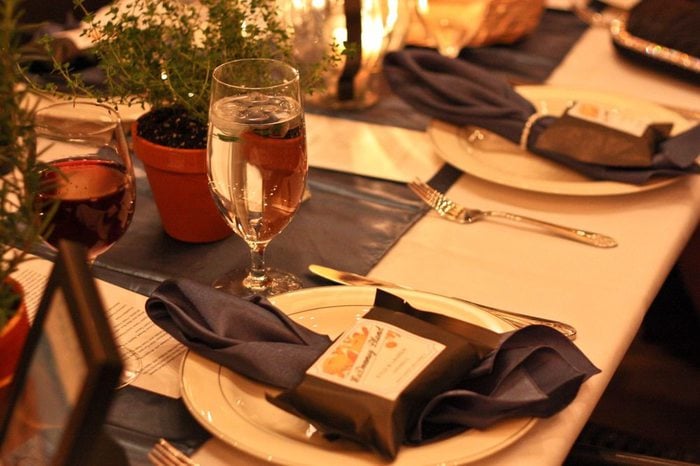 I love simple decor (and cooking with fresh herbs) so naturally this idea is right up my alley. Plus herbs are not only pretty, but they smell nice too.
And while we're talking about favors, I'm pretty pumped to taste the McDowney Blend of coffee made by Blanchard's, a local coffee roaster here in Richmond.
Another fun idea that tied in Lauren and Kyle's love for coffee and supporting local producers.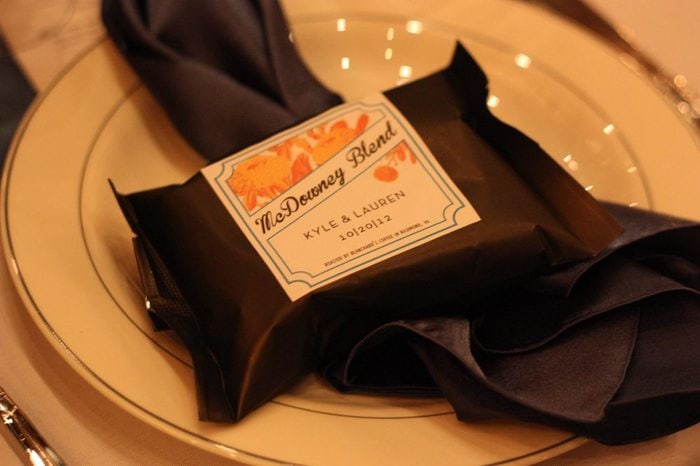 During the cocktail hour and reception, we hung out with Adrienne and Al.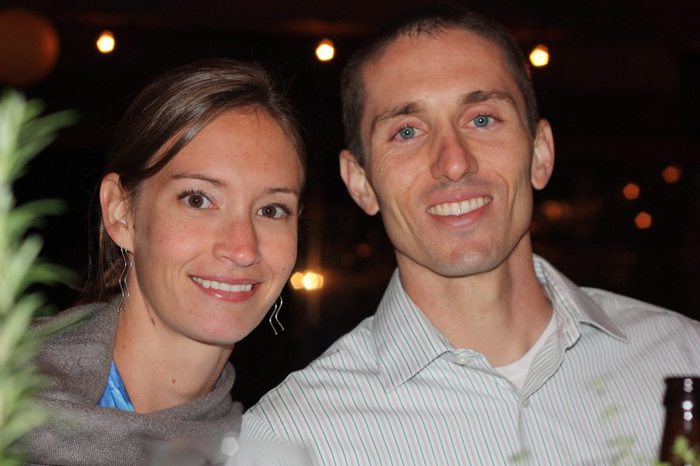 They told us all about running 20 miles that morning in preparation for the Richmond marathon and we told them about all the beer we drank. 😉 I'm not going to lie, I felt a tiny bit guilty.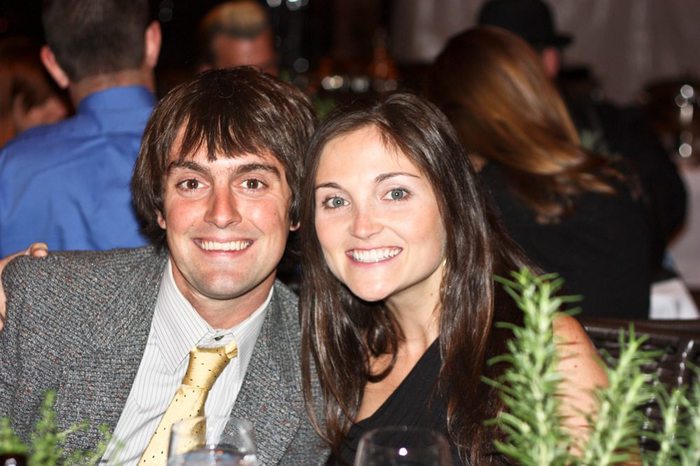 The Afton Mountain Vineyards wines were really tasty but the food was definitely the highlight of the night for me. Lauren and Kyle wanted to have as many local/seasonal items on the menu as possible and it definitely showed in the quality and freshness of the food we enjoyed. The caterer was Beggar's Banquet from Orange, Va (my hometown – woot woot) and everything was delicious!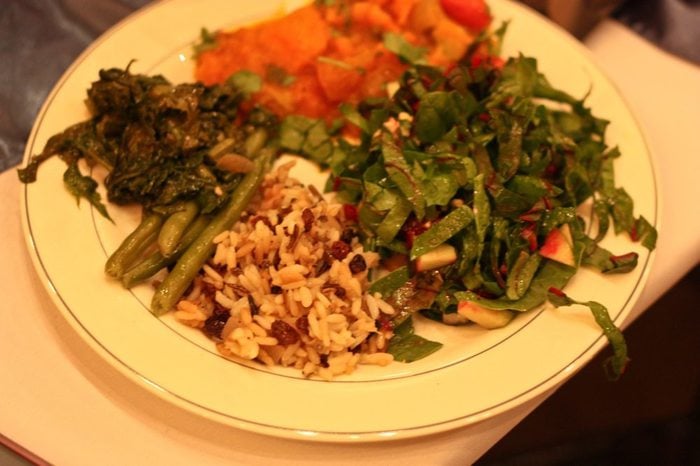 The pumpkin, sweet potato, chickpea dish had a Moroccan flavor that I loved. I was also a huge fan of all the greens on the buffet – raw swiss chard salad, cooked kale and green beans. Definitely the most greens I've ever seen at a wedding – I was in greens heaven!
After dinner, it was dessert time and the bride and groom shared a piece of pie.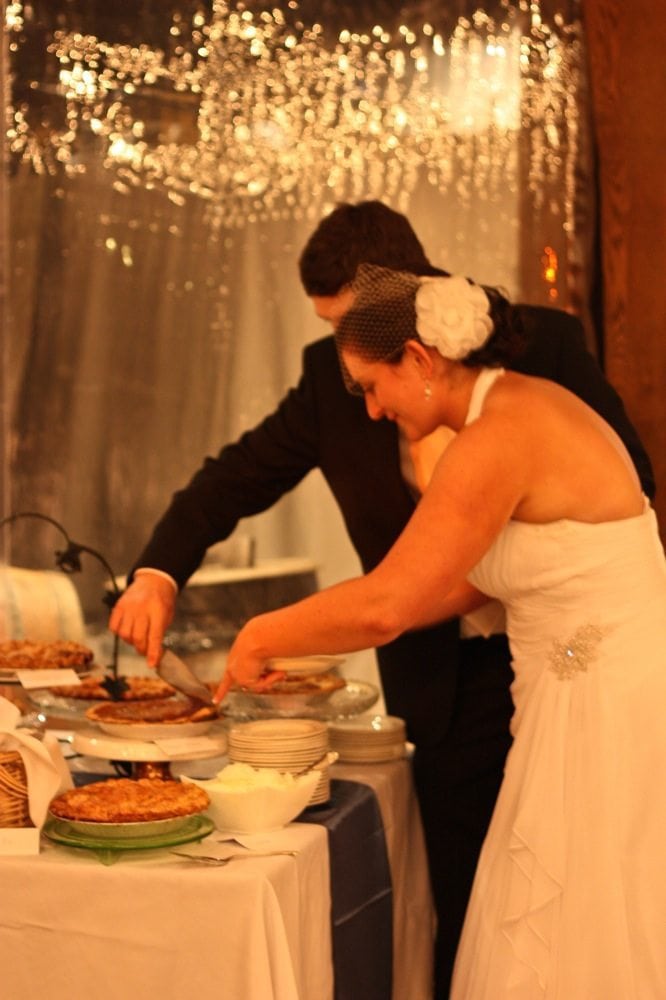 Yes – pie! In lieu of cake, they had a lovely display of pies with a variety of different whipped creams, including vanilla and pumpkin spice. I had a slice of the apple berry pie with a little whipped cream and then went back for a slice of the harvest pie, which had sweet potato, pumpkin and pecans. I'll have to find out from Lauren who made the pies, because that harvest pie was spectacular. I actually mentioned to Isaac that I wish I had a piece for breakfast this morning. It was that good!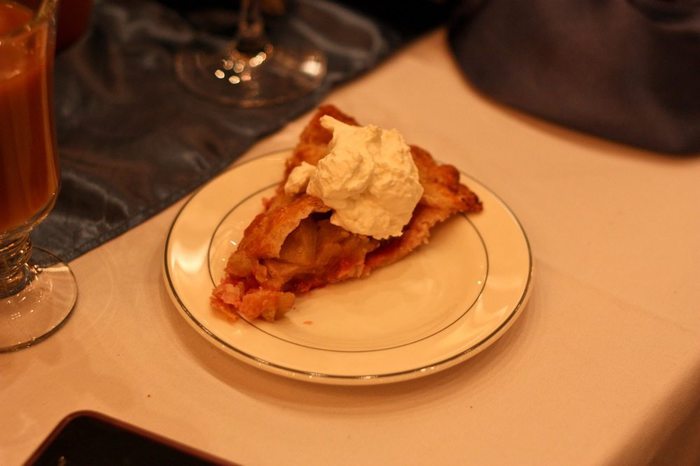 The rest of the evening was spent dancing and taking funny photo booth photos… Isaac and I love being goofy so we had a blast with the props.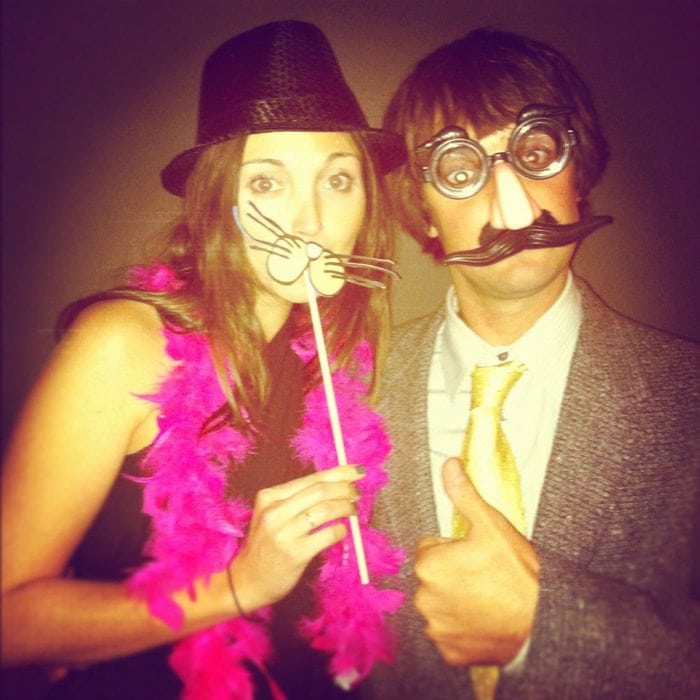 Congrats again to Lauren and Kyle! The wedding was a blast and made me even more excited for Isaac and I to tie the knot next year.