Happy belated Thanksgiving friends. I took a little break from blogging this week to celebrate Thanksgivukkah with Isaac and his family. It was really nice to relax and focus on everything we're thankful for… I thought about making a list and sharing it here but realized it would be a mile long and decided against. Please do know that I am thankful for each of you that read this little blog. Eating Bird Food let's me share my passion for health and fitness, help and inspire people–for that I am very grateful.
Change of subject, did you go out shopping with all the crazies last night? Isaac and I did, for the first time, ever! We were driving back to Richmond from Norfolk, it was late and I knew that the Williamsburg Outlets were open so we swung by to check out the madness. It was about midnight and the outlets were packed but probably not more than they would be on a Saturday in December. There were a few stores with bouncers and lines to get inside (like Kate Spade and Coach), but most of stores weren't too crazy and we ended up getting some pretty good deals in the short time we were there. I got Isaac two pair of pants and button up from J Crew, a pair of leggings for myself and then we picked up some gifts at the Calphalon store. They were having a great sale! It was fun to see what all the hype of shopping on Black Friday is about but I don't think I'll be shopping much today, although I'm looking forward to the Cyber Monday deals. 🙂
Speaking of shopping, I feel like shopping for clothes for myself keeps getting more and more difficult. Stores like Abercrombie and American Eagle feel too too young for me now but I'm still not ready to shop in the older woman stores yet either. Plus, I usually just buy whatever things I like rather than thinking about how the item will pair with things I already own… I do have a few stylist friends that have helped me before (thanks Laurel and Elle!), but when I heard about a personal styling service for women called Stitch Fix (<–affiliate link), I was intrigued and thought I would give it a shot.
After filling out a form with my sizes and clothes preferences, I placed my order and a few weeks later, my first Fix arrived. I mentioned getting my first Fix on Instagram and a few people requested that I do a little review so here you go.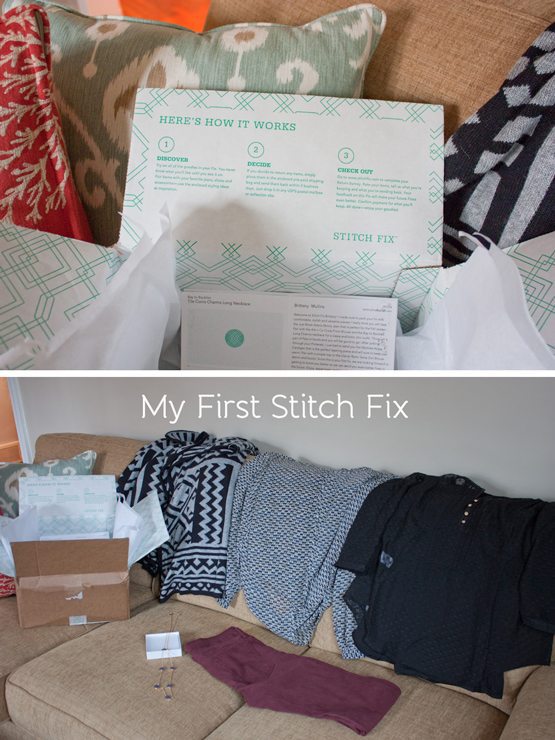 The package arrived with 5 pieces, info about how the process worked, a styling sheet to show how each piece could be paired with other items,  a receipt with pricing info and USPS bag to send back any unwanted items.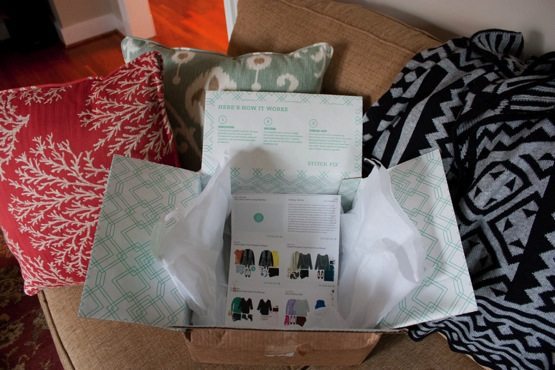 Here's the line-up and what I thought about each piece: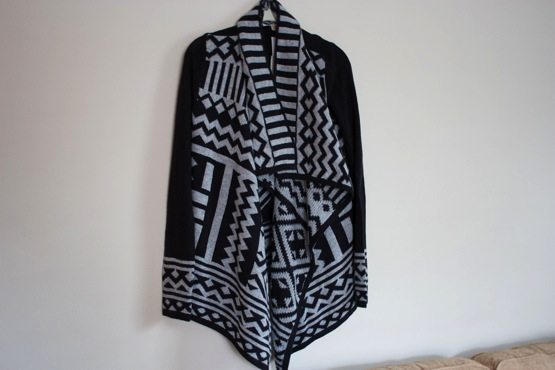 Aztec sweater. This would have been perfect because I really like the style but I had just purchased a different Aztec sweater the week before (I was inspired to buy one after reading this post from Kendi Everyday, my favorite fashion blog!) and the arms were a long on the one from Stitch Fix. The verdict = not a keeper.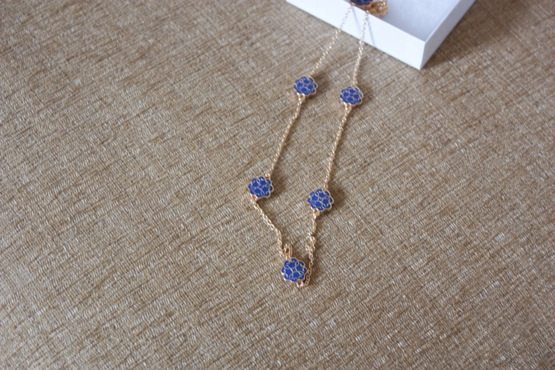 Gold necklace. I always have a hard time spending money on jewelry so while this necklace isn't something I would have picked out for myself in the store, I really liked it the style and the length. The verdict = keeper.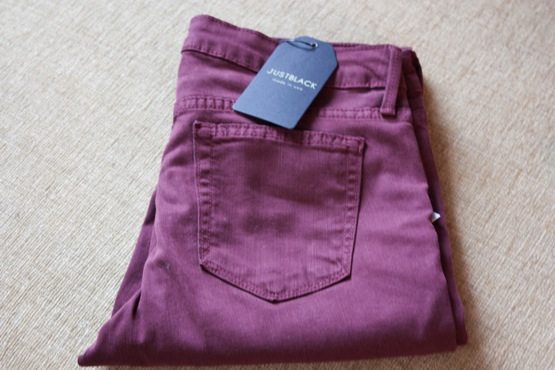 Maroon skinny jeans. These jeans were super soft, fit well and I liked the color but I have a very similar pair of leggings that are almost the same color. Verdict = not a keeper.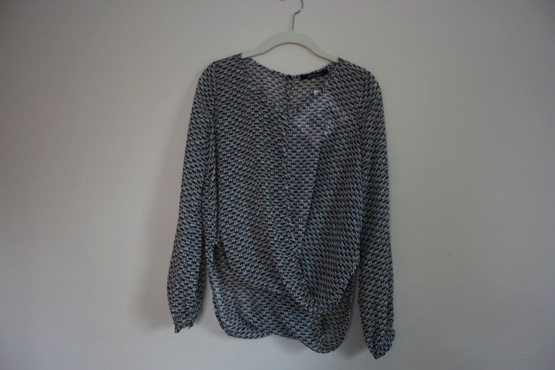 Printed blouse. This was probably my least favorite item in the Fix. I didn't like the pattern or the fact the way that it wrapped and had two big holes in the front and back. I felt like my stomach or boobs were going to flash someone at any moment wearing it. Verdict  = definitely not a keeper.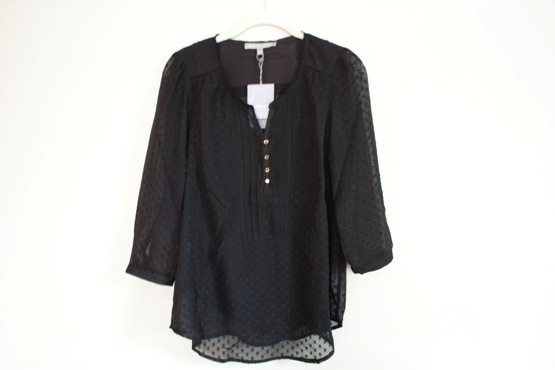 Black blouse with black tank underneath. This was my favorite of all the items. The quality seems really nice, it fit well and I love it paired with skinny jeans. Verdict = keeper.
I paid $20.00 (the styling fee) but that fee went toward the items that I ended up purchasing–the necklace and the top. I've already worn both items and I see myself getting good use out of them.
Overall, I really liked having someone else pick out items for me and it was awesome to have a cute top to wear on Thanksgiving without having to go to the mall searching for something.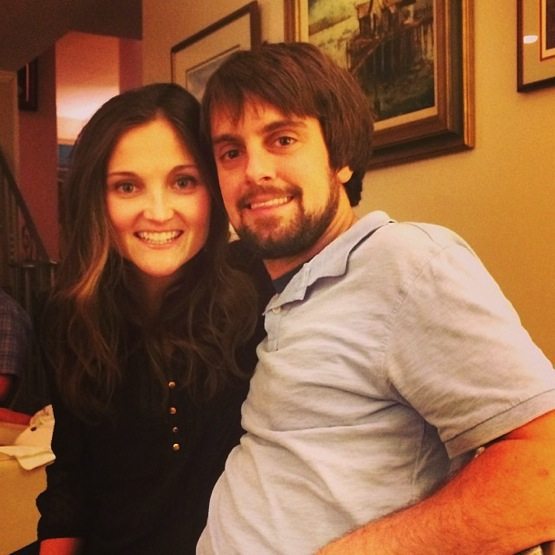 Here's the top in action.
I liked 4 out of 5 of the items so I feel like my stylist did a good job, especially for my first one. I can see the selections getting even better as I continue to order through Stitch Fix because you give detailed feedback to your stylist on each item in the fix (ie. she'll get to know my likes and dislikes more as time passes). I'm already excited to get my next Fix in December. It will be right before Christmas!
Just an FYI – This isn't a sponsored post and I didn't get my Fix for free. It's just a service I wanted to try and since some folks seemed interested in hearing about it, I thought I would share my experience. But, if you do want to try Stitch Fix, feel free to sign-up through my link. They have a referral program and I get credit if people sign-up and try the service.
Have a lovely Black Friday. If you're shopping and have some crazy Black Friday stories or score any amazing deals, I'd love to hear about them.