Do you know the feeling when you try a new recipe that you love and want to tell everyone about because it's just so darn good? That's what this post is about…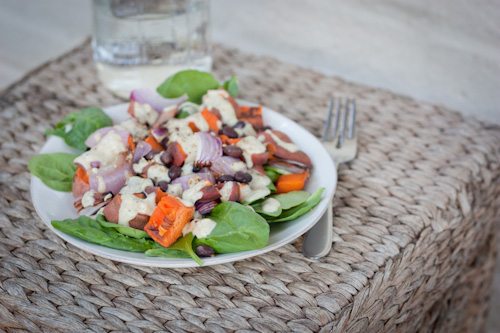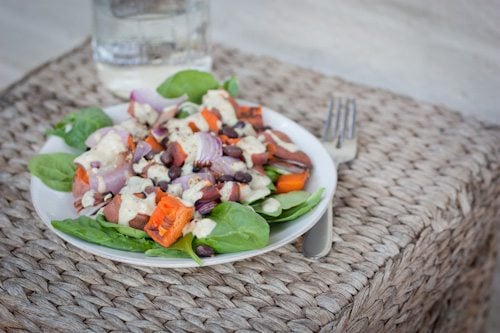 I'm always pinning healthy meal ideas and tasty looking treats on Pinterest but rarely go back to make them. Truth be told my Pinterest is now littered with more wedding ideas than recipes so maybe that has a little to do with it, maybe.
Anyhow, while up to my ears in wedding planning details last weekend, I decided to take a break and try out a one of my pinned recipes: Roasted Sweet Potatoes, Red Onions + Pine Nuts with Tahini. The recipe is from a new-to-me blog that I've been loving lately called What's Cooking Good Looking. <– Btw, definitely check out Jodi's blog for more recipes. She's an awesome natural foods chef, her photos are gorgeous and I love the name of her blog. It reminds me of when my Dad used to come home from work and ask my mom, "What's cooking good looking?" 🙂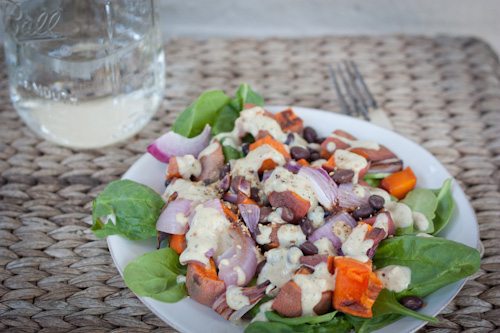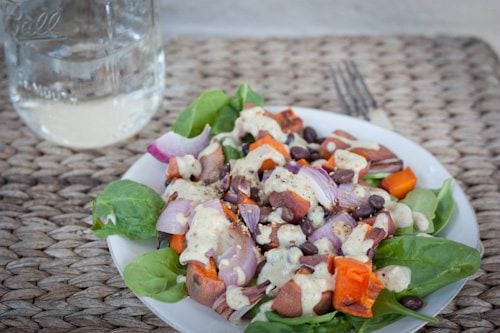 I followed her recipe for the most part, only making a few small changes: I added 1 cup of black beans, skipped the pine nuts and roasted my potatoes and onions with a little coconut oil spray instead of sunflower oil. I served the roasted goodness over baby spinach and added a sprinkle of za'atar.
It was amazingly delicious and a cinch to whip up!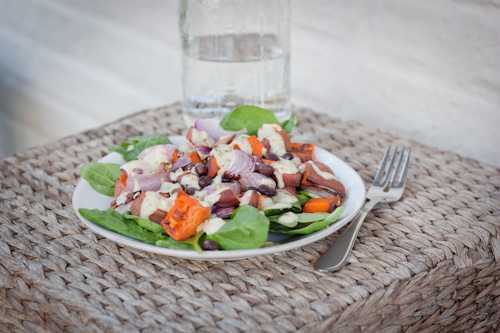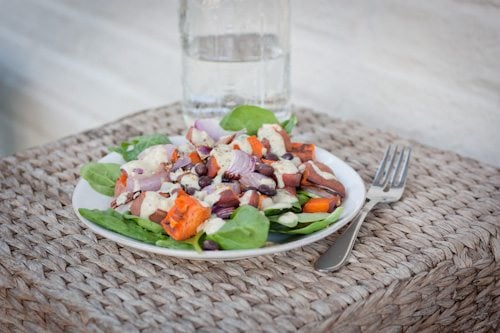 I make roasted sweet potatoes all the time but I rarely roast chunks of red onion. I have a feeling that's going to change considering I've already made batches of the roasted sweet potatoes and red onions twice now… yup, they're that delicious!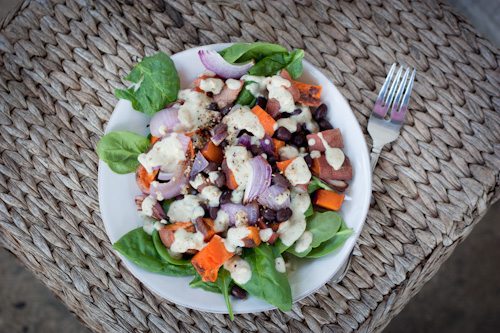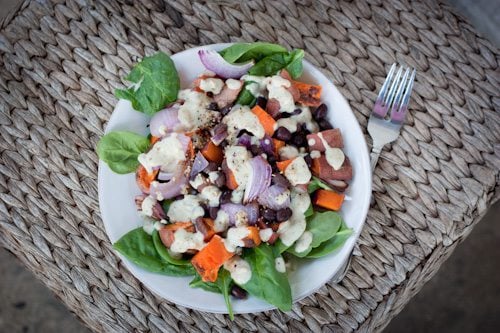 Winner, winner Pinterest dinner! Feel free to head over to What's Cooking Good Looking and pin this recipe for yourself. It's a good one!