Soup makes me one happy (and toasty) camper in the middle of winter.
It's easy – you just throw everything in a pot
It's warm – warming your body from the inside out
It's great for leftovers – soup always tastes better the next day
A prime example is the black bean soup I made for dinner last night…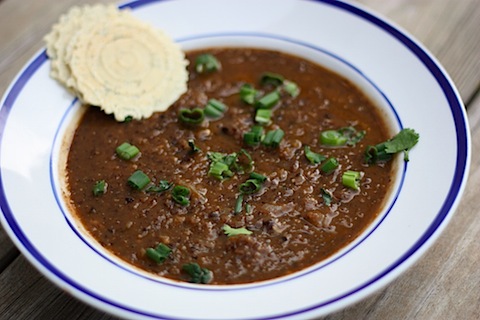 I found the recipe for the soup in a new cookbook I was sent to review – Weight Watchers New Complete Cookbook. I've never done the Weight Watchers program, but I have heard a little about the new PointsPlus program they launched. Overall, it sounds like a nutritionally sound plan that focuses on the energy density of food items and power foods such as lean meats, whole grains, fruits and veggies. All of those things sounds good to me so I was happy to check out this new cookbook.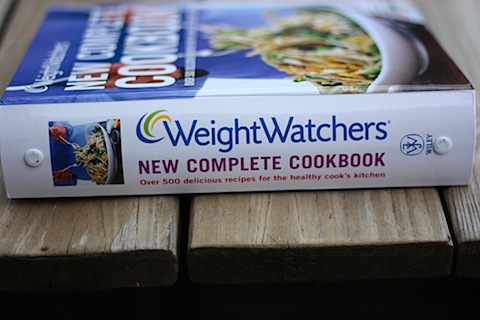 The cookbook offers:
Around 500 recipes filled with nutritious and wholesome lean meats, whole grains, fruits, and vegetables so you'll stay fuller, longer (There were plenty of vegetarian options, which was nice to see!)
Color photographs including helpful how-to's (This is a huge plus for me, as I hate cookbooks without photos!)
Smart ways to swap out ingredients and still create lighter meals with lots of flavor
Must-know kitchen basics, including stocking a healthy pantry, kitchen tools, important food safety advice, and measuring pointers (Super helpful)
Over 100 Healthy Extra tips boasting ideas for side dishes and satisfying add-ons
Complete nutritional analysis for each recipe, including sodium and fat counts and a PointsPlus value for each recipe
There were plenty of recipes that looked delicious, but this Black Bean Soup won me over because it had a short ingredient list as well as a short cooking time.
With permission I am able to post the full recipe straight from the cookbook – although I will note that I made some changes by cutting back on the olive oil and using veggie broth instead of the chicken stock.

Black Bean Soup and Other Deliciousness
Ingredients
2 teaspoons olive oil
2 onions, chopped
2 garlic cloves, minced
1 (151/2-ounce) can black beans, rinsed and drained
1 (141/2-ounce) can reduced-sodium chicken broth or stock
1 cup water
1 teaspoon ground cumin
¼ teaspoon black pepper
¼ cup chopped fresh cilantro
2 scallions, thinly sliced
Lime wedges
Instructions
Heat oil in large saucepan over medium heat. Add onions and garlic; cook, stirring, until onions are softened, about 5 minutes. Stir in beans, broth, water, cumin, and pepper; bring to boil. Reduce heat and simmer, covered, 15 minutes. Remove saucepan from heat; let cool 5 minutes.
Puree soup, in batches if needed, in food processor or blender. Return soup to saucepan and reheat over medium heat.
Ladle soup evenly into 4 bowls and sprinkle evenly with cilantro and scallions. Serve with lime wedges.
Nutrition Information
Serving size:
1 cup
Calories:
124
Fat:
0g
Carbohydrates:
18g
Sugar:
6g
Fiber:
6g
Protein:
6g
Overall, the soup turned out good but the name (Best Ever) was a little deceiving because the soup was a tad bland at first taste. I spiced it up a bit with
Black Pepper with Chipotle
, cayenne pepper and sea salt then topped each bowl with the cilantro and scallions. Once the spices and herbs were added the soup was pretty tasty. I enjoyed it for dinner last night and lunch today paired with Cracked Pepper
34° Crispbread
. And as it turns out, the soup was even better the second day!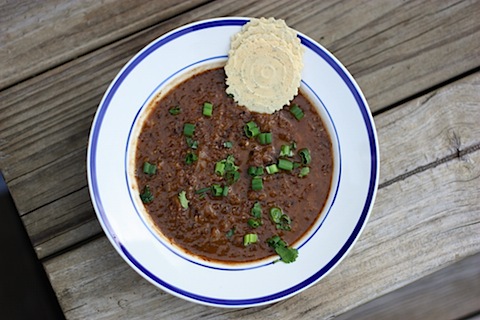 If I had more time last night I was also going to try out another recipe from the cookbook to pair with the soup, Hot and Spicy Chickpea Cakes. Since that didn't quite happen, I'll be trying that recipe (and posting it) soon!
In other news, for breakfast today I had a batch of overnight oats topped with sliced banana and Better N PB.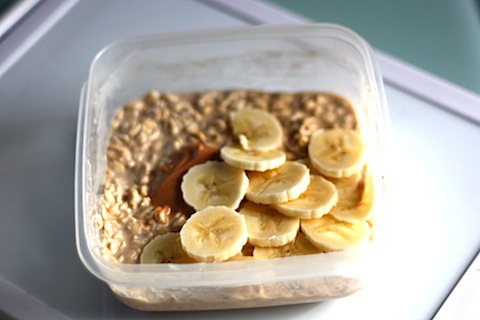 This quick breakfast never gets old. I make it the night before the days when I go to the gym or have Physical Therapy in the morning and just tote it with me to work. It's fast, filling and tastes fantastic. Plus, the different topping options are endless so it never gets boring.
Speaking of toppings… my boss took a few co-workers and me out to Sweet Frog today, the new self-serve fro yo shop in town! It was a sweet way to end the day.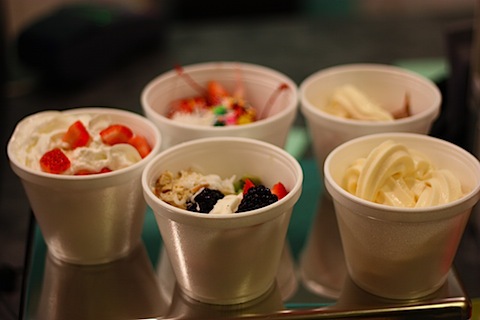 My combo of peanut butter and plain tart yogurt with almonds, coconut, strawberries, blackberries and kiwi was incredible.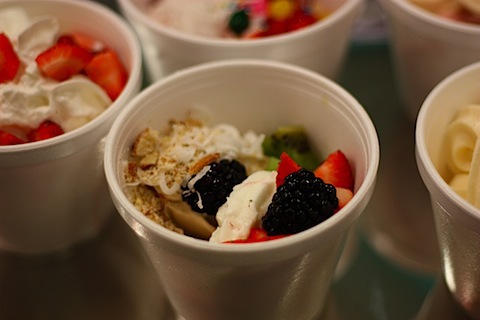 After spooling my dinner at 5:00PM (so worth it) I came home to this cute little thing.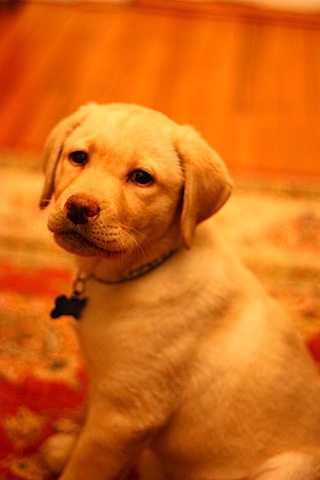 Olive's play date, Thule! Isn't she the cutest?
At first Olive was scared to play with her but by the end of the visit they were having a blast. The funniest part is that Olive could fit under Thule. It was hilarious!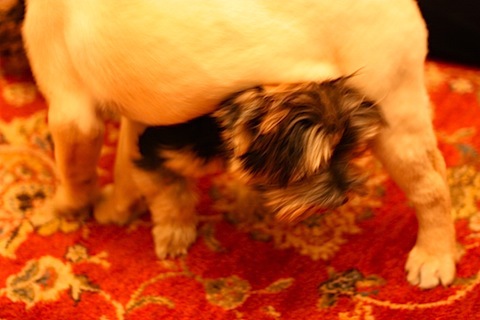 To finish the night off I went with a couple friends to see No Strings Attached. I went in with low expectations, but it was really funny and quite cute (besides some awkward sex jokes). Definitely a good one to go see with the girls.
Is it just me or is this week is going by fast! I can't believe it's almost Mod Fam day already. Sadly, I think it might be a re-run this week. :/