Happy Saturday friends. I hope your weekend is off to a great start!
I often get emails from readers wondering what my favorite restaurants are here in Richmond. I have a little guide with many of my favorites, but I realized it's been quite awhile since I've featured a restaurant meal because I'm always trying to come up with new recipes to post.
We usually cook most of our meals at home but this month, in celebration of our birthdays, we've been eating out more than usual. My birthday week I had three great meals (breakfast, lunch and dinner) out at different places so I thought I would feature them!
First up, I was able to try the new breakfast menu at The Daily Kitchen & Bar. They've been open for brunch on the weekends for months but they just started serving breakfast every day starting at 7AM. I love The Daily and have enjoyed lunch and dinner there many times so I was pumped to try the breakfast.
The new menu features traditional breakfast items (bagels, pancakes, muffins and eggs), along with healthy options like grapefruit brûlée, steel cut oats, and a tofu scramble. They also have some fun juices and cocktails. Next time I go for breakfast I'll definitely be trying out the coconut latte, which is coconut water, organic espresso and almond milk over ice. Yum!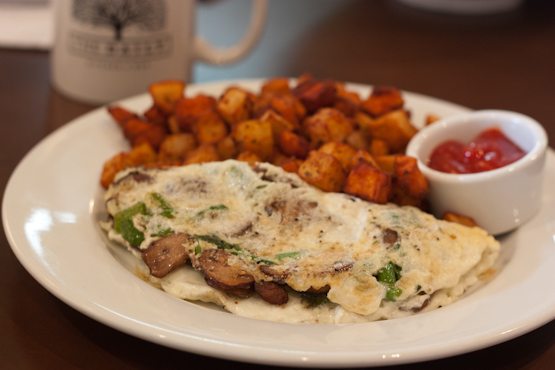 The server recommended the omelets so I went with the wild mushroom and requested egg whites. The omelet was stuffed with sautéed mushrooms, asparagus and goat cheese, which I loved. I hate it when I order a veggie omelet and they skimp on the veggies! It also came with a ton of sweet potato hash browns. I'm kind of obsessed with The Daily's sweet potato fries and the hash browns are like mini versions of the fries. So good!
On my actual birthday, Isaac had a snow day so we ended up being able to go out for lunch, which was perfect because we like staying in for dinner on Valentine's Day. Isaac's aunt and uncle had given us a gift card for Estilo or Toast — two restaurants owned by the same people in the Village Shopping Center. We had already been to Toast so we decided to try Estilo, which serves foods inspired by Central and South America in a 100% gluten free kitchen.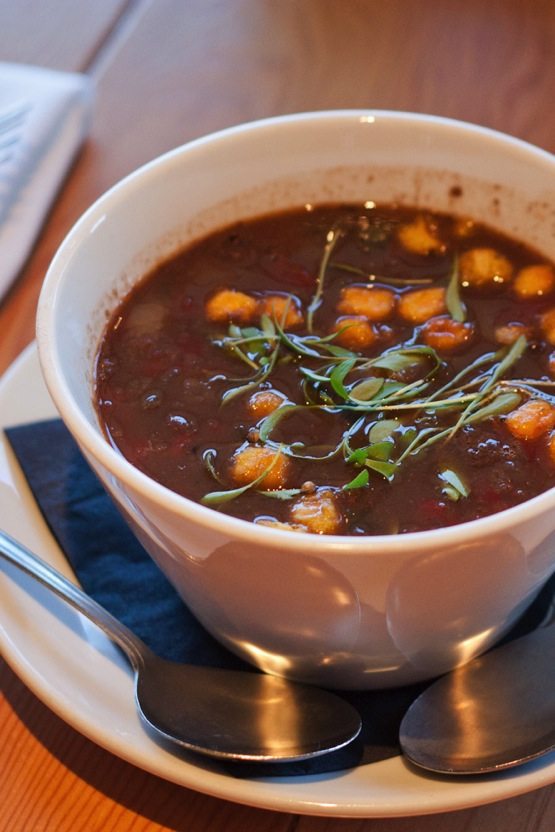 To start we spilt the black bean soup, which was vegan and served with a nice sprinkle of crispy hominy croutons and micro greens. The flavor of the soup was absolutely delicious and it had a nice creamy texture. We both throughly enjoyed it and wish we had ordered two bowls instead of having to share. 😉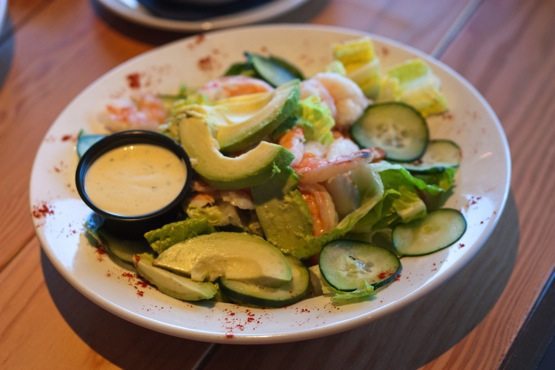 For lunch I ordered the shrimp and avocado salad. The salad was pretty good — the shrimp were cooked well and butterflied, which was a plus.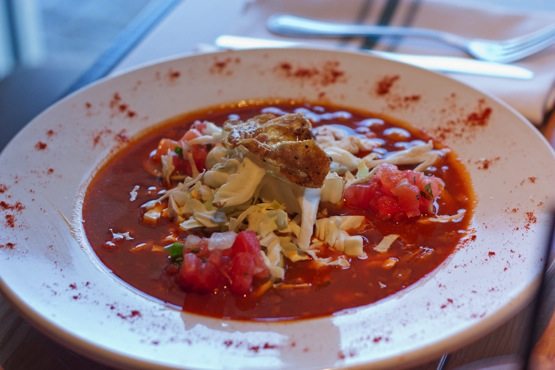 Isaac had the Duck Confit Pozole and loved it! I'm starting to eat a little meat again but I'm still not keen on duck so I didn't try it.
Overall, we'll definitely go back to Estilo. Isaac raved about his dish and the soup was one of the better vegan black bean soups I've had lately. Next time I'll branch out and try something a little more unique than the shrimp and avocado salad.
Last up — the weekend of my birthday we went out with a group of friends to Postbellum, a new restaurant located in the space that used to be Mulligan's sports bar. I'd heard great things so I was excited to try the food.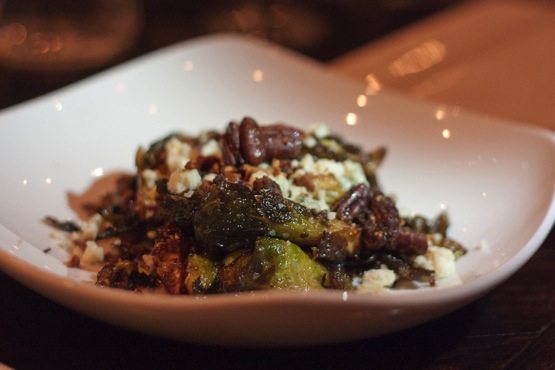 I didn't get photos of everything the table ordered because we were with a large group, but in general, everyone was pleased with their meal!
Isaac and I spilt the fried brussels sprouts as an appetizer. I usually stay away from fried foods but we had heard rave reviews, so we got them and they were excellent!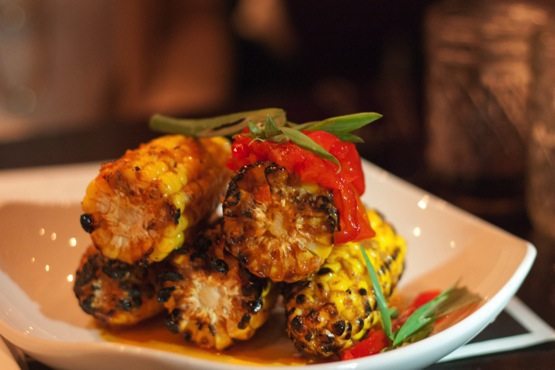 I also tried a bite of street corn and a few frites with truffle honey, herbs and parmesan that were being passed around the table. The frites were pretty amazing!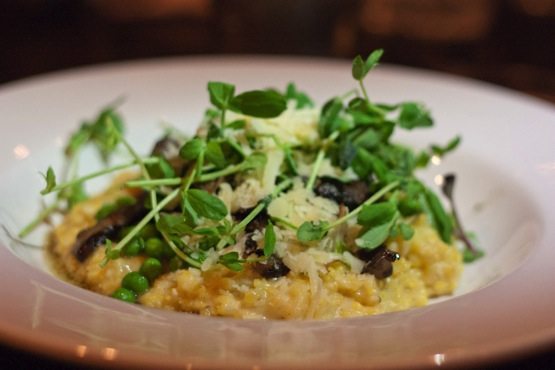 For my meal, I debated between the grown up spinach salad, the barbecue tofu and the smoked king mushrooms with grits. Our server said the grits were his favorite item on the menu so I went with those. The grits were topped with sweet peas and parmesan as well. I liked the dish okay but I probably should have went with the salad or tofu because I wasn't overly impressed with the grits. They were good, but not my favorite dish ever.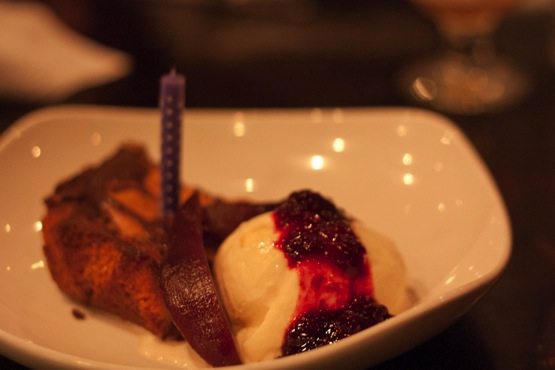 But don't worry dessert, marbled cake with roasted pears and peach gelato, more than made up for it! They even included a candle for me! There were lots of different flavors going on with but they all worked well together. And I love ice cream so I was so happy to have the peach gelato with the marbled cake.
Overall, it was a great birthday week full of restaurant meals!
Do you eat out at restaurants often or do you cook at home most of the time?