I Brewed a Gluten-Free Beer with The Veil Brewing Co.
8
Published Jun 07, 2017, Updated Jan 12, 2022
A couple weeks ago I had the pleasure and honor of collaborating with The Veil Brewing Co., a local brewery here in Richmond, to brew BIRD FOOD, a gluten-free IPA. The name seems appropriate given the collab and the fact that the beer is brewed with quinoa and millet.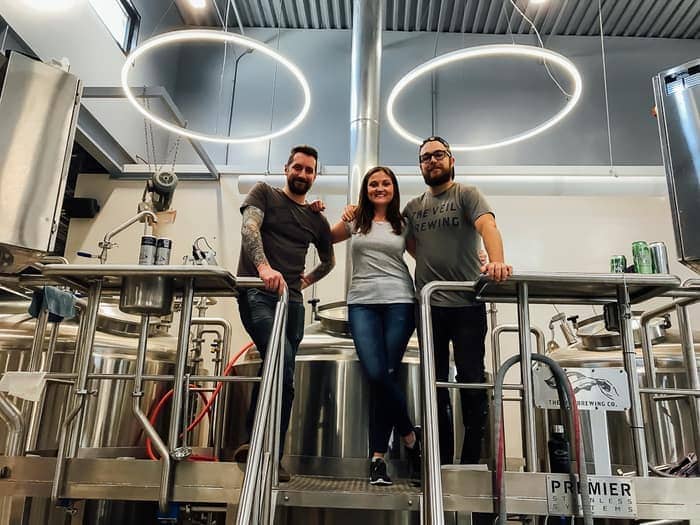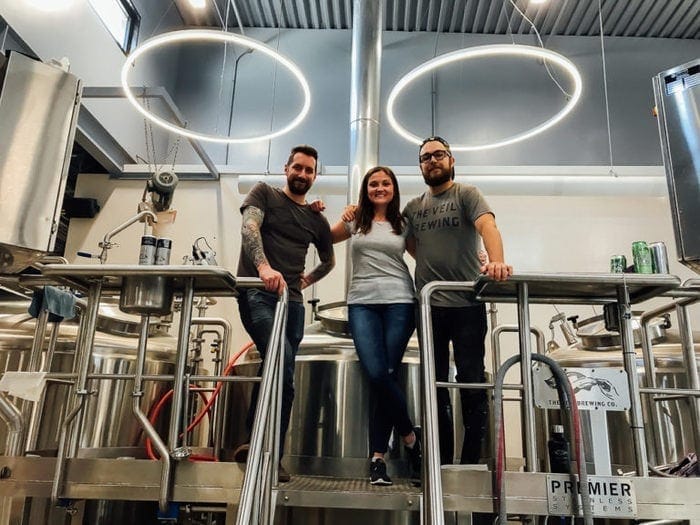 As many of you know, my husband now works in the beer industry running a company called Reverie Distribution. One of the breweries he represents is The Veil Brewing Co. When they reached out about collaborating on a gluten-free beer together, it was a great opportunity to spend a day trying something new.
Before brewing with The Veil I knew a bit about the process, just from watching Isaac homebrew and going on over a dozen brewery tours over the years, but I had so much fun learning more and actually helping with the process.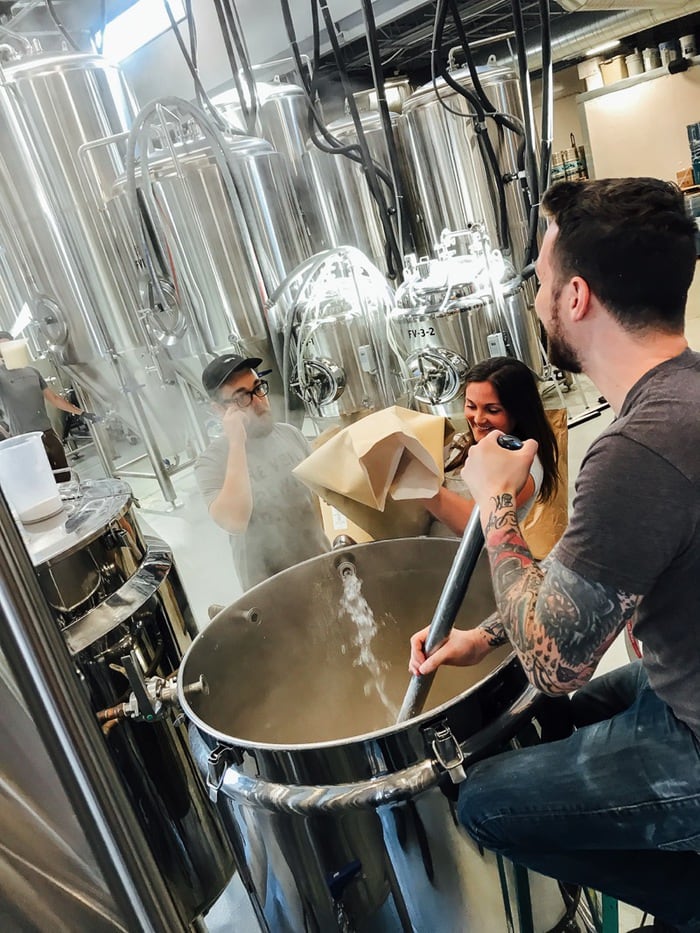 Matt Tarpey (Co-founder and Head Brewer) and Justin Anderson (Lead Brewer) took the lead on the whole process explaining all the steps and allowing me to jump in when appropriate.
Most of the time they brew on a 15-barrel brewhouse, but for this batch we used their 3-barrel system which meant the process was a little more interactive (aka labor intensive).
I helped by adding some of the grains, stirring the mash and emptying the spent grain from the mash tun. Trust me when I say I got my workout in. Moving wet grain around definitely takes some work.
Speaking of grain, the only grains (technically pseudo-grains) we used in the beer are millet and quinoa, both of which were milled at a gluten-free facility to prevent cross-contamination.**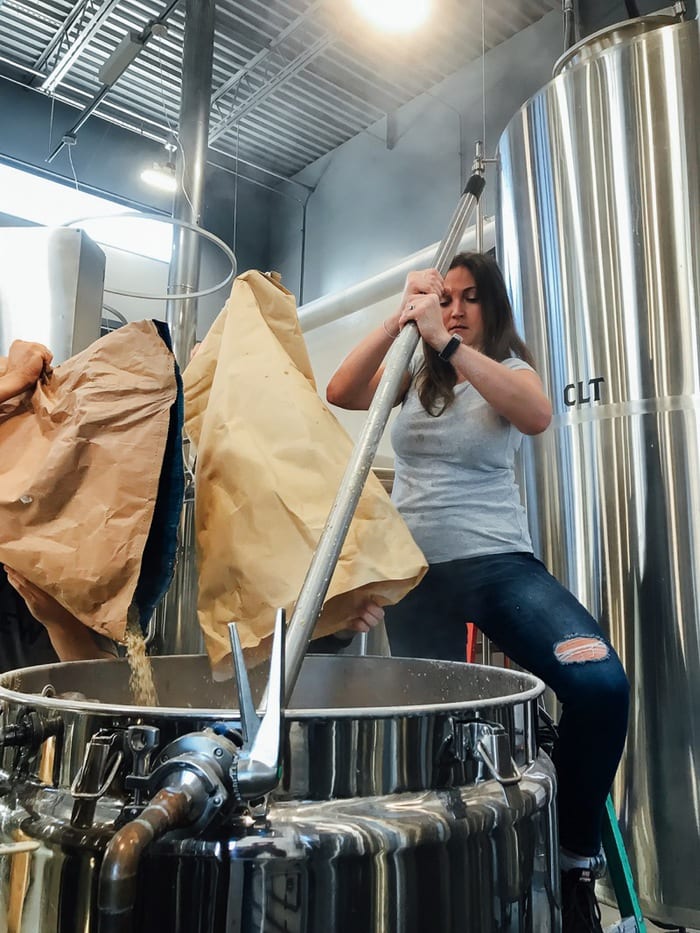 Stirring the grain as it goes in prevents it from clumping and ensures an even temperature throughout the mash. <– As you can see from my face, this was the hard part!!
One thing I quickly learned is that grain dust gets everywhere and sticks to everything. And yes, I know I'm hairy. 😉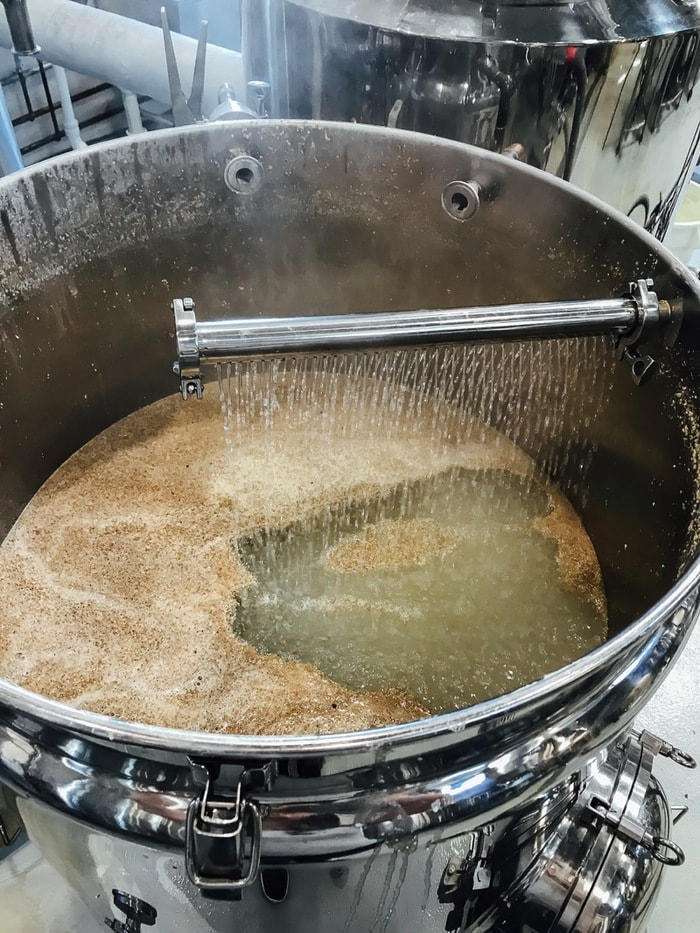 Next step, sparging the grain in the mash tun with hot water while draining the wort into the boil kettle.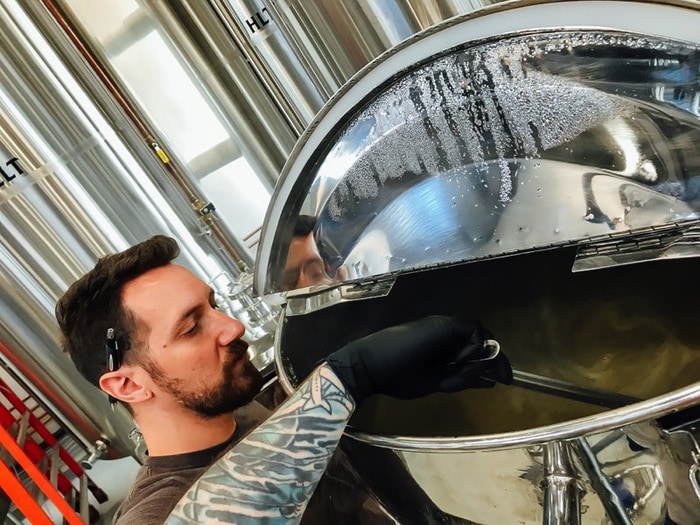 While the wort was boiling in the brew kettle, we took a quick lunch break with the team. The brew day coincided with my salad challenge so I made black bean fiesta jar salads (recipe coming soon) as well as my sweet potato black bean enchilada bake for everyone.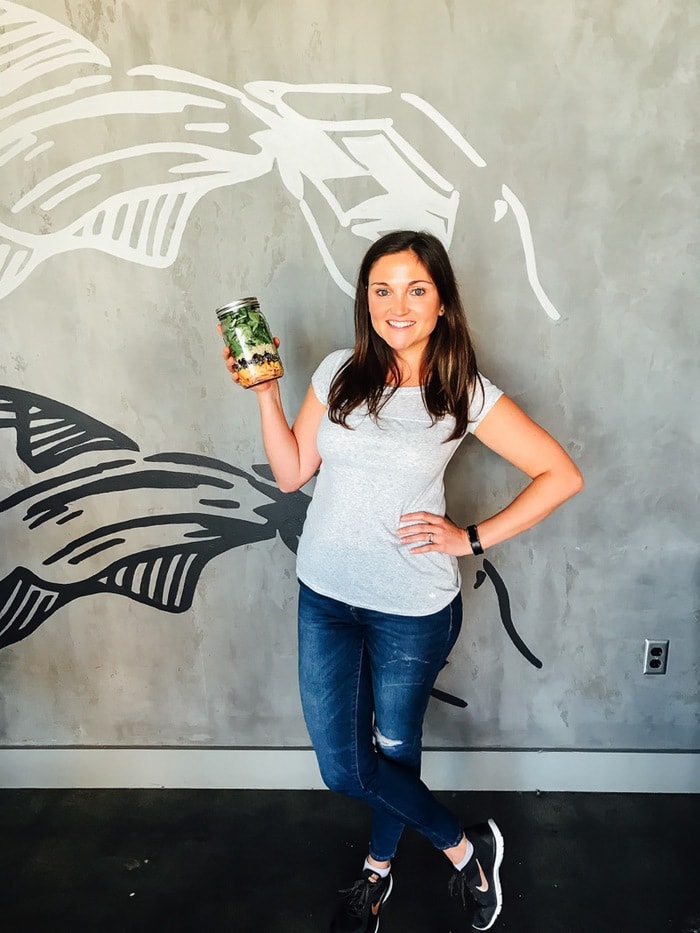 Both meals were a big hit!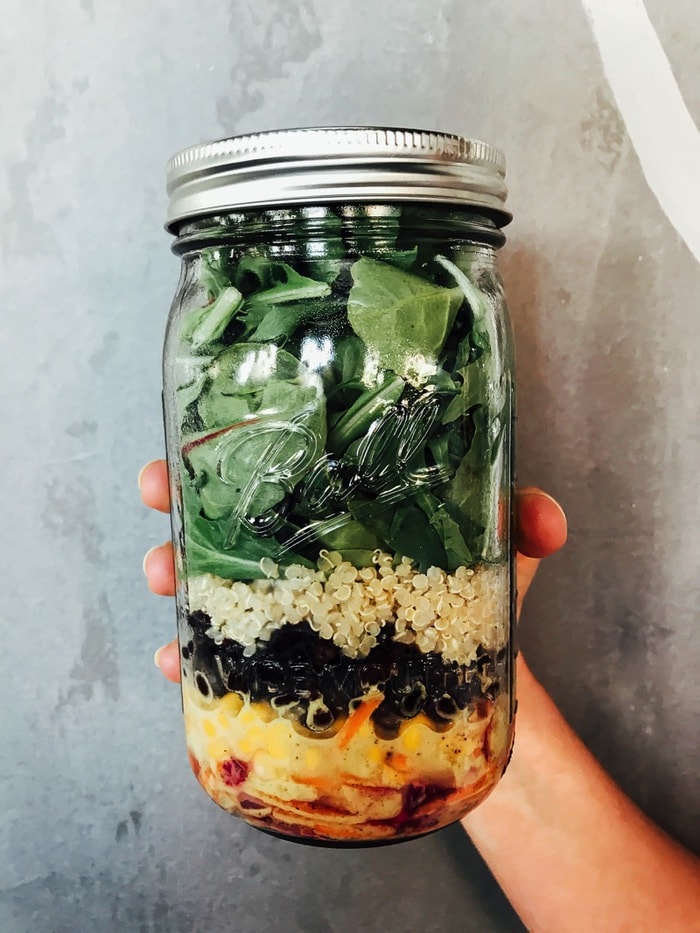 After lunch we added the hops (a trifecta of Nelson Sauvin, Lemondrop and Citra).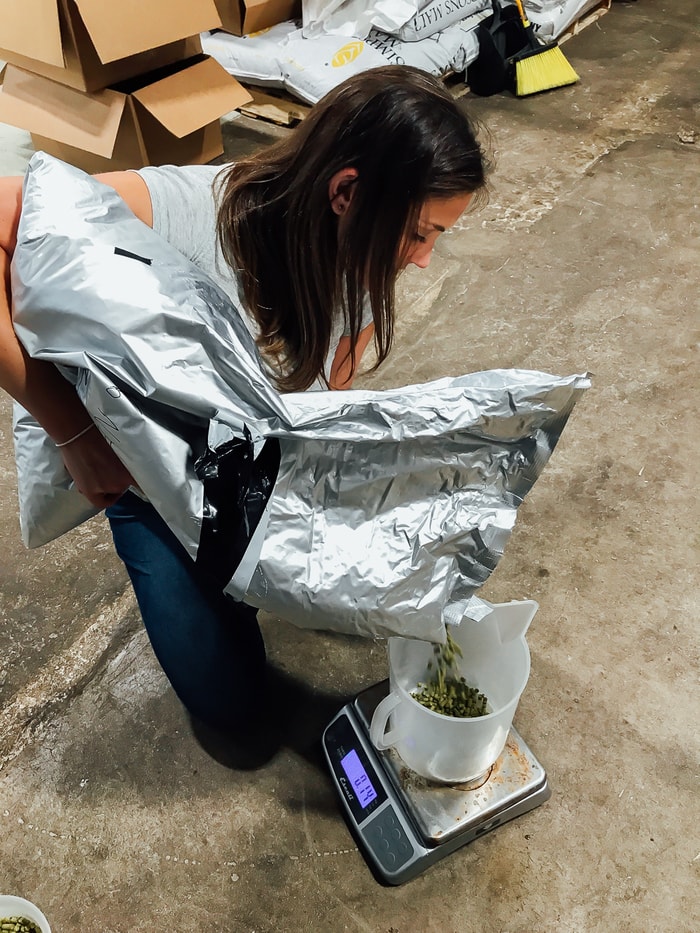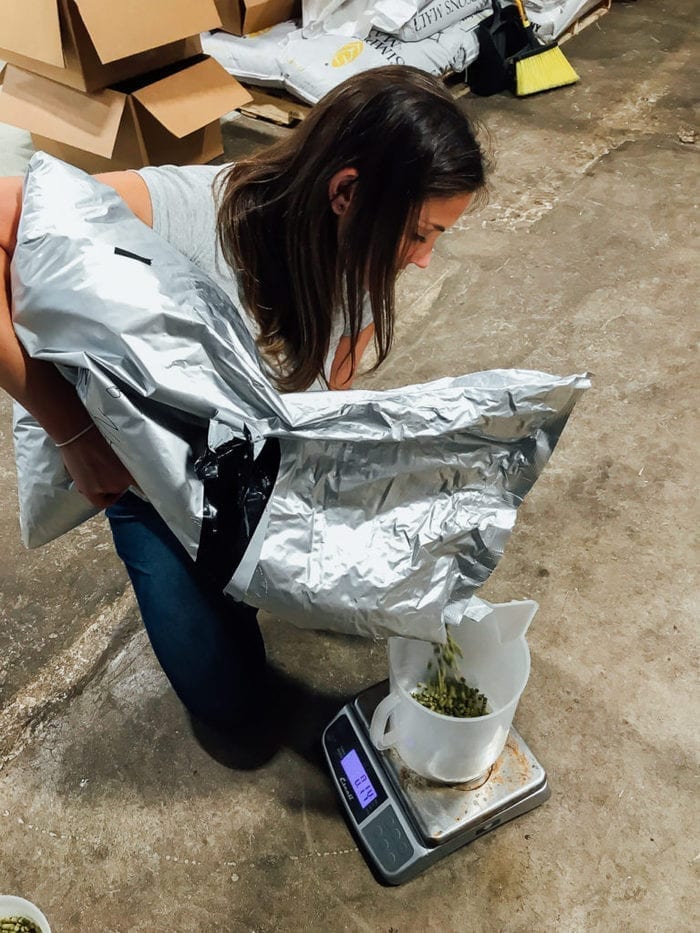 After more cleaning, boiling and some testing (for the PH level and the original gravity), we transferred the beer into a fermentation tank and the day's work was done. The following week we dry-hopped the beer which involves adding hops to the tank during fermentation.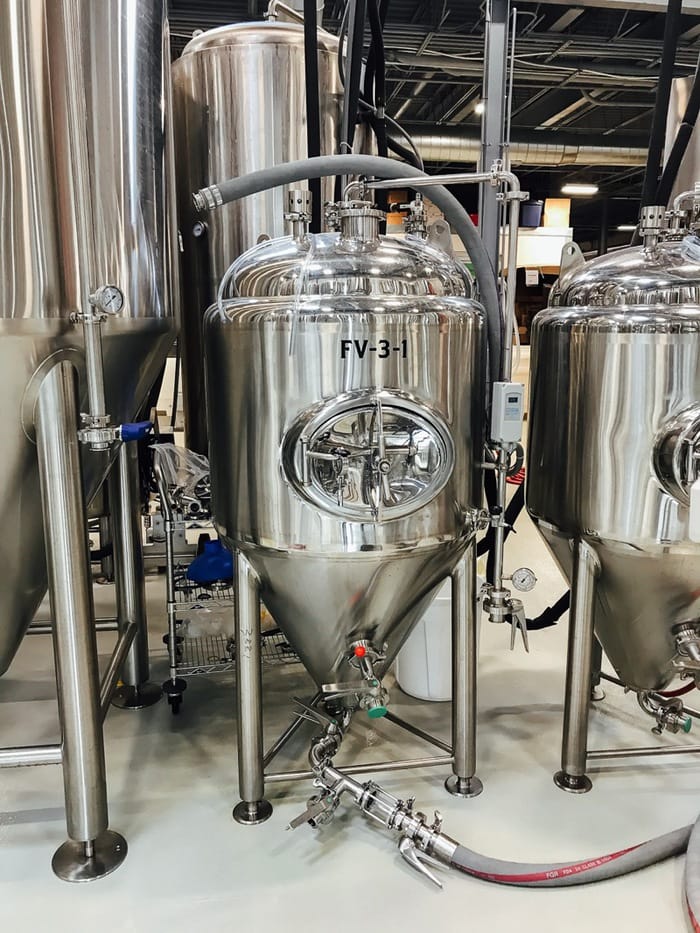 Right now the beer is napping (fermenting) in tank FV-3-1 before being carbonated and packaged for release.
I went by the brewery this weekend and tried a quick sample and it's already tasting really good so I can't wait to try the final product. I'm really excited about this beer because there aren't a ton of good gluten-free beers on the market and as someone who doesn't drink beer because of the gluten content I can't wait to be able to drink this one!
Through this process I learned that brewing is a lot like cooking. There's a recipe, there's testing, A TON of cleaning, and then the best part… sharing your creation with everyone.
If you're local I'd absolutely love for you to come try BIRD FOOD next Thursday, June 15th at The Veil Brewing Co. for their Third Thursday event. There will be food trucks and a DJ from 8-10PM. Plus, 15% of all sales will be donated to Richmond Conexiones!
I'm pretty pumped because we're also hosting a roof-top yoga class at 6:00PM, led by my friend Michelle Landon of One Drop Yoga. After the class there will be snacks (provided by me and my friends at Cava) for everyone who attends. Class is donation based and first-come, first-serve so please be on time and bring your own mat. 🙂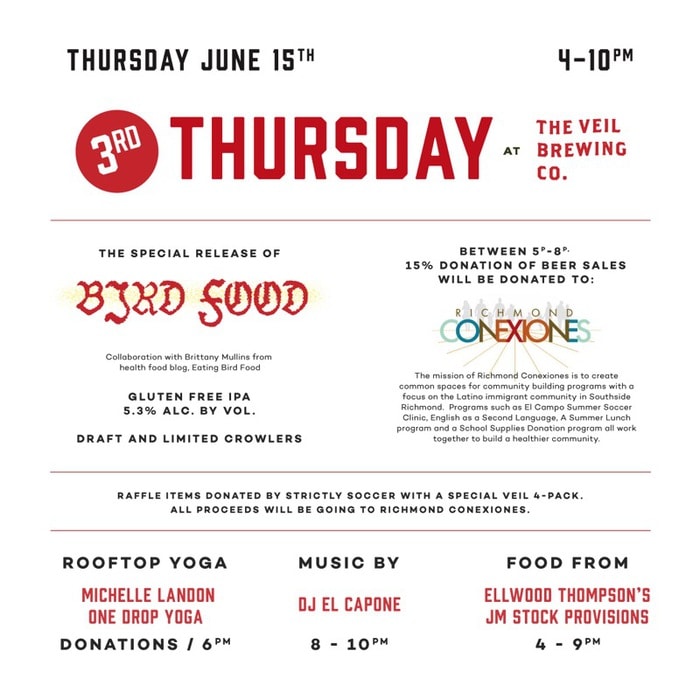 **Quick disclaimer — although we did everything in our control to ensure the beer is 100% gluten-free, there is still risk of cross-contamination due to the brewery not being a gluten-free facility.