Today was day 10 of 84 for the Body for Life training plan that I started. At this point I've been through all the workouts at least twice (upper body, lower body and HIIT) and so far, so good!!
I already feel stronger in my arms and legs and I am absolutely loving the 3 quick HIIT workouts a week. I go hard on the stair master or treadmill for 20 minutes, take it easy to cool down for 10 minutes and then call it day. I leave the gym super sweaty, well worked and energized. It's nice to know I can get in a good workout without having to run for an hour. Not that there's anything wrong with running, I just like the short workouts.
Despite being sore in one area or another since day one, Jessica and I have managed not missed any of the workouts!! Having a workout buddy really goes pay off when you're trying to stick to a plan. Plus, it's fun to have someone to chat with during the workouts and commiserate with when the soreness sets in.
I realized when Jessica came over for dinner on Sunday night that I've mentioned her quite a few times on the blog but we didn't have any photos together. We promptly changed that…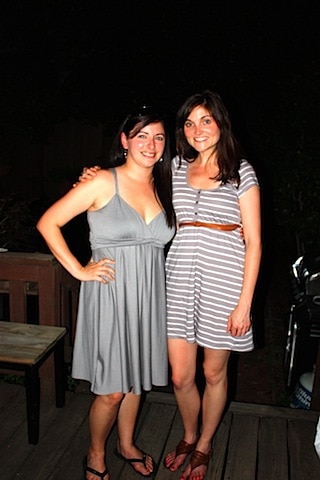 In other news, I've been sticking with my goal of amping up my protein and making sure I have a least one good source at every meal. Here's a few of my staples as of late.
Protein pancakes topped with a small spoonful of almond butter, berries and drizzle of maple syrup.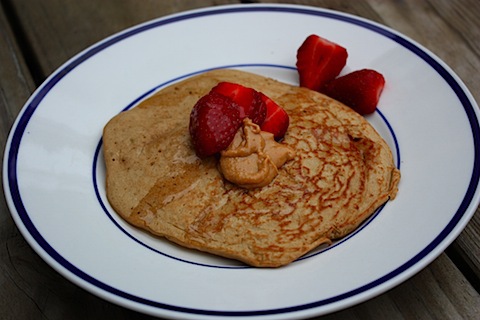 I've been using the Tone It Up protein pancake recipe, which is made with no flour – just egg whites, protein powder, almond milk, cinnamon and 1/2 of a banana. It's delicious and super filling! I don't even love pancakes but I've been loving these.
The pancakes are great for mornings I have time to eat at home but when I'm rushing to work I like to pack protein overnight oats.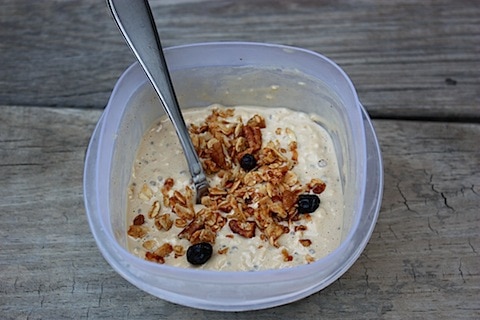 This was a normal batch, but with only 1tsp of chia seeds (because I'm running out). On a side note, the chia seeds aren't absolutely necessary for the protein overnight oatmeal recipe, I just like adding them in for the omega 3s.
I topped this batch with homemade granola, which was a gift from one of Isaac's co-workers. I'm pretty sure it's one of best homemade granolas I've tried. The combo of coconut, pecans as well as dried cherries and blueberries has me hooked.
For lunch and dinner I've been whipping up easy salads topped with plenty of veggies and protein.
This spring mix container was getting low so instead of dirtying up a dish I tossed all my ingredients in and ate from the container.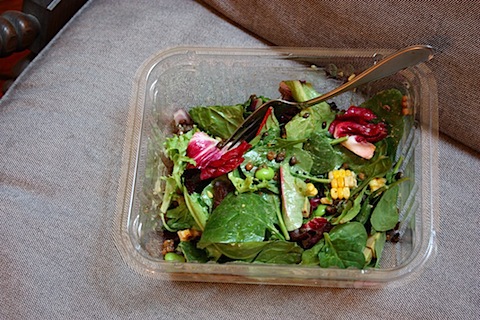 Super classy, I know. They're hiding out, but lentils and edamame were the protein here.
This next salad was for dinner so I put in a little more effort and roasted some veggies (broccoli, parsnips and carrots) and cooked some shrimp. The blob on the left hand side is my "dressing" aka chipotle hummus from Trader Joe's, which btw is really tasty. It's got a good kick to it!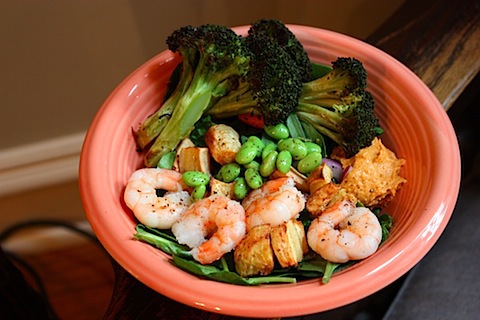 Easy peasy.
Overall, increasing my protein hasn't been too tough. Having a good quality protein powder on hand has definitely helped but I've also been increasing my consumption of eggs, dairy (greek yogurt and cottage cheese mainly) and seafood as well.
It just takes a little bit of thought and preparation, which I'm okay with because that's the case any time you're trying to eat healthier.
Bring on the next 74 days!!