Hi folks! I hope you are enjoying your weekend. I'm still in shock that today is August 1st. This summer (and year for that matter) is going by so stinkin fast. I really can't believe it.
Although, we're probably only a little over a month away from fall weather I want to share my new fav. kitchen gadget, which makes the best iced coffee – perfect for the remaining days of summer!! Isaac is the primary coffee drinker in the EBF casa, but for some unknown reason I've taken a strong liking to iced coffee this summer. (Having a coffee shop right next door to my office has certainly helped feed my new obsession with a 3PM iced coffee.)
Isaac noticed this trend and mentioned that we should make our own iced coffee – which we did using his French press. It worked just fine, but of course, we had to wait for the coffee to cool and often times I found that it tasted old/bitter, in addition to leaving sludge-like debris at the bottom of the glass.
Then came the revolution – Isaac was served the most delicious iced coffee at a friend's house in NYC (hi Adam!) and promptly decided we needed whatever they had. Turns out it was the Toddy Cold Brew System
, and about 3 days later it was sitting in our kitchen.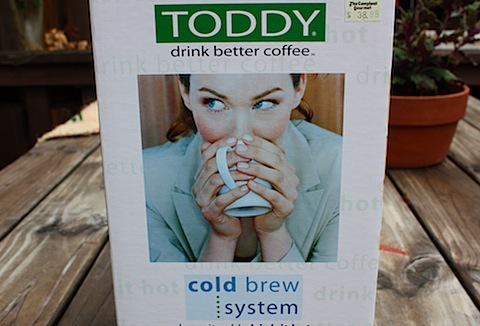 The Toddy is a bit different than most methods of brewing coffee as it uses cold-water during the brewing process. The result: a bold, yet super-smooth taste that's easier on the stomach. We followed the instructions given with the Toddy and cold brewed one pound of coffee in 9 cups of water for 12 hours.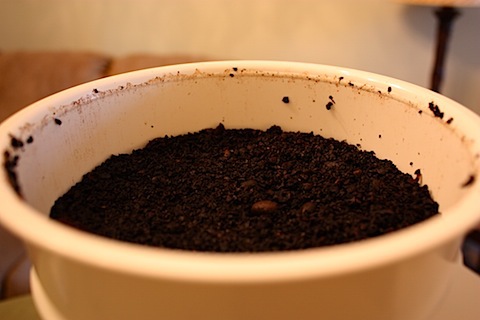 The next morning we drained the coffee, which resulted in 6 cups of coffee concentrate. The recommended usage is (1) one part coffee concentrate to (3) three parts water, milk or cream. I follow that method, however, Isaac likes his a bit stronger so he uses less water then making his cup. One of the best benefits of using the Toddy system is that you can mix it to taste – making it as strong or as weak as you prefer. It's also great because the concentrate can be made one cup at a time – served steaming hot or iced cold, and it lasts in the fridge for up to 14 days (without any deterioration in taste or freshness). It's perfect for us because we can each grab a cup of joe whenever we want and there's no coffee wasted.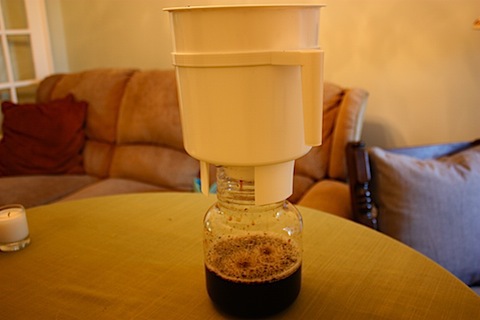 We've been enjoying coffee all week – mainly iced, but Isaac made a cup of hot coffee from the concentrate and loved it as well.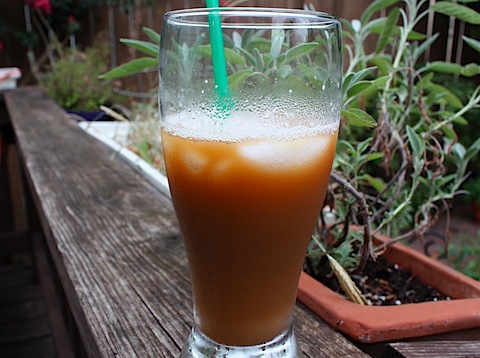 Today's cup was 2/3 water, 1/3 coffee concentrate, ice, 1/8 cup unsweetened almond milk, and two drops of liquid stevia. Perfection!
It really is the best iced coffee I've ever had. Not only is it super smooth but I've noticed the difference with the acidity levels as well. The cold brewed coffee doesn't leave my stomach all rumbly as normal coffee often does.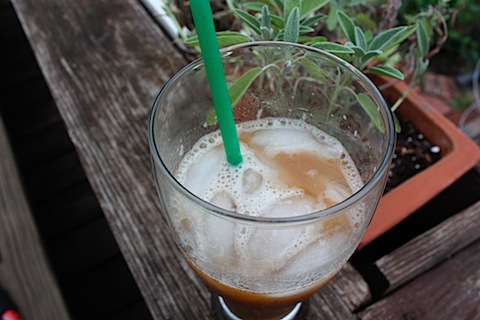 The only bad part is now we have a really nice, barely used Cuisinart 12-cup coffee maker sitting on our counter that probably won't be used. Anyone want to buy it? 🙂
I'm off to finish my coffee, take the little lady below for a walk, hit up the gym, and then watch Isaac play ultimate frisbee.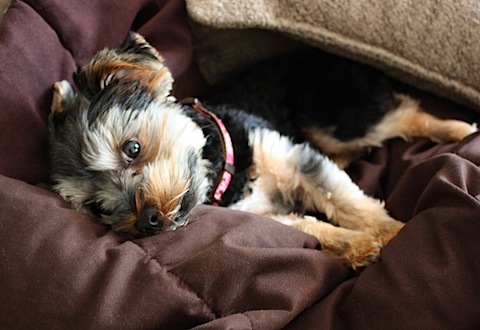 Enjoy your Sunday!
-Brittany