Today went by really quickly at work because things were busy. At lunch I ran by the post office and ran home. I only had time to prep my salad so I decided just to take it back to the office and eat at my desk- which apparently is the worst idea germ wise.
The desk, in terms of bacteria, is 400 times more dirty than your toilet," says Charles Gerba, PhD, a professor of environmental microbiology at the University of Arizona in Tucson. "People turn their desks into bacteria cafeterias because they eat at them, but they never clean them. The phone is the dirtiest, the desktop is next, and the mouse and the computer follow."
(click the quote to read more reasons why you shouldn't eat at your desk)
I try to not to do it often because I like to move around after sitting all morning, but a girls gotta go what a girls gotta do. So I ate at my desk.
A delicious salad made with kale, red leaf and romaine lettuce (all freshly picked), sweet corn off the cob, raw okra, cherry tomatoes, 1/4 of an avocado, shrooms, and salsa. Really great combo and I loved the sweetness of the corn.
Mid afternoon I had some Virginia Salted Peanuts and a navel orange. After leaving work I headed to the other house (what I will, from now on out, call the house Isaac is house sitting). At the other house they have a strawberry garden… which I LOVE!! I picked this bowl of goodness  and ate them throughout the day- the majority were eaten before dinner.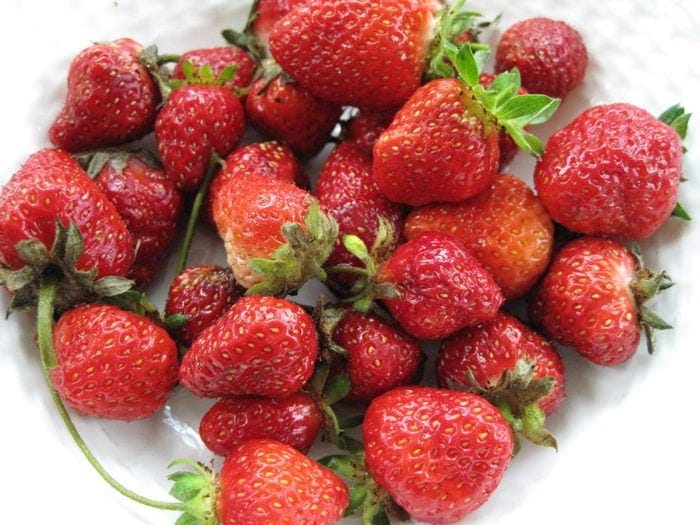 And dinner…. another salad:
Very similar ingredients as lunch only I added some grated carrots and almond accents. The avocado is speckled with course sea salt and pepper.
And, don't worry, I didn't give up on cereal today. I ended up having some Honey Kix as a snack this evening.. out of a coffee cup. 🙂
This post is quick and to the point because I am off to bed. zzzzz.