Berry Almond Kale Granola
30
Published Aug 15, 2013, Updated Aug 09, 2021
Made primarily of greens and without any oil or added sugar, this kale granola is the healthiest granola I've ever made. And it's GOOD!
So kale granola is a thing….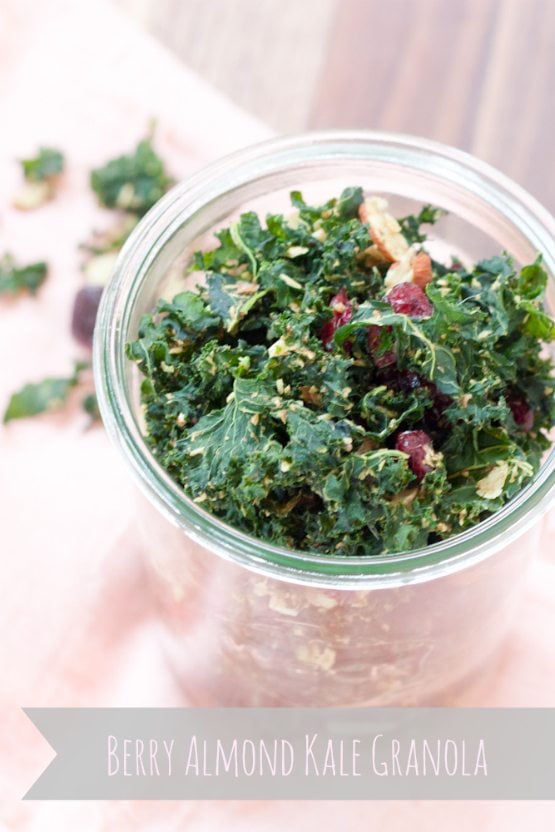 Want to know how I found out about it? Through TJ Maxx! Well, actually Home Goods (which is owned by TJ Maxx). Recently, I was shopping for candles at Home Goods and I went over to peruse the food section because they seem to carry a ton of high quality items (none of which are past expiration or seem bad) like olive oil, pure vanilla, teas, coffees, jams, honey, etc. They also have organic snacky items — veggie chips, trail mix and the like. While looking around I happened upon something called New York Naturals Greenola with the tagline "Greens, not Grains!" Oh course this caught my eye and before I knew it I was walking out of Home Goods with a new candle and a package of Cranberry Nut Crunch kale granola.
The kale is dehydrated so it's super crunchy (like kale chips) and when combined with the dates, coconut, almonds and cranberries, it tastes very similar to granola. Don't let it fool you though, it's just as addictive as regular granola. I'm pretty sure I devoured the whole container in less than 24 hours.
I shouldn't be surprised, things like this happen with me and granola/snacky type foods. Anyhow, that's a story for another day. Naturally, as soon as my little container was polished off, I started brainstorming how to create my own version of kale granola at home.
Fast forward two weeks: I've successfully made three batches of kale granola. I loved the first batch so much, I ate it all before getting a chance to a take photos it for the blog. Oops.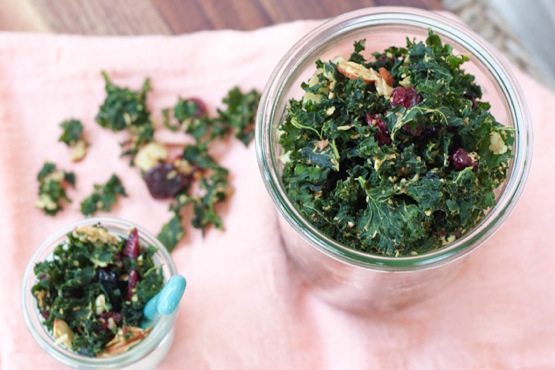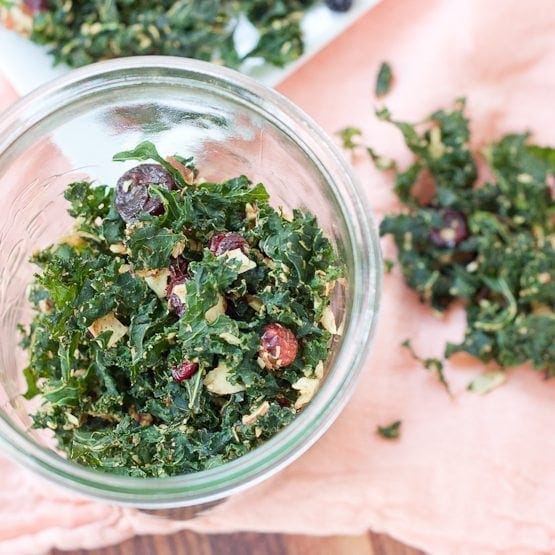 The second two batches are gone now too, but thankfully I did snap some pictures before eating them.
Made primarily of greens and without any oil or added sugar, it's probably the healthiest granola I've ever made. And it's GOOD! I've been using it for everything I would use normal granola for…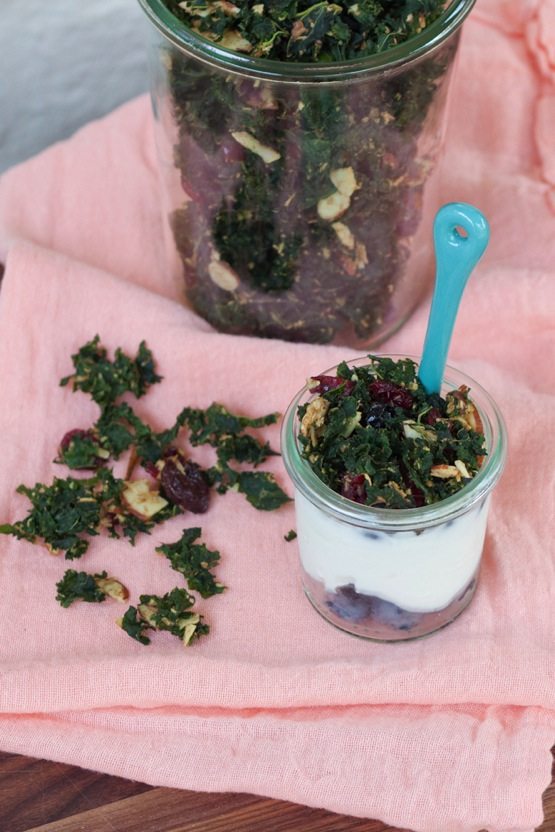 Snacking on it by the handful (a little too much), as a topping for oatmeal, yogurt parfaits, and even eating it with almond milk as cereal.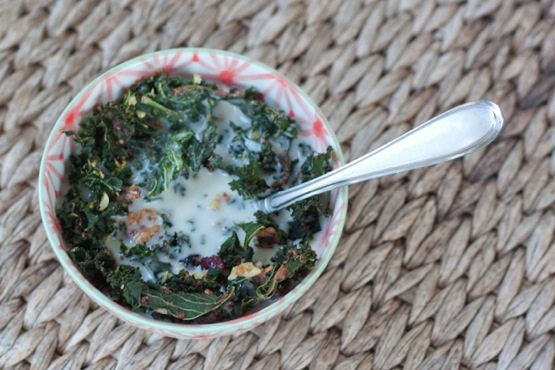 Healthy cereal! And it's awesome, because the kale granola doesn't really get soggy — it's super crunchy and tastes ridiculously similar to grain-based cereal. The only difference is the color. If you can get over the fact that you're eating green cereal, you're golden.
Isaac was a little skeptical at first, but he tried it and said it tastes like Honey Bunches of Oats. 🙂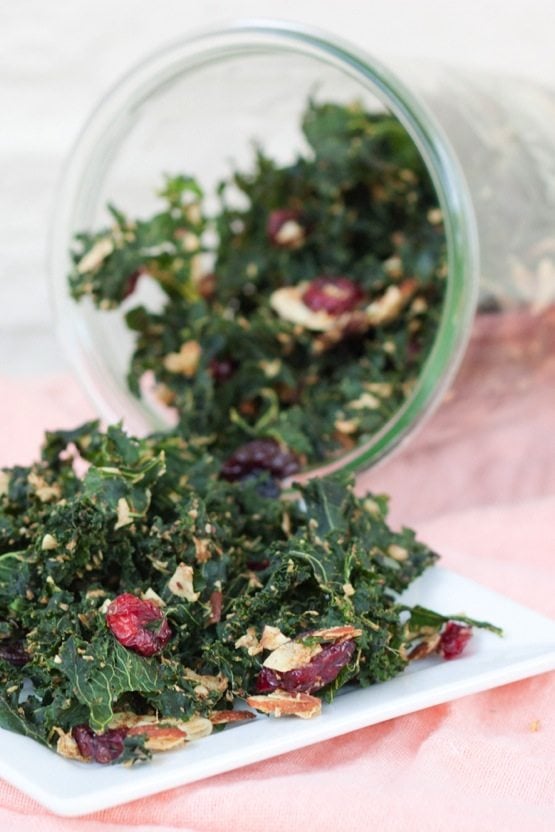 I have an Excalibur dehydrator for making kale chips and other raw goodies, so I used it for making this recipe. But then I remembered how much I hate when I find recipes that call for a kitchen appliance that I don't own so I decided to figure out the oven cooking process for those that might not have a fancy schmancy dehydrator (or want to wait 24 hours for their granola to be done). Both options are listed in the recipe.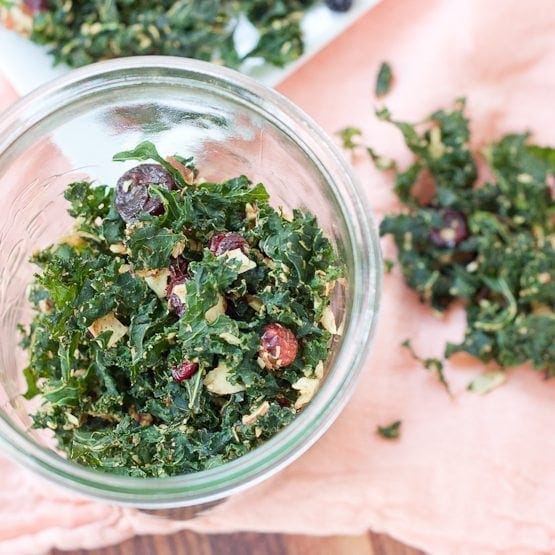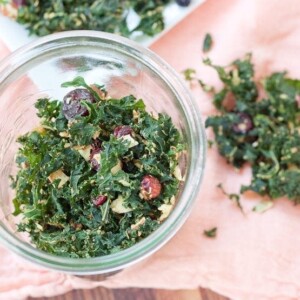 Berry Almond Kale Granola
Made primarily of greens and without any oil or added sugar, this is the healthiest granola I've ever made. And it's GOOD!
Ingredients
1

large bunch of kale

,

washed, de-stemmed and torn into bite-size pieces

1/2

cup

fresh mango

,

chopped into chunks

2

Tablespoons

unsweetened shredded coconut

1

teaspoon

cinnamon

1/2

teaspoon

sea salt

1/2

cup

dried cherries

,

blueberries or cranberries

1/2

cup

sliced almonds

1/4

cup

unsweetened coconut flakes
Instructions
In a medium bowl, soak the dates in 1/2 cup water for at least 30 minutes, or until softened.

Make sure your kale is as dry as you can get it. (I used my salad spinner), then place it in a large bowl.

In a food processor, chopper or high powered blender, combine the soaked dates + 1 tablespoon of soaking liquid and fresh mango. Blend until it is a thick paste. Add the shredded coconut (NOT the flakes), cinnamon and salt and blend briefly to combine.

Add paste to kale leaves and massage with your hands to coat each leaf, until all leaves are coated.

Add in the dried berries, almonds and coconut flakes and mix well so these items get coated as well.

Spread kale in a single layer over 2 ParaFlexx lined trays and dehydrate for 115F for about 24 hours, or until kale is crispy. If you do not have a dehydrator, pre-heat your oven to 300°, spread kale onto a baking stone or cookie sheet lined with parchment paper and bake for 30 minutes with the oven door slightly ajar. Maybe sure to watch as the 30 minute mark gets close so that the kale doesn't start to burn.
Nutrition
Serving:
1
/4 of recipe
|
Calories:
284
kcal
|
Carbohydrates:
58
g
|
Protein:
5
g
|
Fat:
9
g
|
Fiber:
8
g
|
Sugar:
42
g
Nutrition information is automatically calculated, so should only be used as an approximation.
So there you have it, my new favorite way to eat kale! Enjoy and have a Happy Friday.