Baltimore Weekend Getaway
21
Published Jun 25, 2016, Updated Mar 20, 2023
Baltimore weekend getaway travel guide with tips for where to stay, things to do, neighborhoods to visit and restaurants to dine at.
Instead of exchanging gifts for our 3 year anniversary, Isaac and I decided to plan a little weekend getaway, similar to our anniversary trip to Williamsburg last year. Isaac started his new job on Monday so spending some alone time together the weekend before sounded perfect. We wanted to go somewhere within driving distance. Asheville and Charleston were top contenders, but we ultimately settled on Baltimore, Maryland because it was a tiny bit closer and seemed more doable for a weekend getaway.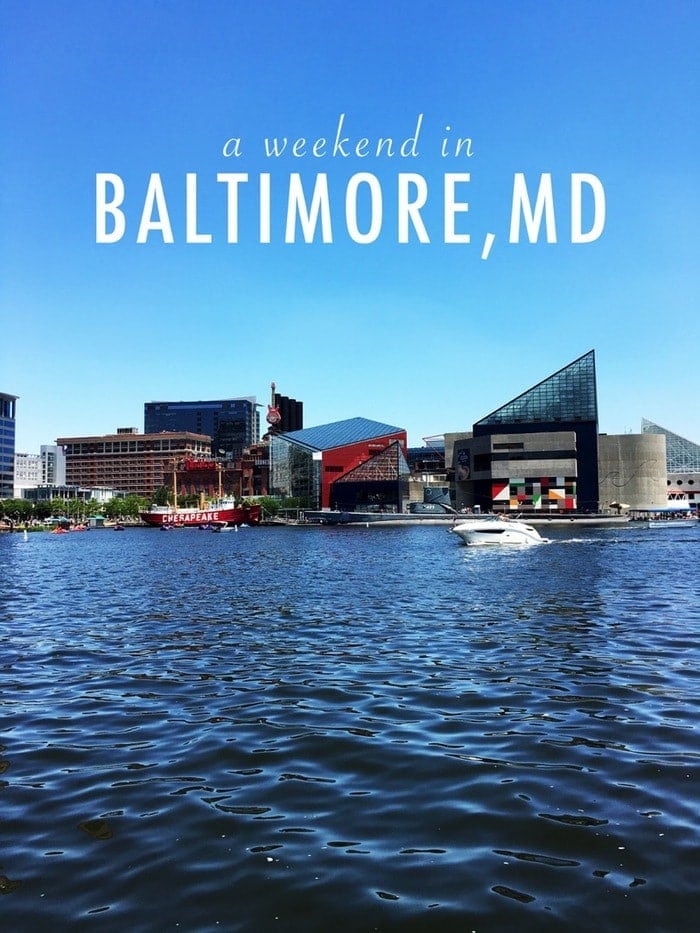 We had both previously spent time in Baltimore. Isaac for ultimate frisbee games and I had been for a conference, but neither of us had the opportunity to fully explore the city. Gearing up for the trip we took suggestions from friends and planned a bunch of fun activities, restaurants to visit and, of course, local coffee shops to check out.
The weather was ABSOLUTELY gorgeous the whole weekend so we spent a ton of time walking around at our leisure, taking rides on the water taxi, eating good food and enjoying the neighborhoods around the Inner Harbor. Overall, we were definitely charmed by the city and thoroughly enjoyed the time we spent there.
Instead of sharing a play-by-play recap of our weekend I want to give you a guide with our favorite things to do, places to eat and where to stay so you can take these recommendations and plan your own Baltimore weekend getaway.
Where to Stay
First thing first, you'll need a place to stay. We stayed at Hotel Monaco Baltimore. It's central to everything we wanted to do with in the city and only a short walk to the Inner Harbor.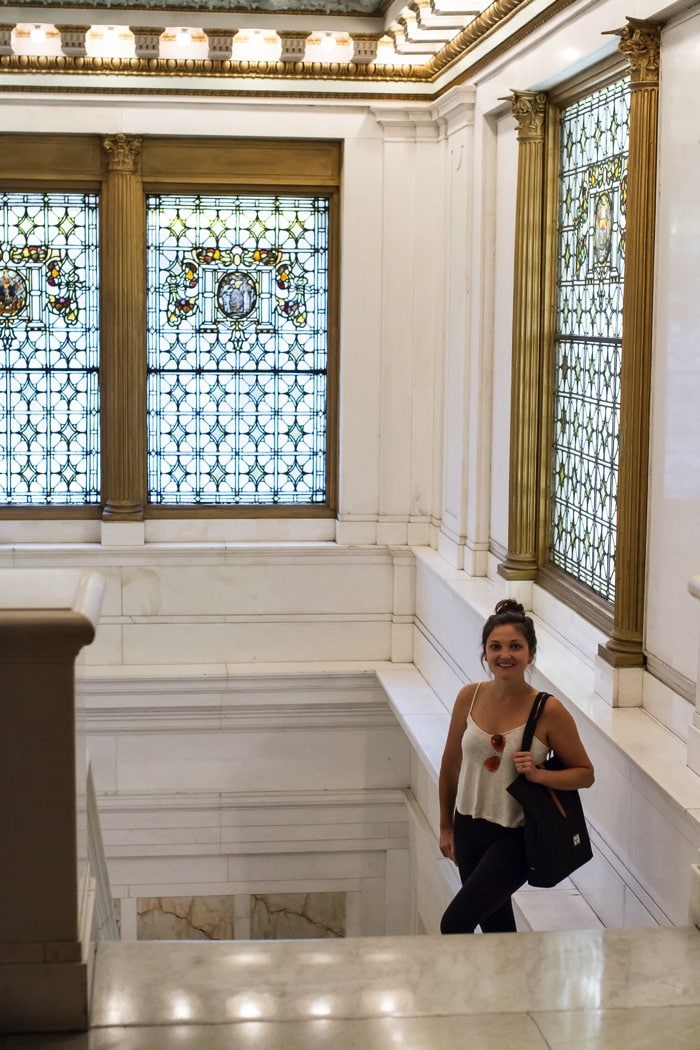 It's a Kimpton hotel located in the old B&O Railway headquarters so it's historic and boutiquey with a ton of perks including gorgeous rooms, a daily complimentary wine hour, free coffee and tea each morning and free bike rentals.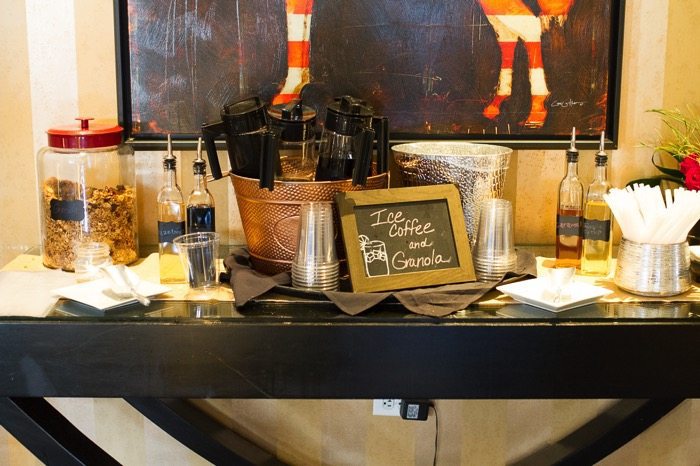 The suite we stayed in was spacious and comfy.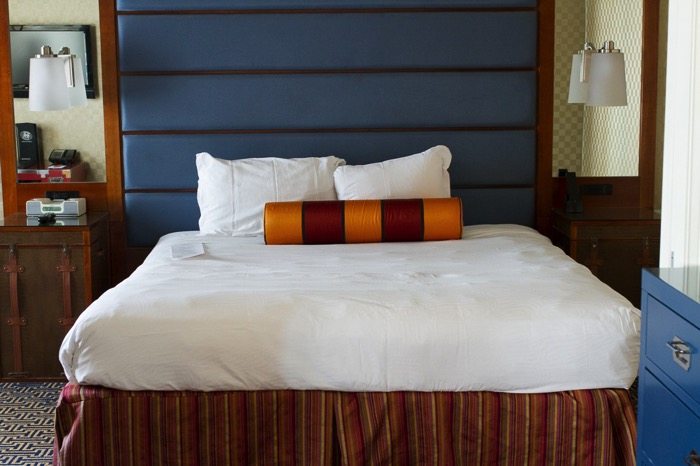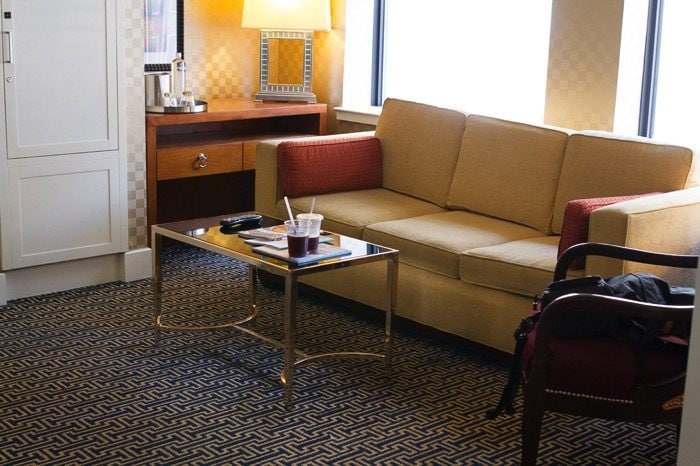 With a jacuzzi tub!!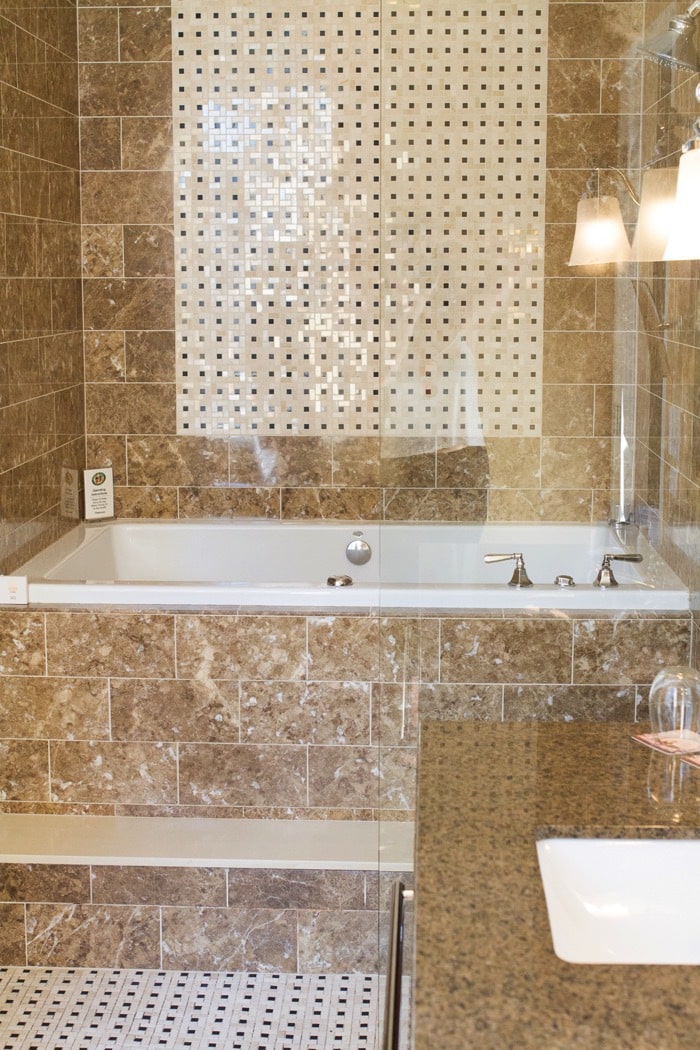 Oh and every room is equipped with a yoga mat. I loved being about to do a little yoga on Sunday morning to stretch out before our car ride home.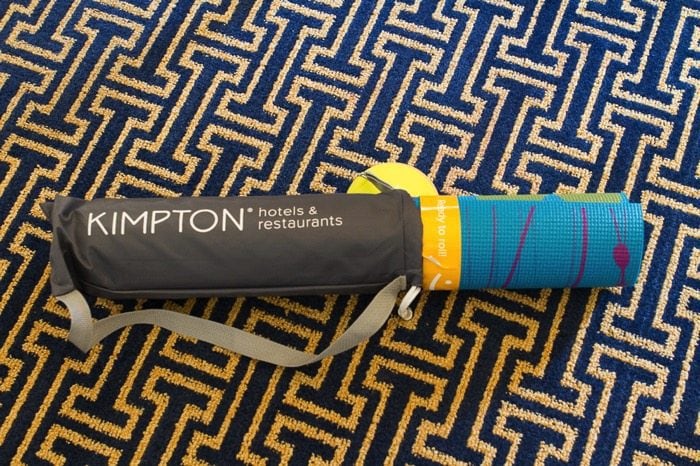 Upon our arrival on Friday afternoon, we were greeted with a little snack plate from the chef at B&O. Apparently they knew about the blog because they sent the cutest plate of healthy snacks (green juice, bird seed cookies, peanut butter marshmallows, roasted nuts) and a buttermilk biscuit treat.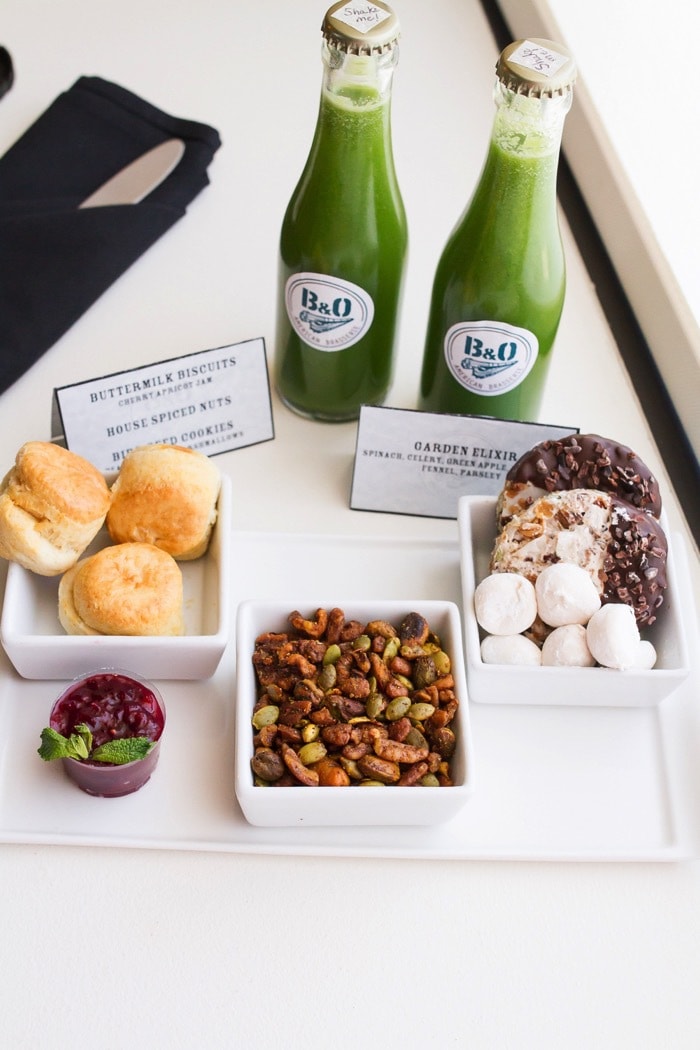 The homemade peanut butter marshmallows were so unique and fun, but I was super impressed by the bird seed cookies. I need to email the restaurant and ask the chef for the recipe!
The hotel also knew that it was our anniversary! They treated us to a bottle of champagne and chocolates which was so thoughtful and made our stay there extra celebratory.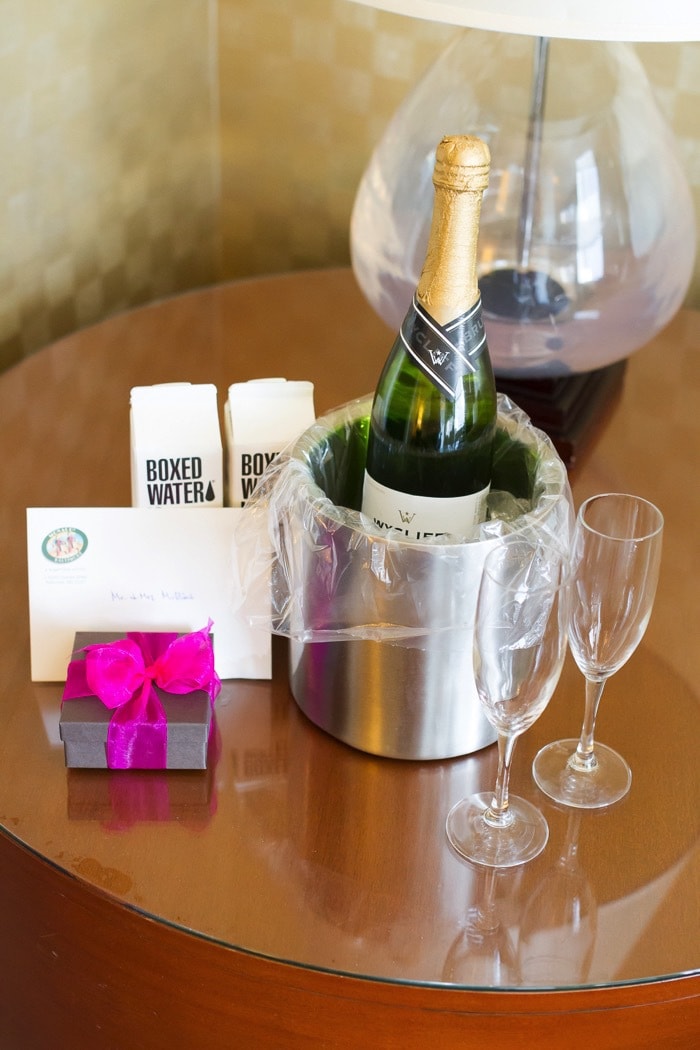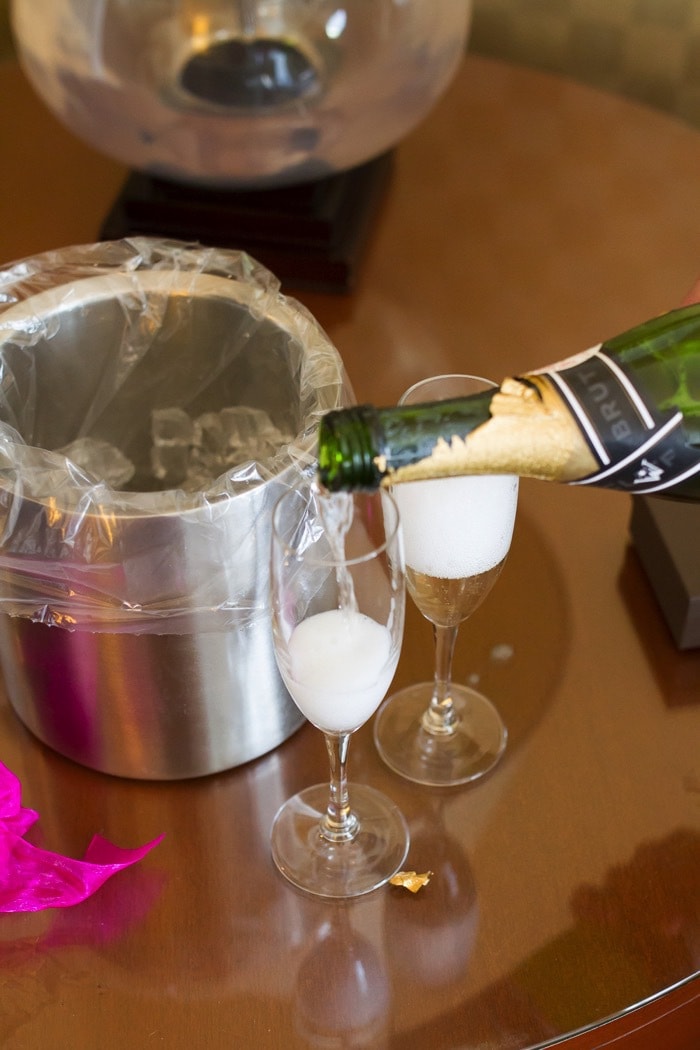 Things to Do in Baltimore
Once you're settled into your hotel, it's time to start exploring. Here are a few things we really enjoyed doing around the city.
Visit the National Aquarium. It's amazing! We spent a good three hours walking through all the exhibits. Every exhibit is unique and memorizing — from the Tropical Rainforest (with tree-dwelling monkeys) to Jellies Invasion and Shark Alley (with over 5 different types of sharks). It's a must-visit spot. My lovely friend Kate works at the aquarium and hooked us up with tickets, but this is something we would have gladly paid for. It was definitely a highlight of the trip.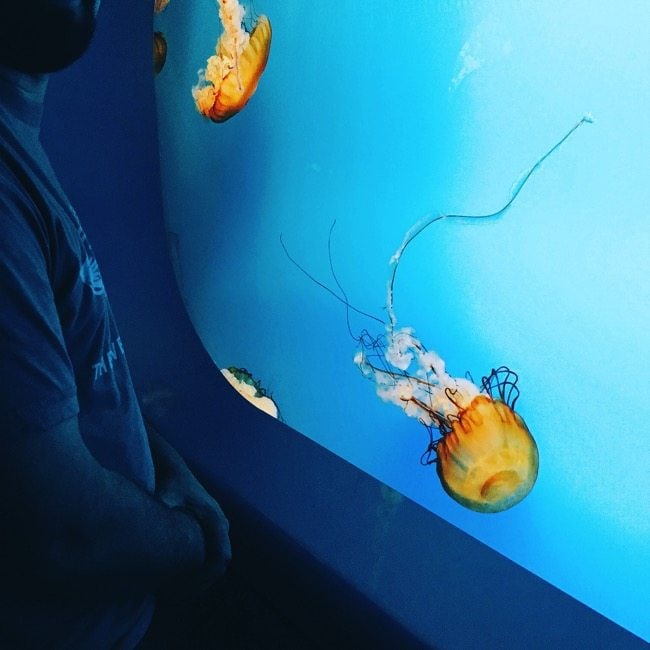 Explore the Inner Harbor. Plan a day to walk around the harbor and check out the museums, restaurants and shopping. There are numerous fun filled family oriented activities like paddle boats, historic ship tours, boat rides and a Children's Museum. The Orioles and Ravens stadiums are close-by too so if you're a sports fan you can easily catch a game.
Take the Water Taxi. These boats/taxis are an awesome way to get around all the different Inner Harbor neighborhoods, plus it's fun to take a boat ride on the water. All day passes were $14 per person, which was well worth it and saved our legs.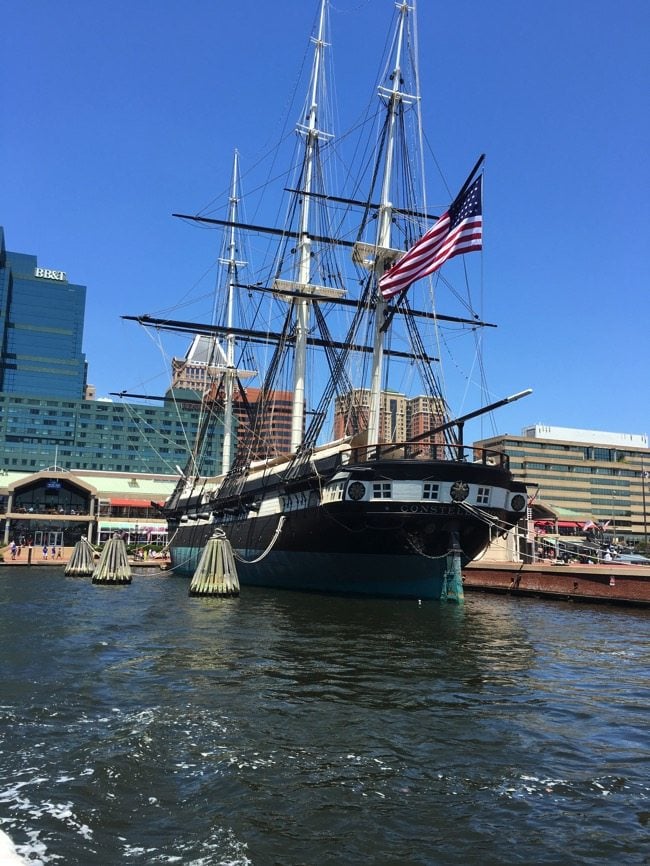 Visit Federal Hill Park. — We took the water taxi over, grabbed iced coffee at 3 Bean Coffee and walked to the top of the hill to get a great view of the city.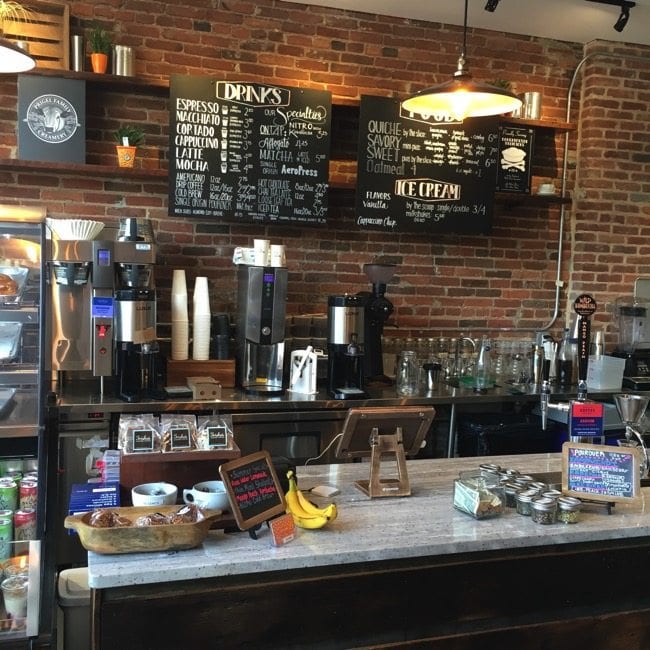 The cold brew coffee here was just the pick-me-up we needed around 3PM on Saturday.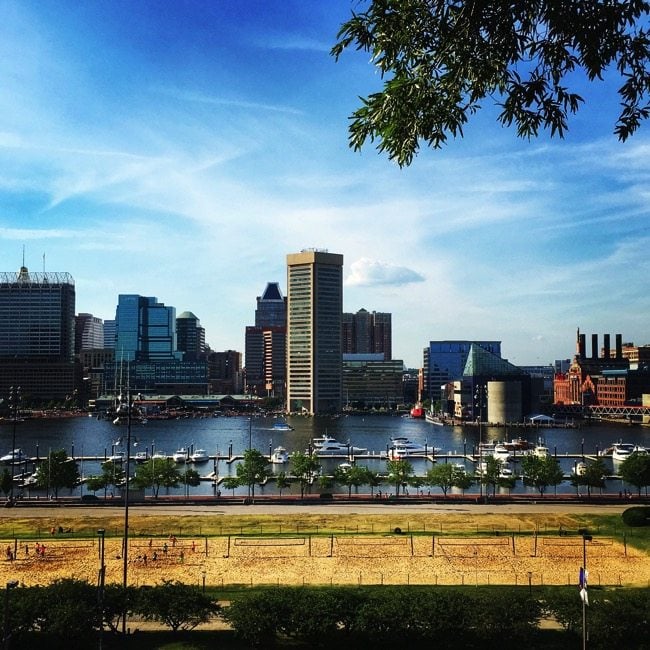 Visit Hampden. — This was my favorite place to explore. There are tons of cool shops to check out and cute places to eat. Definitely check out Trohv, a lovely shop with home goods and gifts. <— I wanted to buy everything here!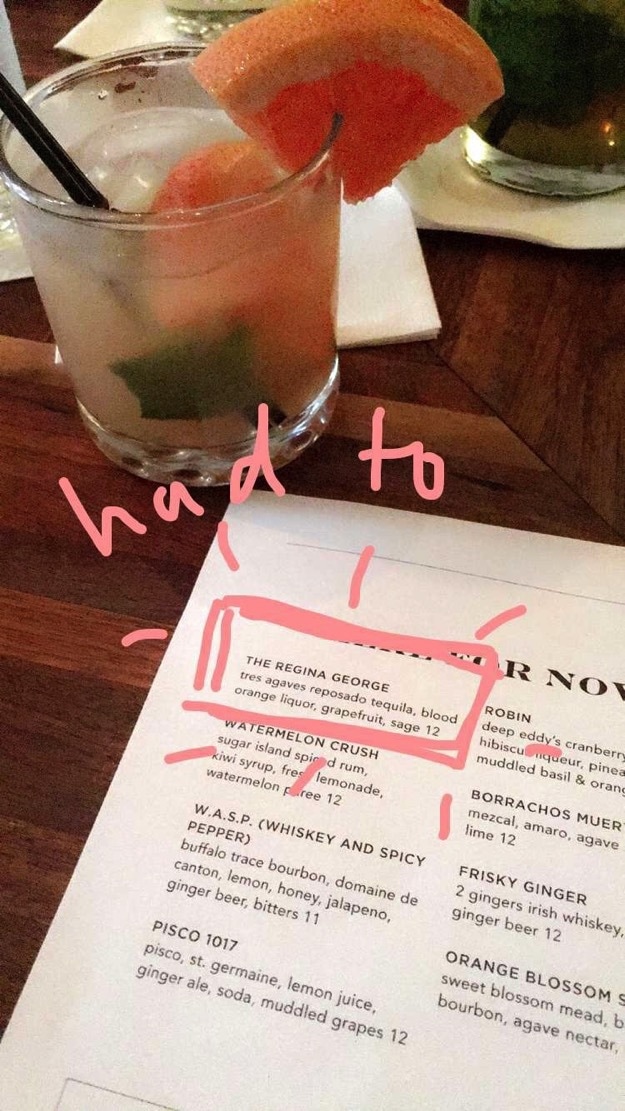 We took a little break to grab drinks at The Food Market. The Regina George had to happen!
Go shopping in Harbor East. — If you're looking for more mainstream stores, this is your spot for shopping. There's a J. Crew, Anthro, Madewell, South Moon Under (that carried men's clothing!!), Lulu, MAC, Under Armor and a Whole Foods. While we were in Harbor East we also grabbed a quick snack and drinks at Cava Mezze, one of my favorite local restaurant chains in the NOVA/DC/MD area. We missed it, but apparently on Saturdays they have an epic brunch for $30 with unlimited food and drinks! Definitely worth checking out. Get the apple melon sangria!
Hang out in Fell's Point. — We didn't get to explore here much during the day, but we strolled through after dinner on Friday night and it's definitely a hip nightlife spot with tons of places to go out drinking/dancing.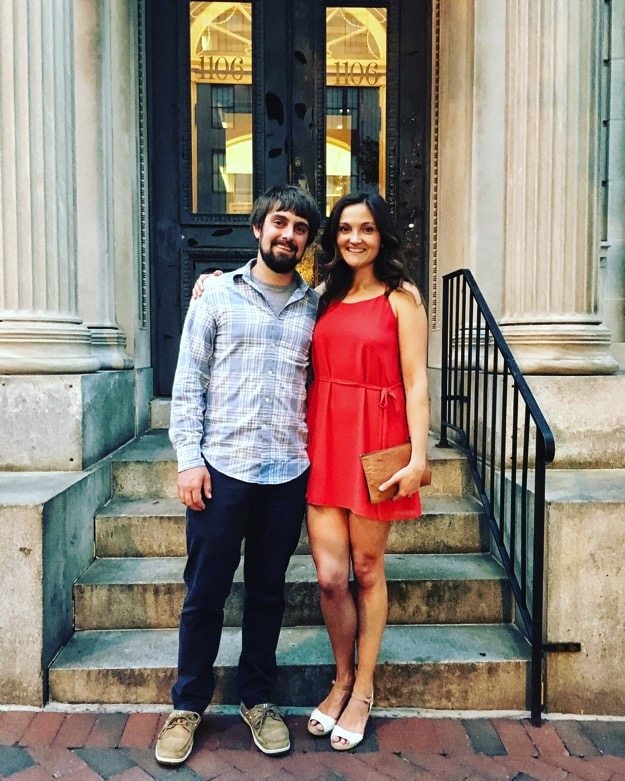 Stroll through the Baltimore Farmers Market. — Sunday morning from 7AM-12PM this is the place to be. It's Maryland's largest producers-only market and it's HUGE! You'll find seasonal fruits and vegetables, seafood and meat, fresh baked goods, flavorful herbs as well as milk, yogurt, butter, eggs and cheese products. Additionally, there are dozens of food vendors with things like omelets and breakfast burritos, crepes, wood fired pizzas, falafel wraps, pies and quiches, soups, noodles and dumplings. Nothing like pizza and noodles for breakfast. 😉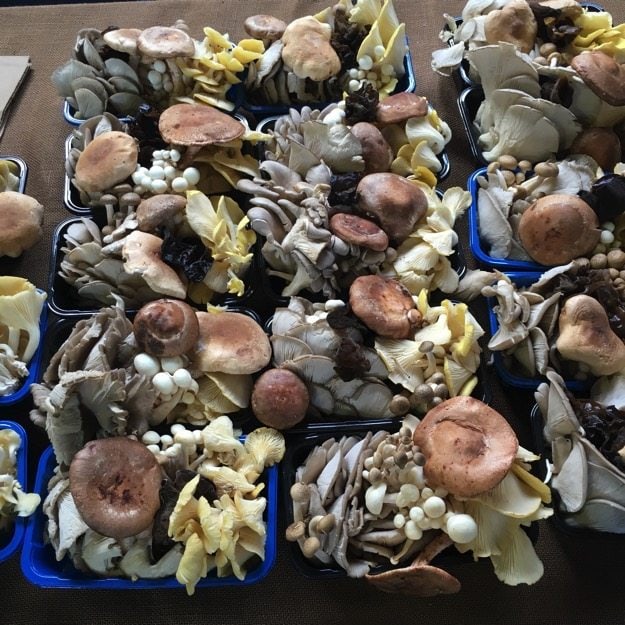 We loved exploring the market and even came home with a few local goodies including Michele's Apple Quinoa granola and Hex Ferments Miso Kimchi. Yum!
Where to Eat and Drink in Baltimore
We basically spent the whole weekend eating and drinking. It was an anniversary celebration, after all. 🙂 Here I'll share a few of our favorite spots.
Woodberry Kitchen — A hip, rustic chic restaurant located in an old mill. The chef, Spike Gjerde, is a James Beard award winner and is known for his farm-to-table approach. The menu features seasonal foods from local growers and the dishes highlight the Chesapeake region. We loved everything we ordered, but my top recommendation would be the spring vegetable salad. It was amazing!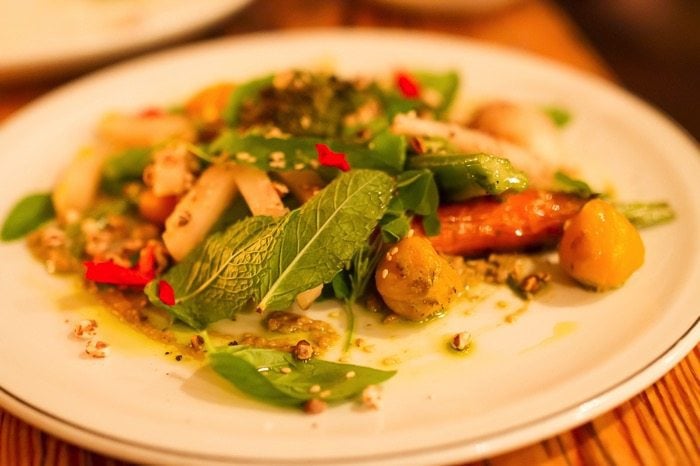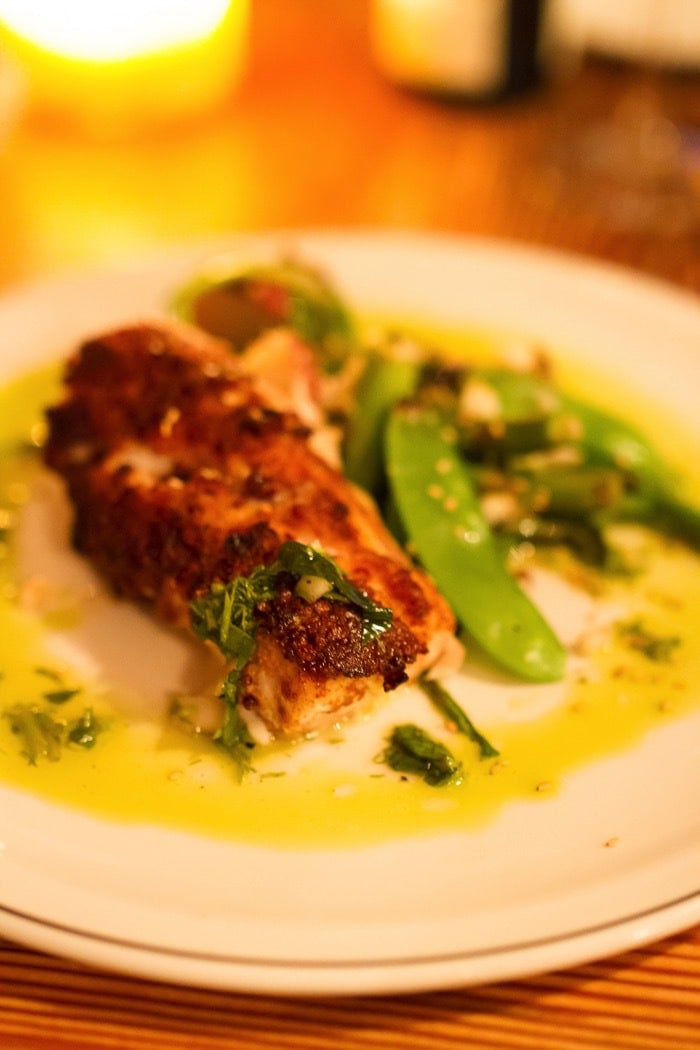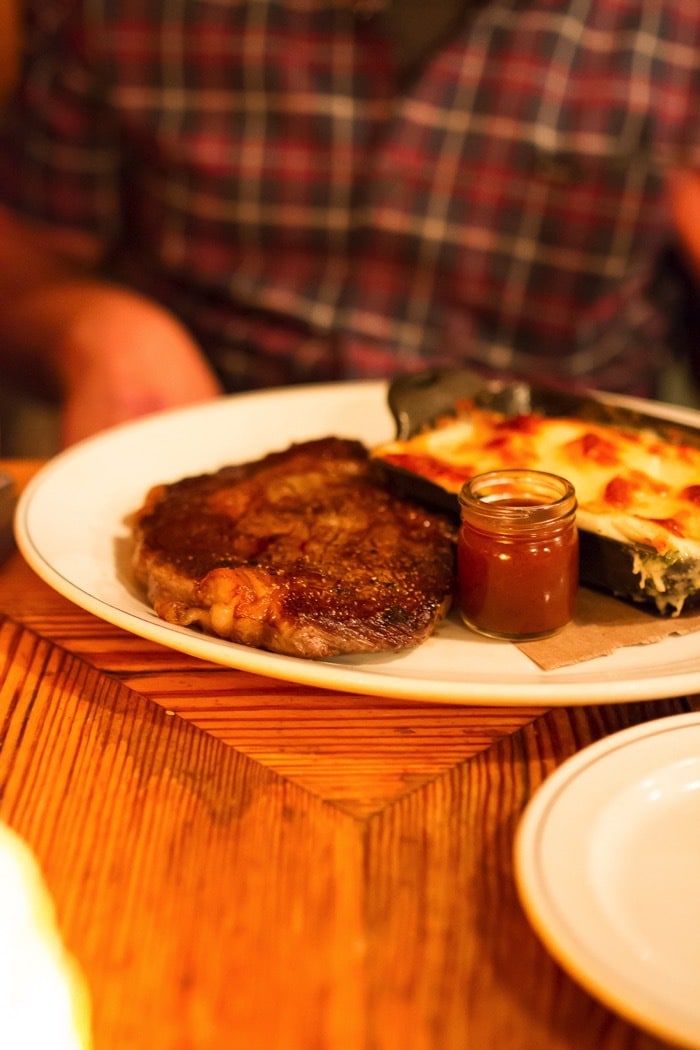 Brewer's Art — A brewery and restaurant. They have a bar crowd in the front, but offer a cozy, romantic dining space near the back. Isaac enjoyed the beer and our meals were delicious.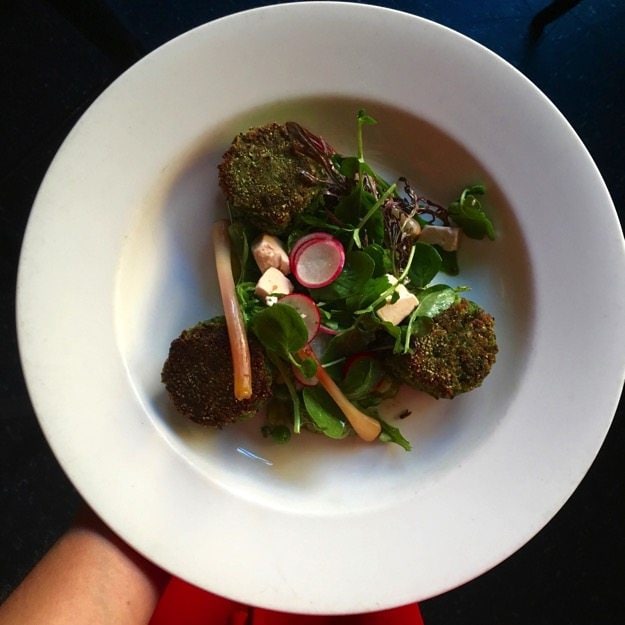 WC Harlan — This speakeasy style cocktail bar is straight out of the 1920's. There's no sign for the restaurant, just a propped open door with a handwritten sign that says "Enter" on the front. It reminded me of a bar you'd find somewhere in Europe. The interior was dimly lit and outdated in a quaint way. A great spot to grab a drink before or after dinner. The cocktails are hand-crafted and you can tell a lot of effort is put into the menu. I highly recommend the Shell and Flesh with tequila, sherry, fresh grapefruit, lime and chile salt. <– Apparently I was on a tequila and grapefruit kick this weekend. 🙂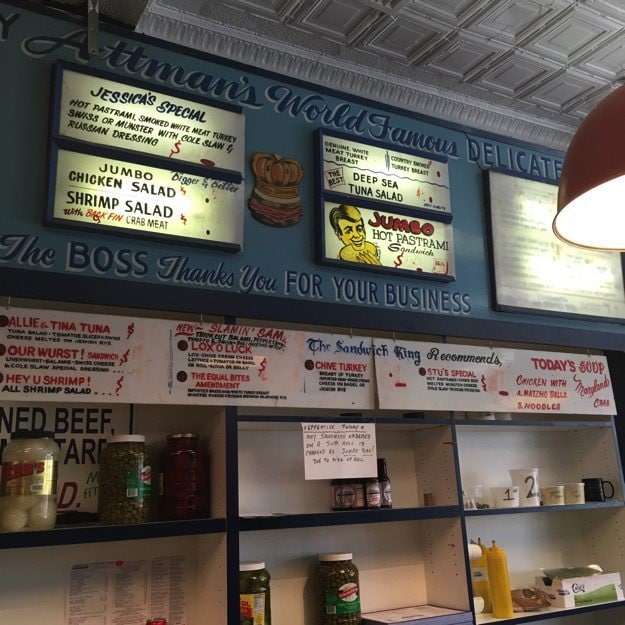 Attman's — An authentic New York style deli. This place was at the top of Isaac's list so we walked over for lunch on Saturday. He ordered the Stu's special (hot corned beef, pastrami, swiss cheese, sauerkraut and a Russian dressing). It was HUGE and apparently delicious. Corned beef and pastrami aren't really my thing so I snacked on some pickles while he enjoyed his sandwich and then grabbed a salad at Cava Mezze. 🙂
Artifact Coffee — A hip, rustic coffee shop and cafe owned by Woodberry Kitchen.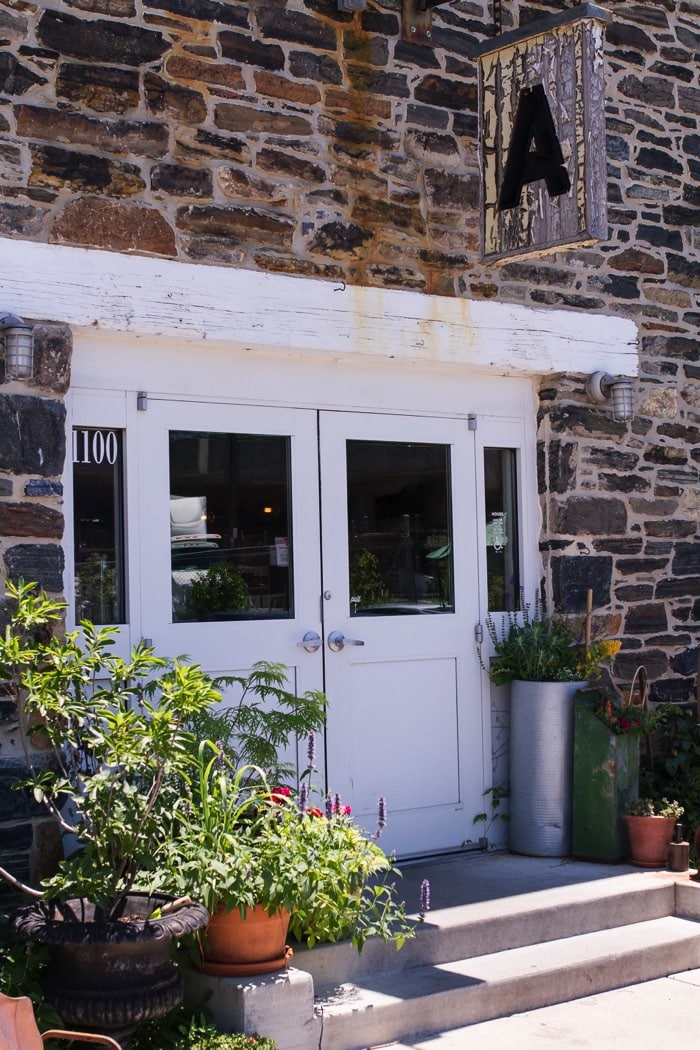 We LOVED the vibe here and really enjoyed our Sunday brunch eaten outside on the patio.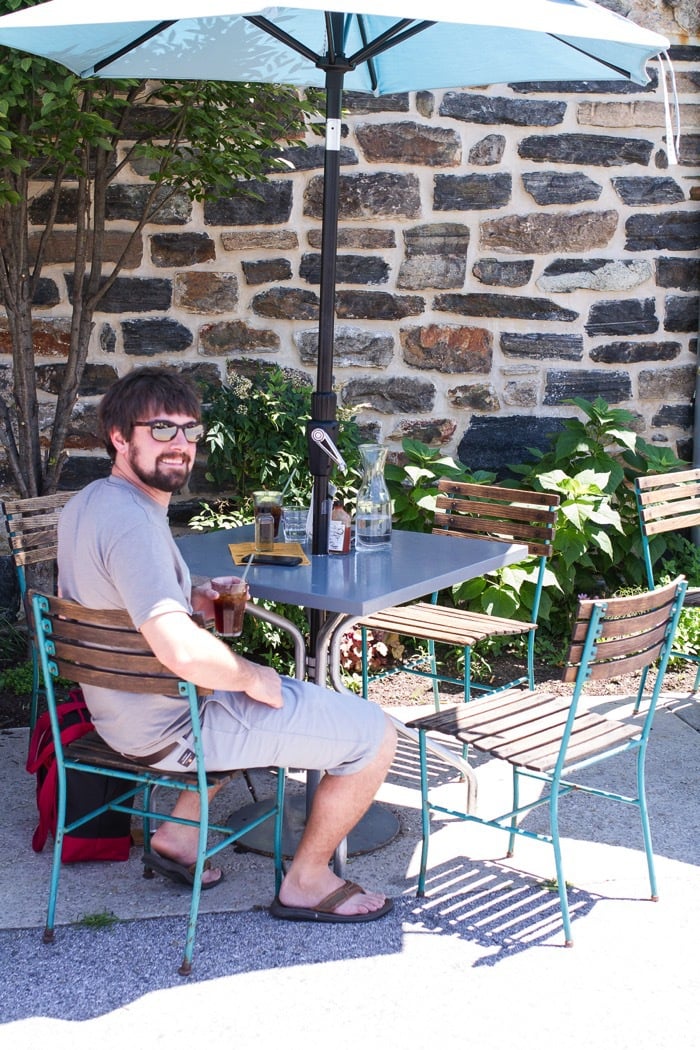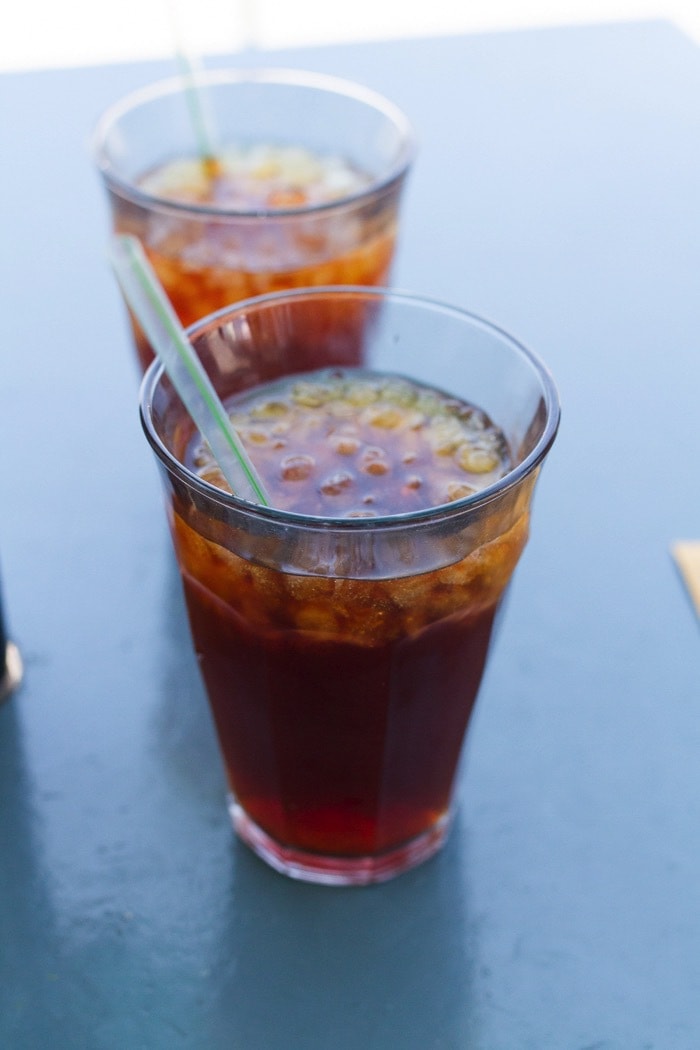 The cold brew coffee was delicious and the sautéed greens salad was right up my alley. Those roasted turnips sealed the deal.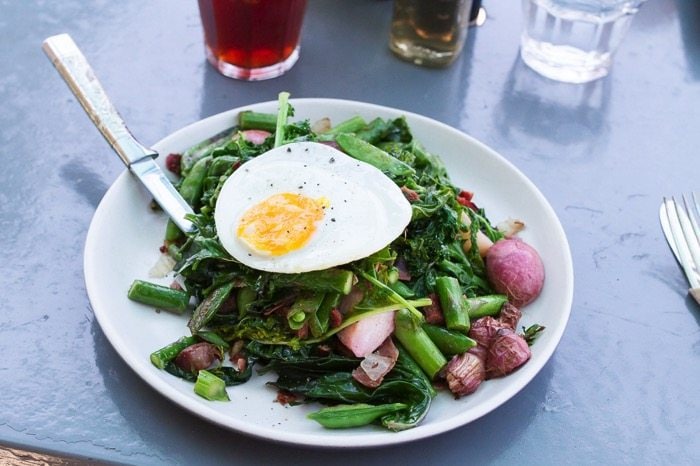 Additional places that were recommended to us, but we didn't get to:
American Visionary Art Museum — only museum in the country dedicated to works created by untrained artists
Bookmakers — a cocktail and supper club located next to the Cross Street Market in the heart of the Federal Hill
Wit & Wisdom — modern American tavern located inside Four Seasons Hotel Baltimore
Sotto Sopra — contemporary Italian cuisine with a farm to table concept
Parts & Labor — they have a restaurant & bar with a killer Happy Hour
Iron Rooster — great for brunch
Encantada — American, local products emphasizing on vegetarian cuisine, located at the American Visionary Art Museum
Waterfront Kitchen — New American, seed-to-plate restaurant, dining along the water in Fell's Point
Gertrude's — classic Chesapeake Bay cuisine featuring local, organic, seasonal ingredients, located at the Baltimore Museum of Art
Fleet Street Kitchen — american, farm-to-table, they source ingredients from their Baltimore County farm and others
Have you ever been to Baltimore before? What are you favorite spots?
Many thanks goes to Hotel Monacao for hosting our stay in Baltimore, MD. As always, opinions are my own.