We're at the beach!!!
Our friends, Heidi and Brandon, invited us to come with them to the Outer Banks this weekend and we gladly took them up on the offer. Yesterday we basically spent the whole day basking in the sun.
The weather was absolutely perfect for laying out and getting a tan. It was hot, but not so hot that you needed to get in the water to cool off, which was good because the water was way too chilly for this girl.
Our hosts Heidi and Brandon are in the upper right-hand corner of the collage and the lady in the bottom right-hand corner is my friend Stephanie of CookinFanatic. She is in the Outer Banks this weekend as well and kindly invited us to come hang with her and a bunch of friends staying in a beach-front house. It was a blast!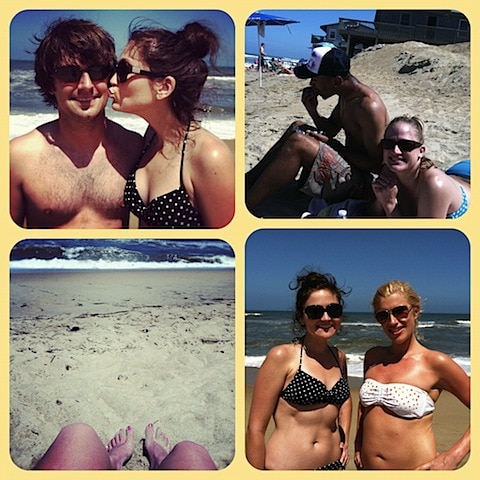 One of the first things I started to think about when I found out we were going to the beach is some healthy snacks I could bring along. <– Call me crazy, but I know I'm not the only person who does this! 🙂
Interestingly enough I had just bookmarked this Beach Bum Lentil Trail Mix recipe earlier in the week. Being the ultimate trail mix lover that I am, I quickly decided it would be a great snack to make for the trip.
We were kind of pressed for time but I baked the lentils on Friday morning and complied the mix in the evening right before we left.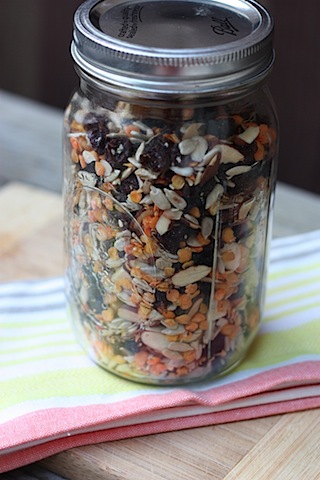 I am sooo glad I did. For one, it made good use of the red lentils that have been sitting in my pantry for ages and two, baked lentils are surprisingly really good!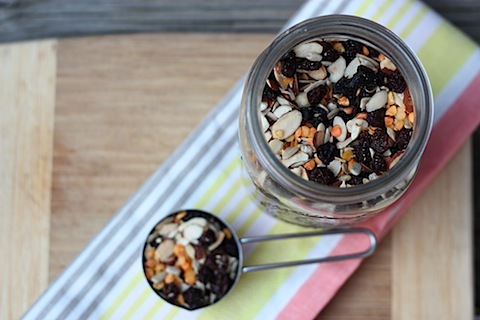 I would have never thought to put lentils in a trail mix but it totally works. Once they've been baked with a little sea salt, they're super crunchy and savory and make for a lovely little snack (even on their own). As an added bonus, they make a great trail mix base for people who are allergic to nuts.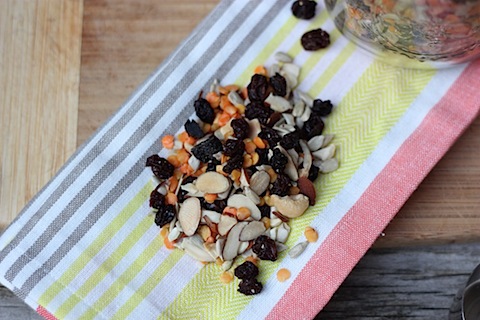 I followed Leanne's recipe for the Beach Bum Lentil Trail Mix almost exactly but used the dried fruit and nuts that I had on hand. Here are the items what went into my mix:
1 cup red lentils, soaked and baked
3/4 cup roasted, unsalted sunflower seeds
3/4 cup roasted, unsalted sliced almonds
3/4 cup raisins
3/4 cup dried prunes (finely chopped)
a few cashews I had lying around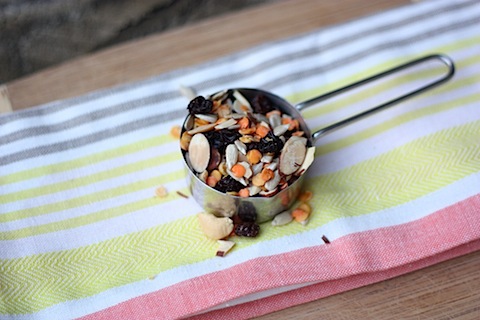 It's been the perfect little treat this weekend and unlike most beach snacks (chips, crackers and the like) I can feel good about eating it by the handful because it's packed with fiber, protein, healthy fats and natural sugars. I'm loving it!
And with that, I think it's time to head back to the ocean… I hope you're having a fabulous holiday weekend friends.
Looking for other trail mix recipe ideas? You can see them on my trail mix recipes roundup.