Thanks for all the happy wedding wishes on my last post. Isaac and I have been running around like crazy people trying to get all the last minute details done while wrapping up things with our jobs. Isaac is out of school for the summer now and as of today I'll be off for a couple weeks too. We're less than three days away and I'm getting so excited.
As I'm sure you all have noticed, I haven't been posting as much as I was, say six months ago. It's been nice to take a little bit of a break and have some extra time for wedding planning, but it's also created quite a backlog of posts and recipes that I need to share.
That said, this post is one I've been meaning to share for weeks, months even, but now seems like the perfect time because grilling season is in full swing. As most of you probably know, I love my veggie burgers. I have lots of recipes for different varieties (Black Bean Burgers, Spelt Veggie Burgers, Curried Pumpkin Black Bean) I tend to make them at home most of the time but I do occasionally buy frozen, especially when I know I'm going to have a busy week ahead. They're just so easy to heat up and toss on a salad for dinner.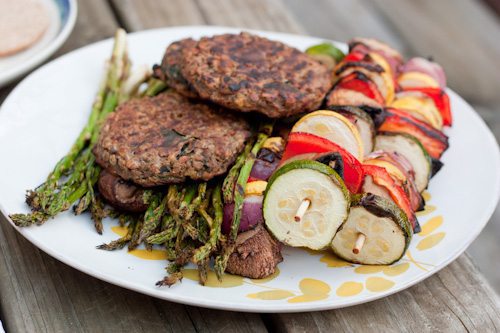 Previously, I always bought Amy's and Sunshine veggie burgers. Both are organic, don't have a ton of crazy ingredients and they taste good. They were my favorites. Until… I found out about NoBull Burger, a local company based in Charlottesville, Virginia that makes incredible veggie burgers!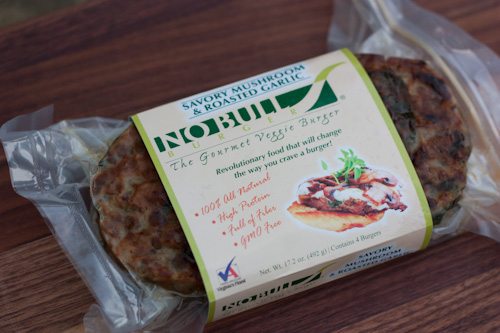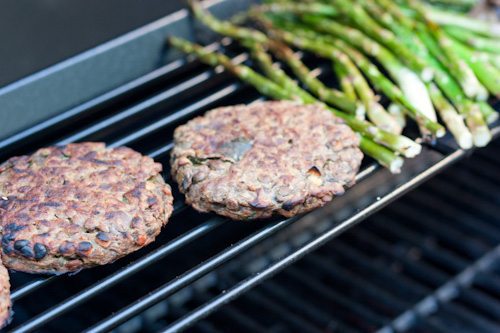 I actually first learned about NoBull, and tried their burgers, over a year ago during a vendor demo at Whole Foods and I've been loving them ever since. The company was founded by a mother and her two daughters. Their signature burger recipe is based off the recipe that Crissanne (the mom) has been making for her family for years. It's a pretty cool story and their burgers are some of the best veggie burgers on the market. I love that the primary base of the burger is made from lentils and chunks of veggies (including spinach). They're hearty, stay together well and have a nice savory flavor. Last but not least, the ingredient lists for these burgers are short and only include real, whole foods.
Currently they have two varieties — the Original and a Savory Mushroom and Roasted Garlic flavor. I like both flavors but I think the Savory Mushroom and Roasted Garlic is my favorite. Oh and, there have been rumors (a.k.a I saw some posts on Facebook) about new vegan and gluten-free NoBull Burgers being released this summer. I can't wait to try them!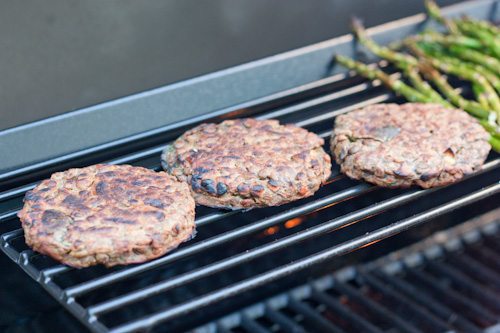 Earlier this month I hosted my cousin's bachelorette party so she was in town for the weekend. Isaac grilled up dinner for us, which included Mushroom and Savory Garlic NoBull Burgers, asparagus and veggie kabobs. Some of us served the burger on a bun while others had the burger served over salad, but everyone loved them!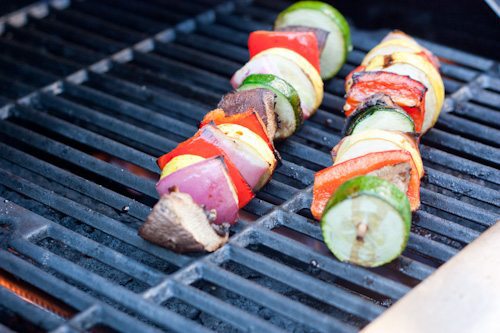 If you're local to VA, DC and Baltimore you should easily be able to find NoBull Burgers. I know we sell them through Relay Foods (the online grocery store I work for) and many local stores carry them as well. If you're not local, you can order them from the NoBull Burger website.
I'm off to finish up some wedding related tasks tonight! Hopefully I'll be able to post once more before the wedding… if not, next time I see you, I'll be a Mrs. Yay!