My latest creation from Eat, Drink, and Be Vegan was on the menu for dinner this evening- Quinoa Chickpea Confetti Casserole. For some reason when I hear the word casserole I automatically think canned cream of fill in the blank or massive amounts of cheese. However, this dish proves that you don't need cream or cheese to make a delicious casserole.
I followed the recipe but subbed zucchini for the fennel (a suggestion mentioned in the cookbook) and also added a bit of onion. The flavors of the quinoa, red bell pepper, chickpeas, onions and spices blended well and came together to make a nutrient packed casserole. The casserole baked for 1 hour while I Whittled My Middle and by the time I was done working it the whole apartment was filled with spectacular scent.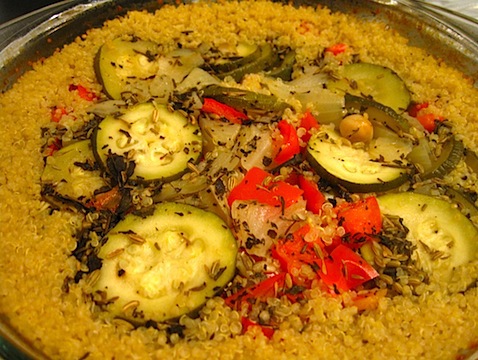 Dried spices are abundant in the dish, but the fennel seed simply takes the spotlight. I'd actually never used fennel seed (besides in tea) before making Dreena's Lentil Veggie Chimichangas. This aromatic seed, which is often confused with anise, is quite sweet and tastes a little like licorice. I find that it goes particularly well with summer squash and zucchini. Another tid-bit about fennel seed is used medicinally in multiple ways but probably best known for helping with bloating and indigestion.
In the Indian culture, fennel seeds are often chewed after a meal in order to prevent gas or indigestion. (Look for a small bowl of fennel seeds and sweet mints at the exit of your local Indian restaurant.)
Here's a little list I found online of ways to use fennel seed in vegetarian cooking:
Add fennel seeds to salads, particularly cucumber salad.
Add to soft cheese and spread on bread.
Use the seeds when making bread or biscuits.
Add to curries.
Use in Italian-style pasta sauces.
Use in pickling solutions.
Add to couscous, lentil, bean or bulgur wheat dishes.
Add to homemade coleslaw or potato salad.
Use to make salad dressings such as vinaigrette.
Prepare a loose leaf tea. (I have a recipe for a homemade tea that relieves gas!!)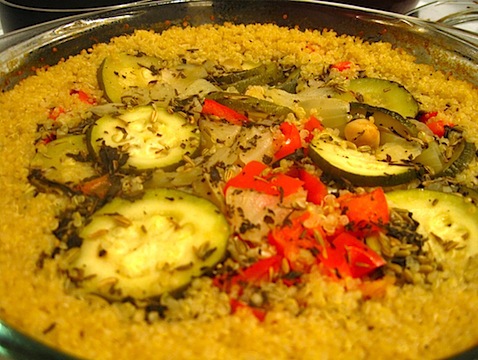 I made the suggested balsamic–maple vinaigrette to drizzle over the casserole and I'm so glad that I did – the sweetness of the sauce added a nice complement to the savory quinoa. Isaac, an avid meat eater, loved this dish as well!! I've been trying new recipes from E, D, & BV over the past few months and he's actually liked everything I've made, as have I.
Aw, fennel seeds, just go ahead and buy this cookbook already- it really is amazing!
– Brittany