Avocado Puree for Babies
4
Published Feb 26, 2022, Updated Jun 12, 2023
Avocado is great first food for babies. It contains healthy fats, it's easy to blend and make into a puree and it's delicious. Learn more here.
Avocado is a popular first food for baby and for good reason! It's full of nutrition that your growing baby needs, it's easy to serve and most babies love it! That's a win, win, win if you're keeping score.
Why You'll Love This Recipe
Avocado is one of the best first foods for baby because of its nutrition profile!
It's super easy to prepare! You can puree, mash or serve in wedges for baby led weaning.
With its creamy texture, it's hard not to love.
With no steaming or cooking necessary, it's easy to whip up!
It blends really well with other flavors.
Avocado Nutrition Facts
Avocados are incredibly nutritious! Not only are they chock full of healthy fats and fiber, but they also are a concentrated source of vitamins, minerals and antioxidants!
You'll find vitamins C, E, K, B2 (Riboflavin), B3 (Niacin), B5 (Panthothenic acid), B6 (Pyridoxine), folate, magnesium, potassium, copper, zinc and manganese in avocado.
Avocados are also high in heart-healthy fats like monounsaturated fat (oleic acid). Oleic acid is the same fatty acid found in olives and olive oil and is considered a very healthy fat. Diets high in oleic acid show increased insulin sensitivity, betty blood sugar management and lower cholesterol levels. (source)
Growing babies have high fat needs, which make avocados a perfect choice!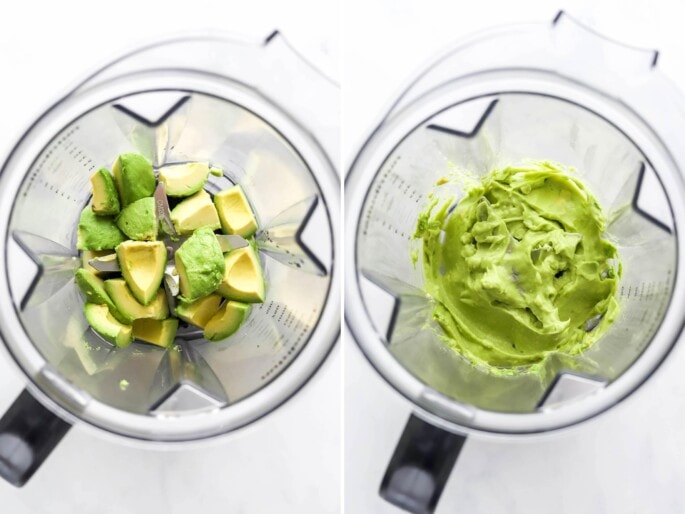 How to Make Avocado Puree
Making avocado puree is super simple! Start by removing the peel and pit from the avocado. Place the avocado flesh in a high powered blender or food processor and blend until smooth.
If the puree is too thick you can add a little breast milk, formula or water to thin, starting with 1 teaspoon and adding more as needed to reach your desired consistency.
Another option is to make a chunky avocado puree by adding avocado chunks to a bowl and mashing it with a fork. This is great for stage 2 eaters!
Avocado Baby Food Combinations
For early stage 1 eaters, avocado puree is great served with a spoon. Once baby starts moving into stage 2 and 3 foods you can make fun combination purees (see ideas below) or add avocado puree to different foods like yogurt, smoothies and oatmeal. The baby oatmeal recipe would be delicious with a little avocado puree stirred in.
Foods That Pair Well With Avocado Puree
Green veggies – kale, spinach, zucchini
Orange veggies – sweet potato, butternut squash, carrot
White veggies – cauliflower
Other fruit – banana, strawberries, peaches, apples, kiwis, pears, mangos
Dairy – yogurt, cottage cheese, ricotta cheese
Grains – quinoa, oats
Legumes – chickpeas, lentils
Seasonings and spices – curry, ginger, mint, nutmeg, cinnamon
Avocado Baby Puree Combo Ideas
Here are some baby food combos with avocado that might be fun to try:
Mango and avocado
Avocado and banana
Lentils, avocado and blueberry
Avocado and butternut squash
Spinach, avocado, banana and yogurt
Banana, peach, mango and avocado
Oatmeal and avocado
Avocado, peach, pineapple and kale is a great combo that I share in my stage 2 baby food combinations post!
Avocado FAQ
Is avocado puree healthy?
Absolutely! Avocados are a great source of healthy fats, vitamins, minerals and fiber for your growing baby – and you!
Can I give my baby avocado puree?
Yes! Avocado is a great first food for baby when introducing solids. Most babies start solids around 4-6 months, but I would refer to your doctor on when to introduce solids to your baby.
Is avocado hard to digest for babies?
Typically, no. Avocado is easily digestible for babies and the fiber helps regulate their little tummies.
Is frozen avocado good?
Yes! I recommend freezing avocado for easy access to baby food. You can also throw the frozen avocado cubes into a smoothie to boost healthy fats and creaminess.
Can I Serve Avocado to Baby With the Skin On?
Olivia had silent reflux as a baby, but never really threw up. The one time I remember her throwing up is after I gave her 1/4 of an avocado, with the skin on. I kept the skin on the avocado so it would be easier for her to grip and it definitely helped in that regard.
While she didn't eat the skin, she definitely had it in her mouth and something on the skin didn't sit well with her and she threw up 3-4 times. So I personally don't recommend serving avocado with the skin on for baby led weaning. There are other ways to make avocado more grippy like dipping avocado slices in hemp seeds or shredded coconut.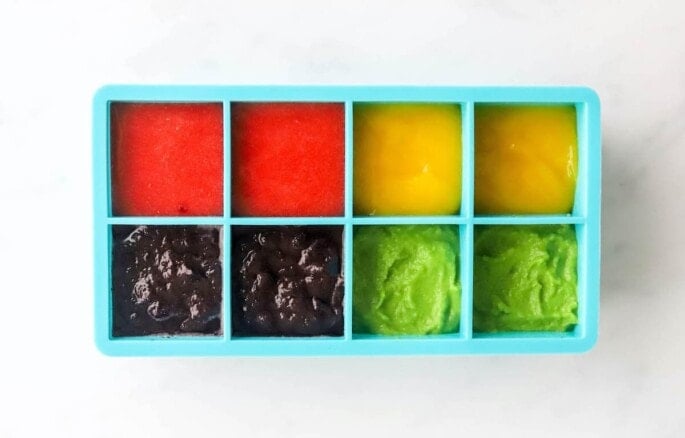 How to Store
Avocado puree can either be stored in the fridge for 3-4 days or in the freezer for up to 3 months. Keep in mind that open avocado will brown in the fridge, so freezing may be the best option. If you want to freeze, I like using silicone ice cube tray or freezer safe jars because they make it easier to thaw smaller amounts for serving to babies.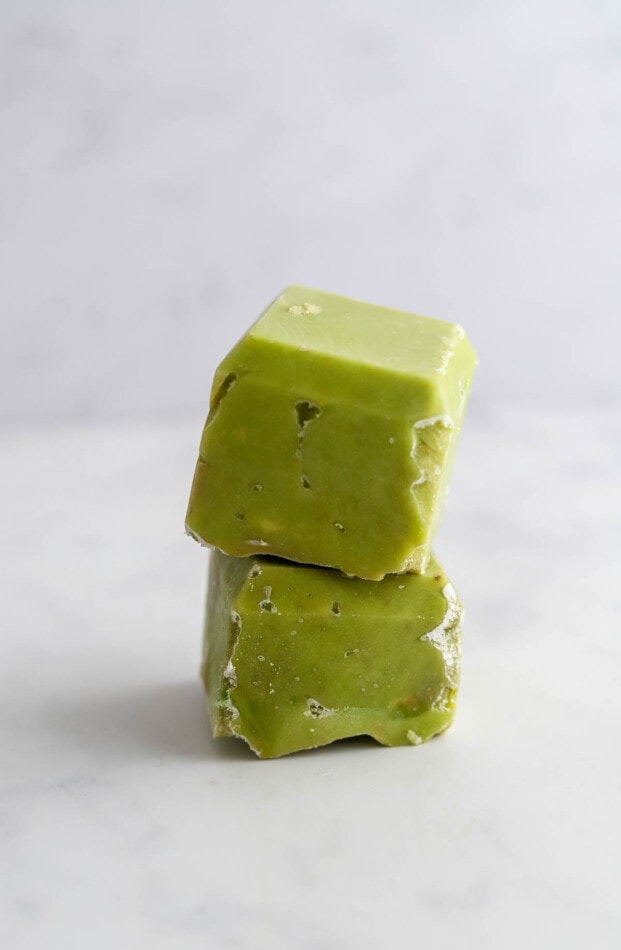 How to Reheat or Thaw Frozen Avocado Puree
I recommend thawing frozen puree in the fridge the night before you want to use it, but you can also thaw it quickly with a warm water bath. It thaws quickly if you're defrosting a small amount to serve to a baby.
Other Ways to Use Avocado Puree
Avocado puree is great for babies, but there are so many other ways for older kids and adults to enjoy it too. Here are some ideas:
Avocado toast – you can't talk about avocado puree without mentioning avocado toast. My daughter is now 2 and she loves avocado toast. We just mash avocado on sourdough sandwich bread and sprinkle it with everything bagel seasoning.
Guacamole – avocado puree can easily be turned into guacamole! Add some garlic, salt, pepper, lime juice and tomatoes or make my healthy guacamole with peas!
Make a smoothie – avocados can add a boost of healthy fats and creamy texture to smoothies. You can add the puree straight into a smoothie, but frozen avocado puree give smoothies a great texture. No need to thaw, just pop a couple cubes of the puree into your blender with the rest of your smoothie ingredients. Try it in my green protein smoothie or this avocado mango smoothie.
More Baby Food Purees
More Recipes and Resources
Check out my guide to introducing solids for more ideas and information on feeding little ones and all of my baby food recipes as well.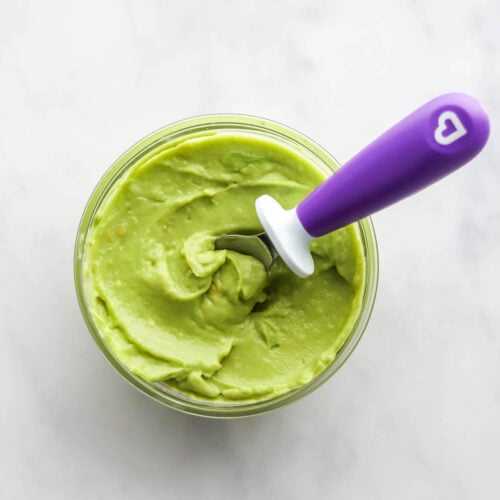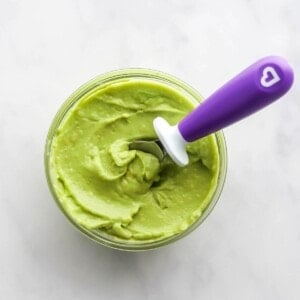 Avocado Puree
Avocado is great first food for babies. It contains healthy fats, it's easy to blend and it's delicious. Make it in your food processor or blender or simply mash!
Ingredients
1

ripe avocado

,

skin and pit removed
Instructions
Add avocado flesh into a high powered blender or food processor.

Blend until smooth and serve. If the puree is too thick you can add a little water or milk to thin, starting with 1 teaspoon and adding more as needed.

Another option is to make a chunky avocado puree by adding avocado chunks to a bowl and mashing the avocado with a fork.
Nutrition
Serving:
1
/2 avocado
|
Calories:
120
kcal
|
Carbohydrates:
6
g
|
Protein:
2
g
|
Fat:
11
g
|
Saturated Fat:
2
g
|
Polyunsaturated Fat:
1
g
|
Monounsaturated Fat:
7
g
|
Sodium:
5
mg
|
Potassium:
364
mg
|
Fiber:
5
g
|
Vitamin A:
-15
IU
Nutrition information is automatically calculated, so should only be used as an approximation.