Aruba: One Happy Island
15
Published Nov 08, 2015, Updated Jan 13, 2022

I'm so excited to finally share a little about our trip to Aruba a few weeks ago.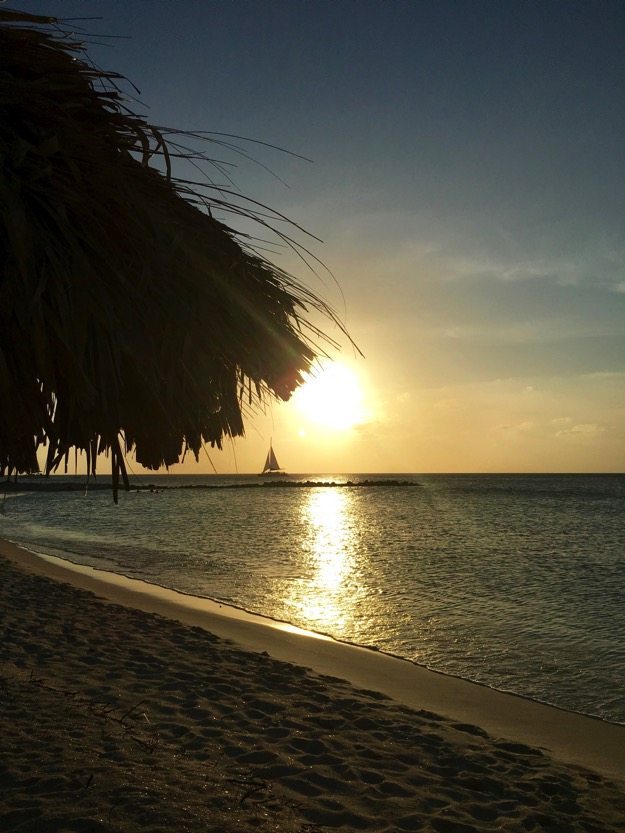 First thing first, I have to give at shout-out to Isaac's brother (and my brother-in-law), Brock. If it wasn't for him this trip wouldn't have been possible. He already had a condo booked in Aruba and invited us to come and stay with him. <– He's obviously the best!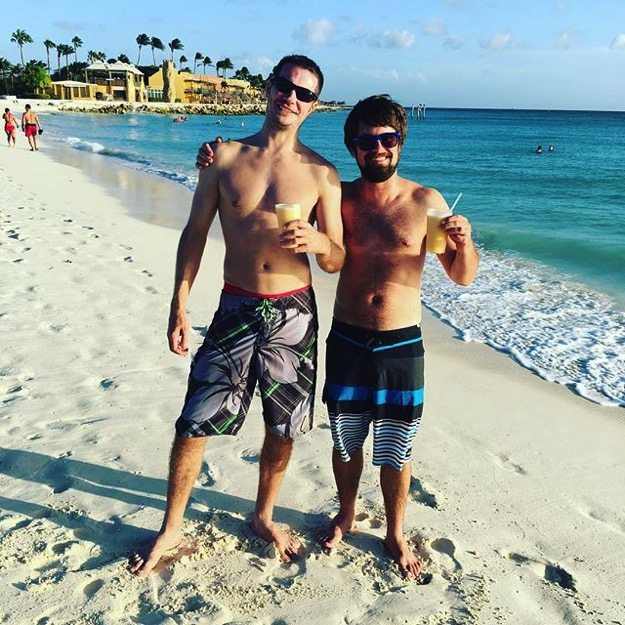 Aruba's motto is One Happy Island and after visiting for the first time I can say that the tagline is absolutely true. Everyone we met was super friendly, both the locals and fellow travelers. It's hard to be grouchy in a Caribbean island where pretty much every day is filled with sunshine, a light breeze and access to some of the most beautiful beaches in the world.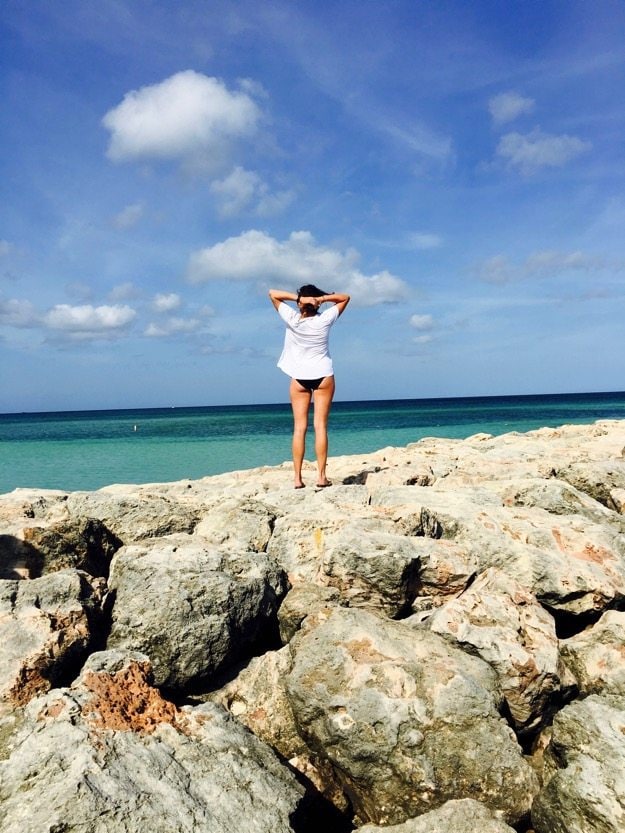 The water is calm and the most gorgeous shade of crystal clear blue while the sand is white and amazingly soft. It's absolutely stunning.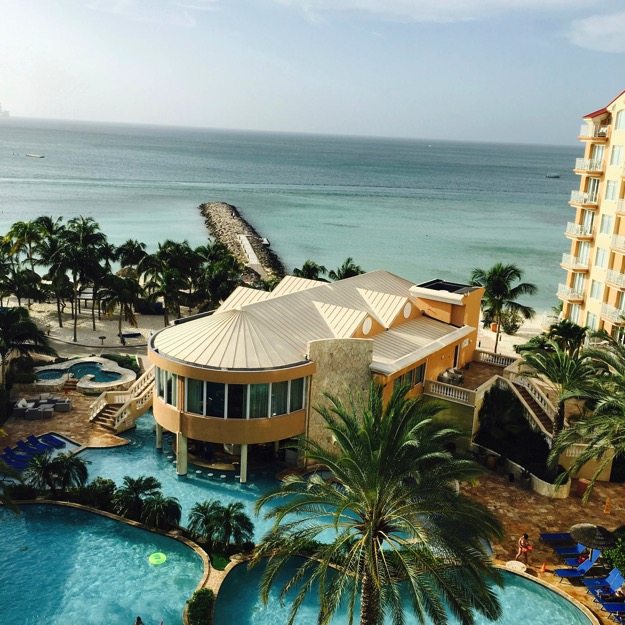 We stayed in a two bedroom condo at the Divi Phoenix Resort, which is located on Palm Beach.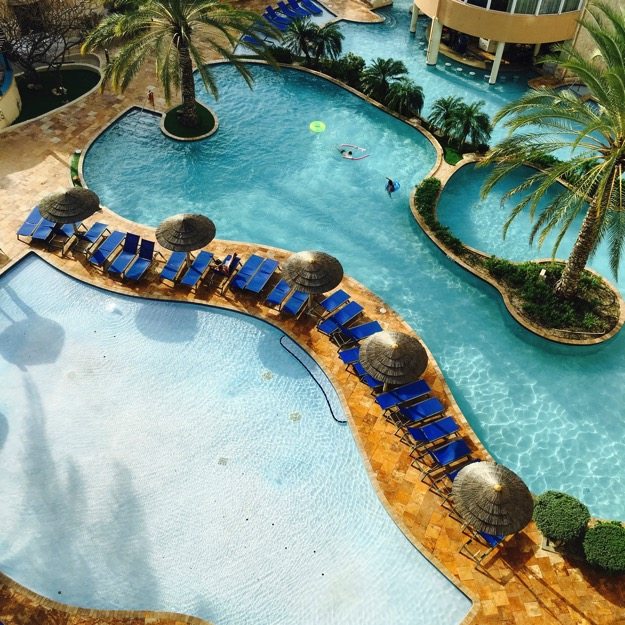 Most days were spent sipping tropical drinks (like my skinny piña coladas) on the beach or poolside, but we also left the resort and did some island exploring. Unlike some other islands, Aruba was really safe and we felt comfortable leaving the resort to explore the local culture. We checked out other beaches, rented ATVs for a full-day and went off-roading, ate a ton of seafood (and loads of plantains!!) at local restaurants and overall enjoyed ourselves immensely.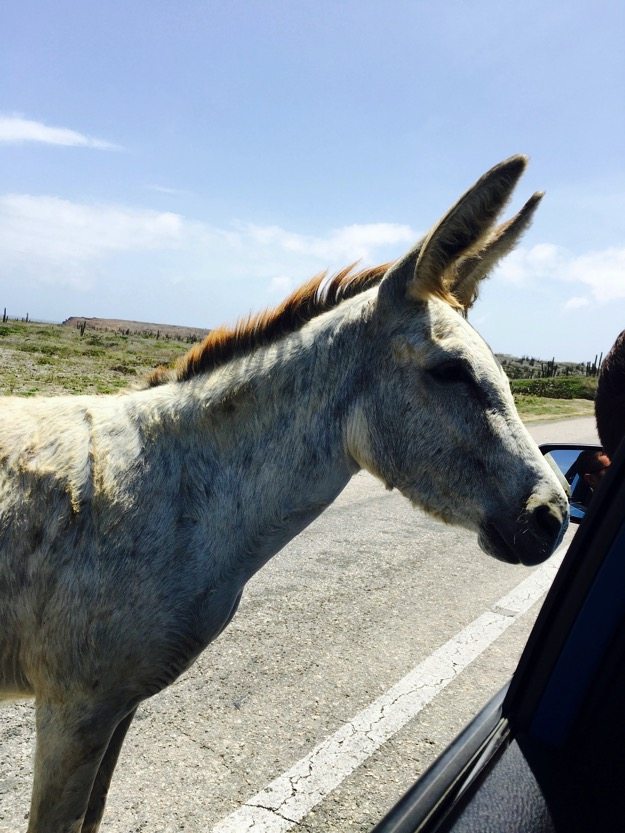 We met some friends along the way!
Rather than give you a day by day recap I figured I'd share some insight about the things we did, the places we ate and a few tips and pointers for anyone that might be visiting in the near future. Obviously I'm a health fanatic so keep that in mind when you're reading my reviews of the restaurants. 😉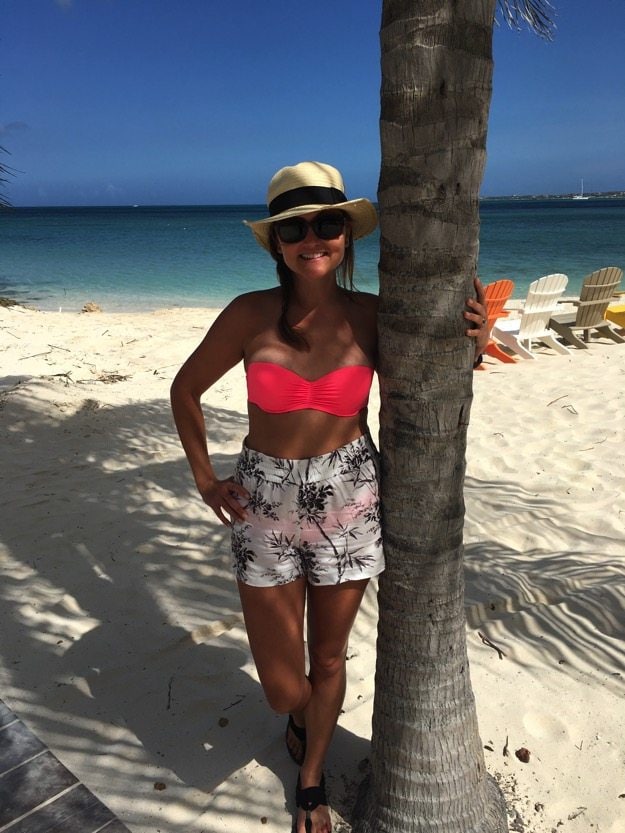 Things to Do and See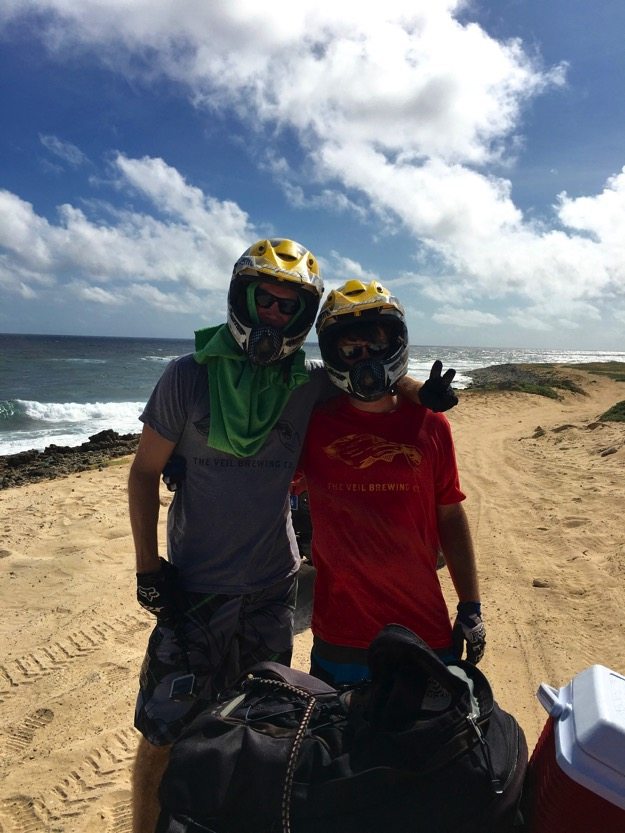 Rent ATVs. We used Justin's ATV rental to rent two ATVs for a full (8-hour) day of exploring the island.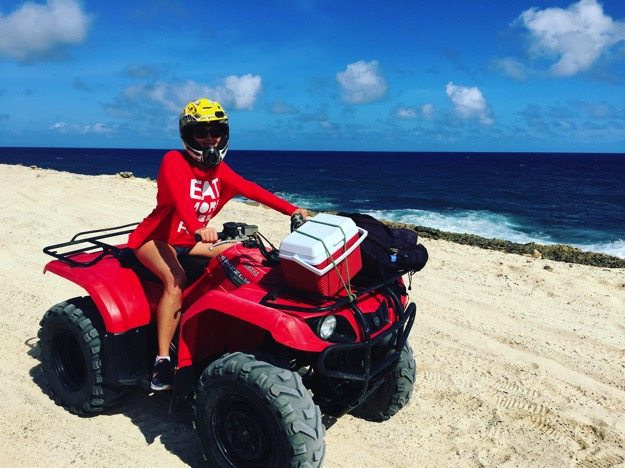 We saw the Alto Vista Chapel, natural bridge and drove along the entire coast.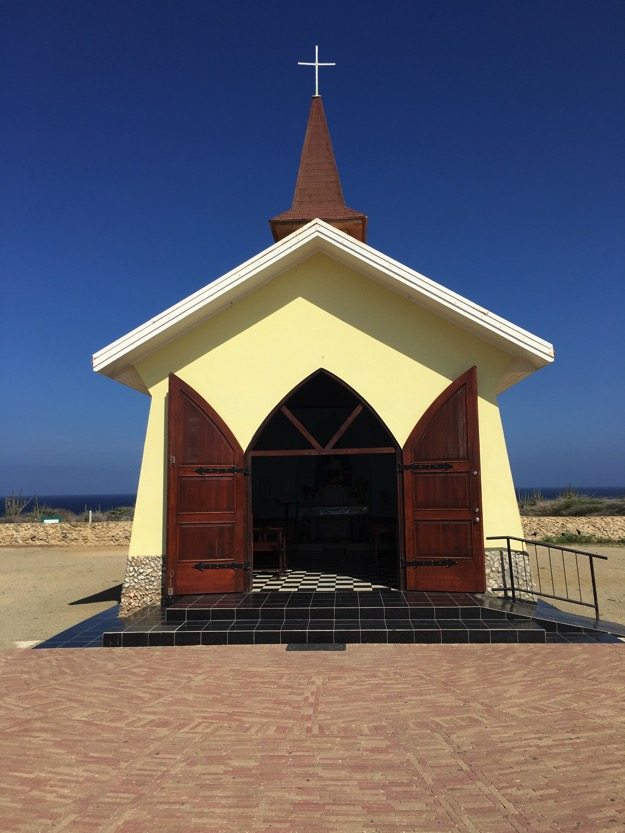 We also made it to the Natural Pool.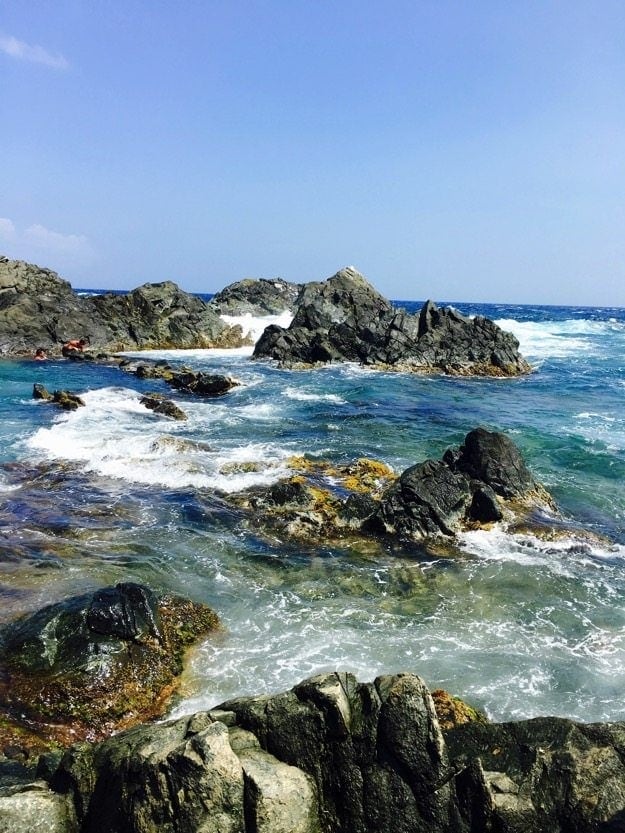 Natural Pool — Quite a few people recommend visiting the natural pool within the Arikok National Park so I knew we had to check it out. The spot isn't accessible by car and it was a rocky ride on the ATV, but totally worth it. We brought our snorkel gear so we were able to see all the fish swimming around in the pool. We had fun taking photos of the massive waves splashing over, climbing the rocks and jumping into the pool. This was definitely one of the highlights of our trip.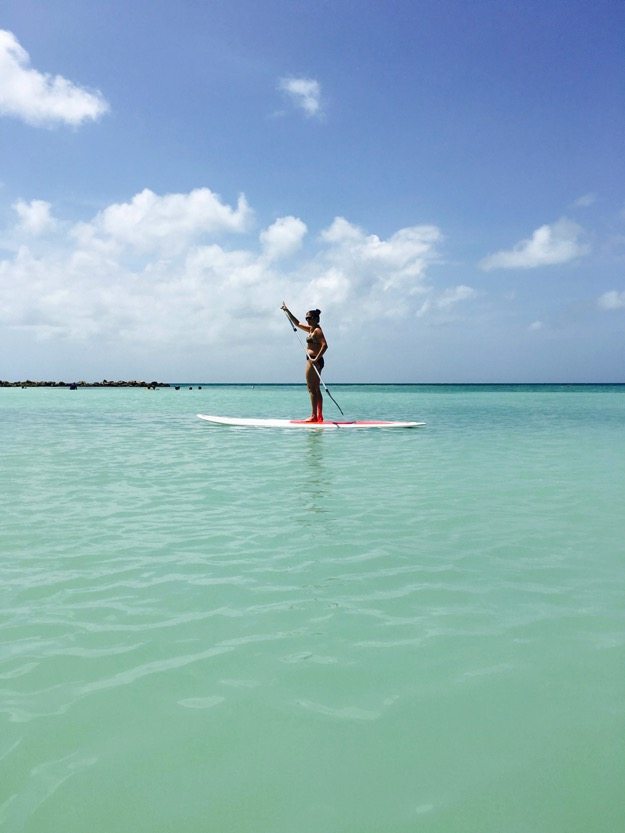 Stand Up Paddle Boarding — I love SUP so I rented a paddle board one afternoon. It was fun, but the board was really hard to manage with the wind. I was basically on my knees most of the time and at one point the boys had to come out to rescue me because I was so far out. I'm not sure I would recommend paddle boarding unless you're in an area where there's less wind. Although, the boys had a ton of fun trying to stand up on it together…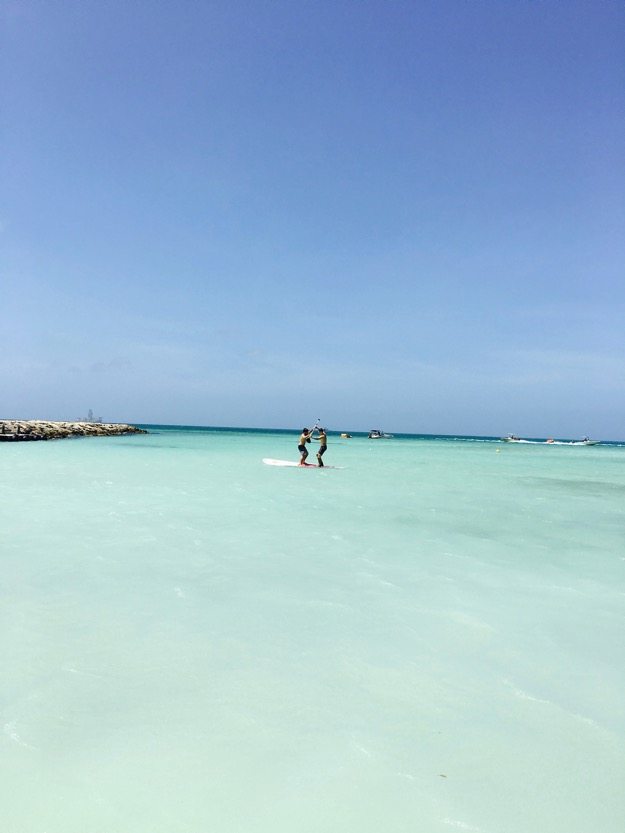 Snorkeling — You can go on snorkeling excursions, but we brought our own snorkel gear with us and found awesome spots near our hotel. <— Basically anywhere you see a rock formation there are usually fish hiding out around it! Baby Beach and the Natural Pool also had great snorkeling.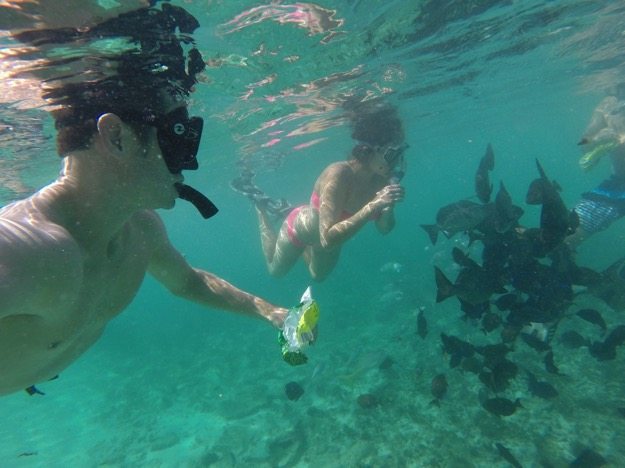 Snorkeling tip: Bring frozen peas to attract the fish. They love them!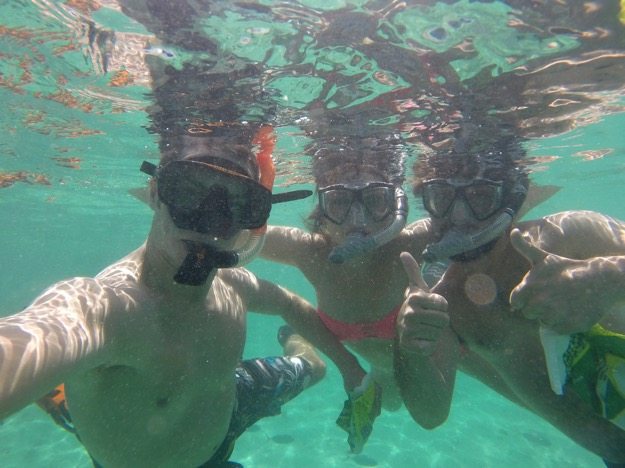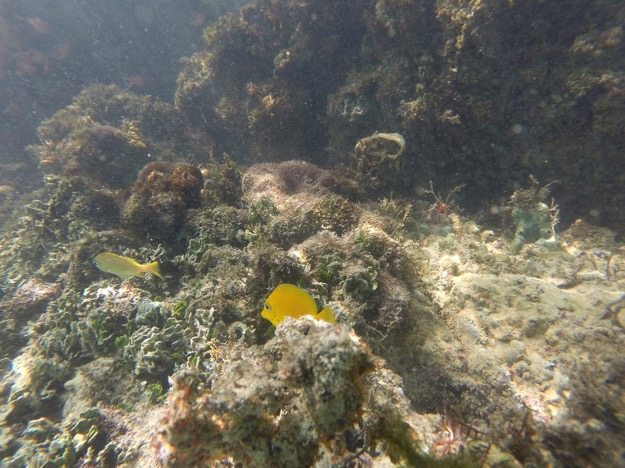 Baby Beach — The beach is beautiful and was one of our favorite snorkeling spots so I completely recommend checking it out. Just skip Big Mama's restaurant. The place seemed a little off. It was decorated like the Flintstones and we weren't thrilled with our meal.
Restaurants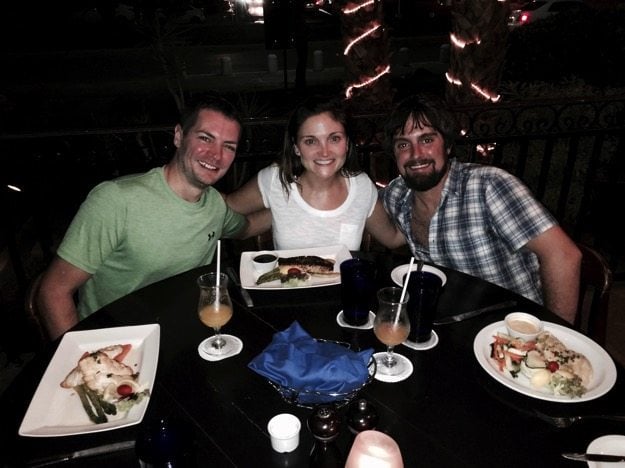 Aqua Grill — We had dinner here our first night. It's a fancier place and a little pricey, but the food was delicious — especially the ceviche and local fish specials. We actually didn't realize how fancy the restaurant was and showed up in casual clothes. It was late and we sat outside so they didn't seem to mind.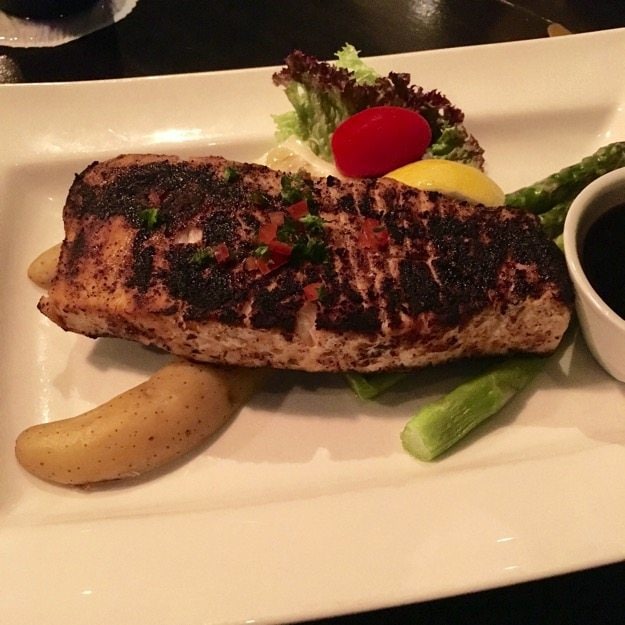 La Trattoria El Faro Blanco — A nice Italian restaurant right near the California Lighthouse with a scenic view of the ocean. A few people in our group got the lasagna and really enjoyed it. I had the vegetable soup and a salad. Both were really good. We were celebrating a birthday in our group and the staff was really kind and brought out a dessert for the table to share!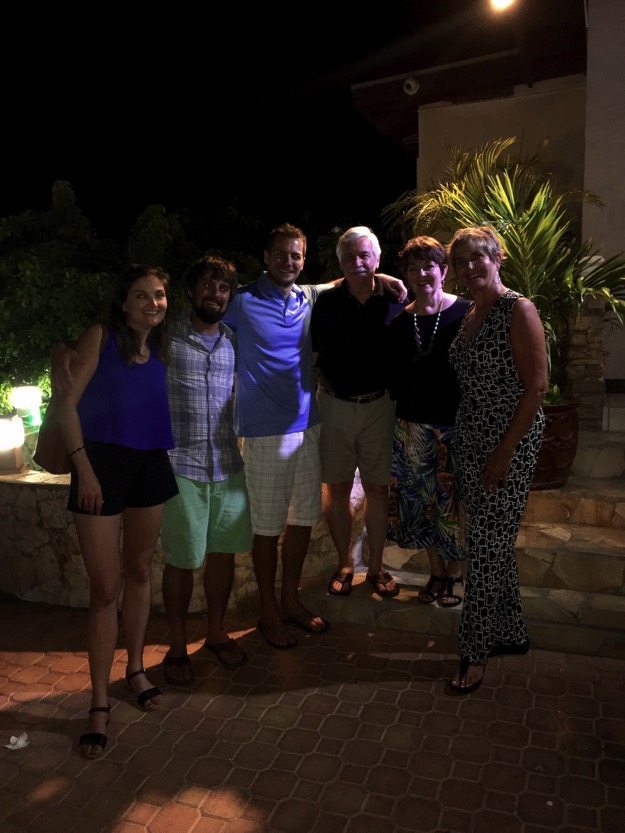 The whole gang after dinner!
Wacky Wahoo's — One of the best places we found for fresh seafood. Everything was delicious and a reasonable price.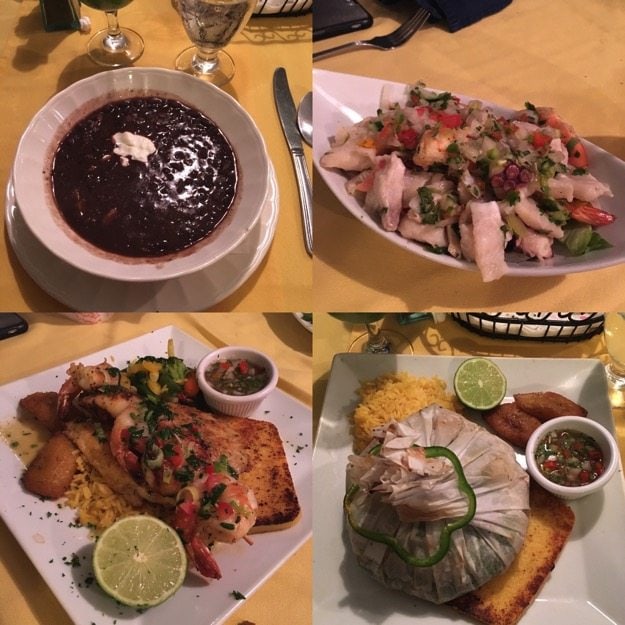 I highly recommend the black bean soup, ceviche and the catch of the day "en papiliotte." The plantains were also amazing! I knew I liked plantains before Aruba but now I'm obsessed with them.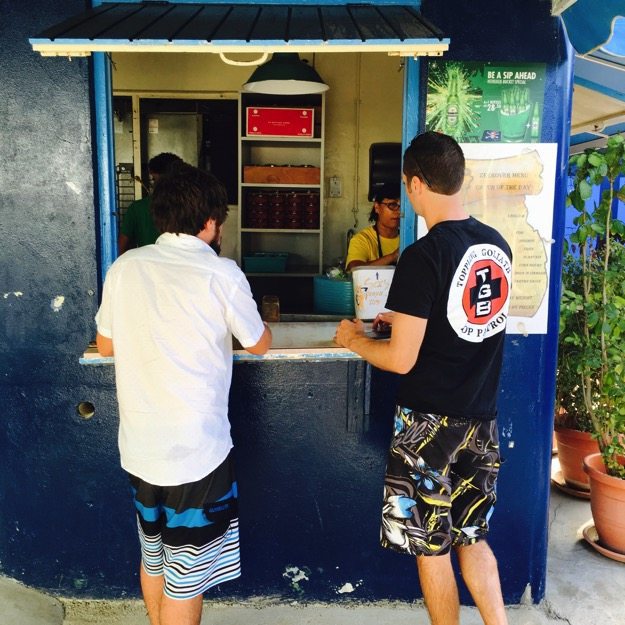 Zeeroovers — We heard this was the best spot for local, fresh fish so we knew we wanted to check it. Turns out they do have a great selection of fresh seafood (shrimp, snapper and mahi mahi the day we went) but everything is fried. As a healthy eater I tend to avoid fried food, but I was hungry and the mahi didn't soak up a ton of the oil so it tasted pretty good. I actually liked the crispy edges. I also really liked the plantains. They were fried as well but they were sweet and delicious. The only thing we really didn't love was the shrimp. It was cooked with the shell and head on. The shrimp weren't deveined and the oil really soaked into the shell so peeling the shrimp was difficult and they were super oily. I only had two and that was enough for me.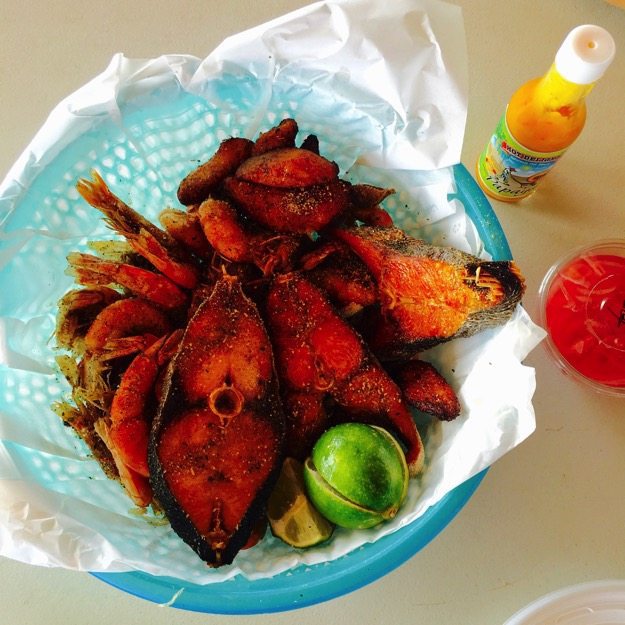 Azia — An Asian fusion restaurant in downtown Noord with everything from sushi to samoas and saffron rice. We went here for a late-night impromptu dinner and were surprised at how good the food was and how reasonable priced everything was. Note: The restaurant is kind of hidden behind Hooters.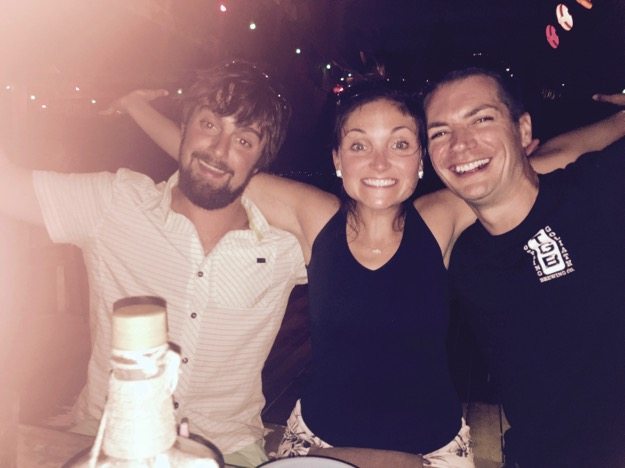 Bugaloe Bar & Grill — This spot was walking distance from our resort. They have daily happy hour specials, salsa night on Wednesday and karaoke night on Saturday.
Cioccolato — an Italian dessert bar right near Bugaloe on the De Palm Pier. The nutella gelato and iced americanos were delish!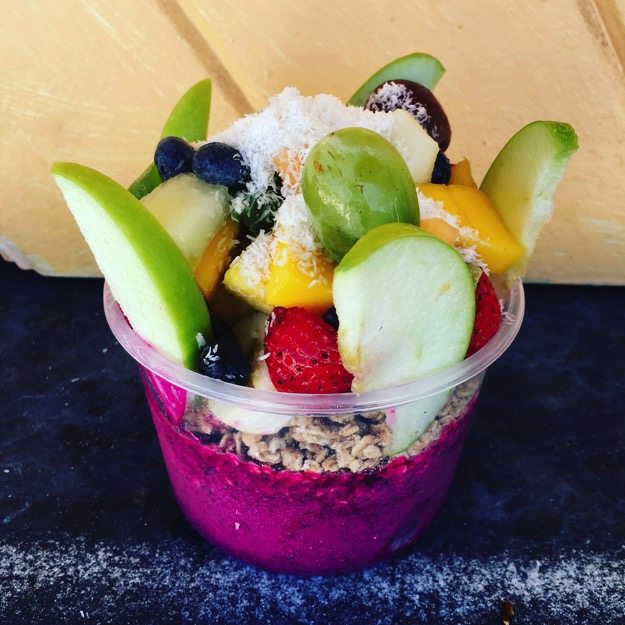 Eduardo's Beach Shack — We ate breakfast here three times and each time we got the pitaya bowl. It has a dragonfruit smoothie base with fresh fruit, granola, coconut and honey. We skipped the honey and it was still plenty sweet and delicious. The loaded bowl was massive and perfect for splitting with Isaac for breakfast.
This was the smaller pitaya bowl with fresh fruit and granola.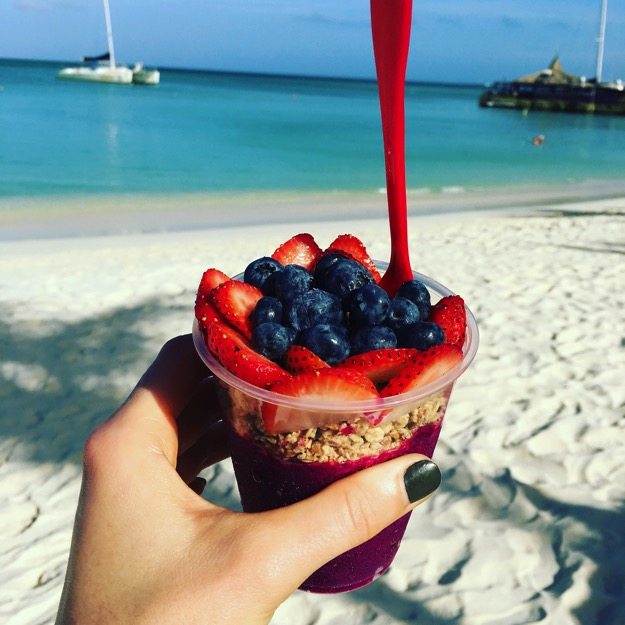 A few additional pointers:
For groceries we went to Ling & Sons and Super Food Plaza. Ling & Sons is an American style grocery store and they had a good amount of natural and organic products. I was excited to see Sabra hummus, Vitacoco, Larabars, Bob's Red Mill products and Ezekiel bread. Super Food is more of a European style grocery store, but newer and bigger than Ling & Sons. They also had more local produce.
Buy liquor duty-free at the airport before you leave or at the Aruba airport after you land. There's a shop right at the exit. It's cheaper than buying liquor at the grocery store and much cheaper than buying drinks at a bar. We bought a bunch of mixers at the grocery store and our room had a blender so we made our own drinks all week. Painkillers, rum punch and skinny piña coladas.
Pack your own spices. We brought a few meat/fish seasoning blends, cayenne, basil and a few other staple spices so that we didn't have to spend a lot of extra money on spices that we'd only use a bit of.
Bring a TON of sunscreen. It's much more expensive on the island and you need to put it on every couple hours. We were diligent about it because we didn't want to get burned. We went through three spray bottles and I used up two tubes of natural lotion as well — Coola Sport (the mango smells amazing!) and Kiss My Face.
The island seems to be relatively quiet without a ton of night-life. Maybe it was just the time of year or the place we stayed but overall, the island seemed pretty tame. Our resort bar shut down around 11:00PM. Some nights there would be people in the hot tub later at night but everything seemed pretty quiet after midnight. The boys stayed up much later than me most nights — at the hot tub or the casino — but they said that neither were very busy.
The fresh water is safe to drink and actually tastes really good. As an avid water drinker I was pumped about this!
In terms of working out, I wanted to find a couple cool fitness classes or a yoga studio but ended up just doing my own workouts, which mainly consisted of walking or running on the beach. Our resort had a really nice gym but I didn't want to spend my vacation inside so I only went once.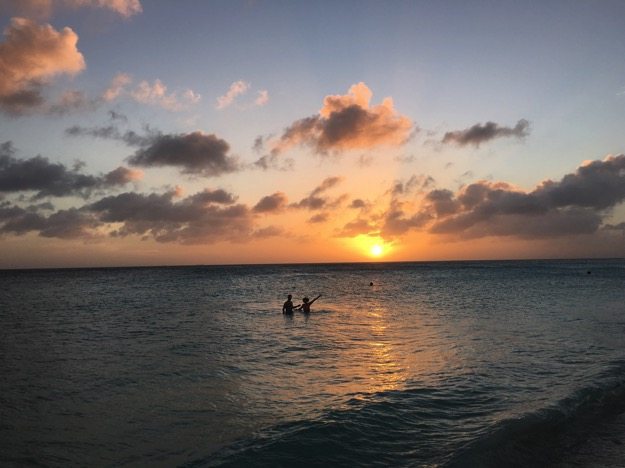 So there you have it, that's our trip to Aruba in a nutshell. Overall, we had an absolute blast on the island and would LOVE to go back!