Rise and shine. It's Saturday morning and here's what I am eating:
A bowl of Kashi go lean with unsweetened vanilla almond milk. Simple, fast, and tasty.
I also want to share a scrumptious beverage I had yesterday for breakfast.
Pineapple Maca Smoothie
1 cup frozen pineapple
1/2 frozen banana
1/2 cup unsweetened vanilla almond milk
1/2 cup water
1/2 tablespoon maca powder
1/2 scoop french vanilla designer whey protein powder
Blend for about 30 seconds in a blender. If the mixture is too thick add some extra liquid (almond milk or water), if it's too thin add some extra protein powder or frozen fruit. Enjoy!
Exotic super foods, including maca powder, cacao powder, chia seeds are all the rage right now, especially in blog world. I've tried a lot of them and have come to love a few. I wrote about maca about a year ago when I first found out about it and tried it, but never really started using it until I received superfood samples from Nuvitas Naturals. I've recently been adding it to smoothies, but not on a consistent basis. I've read plenty of information on it and believe that it does have some great benefits, including increased energy, stamina, hormonal balance, and libido.
Here's a brief overview of Maca benefits:
Known for it's ability to promote mental and physical vitality and increase libido in both men and women. Maca is often referred to as a natural hormone balancer, which can treat symptoms of menopause and sexual dysfunction in both men and women. Maca root may also help treat other conditions associated with hormone imbalance, such as depression, insomnia, fatigue, and acne. Research indicates that hormone-balancing maca also supports adrenal gland function, which is very important in times of stress when the adrenal glands produce large amounts of adrenaline.
All the benefits sound great, but as we all know, exotic super foods are expensive. Are they worth the extra money you ask? Honestly, I think you can eat a completely healthy diet on the cheap without having to buy expensive super food products. There are plenty of super foods that can be found at a normal grocery store and are reasonably priced like quinoa, sprouts, yogurt, blueberries, beans, oats, sweet potato, tomatoes, lentils.
I think it depends on the person as to whether the exotic super fruits are necessary and worth the extra money. At this point I don't think I've used the maca powder regularly enough to see the results of incorporating it into my diet, but I do know that Isaac's mom started putting a tablespoon into her daily smoothie and hasn't had hot flashes since. Obviously for Isaac's mom the maca works wonders and is totally worth the money. I still have yet to figure out if it's worth it for me. I don't LOVE the taste of the maca plain or even in smoothies (it's tolerable) so I would really want to see some big results before purchasing more.
Some exotic super foods that I really enjoy and think are worth the money to me include chia seeds, goji berries, cacao nibs and mulberries.
What do you think? Have you tried exotic super foods, are they worth the extra money to you? What are your favorites?
On to the fun events of last night. As a preface to the content below- this is a healthy food/lifestyle blog so most of the time the food and beverages I choose to put in my body are healthy and delicious. Last night the beverages were delicious, but not the most nutritious. I strongly believe that moderation is the key to a healthy diet so on occasion I do consume alcohol and last night was one of those nights. 🙂
Before heading out with some friends, and by friends I mean the 5 guys that were sleeping at my house, and 3 other couples, my friend and I started the night our right with a delicious beer from the Southern Tier Brewing Company, Pumking.
I've talked about this beer last year around this time. I actually just realized when I looked up the post that I drank it last year on September 18, 2008, exactly one year ago. Crazy. What I said last year sums up what I think about pumpking:
This beer is basically a liquid pumpkin pie, one might speculate that someone baked a pie, pureed it, added some hops and put it in a bottle. But don't worry it also has a nice beer taste and although it's hidden quite well, a good amount of alcohol (9%). As an added bonus, pumpkin puree is included in the ingredient list.
It's delish- if you are looking for a seasonal beer I highly recommend trying it out.
After hanging out around the house for quite some time, we decided to get the party started and take our friends to the ultimate mojito spot- Havana 59, a Cuban restaurant in downtown Richmond aka Shockoe-Slip. They have a large variety of mojito flavors including guava, pineapple, mango, kiwi, passion fruit, peach, strawberry, raspberry, pomegranate, and prickly pear.
I decided to stick with the ORIGINAL – Rum, Mint Leaves, Cane Sugar, Fresh Lime Juice, and Soda Water. Pretty much everyone at the table ordered a different flavor so I got to try lots of them. Pineapple was to die for!
Refreshingly sweet!
There were many funny photos last night, but I thought I would share this one as it's pretty hilarious.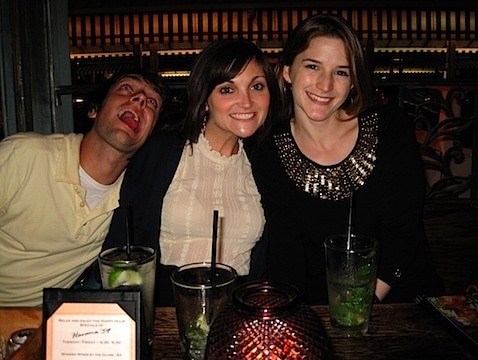 Too pretty ladies, one demented guy.
After leaving Havana we went to two other places and then cabbed it home. All and all I had a good night, and didn't drink too much so I'm feeling a-okay this morning. However, I didn't get to bed until 3:30AM- which is super late for me considering I turn into a pumpkin when the clock strikes midnight. I have a feeling I might want to go to bed at 8PM tonight.
Not sure what I'll be up to today, probably the gym, the grocery store, and laundry (the normal weekend rituals).
Happy Saturday!
– Brittany