Anniversary Fun in Williamsburg, VA
14
Published Jun 18, 2015, Updated Jan 14, 2022
As I've mentioned a few times, Isaac and I celebrated our two year anniversary earlier this week. Wow! Typing that feels so crazy because it seriously seems like we just got married a few months ago.
With buying and moving into a new house a couple weeks ago we decided we weren't going to do anything big for our anniversary — just exchange cards and have a nice dinner out in Richmond.
That WAS our plan until Isaac's parents surprised us with a one-night stay at the Aldrich House Bed & Breakfast in Williamsburg,VA. Such a thoughtful gift (!!) and one that I was really excited about because I'd never stayed in a Bed & Breakfast before and I'd also never been to Colonial Williamsburg. <— I'd been to Williamsburg to go to Busch Gardens + Water Country USA, visit William & Mary and/or go shopping at the outlets and but never to explore the historic part.
Driving to Williamsburg from Richmond only takes about 50 minutes so it's a great getaway spot and close enough to make it doable for a one-night trip. Our anniversary was Monday so we drove in on Sunday afternoon and stayed at the B&B on Sunday night.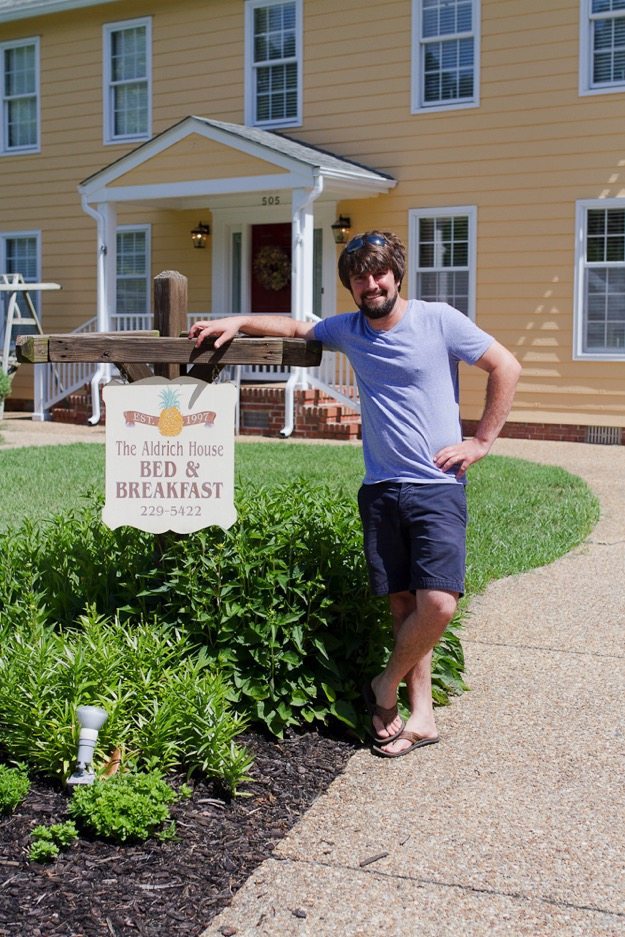 By the time we arrived and got checked-in it was late in the afternoon. We had dinner reservations, but we were both pretty ravenous so we headed over to the Merchant's Square for a snack. We ended up at The Cheese Shop, a popular spot that I've heard people rave about.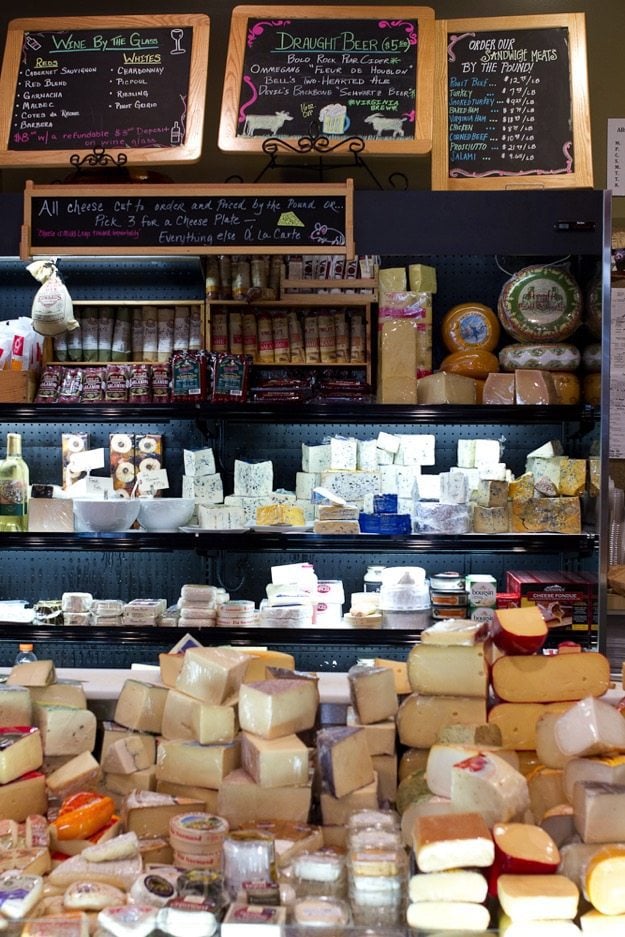 Isaac ordered a sandwich and a glass of Cabernet and I got a bowl of gazpacho and a glass of Chardonnay.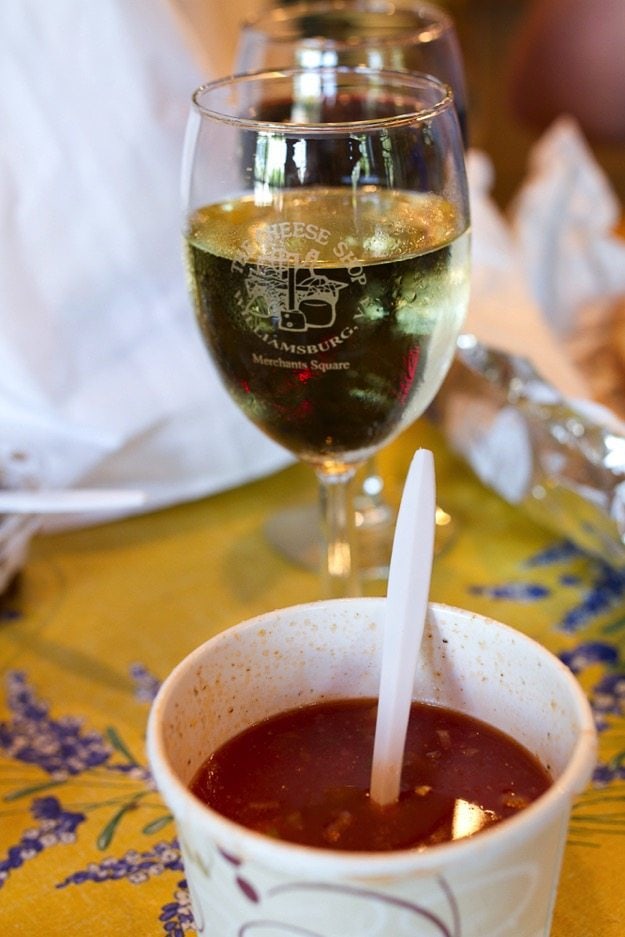 Chilled wine and soup = the perfect summertime snack. I'm usually a red wine gal but Chardonnay is quickly becoming my new warm weather fave. After checking out the Cheese Shop wine cellar we explored a few other shops in the Merchant's Square and then headed back to the B&B to relax a bit before dinner.
The Peanut Shop was one of the first shops to catch my eye. This shop has every flavor of peanuts you can imagine and tons of samples. There was even a dill pickle flavor and despite it sounding kind of strange, it was actually really good. The DoG Street Pub Mix was sweet and spicy and definitely one of my favorites!
I may be biased but Virginia really does have the best peanuts. They're so big and crunchy!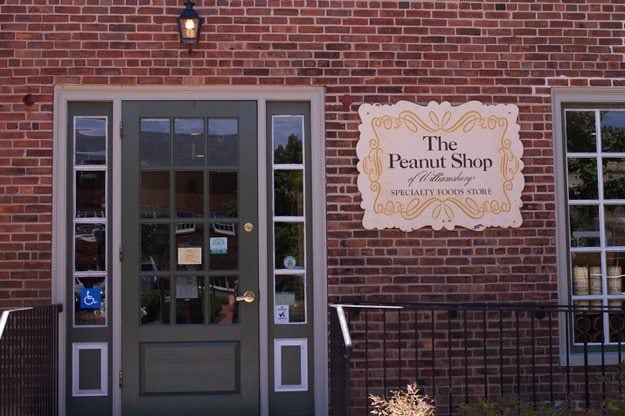 Speaking of DoG Street, Isaac loved the DoG Street Pub Bottle Shop. So much so, we ended up back at the pub that evening for an after-dinner drink.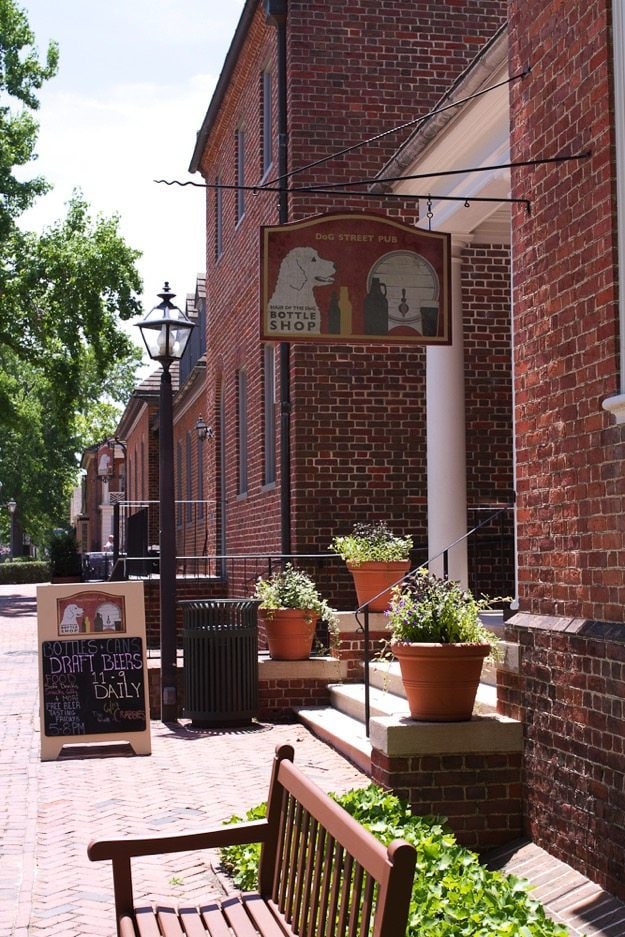 Dinner was at Waypoint Seafood and Grill. We knew we wanted seafood so we checked out trip advisor and picked Waypoint because it has good reviews and a unique menu. Overall, we were really happy with our choice! The service was great and everything we ordered was delicious, from the drinks down to our main entrees.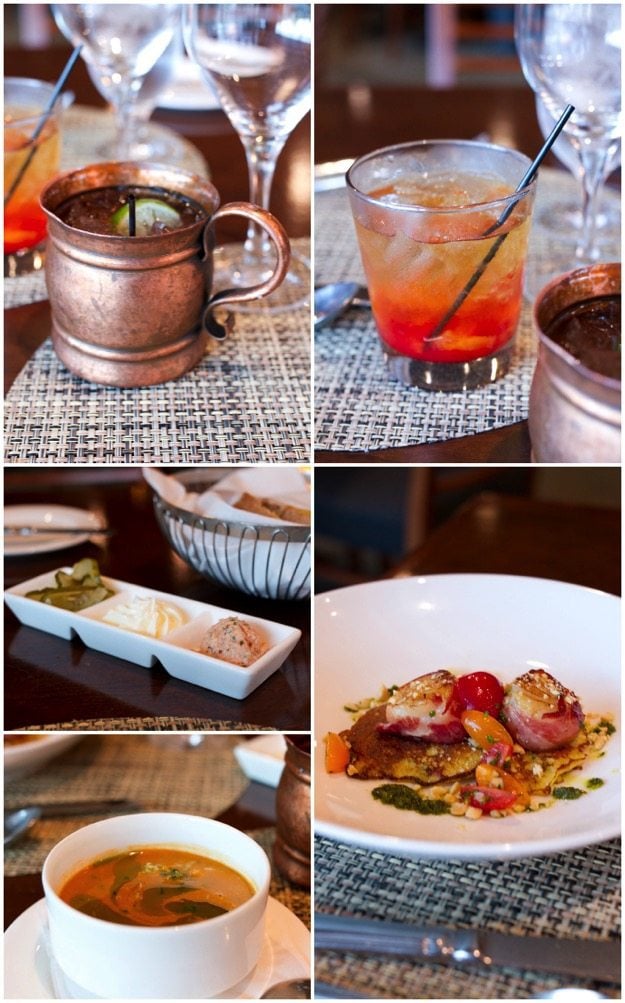 To start we ordered drinks — a Moscow Mule for me and a Old Fashioned for Isaac. And for appetizers we ordered the crab & jalapeño bisque as well as the edwards surryano wrapped scallops. Sometimes you gotta treat yourself. 🙂
For dinner I debated between the market fish of the day and the salmon. Our server recommend the salmon so that's what I ordered. It was served over fingerling potatoes, a summer succotash and saffron corn cream.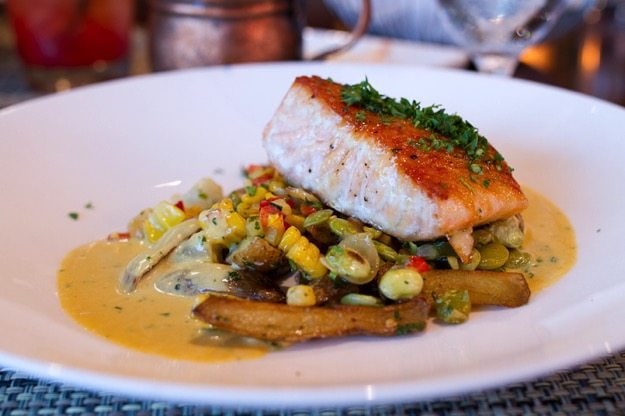 It was a-mah-zing!! Salmon is something I cook at home all the time, but there's something about fresh salmon prepaid by a chef. So good!
Isaac had the panko crusted flounder with curried cous cos, bok choy, shiitake mushrooms and a shrimp sauce.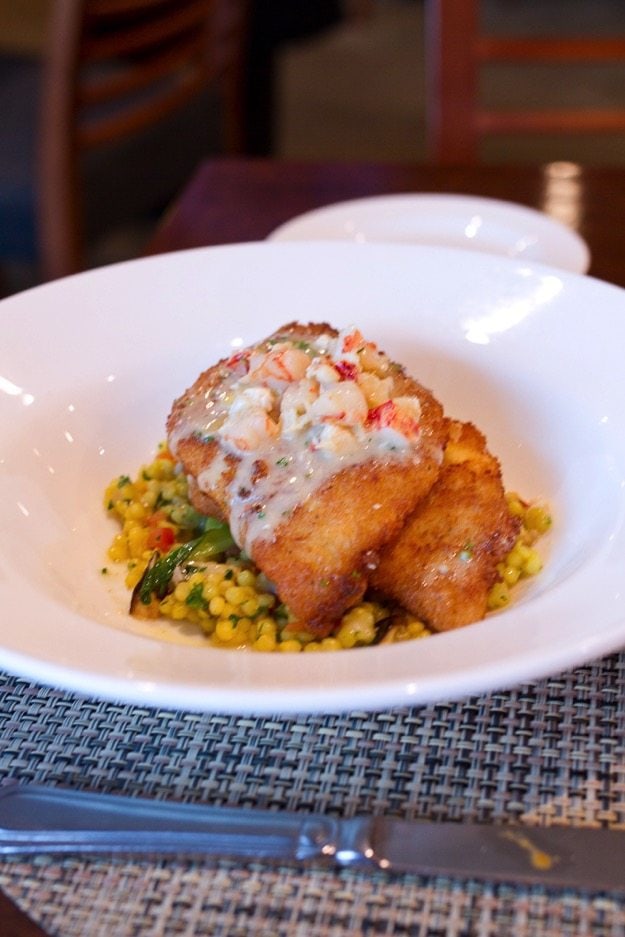 He really enjoyed it.
We were both too full for even consider dessert so we had our server take an anniversary pic and headed back to the B&B. <— After a quick pitstop by DoG Street Pub for a nightcap. 😉
The next morning we woke up to the smell of coffee and pancakes. We headed over to the dining room where a perfectly set table with fancy china and a full breakfast spread prepared by Tom, the owner of The Aldrich House, was waiting.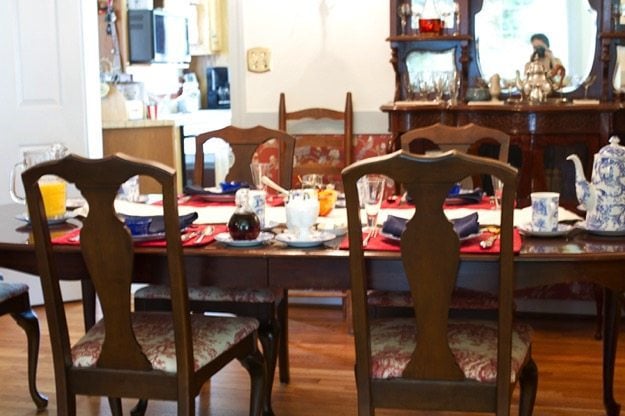 We enjoyed breakfast while chatting with Tom and a mother and daughter who were visiting from Texas. Everything was tasty and Tom made a batch of gluten-free pancakes specifically for me, which was really sweet.
After breakfast we hit up Colonial Williamsburg for a walking tour. Isaac goes every year with his students so he was my tour guide. 🙂 It was incredibly hot out but we had still had fun exploring the historic sites and seeing all the reenactments.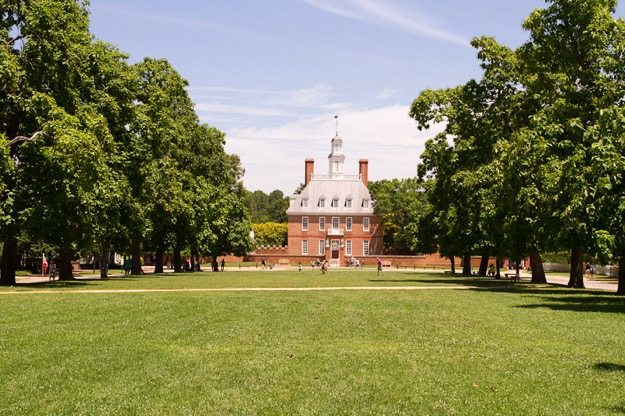 I want to go back around Christmas time because I've heard it's decorated beautifully around that time of year. Plus, it won't be 97° and humid in December. 😉
After Colonial Williamsburg we headed over to the outlets and did some shopping damage before grabbing a late lunch at Food for Thought.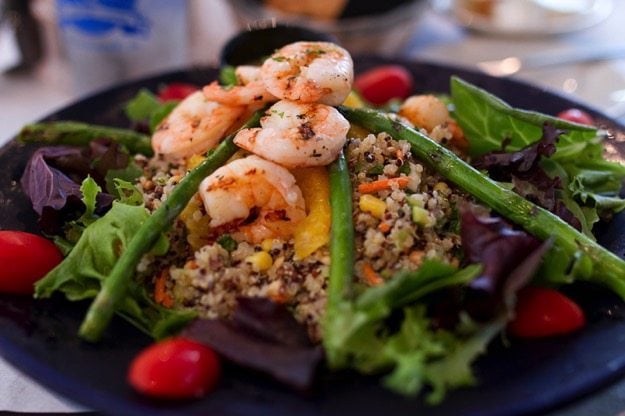 The quinoa salad with shrimp for me and the crab cake for Isaac.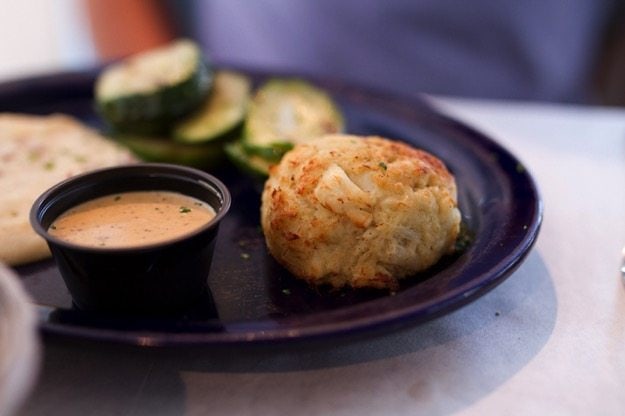 We were starving and pretty much inhaled our meals within a matter of minutes. Everything was a really good and our server was attentive — definitely a great spot for lunch.
With full bellies (and happy hearts) we headed back to Richmond! Going to Williamsburg was such an unexpected treat and so relaxing after spending the last few weeks moving and unpacking. I'm really thankful for Isaac's parents gifting us the stay. <3
PS — Our house is still a mess, but I promise to share more photos once we get everything setup. 🙂
Have you ever been to Colonial Williamsburg or stayed in a B&B? As I mentioned, it was my first time staying at a real B&B (I've used Airbnb before, but that's different). I really liked the experience. It felt really comfortable and homey. Plus, nothing beats a home-cooked breakfast when traveling!