After a few days of different breakfasts (smoothies, eggs, etc) I was craving a big bowl of oats this morning after my 6 AM spin class.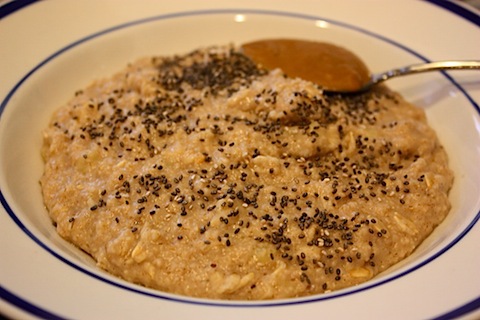 I whipped up my standard oatmeal/oat bran combo and topped it with chia seeds and a spoonful of sunflower butter. I loved having the chia seeds on top because they didn't suck all the moisture out of the oats like they do when mixed in.
Before getting to today's lunch I want to share yesterday's because it featured two new products I recently purchased.
Just s simple spinach wrap with fresh spinach, red onion, yellow bell pepper, and rice shreds drizzled with homemade lemon tahini dressing.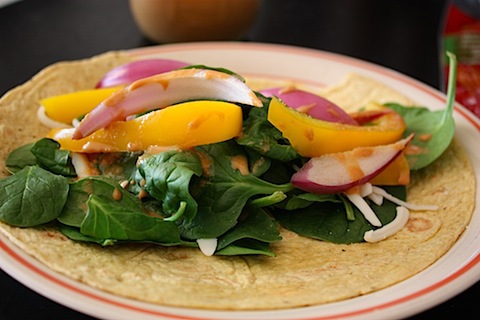 The Ole Xtreme Wellness Spinach & Herbs Tortilla Wraps were a super find at Target. They're super soft and only 70 calories each!! I'd buy these again for sure.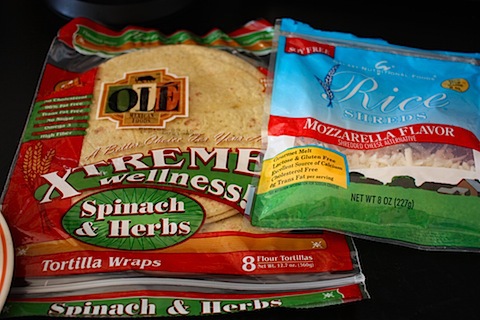 The Galaxy Foods Rice Shreds (Mozzarella Flavor), which I bought it to use in the Polenta Casserole recipe I made a couple days ago, is from Whole Foods. It's okay, but not overly flavorful. I'm not a huge cheese fan in the first place so fake cheese doesn't really appeal to me. I'll be using the rest of this package, but I probably won't be purchasing it again. I'll also note that although it's made from a rice base, it's not completely suitable for vegans because it has casein.
As for today, I came home and heated up a "new to me" Kashi meal, Veggie Chana Masala.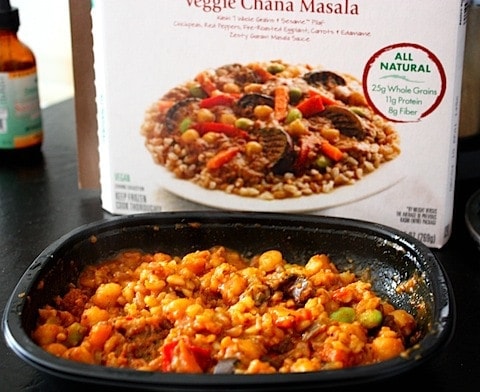 This frozen meal was on sale at Kroger a few weeks ago and I couldn't resist trying it. You all know I love my Indian food! I really enjoyed the combination of chickpeas, red peppers, roasted eggplant, carrots and edamame. The zesty Garam Masala sauce was a little on the spicy side but I like it hot so it was perfect in my book.
Overall, I've been quite impressed with Kashi's Vegan and Vegetarian entrees (hello Kashi Mayan Harvest Bake). They're great when I'm in a rush – short ingredient lists chocked with lots of healthy veggies, low calories, and minimal prep and clean up time. What's not to love?
For dinner I stopped by my favorite local market and grabbed a few pieces of tofu, some sprouts, cucumbers and sun dried tomatoes from the salad bar. I brought the goods home and added them to some baby spinach and yellow bell pepper and topped it all off with the lemon tahini dressing.
All I can say is YUM!!! Seriously, this was so good.
Do you know what else is good? I'm leaving work early tomorrow and traveling with my girl Stephanie to Fit Bloggin 2010, a conference for those that blog about fitness, wellness, good food and a healthy lifestyle!!!

I can't wait to meet all the other bloggers and hopefully learn a thing or two.
Are you attending Fit Bloggin? If so, please say hi if you see me. I want to meet as many new people as possible!!
If you're not attending, no worries. I'll be blogging about everything that's going on so just check back here to see what we're up to.
Happy weekend my friends!
– Brittany