As most of you probably know, I try to eat unprocessed, fresh, whole foods whenever I can, however sometimes I need a quick meal that's ready in a matter of minutes.
That's where Amy's comes in! I've always been a fan of Amy's products because they offer vegetarian meals that are made with organic ingredients and healthier than most packaged meals you'll find at the grocery store. Another great thing about Amy's products is that they accommodate different needs/special diets by offering options that are diary free, gluten free, lactose free, corn free, soy free, tree-nut free, vegan, no cholesterol, low-fat, or kosher – you just have to read the package to make sure the item you are buying matches your needs!
Some of my favorite Amy's products include:
Earlier this year Amy's introduced a new line called Light & Lean with four frozen meals (Black Bean and Cheese Enchilada, Soft Taco Fiesta, Spinach Lasagna, Pasta and Veggies), each containing less than 300 calories and 5g fat. Just this fall, Amy's expanded the Light & Lean product line up to include five new frozen meals:
Light & Lean 3 Cheese Penne Bowl (270 calories)
Unpretentious and delicious, this is a comfortingly familiar bowl of pasta. Penne is cooked with organic marinara, extra virgin olive oil and a trio of creamy mozzarella, earthy Fontina and savory Parmesan.
Light & Lean Bean & Cheese Burrito (280 calories)
We are thrilled to announce a light and lean version of our popular Bean & Cheese Burrito.
Light & Lean Roasted Polenta (140 calories)
Sweet yellow cornmeal polenta is topped by an organic summer stew of squash, sun-ripened tomatoes, mushrooms and a side of fragrant slow-cooked chard.
Light & Lean Spaghetti Italiano Bowl (240 calories)
Organic semolina spaghetti, meatless meatballs made of of lentils, quinoa and tofu, topped with a sauce of simmered organic vegetables, roasted garlic and seasonings and a side of broccoli florets.
Light & Lean Sweet & Sour Bowl (250 calories)
Organic rice noodles with organic tofu and diced vegetables. Tamari soy sauce, sesame oil, ginger and garlic are slowly simmered to form a flavorful sauce.
Amy's offered to send me the new Light & Lean meals to try out and I took them up on the offer. Just an FYI – I only accept products for review that I would actually spend my own money on and I'm always completely honest in my reviews.
I'll start with one of my favorites, the Roasted Polenta with Swiss Chard. This one is really low in calories so it works well paired with a lean protein for a full meal, but I loved the flavor. The polenta was creamy and topped by a tomato based summer stew of squash, sun-ripened tomatoes and mushrooms. The chard was flavorful as well. I was a big fan.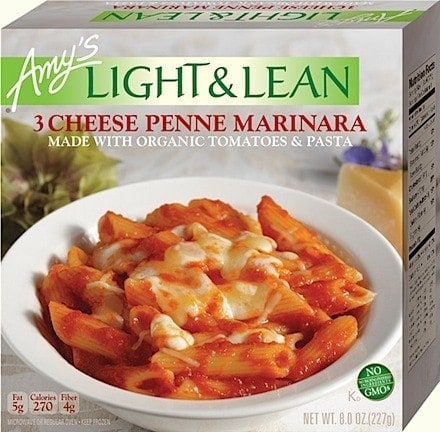 Next up, the 3 Cheese Penne Marinara. I actually didn't get to taste this one because I let my friend Laurel have it for dinner last week when she came over after a long day of work. I topped it with some steamed broccoli so she'd get a serving of green veggies in and she chowed down. She said the pasta was hearty and cooked perfectly – especially for microwaved pasta. She also mentioned that the sauce was a standard tomato sauce but quite yummy and three cheeses added a nice flavor profile to the pasta.
The next meals, Sweet and Sour Asian Noodle and Spaghetti Italiano, probably wouldn't be my first choice when buying a frozen meal at the store because I'm not a huge pasta fan, but I tried them both for lunch over the course of the past month.
I liked the sweet and sour noodles better than the spaghetti, but that's no surprise because I love Asian food and Italian food is probably my least favorite cuisine <– I know some people are gasping right now, but it's true. Also, the portion size seemed larger for the sweet and sour noodles and I really liked the flavor – soy sauce, sesame oil, ginger and garlic are always winners!
The spaghetti was probably my least favorite (as I mentioned before I'm not a huge pasta fan.) Although, I will admit that I was surprised at how much I liked the veggie meatballs. They're made of lentils, quinoa, tofu and spices and have a nice texture and flavor. I also liked that there were veggies included in this pasta dish, unlike the 3 Cheese Penne. If you're a spaghetti fan looking for a light meal you'd probably like this one – it just wasn't my cup of tea.
Overall, I enjoyed trying out the new Light & Lean varieties and I will most likely be purchasing the roasted polenta and swiss chard and black bean and cheese enchilada (which I reviewed before) in the future. To be completely honest, I still LOVE my Amy's Brown Rice and Vegetable Bowl and Matar Paneer meals best! They're both pretty low in calories – the Matar Paneer has 370 and the Brown Rice Bowl has only 260 and they're both offered in "Light and Sodium." Their fat content is a little bit higher than the meals I featured today, but they're still pretty Light & Lean for a frozen meal to me!
What's your favorite Amy's product? Have you tried any of the Light & Lean varieties?