Always Hungry? and Why Low-Fat Diets Don't work
11
Published Jan 04, 2016, Updated Jun 12, 2019
Today's post is super exciting because I'm interviewing David Ludwig, MD, PhD. David has an impressive resume. He is a pediatrician and endocrinologist at Boston Children's Hospital, Professor of Pediatrics at Harvard Medical School and Professor of Nutrition at Harvard School of Public Health. He's been described as an "obesity warrior" by Time Magazine and has fought for policy changes to restrict food advertising focused on young children, improve the quality of school nutrition programs and does a tremendous amount of research on how food affects hormones, metabolism and weight regulation.
As most of you know I don't usually cover weight loss or diet books here on EBF, but when I received an email about David's soon-to-be released book, ALWAYS HUNGRY? Conquer Cravings, Retrain Your Fat Cells, and Lose Weight Permanently, I was interested in learning more. Part of it was because the email came from David himself (pretty impressive considering I know he's a busy guy) and the other part of it was the info about eating more fat to balance insulin and hormone levels. Since experiencing amenorrhea, I've been increasing the amount of fat in my diet so the research findings and topics covered in the book are relevant and intriguing. The title also resonates with me because before incorporating more fat in my diet I felt like I was ALWAYS HUNGRY and thinking about what I could eat next. I know from experience that eating more fat changes that!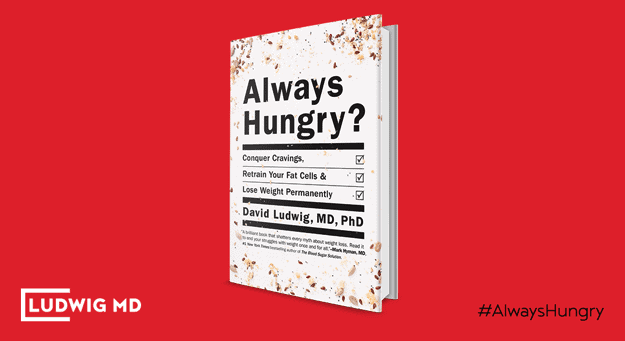 I was sent an advance copy of the book for review. I should mention that get offered to a review a ton of books. I'm not saying this to brag, I'm saying it so that you know that I don't feature every book that gets sent to me. The book has to truly impress me and I have to think there's value in sharing it with you. That said, I was really impressed with Always Hungry? and immediately wanted to tell people about David's research findings and the program. I'd been wanting to see research dispelling the myth that eating fat makes you fat and Always Hungry? provides this. It also gives a program to follow that's very sensible — no calorie counting or off-limit food groups.
I asked David if he'd be up for an interview with me and he agreed. I could have given you a summary of the book myself, but it wouldn't be nearly as eloquent. Plus, I had a few self-serving questions I wanted him to answer. 🙂 Read on to find out more about his book, the three-phase program, what natural sugars he recommends and his take on coffee.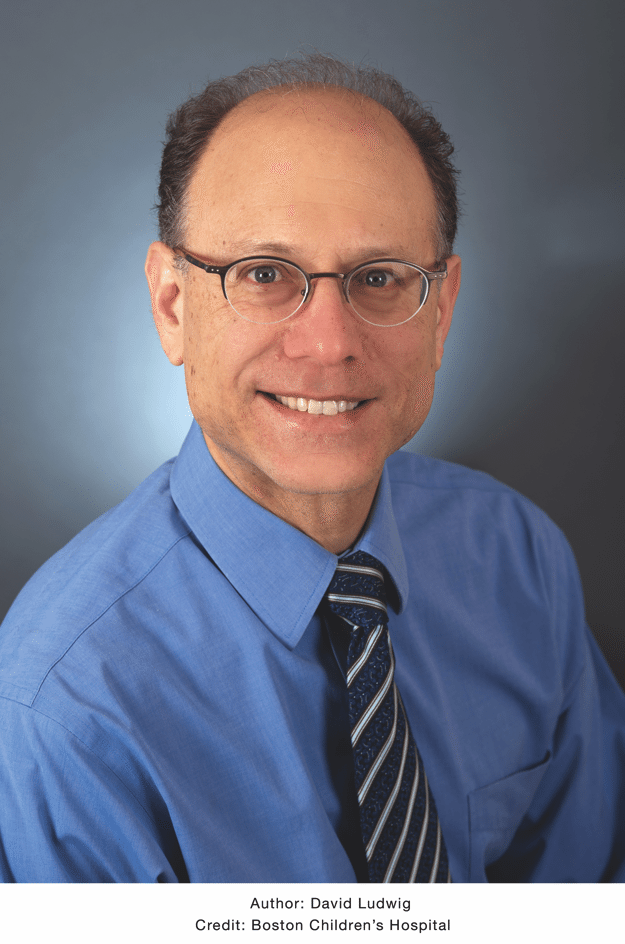 Your new book and weight loss program, Always Hungry?, is based around new studies which show that overeating doesn't make you fat; the process of getting fat makes you overeat. It's an interesting concept and one that seems hard to overcome. How is this phenomenon possible and what can we do about it?
Overeating causes weight gain, and under-eating causes weight loss in the short-term, giving the illusion that we have conscious control over our weight.  But research dating back a century clearly shows that biology, not willpower, is in the driver's seat over the long term. Consider what happens to people in force-feeding studies who are given hundreds of extra calories a day. Of course, their weight goes up, but they quickly lose all interest in food, and their metabolism speeds up in an attempt to get rid of those extra calories.  In fact, research subjects in overfeeding studies are just as miserable as those in starvation studies.  Once the protocol ends, weight drifts back naturally to where it started.
But if biology controls body weight, why have rates of obesity skyrocketed in the last few decades? I explore the answer to this in Part 1 of Always Hungry?
The low fat/high carbohydrate diet we've been told to eat for 40 years has raised insulin levels, triggering fats cells to hoard too many calories. As a result, there are too few calories in the blood stream and available to fuel the needs of the rest of the body. Our brain recognizes this problem and takes measures to save energy – so we get hungry, metabolism slows down, and we gain weight. Cutting back on calories only makes this situation worse, creating a battle between mind and metabolism we're destined to lose.
What does the Always Hungry? three-phase program involve and how is it different than other programs out there already? How does it specifically target fat cells over muscle? How does it eliminate cravings?
The Always Hungry Solution in Part 2 of the book aims to address the cause, not the symptoms, of weight gain at the source – fat cells stuck in calorie storage overdrive.  Using a diet (and lifestyle supports) to lower insulin level and calm chronic inflammation, fat cells can be reprogrammed to release their excess calorie stories.  When this happen, calories flood back into the blood stream, hunger decreases, metabolism speeds up, and you lose weight without the struggle.
Reducing fast acting carbohydrates is the quickest and easiest way to lower insulin levels, which directs calories from fat (for storage) to muscle (to be burnt).  To demonstrate this effect, consider what happens with laboratory animals given insulin injections.  Their fat cells begin to take up extra calories, they get hungry, they overeat, and they gain weight.  But if you restrict the food intake of these animals to prevent weight gain, they still accumulate excessive fat (and the associated cardiovascular risk factors)! In this way, all calories certainly aren't alike to the body. The diet has 3 phases.  In Phase 1, we eliminate all grains, potatoes and added sugar for just 2 weeks.  This phase has 25% carbohydrate and 50% fat – making it rich and satisfying, but not as restrictive as a very low carbohydrate (Atkin's type) diet.  In Phase 2, we add back whole kernel grains, potatoes (except white potato) and a touch of added sugar.  Then in Phase 3, we mindfully reintroduce some of the more processed carbohydrates according to our body's tolerance – creating a personalized prescription that's right for each person.
You had a pilot group of participants follow the program for sixteen weeks. What were their results? What was the most surprising finding?
We ran a 16-week national pilot test involving about 250 participants and I should emphasize that this wasn't intended as scientific research.  We didn't have a control group, nor did we conduct formal statistical data analysis. (My research group has published dozens of controlled scientific studies, the results of which have been informed the program).  Based on pilot participant reports, most people lost between 1 and 2 pounds a week, some a bit more, and others a bit less.
Of course, many popular diets promise sensational weight loss.  Most don't live of up the promise.  But even if they did, what's the point in losing 30 pounds in 30 days, if you're starving and struggle to keep the weigh off.  Our approach aims to put biology back on your side, so that your body (not a diet book author) determines what rate of weight loss is best for you.  But even if it's only 1/2 pound a week, without hunger the results are progressive and sustainable. One of the most interesting and consistent reports from pilot participants was that their cravings for carbohydrates vanished, often before the first pound was shed.  (All testimonials featured in the book are real, reflecting participants' true experiences.)
What about calories? We've been taught that calories in – calories out = calories stored. What's your take? Do we need to count calories to lose weight?
The calorie balance model isn't wrong, but it's just not very helpful. If we actually needed to count calories to control our weight, how did we ever manage to avoid massive weight swings before the very concept of the calorie was invented? It's like thinking of fever as a problem of "heat balance" – too much heat into the body, too little heat out.  From that perspective, the quickest and best treatment of fever would be an ice bath to draw heat out.  But an ice bath isn't popular in the treatment of fever for one simple reason – the body would fight back, with severe shivering and blood vessel constriction.  And you'd feel miserable.  Treat the cause of fever however (such as with aspirin), and temperate declines naturally.  Similarly, treating the cause of weight gain – insulin driving fat cells to take up too many calories – leads to a much more effective, and pleasant, solution.
I know you're a big fan of limiting processed food and added sugar, but how to do feel about natural sugar — fruit, honey, maple syrup, etc? What sweeteners, if any, do you personally use?
Most people on the standard American diet, especially if overweight, will have at least some degree of insulin resistance and chronic inflammation.  For them, the best way to jump start weight loss will be eliminating all processed carbohydrates for a while – added sugars and also refined starches like bread, white rice, prepared breakfast cereals and potato products.  The good news is that after a relatively short time, metabolism may improve, increasing tolerance for these high glycemic load carbohydrates. (We published a study on this possibility in the November issue of the journal Obesity. Read more here.)
Beginning in Phase 2, we reintroduce a moderate amount of added sugars.  Among the many different forms of sugar, I prefer honey (especially raw honey) and real maple syrup.  These have about the same calories per serving as the others, but their stronger taste helps you get by with less.  In addition, the micronutrients and phytochemicals in honey and maple syrup may buffer, to some degree, the adverse effects of the sugar.
What is the difference between glycemic index and glycemic load and which is more important when choosing what foods to eat?
Glycemic index describe how foods with the same amount of carbohydrate digest and raise blood sugar.  But we all don't eat the same amounts of carbohydrates from all foods – and glycemic load takes that fact into account.  The bottom line is that glycemic index is important in research studies, but glycemic load will be your best guide in practice.
What type of foods do you promote eating as part of the program? Can you give us a one-day sample meal plan?
The diet is the opposite of low calorie/low fat.  You'll have nuts and nut butters, full fat dairy, rich sauces and spreads, savory proteins and natural carbohydrates.  Here's a typical day from Phase 1 of the program:
Breakfast – Huevos Rancheros.  Instead of tortillas, a side of raspberries and full fat Greek yogurt
Morning snack – Herb-Roasted Parmesan Chickpeas
Lunch – Steak Salad with real Blue Cheese Dressing (with a vegetarian option) and a tangerine
Afternoon snack – Apple and almond butter
Dinner – Coconut Curry Shrimp on a bed of spinach
Dessert – Strawberries dipped in chocolate, with real whipped cream
No deprivation here!
How do you feel about 5-6 small meals a day?
On a conventional low fat diet, it is best to eat small frequent meals to minimize the swings in blood sugar and hormones that occurs with so much fast-digesting carbohydrate.  However, with more fat and protein, food stays in the digestive track longer, leading to a more sustained release of energy into the body.  This way, snacking is optional but not critical.  (Note: We provide 2 snacks per day just in Phase 1, to help transition the body quickly out of the starvation response.)
I know you're a big proponent of eating more fats, what's your take on Bulletproof coffee?
Dave Asprey designed Bulletproof coffee with 2 basic aims: First, to deliver a big dose of saturated fat, including medium chain triglycerides, to rev up ketone production quickly. Some consider ketones (most notably beta-hydroxy butyrate) to be a sort of super fuel, that aids brain function, stimulates metabolism and may have anti-aging properties.  Second, he advocates coffee as an excellent source of polyphenols – plants substances that have beneficial effects on the gut microbiome and other biological functions.  He stresses low mold coffee, and provides these products on his web site.  He's developed a large and enthusiastic following!
While we're on the topic of coffee. What's your take on coffee in general? Can it hinder weight loss efforts?
Many lines of research support a beneficial role of coffee and possibly also tea for prevention of diabetes and heart disease.  The effects certainly aren't the caffeine, as decaf coffee provides similar protection.  On Phase 1, we give up alcohol for just 2 weeks, but allow 2 to 3 caffeinated beverages per day.
Interested in learning more? Always Hungry? will be available for purchase January 5, 2016 at all major book sellers. You can also check out Dr. David Ludwig's website and/or follow him on Facebook and Twitter.