Ahh! It's almost Foodbuzz Festival game time and I haven't even packed yet!!!
Needless to say, things have been a bit on the crazy side around here- from chiropractic appointments to distance learning modules and busy work days… I'm totally ready for a 4 day weekend with lots of good food, drink, and friends. Judging by my experience last year, this weekend is going to be amazing!
Many of my meals have been presented in a nice plastic container.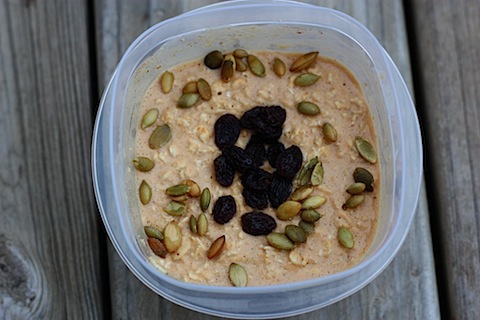 Which, lucky for me, presentation doesn't take away anything in the taste department. These overnight pumpkin oats were delish. The raisins on top weren't just any raisins either – they were organic flame raisins. And, in case you were wondering, flame raisins are the sweetest variety on the market. 😉
Since I'll be heading to CA Friday morning I thought it would be appropriate to have an Amy's California burger for lunch this week.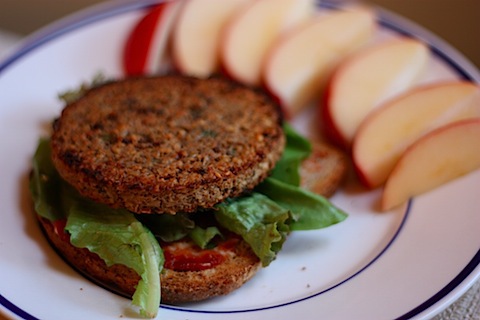 This is one of my favorite frozen veggies burgers! Amy's are much better than Boca and Morning Star- both of which I don't really care for.
Today I had back-to-back webinars and meetings all throughout lunch time so I just reheated left overs from last night's din and ate at my desk.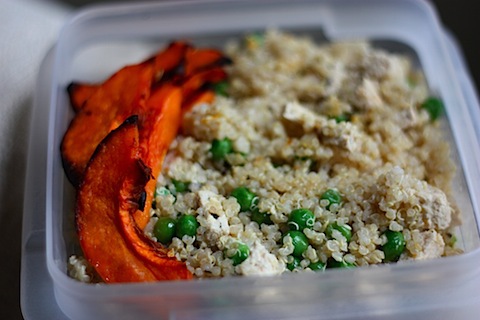 I know eating at my desk isn't the healthiest option – for more reasons than one, but sometimes you gotta do what you gotta go.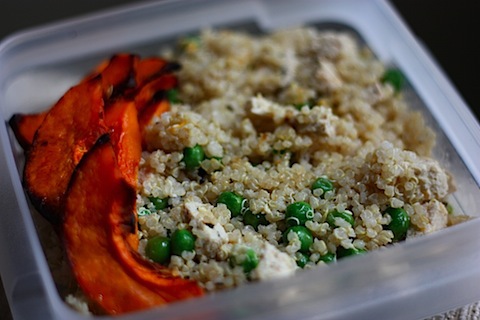 This little concoction had qunioa, peas, herbed tofu, and roasted butternut squash. YUM – I loved the combo!
In other news, I hit the jackpot this week and was able to buy two awesome Zobha workout tanks from a friend for quite a good deal. Hopefully, if there's still light tomorrow when I get home from work I can take some photos! I have some other new workout gear to show you all as well. 😉
Alright, I better get some shut eye! Gnight.