All Your Questions About Adaptogens, Answered!
6
Published May 05, 2017, Updated Jun 12, 2019
Have you been hearing the term adaptogen everywhere and wondering what the heck it means? I felt the same way a couple months ago so I did some research and have created this little guide all about adaptogens. I'll break down what they are, why they're so popular right now and share some of my favorites.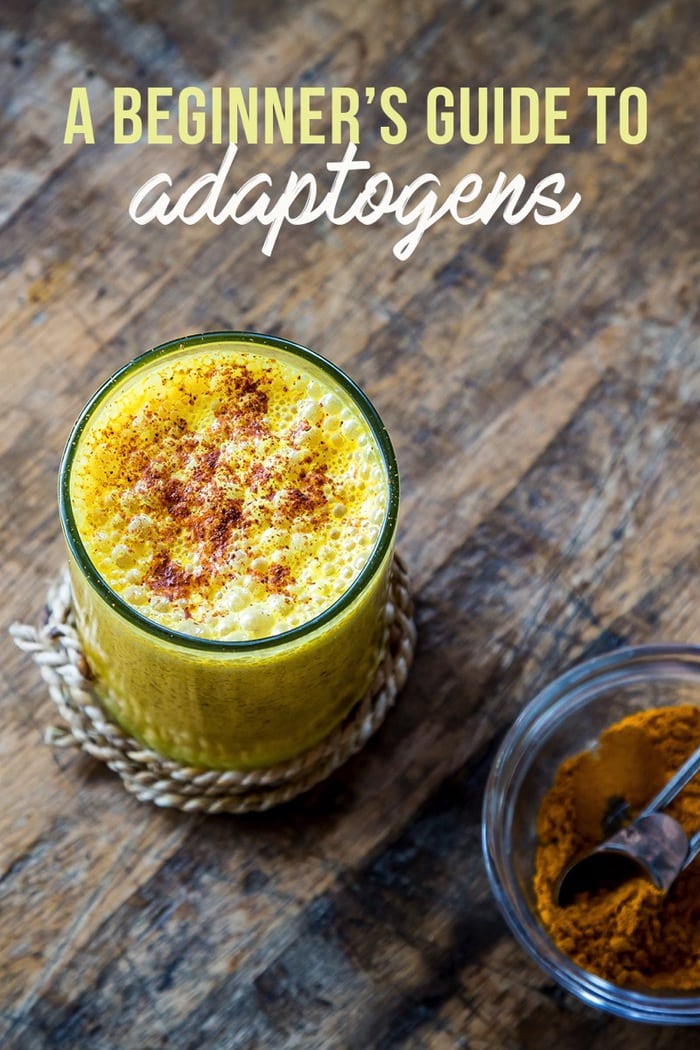 What Are Adaptogens?
The official definition for adaptogens is a little fuzzy because it describes a wide variety of herbs, roots and mushrooms that all work differently in your body. In general, adaptogens work to normalize your physiological functions by regulating your adrenal system. This in turn helps your body respond productively to stress, fight fatigue, improve focus, boost energy and reduce anxiety. 
In general, adaptogens are compounds in certain plants that fit these three criteria:
Completely safe to consume with no side effects

Work to normalize body function and bring your body back to homeostasis

Specifically target and reduce physical and mental stress
The idea of adaptogens may seem new, but the truth is they've been used for thousands of years in Ayurvedic medicine. In ancient India, soldiers relied on adaptogens to improve their energy and recover faster after the stress of battle. In the same way, adaptogens will help your body to adapt to outside pressures — no medication necessary!
How Adaptogens Work
When your body is stressed, it produces excessive amounts of two hormones, adrenaline and cortisol. This leads to an increased heart rate and sky-high blood sugar levels that leave you on edge. In most cases, this tense feeling disappears in a matter of minutes, but in cases of chronic stress, you feel uncomfortable longer and suffer from a wide range of physical problems like exhaustion, irritation, and inflammation.
Adaptogens help eliminate these symptoms by controlling your response to stress. Studies have shown that adaptogens help increase your body's resistance to stress by acting as an internal thermostat that keeps your stress response within safe levels. Adaptogens work to bring your hormone levels back to normal and prevent adrenal fatigue from overtaking you.
Top 9 Adaptogens
There are a ton of adaptogens out there, but to get you started, here is a list of my nine favorites.
Easy Ways to Add Adaptogens to Your Routine
Long ago, adaptogen use was restricted to traditional Chinese medicine. Society is finally starting to catch on to the incredible benefits in these herbal plants, and today adaptogens are common ingredients in smoothies, tonics and supplements.  There's no "right" way to take adaptogens, except for the way that makes you take them regularly! Whether you prefer a simple supplement or rather drink down from green juice, the choice is up to you.
Some people take adaptogens once a day, while others try to include them with every meal. It's often best to take at least one day off a week (and one week off every six) in order to let your body adjust. And remember that you might not notice a difference right away, so be patient. Adaptogens are powerful, but it takes them a while to build up enough in your body to make a difference, so be patient with the process and you should start to see results.
You can buy adaptogens online (I linked to a quite a few above) and in many natural food stores. We actually have a new store here in Richmond called Boketto Wellness that carries quite a few brands specializing in adaptogens like Four Sigmatic (mushroom tea/coffee),  Anima Mundi Apothecary (I love their elixirs!) and Moon Juice (adaptogenic herb blends that can be added to coffee, smoothies, and warm milk). If you prefer premixed drinks, REBBL drinks are a great option and can be found at Whole Foods.
Just remember that adaptogens, like superfoods, aren't the "magic cure" or "the thing" that's going to make you healthy. Getting healthy starts with simple habits like eating more whole foods and moving more. If you're not doing these basic things, adding a bunch of supplements probably isn't going to help much. In my mind, the superfoods and supplements are just bonus items to add on once you already have the basics down.
If you want to start adding in adaptogens but are unsure where to start, I highly recommend talking with a functional medicine doctor.
** Resources: 1, 2, 3. Information and statements made are for education alone and are not intended to replace the advice of your doctor.