Since summer is almost over and we're entering the fall season here in VA I thought now would be the perfect time to write about eating seasonally.
Seasonal, local produce is fresher, it tastes better, and it's production and transportation have a smaller impact on the environment. As far as money goes, locally grown seasonal produce is usually cheaper than the items grown out of season. In addition, the money you spend is going back into the local community.

Eating unseasonal foods every once in a while isn't going to hurt you, but eating them on a consistent basis isn't the ideal way to get the right nutrients for your body or to protect the environment. There's a reason we don't crave salads everyday in the winter – our bodies need the vitamins and minerals in the foods that are in season during this time. For instance, less sun exposure during the winter months may cause the need for extra consumption of foods high in vitamin D such as fatty fish, dairy products, and fortified cereals.

The best way to find out what's in season in your area during a particular time, simply visit a local farmer's market or produce stand. Whatever you see in abundance at the market is typically in season. Although, this isn't always the case considering there is a vendor at one of my local markets that sells bananas with the stickers on them. Not quite sure why he thinks that's a good idea. But back to my point – farmers markets rock and they really are a great place to buy local, seasonal food. Plus, you can chat with the farmer – find out if the farm grows organically or without spray, ask how to best prepare an item you aren't familiar with, or even see if the farm gives tours.
So to cut to the chase – here's a quick guide of what produce is available during each of the seasons. Of course seasonality is different depending on your exact location so take this guide with a grain of locally harvested sea salt: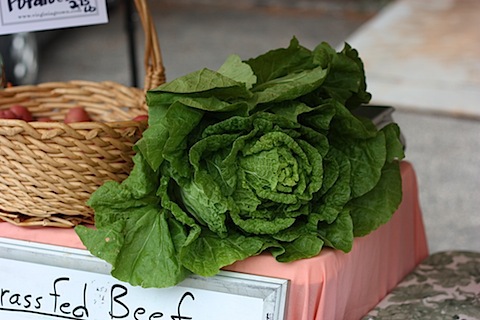 Spring:
Artichokes, arugula, watercress, asparagus, young chard, mustard greens, dandelion greens, cherries, spinach, parsley
Focus: Eat your greens!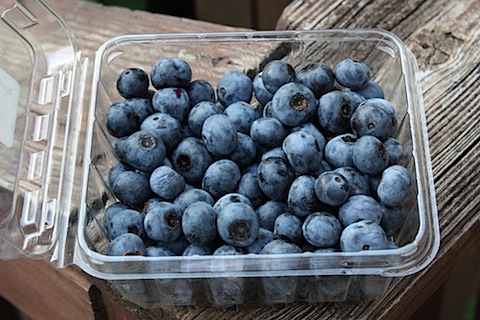 Summer:
Berries, eggplant, cauliflower, avocado, figs, fennel, green beans, tomatoes, peaches, apricots, plums, lettuce, peppers
Focus: Hydrating and cooling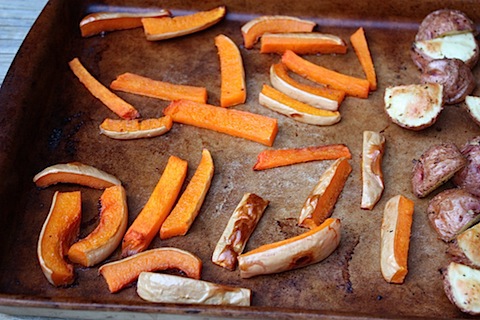 Fall:

Apples, pears, brussels sprouts, winter squash, pumpkin, persimmons, garlic, carrots, kale, chard, broccoli, cauliflower
Focus: Storing energy and building immunity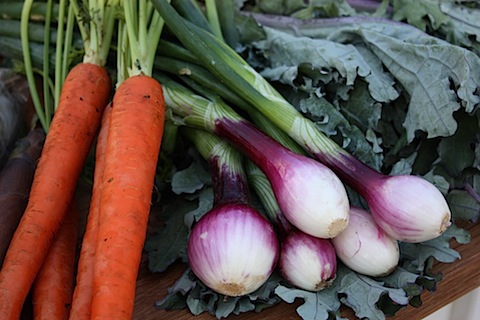 Winter:
Broccoli rabe, sweet potatoes, carrots, onions, garlic, kale, rutabagas, parsnips, turnips, sunchokes, beets
Focus: Warming foods
—
What season features your favorite foods? Summer and Fall produce are my favorites – I LOVE tomatoes, summer squash berries, butternut squash, kale, apples and pumpkin.
Links and Tidbits (some are related to the topic, others not so much):
Check out this map that lists what produce is in season by state
Need some fall recipe inspiration? I recently posted a Fall Healthy Recipe Roundup
My next post will have a delicious fall recipe that you're bound to love.
I updated my side-bar image with one that's more recent, let me know what you think. If you're reading through a reader, you'll have to click over to see it. 🙂

Thursday, September 29th at 9pm EST:

Courtney, Heather, Julie and I are doing a #Fitblog webinar presentation. We're going to be presenting the same info we talked about during our Rising Above the Negativity Panel at the Healthy Living Summit, so if you were interested in hearing our thoughts but were unable to attend HLS, now's your chance! All you have to do is register online by going here – spots are limited, so register soon!
Recommendation: Watch Mod Fam tonight! You'll quickly learn why it's my favorite TV show.