You guys I hate to admit it, but I've been a yoga slacker lately. I haven't taken a class in a few months and I haven't been doing it on my own at home either. It's crazy because I think yoga is lovely and I know it's good for me on so many levels, but somehow I let it fall by the wayside.
If you follow me on Facebook or Instagram you'll know that I was in New York last week for a launch event with Kohl's. It was part of the #MakeYourMove campaign I've mentioned before and there was yoga involved. The event was outdoors and it was freezing cold, yet somehow the class still reminded me how much I adore yoga and made me even more determined to fit yoga back into my life.
Lately my workouts of choice have been Pure Barre, strength training (I'm still doing Kayla's BBG) and walking or running. I have a weekly schedule that I follow and it's been working well for me, but I've found that I really miss yoga. I've been thinking about adding it back into my routine for months, I just haven't done it! At this point I'm thinking I'll either try fitting in a yoga class once a week or maybe try to do it at home 2-3 times a week, even if it's just a 10-20 minute routine in the morning right when I wake up.
Thinking of ways to incorporate yoga back into my routine got my wheels turning — what about incorporating yoga (the moves and the mindset) into daily life? Why not strive for that? And then I made a list of ideas. I figured the list might be helpful for many of you as well so here it is: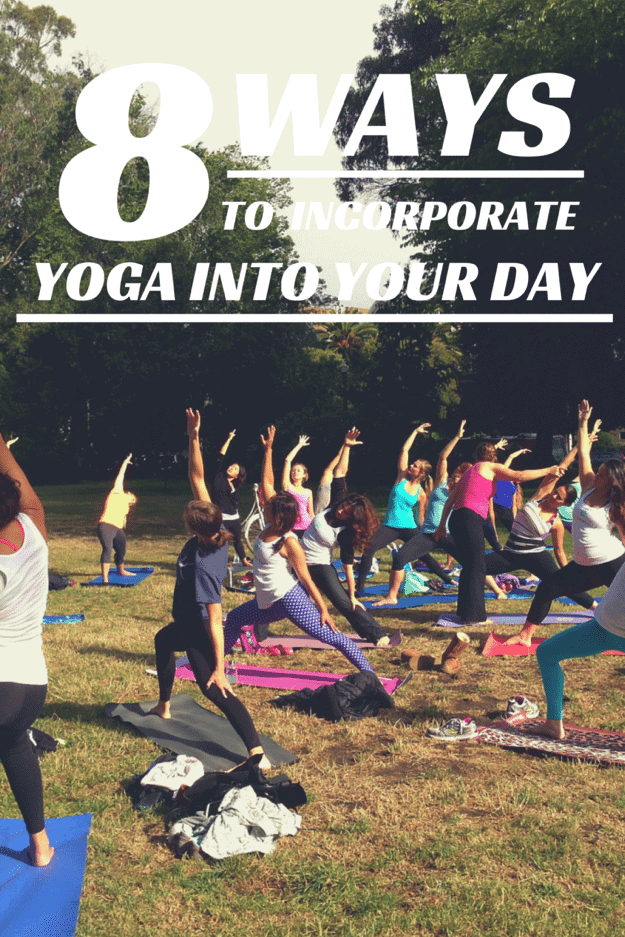 Add yoga moves into your regular workout routine by doing a few poses during your warm up and/or cool down. Here's a great post-run yoga cool down.
Wake up and do a quick morning yoga sequence before you even change out of your pjs.
Save time and do an online class or a yoga DVD at home.
Unwind before going to bed with a quick yoga sequence. Here's six yoga poses to help you fall asleep. The best part — you can do this one while in bed. Love that!
Mediate. This app makes it super easy.
Do yoga at your desk or in your car.
Practice deep breathing. Deep breathing relaxes your body, brings oxygen to your brain, calms your heart rate and soothes the nervous system. Plus, you can do it anywhere!
Make yoga a priority and fit it in. Like anything in life that's important, you have to make the time for it.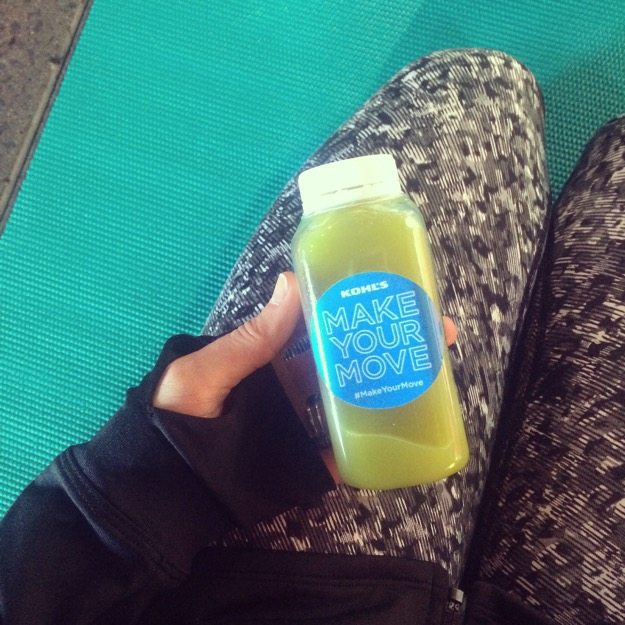 While we're chatting, let me tell ya a little more about the new Gaiam yoga apparel line at Kohl's and the launch event I attended.
Kohl's and Gaiam teamed up with Laura and Masumi, the bloggers behind Two Fit Moms, to perfect the fit, style and performance of the pieces in the collection. <— As a blogger I think this is awesome! How cool would it be to help design a line of workout gear?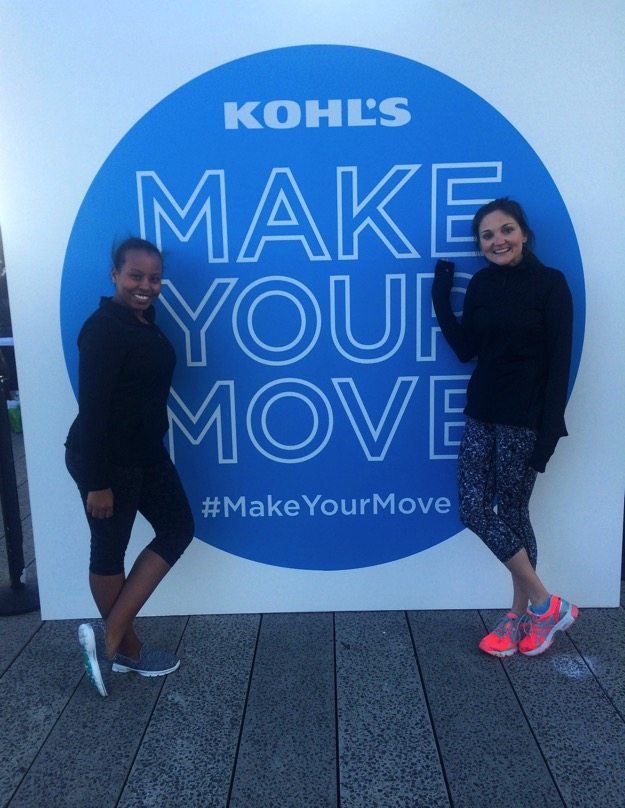 The new collection balances comfort and style with stay-put designs in yoga specific fabrics and features everything from leggings, tops and sport bras to hoodies, dresses and skirts, all under $75. The capris and the jacket I have on in the photo above with Danielle are from the new line. Both are awesome quality, comfy and fit perfectly.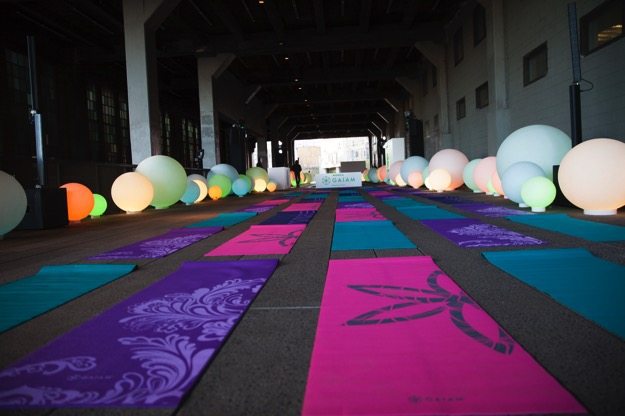 To launch the collection, Kohl's hosted an amped-up yoga session taught by Two Fit Moms in New York City's High Line Park.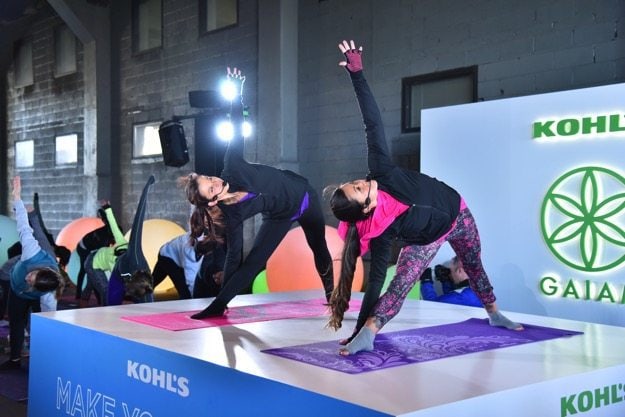 The park was transformed into a colorful and vibrant yoga studio and a bunch of yogis braved the weather for the class, snacks and a preview of the collection.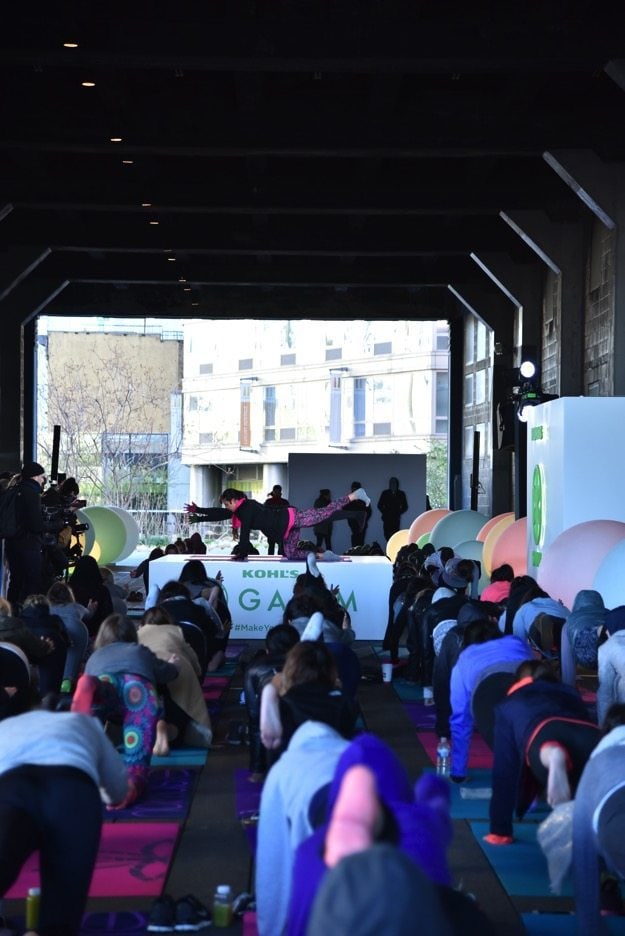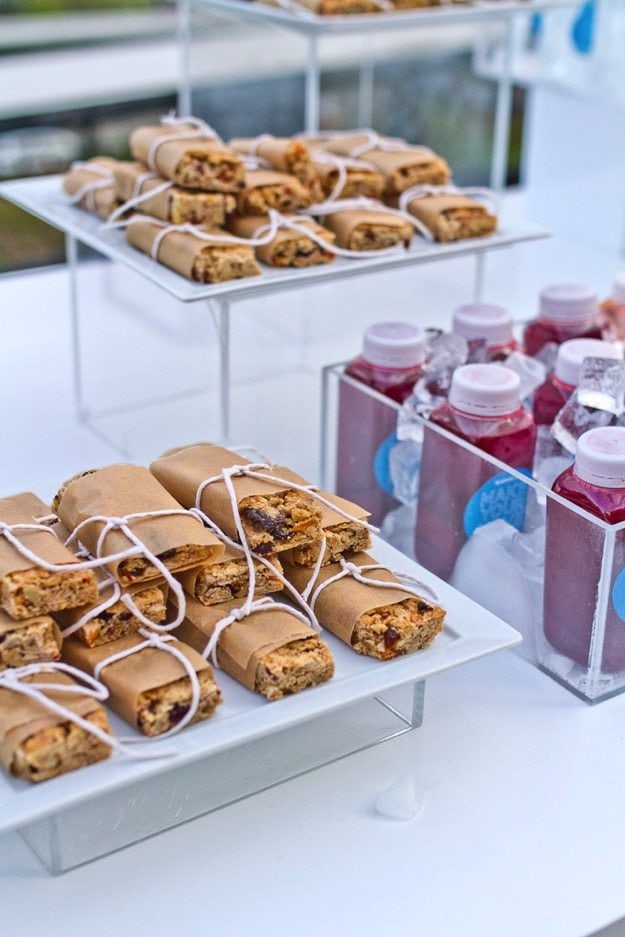 A couple highlights from the event included getting to connect with bloggers friends (new and old), a quick spot on the Today Show and the fact that I did yoga right beside Tracy Anderson and Vanessa Hudgens. Tracy and I we were wearing matching outfits and I'm still kicking myself for not asking her to take a twin pict with me. Oh well, next time! 😉
Do you do yoga regularly? How do you fit it into your regular exercise routine?
This post is sponsored by FitFluential on behalf of Kohl's.