Sometimes getting healthy can seem so overwhelming — especially if you have a lot of weight to lose and/or you feel like you need a complete overhaul. It's like a super messy house, you don't know where to begin the cleaning process so you end up procrastinating and nothing gets done. The key is to mentally decide you're going to begin your journey and start with small steps. Trust me, they add up!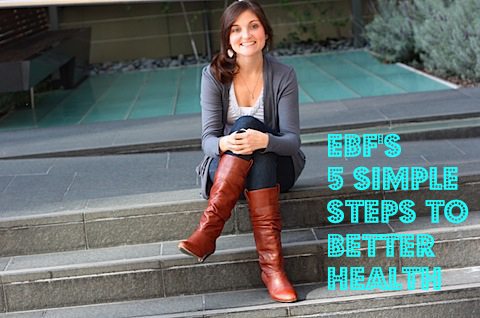 Drink lots of water — at least half your body weight in ounces. If I could only give one health tip this would be it. This quote about water from the Tone It Up girls says it all: "Water increases your metabolism so much that if you're chronically dehydrated, it can mean up to an 8 pound weight gain (or more) per year." <– Holy smokes, if that's not a good enough reason to drink water, read more here.
Healthy eats: Keep nutritious foods on hand and ready to eat. Preparation is the key to eating healthy! Having fresh vegetables and fruits, lean protein, healthy fats and smart carbs prepared each week is super helpful for staying on track. I like to make big batches of roasted veggies and brown rice or quinoa at the beginning of the week so I have healthy foods in the fridge ready to go for quick lunches.
Move more! It doesn't matter what form of exercise you do, but try to do something every day. Start by walking one block around your house and then work up from there. Doing something you enjoy will make it feel like less of chore.
Sleep more and stress less: Besides eating right and exercising more, these are the next big things! Make sure you get 6 to 8 hours of sleep a night and try hard to keep your stress level under control. <– Yoga works wonders!
Keep a food and exercise journal. This is extremely helpful to track how much you're eating — sometimes you don't realize how many small bites here and there add up. You can do a hand-written journal or go digital and log your food/fitness from the computer or your smartphone. MyFitnessPal is a great resource for this.
Sharing these simple tips for superior health is part of my Nature Made Ambassadorship. Of course, taking daily vitamins is also a great addition to a healthy lifestyle and VitaMelts™ Vitamins from Nature Made® help make this task easier.

Nature Made® VitaMelts™ are a new "one of a kind", enjoyable way to take your vitamins because they melt in your mouth and taste great. Discover how new Nature Made® VitaMelts™ can transform your vitamin taking experience by making it enjoyable.  Visit us at NatureMade.com/VitaMelts to learn more.
Disclosure: Compensation was provided by Nature Made via Glam Media. The opinions expressed herein are those of the author and are not indicative of the opinions or positions of Nature Made.