Happy Friday!! Last year I did a little recap of the previous year and made a 2015 to-do list. I really liked looking back on my list from last year and there's something to be said for writing down your goals and intentions. So I'm doing it again this year.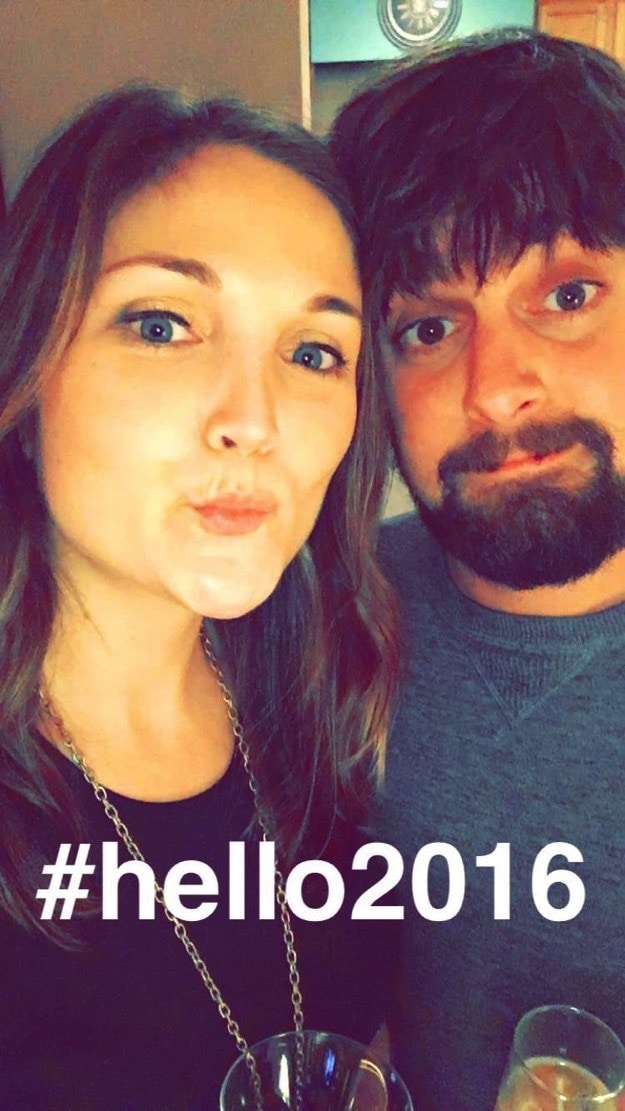 From NYE — on Snapchat. Follow me: eatingbirdfood. 🙂 
Let's start with a quick 2015 recap. It was an awesome year filled with a lot of firsts. It was my first full year of being self-employed and Isaac and I bought our first home! I also turned the big 3-0 and we celebrated our 2 year wedding anniversary in Williamsburg. We traveled (Aruba was amazing!!), took on home renovations projects and Isaac started working in the beer industry part-time.
Fitness wise, I joined the 100 Club at Pure Barre and feel in love with Orangetheory fitness. Here on EBF, I celebrated SEVEN years of blogging (so crazy!), helped dozens of clients through my online programs and 1:1 health coaching, teamed up with some amazing brands, was on TV for the first time, hosted my first-ever healthy holiday challenge and made a ton of new blogger friends. Of course, there were some trying and stressful times as well, but overall I consider the year a major success.
For 2016 I have a bunch of things I'd like to do or work on — personal goals, career goals, adventures, etc. I'll be adding to this throughout the year, but here's my initial list:
Life
House projects — We've already completed a few home renovation projects but I'm excited to do some upgrades in 2016. One of our big goals is to redo our sidewalks in the backyard but I'd also love to update our kitchen appliances, upgrade our master bath, repaint our foyer and fix the cabinets in my office.
Work on balancing my hormones and regaining my cycle — This was a big goal for me last year as well… still working on it!
Rest more — This means going to bed earlier, but also taking more rest days from exercise. I've come to the conclusion that if you're working out effectively you shouldn't need to workout every day.
Get more involved in the RVA community — I don't know how exactly yet but I have a couple ideas.
Wellness/Fitness
Start a regular yoga practice — I'd love to go more but I'm starting with at least one class a week.
Focus on having better posture — I think yoga will help with this, but I also want to start doing rolfing sessions again.
Go on a yoga retreat — This has been on my bucket list for years. I think 2016 will be the year I finally do it!
Career/work
Become more organized and focused when working — I'm still researching ideas for this one! Let me know if you've found any awesome methods to stay on task and get stuff done without letting the internet distract you. 🙂
Plan ahead — I already have an editorial calendar for blog posts, but I want to be more proactive and have at least two posts a week scheduled and planned ahead of time.
Attend at least one blogger conference — I haven't gone to a blogger conference in a couple years because I didn't feel like I was learning much at them. That said, I have seen a few pop up that look really good and even if I don't learn a ton, conference are awesome for networking.
Get recertified — My NASM certification expires this year so I need to get my CEUs and recertify asap.
Create more videos — I did a couple videos last year, but I'd love to do more this year.
What about you? Do you have any big goals or a to-do list for 2016? Share them below!