Haaaapppppyyyy 2015 friends!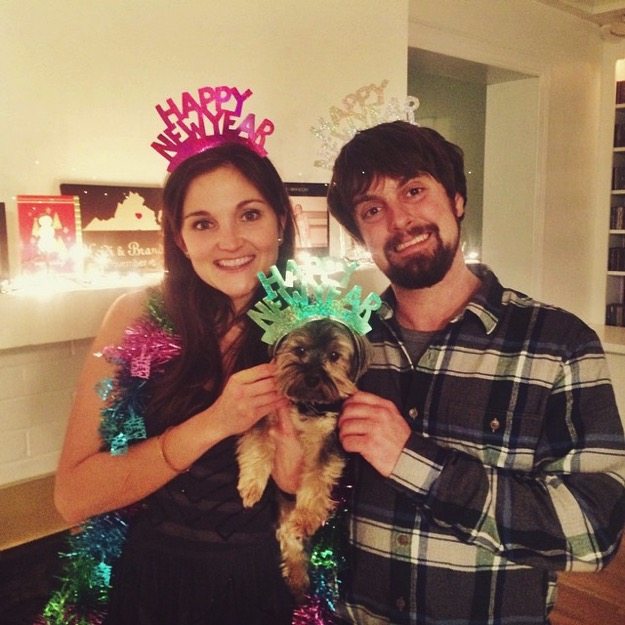 I hope your New Year's Eve was more exciting than Olive made ours seem. haha 🙂 Despite the look on her face, we had a great time hanging out with a small group of friends — playing ping pong and foosball, eating, drinking and staying up way toooo late.
I've taken a few days off from blogging in an effort to get some work done (turns out launching an online program right after the holidays isn't an easy task). But I've also been using my off time to think back on 2014 and consider my ambitions for 2015.
2014 was an amazing, challenging and fun year. I quit my full-time marketing job with Relay Foods to explore being an entrepreneur as a full-time blogger, health coach and freelancer. It was a HUGE deal and one I didn't talk about much here on EBF because I didn't want to jinx it. Now, 8 months later, I am so happy I took the leap and decided to do my own thing. It's been such a great experience — stressful and crazy, yes — but also exciting and empowering. Other 2014 career highlights included getting my personal training certification and launching my first online health coaching program. On a personal note, Isaac and I celebrated our 1st wedding anniversary, traveled quite a bit and enjoyed settling in to our new house. On the fitness front, I did T25, the 21 Day Fix, and became hooked on Pure Barre.
For 2015 I have a bunch of things I'd like to do or work on — some career related, some blog related, others personal — but I have yet to put them all down on paper. I'm hoping to take some time this coming week for that. A few that I can think of off the top of my head include:
house hunting — Isaac and I are thinking of buying our first house! Our rental lease is up in October and I want to get an early start.
traveling to a tropical location of some sort — Costa Rica and Bali are at the top of my list (all the Aussies I follow on Instagram have me swooning over Bali)
find more fun hobbies that Isaac and I can do together
mediate
do yoga more often
multi-task less
walk more
get better at knitting
work on my posture
become better at public speaking
network with more bloggers
add more of a fitness component to EBF, including more workouts
keep myself accountable to goals that I set
be present and spend less time on my phone
Gah, just looking at this list makes me really excited for 2015 and all the opportunity that it brings.
What about you? Have you reflected on 2014 and made a to-do list for 2015? I'd love to hear what's on it.